The Bayliss battle rages on! 2021 British Minibike Championship Rounds 3 & 4 – Report & Results
The 2021 British Minibike Championships took a trip southward and the PCE Motopark near Winchester for rounds 3 & 4 of the series.
Images courtesy of Lloco Images 
In the Youth 50cc's Jacob Hackett continued his formidable form and his unbeaten run winning all six motos over the weekend making it 12/12 in the series so far. Oaklan Winnall and Zach White both rode well over the weekend with second on third each day in that order.
Another rider to still be unbeaten in 2021 is Robbie Daly who has been untouchable in the Youth 65's and looked supreme at PCE for the overall victory in both days over the recently elevated Riley Ray Barrow who has now fully settled into the 65's. Franky Donoghue nailed the third spot on the podium on both days which is no mean feat in a super competitive class.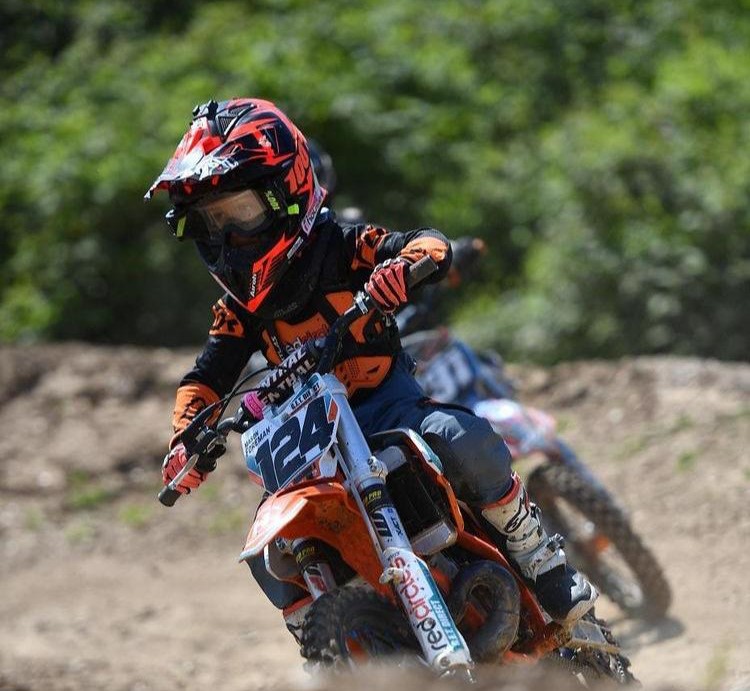 Mitchell Woodward bounded into this year's series and made a huge impact on the Youth Junior class amassing 6 wins from 6 over the weekend for double overall victories. Tyler Griffiths nailed second on both days and now tops the standings after four rounds. Hugh Darley would claim the third and final step on the podium on each occasion.
In the Youth Seniors, Harry Lee stepped it up a gear and scorched to a full set of victories for a clean sweep the weekend, and doing so giving him a 54 point lead at the top of the championship standings. On Saturday Jacob Darley claimed second with Ben Johnstone third, but the tables turned for the number two spot on Sunday with Harrison Haslam second and Ethan Lochrie third.
The Farmbikes were again out in force with A and B Groups needed. The Battle between the Bayliss brothers continued in the A race with Matt edging out Chris on Saturday and Vice versa on Sunday. Just 15 points split the duo in the series with Chris leading the charge. Aaron Omahony powered to third on Day one with Mel Pocock claiming the number three position on Sunday.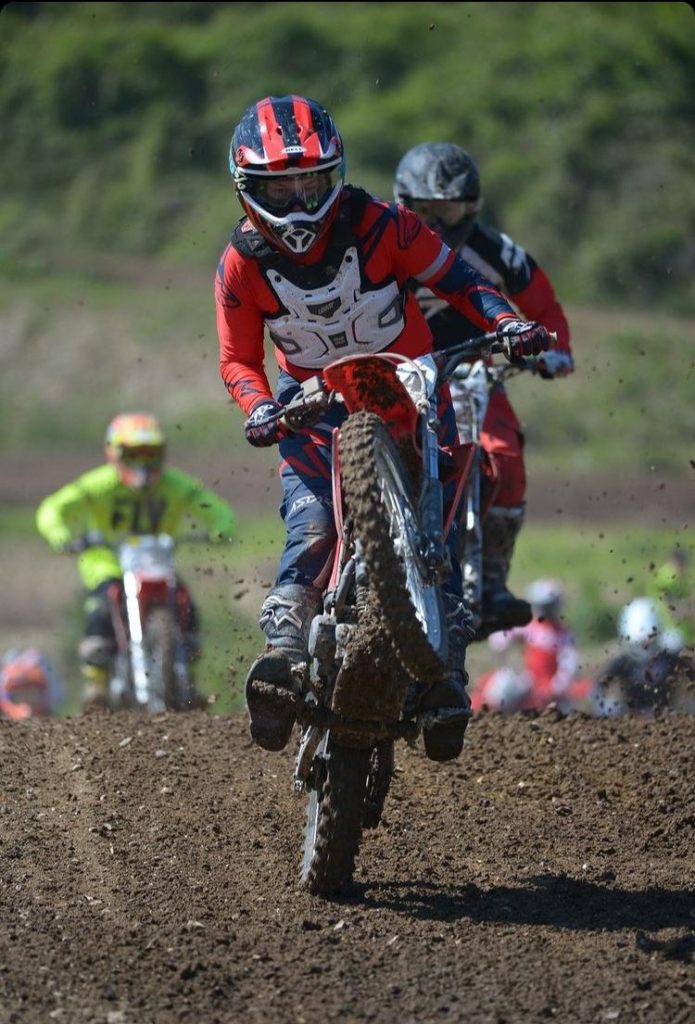 In the B Race Saturdays champ was Dale Howard who fended off Jasper Parsons and Stuart Robson for the victory, but it was all change on Sunday with Sam Thomson taking the overall from Lee Hindle and Ricky Collard.
Lewis Rose has been a demon in the Super Stock class and rattled through six moto wins for another double overall weekend giving him a phenomenal 99 point lead in the Championship. Reigning champ Ash Gorman was second on Saturday ahead of Jordan Woodward in third while Ben Rose notched the Sunday runners up position with Craig Sharp third.
Onto the Pro's and after Kieran Sembiante dominant performance in the opening two rounds at Fatcat 2020 champ Blaine Blackwell came back with a vengeance on Saturday winning two moto's and taking the days overall ahead of race three victor Troy Beck with Sembiante third. On Sunday though a fifth for Blackwell in the opening moto gave him an uphill battle to gain glory and even two race wins couldn't stop Sembiante from taking thee round from Blackwell and Daniel Fisher who had another strong weekend. Sembiante now leads the series by 1o points over Blackwell with Fisher not a million miles behind in third.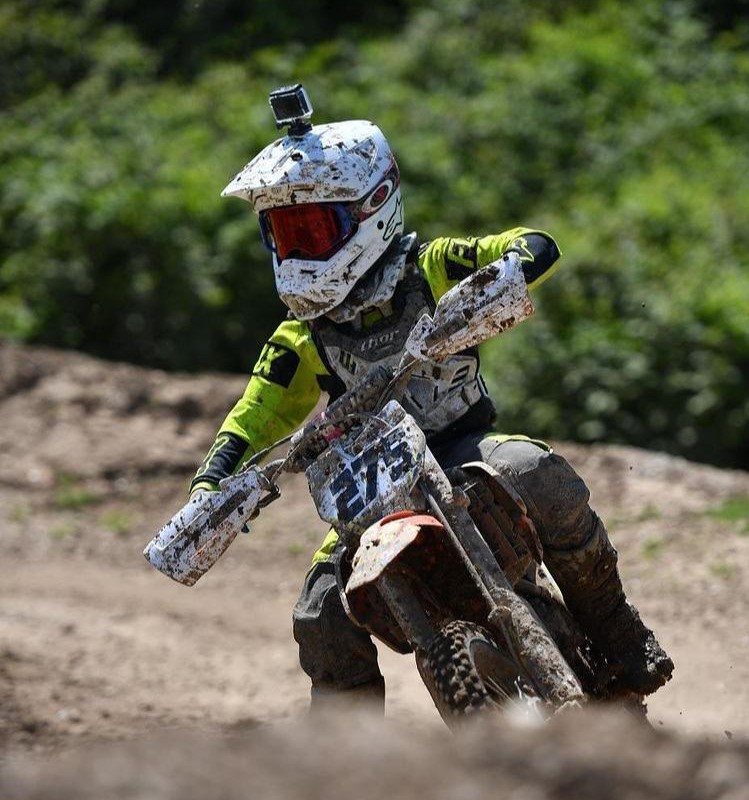 In the Masters class Jody Burton was on fire on Saturday churning out a triple dose of chequered flags. Dan Foreman would finish the day second, while Jason Gardener was third. Foreman would come to the fore on Sunday to take the spoils for the day. Scott Joynor was second and Garndener was third. Burton was hindered by a DNF but still finished fourth and leads the series by nine points over Foreman.
Vets supremo Chris Rose went through the day one card keeping Neil Parsons and Jay Taylor at bay, but on Sunday Parsons would be top dog ahead of Taylor and Adrian Hullah with Rose in fourth. Rose stands on top in champ standings 22 clear of Parsons.
Leo Vowles came away from PCE with 5 wins from 6 in the Rookies and victory on Saturday over Jack Harrison and Ben Moran, but Harry Streeter made Sunday his own and stood on top of the podium flanked by Vowles and Alex Cheshire.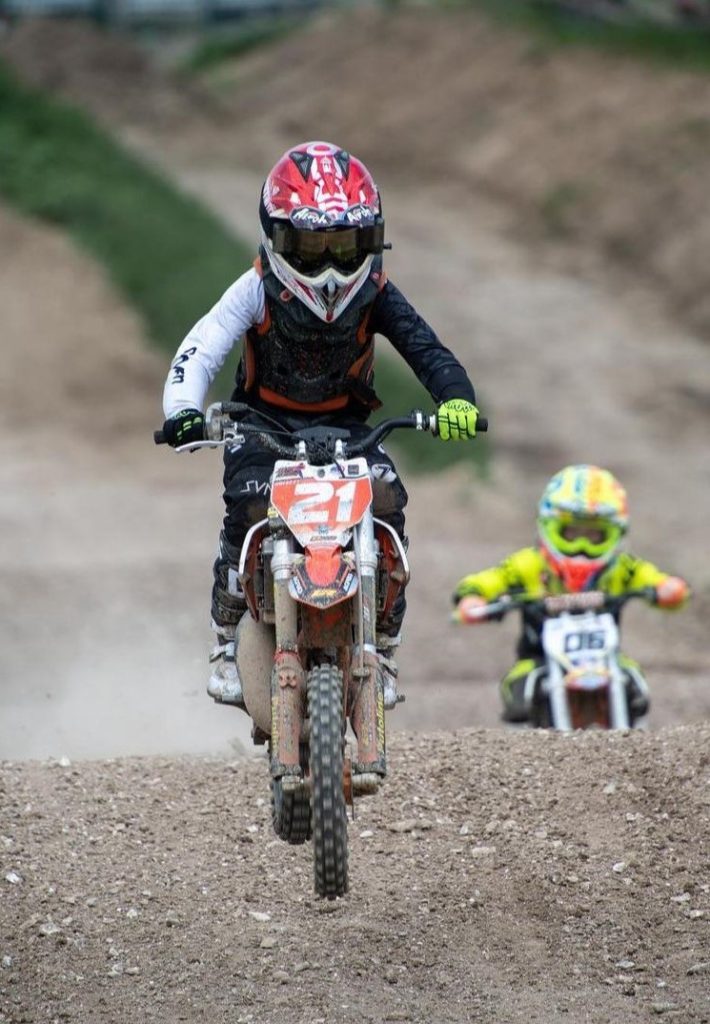 Troy Flynn tasted glory on Saturday in the Clubman edging out Craig Griffiths and Jeff Pike. On Sunday Ash Arrowsmith stopped the rot and was victorious ahead of Flynn and Steve Scott with Teagan Parnell taking a great race win and finishing fourth.
The series moves onto Kieradan Park, Scunthorpe on the 26th & 27th June for rounds 5 and 6 of the Championship. Head to https://minibikechamps.com/ for more info.
Results
Round 3 – Saturday
Kids 50cc
| | | | | | |
| --- | --- | --- | --- | --- | --- |
| Pos | Competitor | Points | R1 | R2 | R3 |
| 1 | Jacob Hackett | 75 | 25 | 25 | 25 |
| 2 | Oaklan Winnall | 66 | 22 | 22 | 22 |
| 3 | Zach White | 52 | 18 | 16 | 18 |
| 4 | Jenson Batner | 47 | 16 | 18 | 13 |
| 5 | Hayden Kerrigher | 45 | 15 | 14 | 16 |
| 6 | Oakly Summers | 44 | 14 | 15 | 15 |
| 7 | Mason Foreman | 39 | 13 | 12 | 14 |
| 8 | Seth Golding | 37 | 12 | 13 | 12 |
| 9 | Harley-James Barrow | 33 | 11 | 11 | 11 |
| 10 | Eddie Pearce | 28 | 10 | 10 | 8 |
| 11 | Oliver Crowther-Utley | 26 | 8 | 9 | 9 |
| 12 | Alfie Ward | 25 | 7 | 8 | 10 |
| 13 | Frankie Flynn | 21 | 9 | 6 | 6 |
| 14 | Coby Cole | 20 | 6 | 7 | 7 |
| 15 | Jack Gardener | 14 | 4 | 5 | 5 |
| 16 | Harley Kidd | 13 | 5 | 4 | 4 |
Kids 65cc
| | | | | | |
| --- | --- | --- | --- | --- | --- |
| Pos | Competitor | Points | R1 | R2 | R3 |
| 1 | Robbie Daily | 75 | 25 | 25 | 25 |
| 2 | Riley-Ray Barrow | 66 | 22 | 22 | 22 |
| 3 | Franky Donoghue | 54 | 18 | 18 | 18 |
| 4 | Jaiden Donoghue | 47 | 15 | 16 | 16 |
| 5 | Harley Ince | 46 | 16 | 15 | 15 |
| 6 | Leo Ormondroyd | 42 | 14 | 14 | 14 |
| 7 | Luca-James Allen-Harvey | 36 | 13 | 10 | 13 |
| 8 | Aaron Shepherd-Smith | 32 | 11 | 9 | 12 |
| 9 | Joshua Tilley | 31 | 10 | 12 | 9 |
| 10 | Ethan Georgiou | 31 | 12 | 13 | 6 |
| 11 | Talen Hodgson | 27 | 9 | 8 | 10 |
| 12 | Flynn Kennard | 26 | 8 | 11 | 7 |
| 13 | Tom White | 25 | 7 | 7 | 11 |
| 14 | Charlie Bashforth | 20 | 6 | 6 | 8 |
| 15 | Roman Drew | 12 | 4 | 4 | 4 |
| 16 | Tommy Hodgson | 11 | 3 | 5 | 3 |
| 17 | George Goodacre | 8 | – | 3 | 5 |
| 18 | Toby Cefai | 5 | 5 | – | – |
Youth Juniors
| | | | | | |
| --- | --- | --- | --- | --- | --- |
| Pos | Competitor | Points | R1 | R2 | R3 |
| 1 | Mitchell Woodward | 75 | 25 | 25 | 25 |
| 2 | Tyler Griffiths | 62 | 18 | 22 | 22 |
| 3 | Hugh Darley | 50 | 16 | 18 | 16 |
| 4 | Olly Haynes | 48 | 14 | 16 | 18 |
| 5 | Miley Hodgson | 45 | 15 | 15 | 15 |
| 6 | Jess Cooling | 41 | 13 | 14 | 14 |
| 7 | Lily-May Stokes | 37 | 11 | 13 | 13 |
| 8 | Alfie Saunders | 34 | 12 | 10 | 12 |
| 9 | Franciszek Drzewinski | 32 | 10 | 11 | 11 |
| 10 | Harry Banks | 28 | 9 | 9 | 10 |
| 11 | Lola Richards | 24 | 8 | 8 | 8 |
| 12 | Max Cotton | 21 | – | 12 | 9 |
Youth Seniors
| | | | | | |
| --- | --- | --- | --- | --- | --- |
| Pos | Competitor | Points | R1 | R2 | R3 |
| 1 | Harry Lee | 75 | 25 | 25 | 25 |
| 2 | Jacob Darley | 59 | 22 | 22 | 15 |
| 3 | Ben Johnstone | 55 | 22 | 15 | 18 |
| 4 | Ethan Lochrie | 54 | 14 | 18 | 22 |
| 5 | Harrison Haslam | 50 | 18 | 16 | 16 |
| 6 | Jimmy Flockhart | 42 | 16 | 12 | 14 |
| 7 | Evan Howard | 41 | 15 | 13 | 13 |
| 8 | Jayden Bickerton | 39 | 13 | 14 | 12 |
| 9 | Ruby Howard | 34 | 12 | 11 | 11 |
| 10 | Maddie Banks | 31 | 11 | 10 | 10 |
| 11 | Jack Saunders | 28 | 10 | 9 | 9 |
Farmbike A
| | | | | | |
| --- | --- | --- | --- | --- | --- |
| Pos | Competitor | Points | R1 | R2 | R3 |
| 1 | Mathew Bayliss | 297 | 97 | 100 | 100 |
| 2 | Chris Bayliss | 294 | 100 | 97 | 97 |
| 3 | Aaron Omahony | 274 | 95 | 90 | 89 |
| 4 | George Clarke | 272 | 90 | 91 | 91 |
| 5 | Cam Macdonald | 272 | 91 | 93 | 88 |
| 6 | Brett Pocock | 268 | 93 | 82 | 93 |
| 7 | Callum McCaul | 266 | 87 | 89 | 90 |
| 8 | Freddie Lambeth | 262 | 89 | 87 | 86 |
| 9 | Shay Botcher | 257 | 88 | 84 | 85 |
| 10 | Gary Birtwistle | 255 | 80 | 88 | 87 |
| 11 | Connor Ward | 254 | 86 | 85 | 83 |
| 12 | Luke Coker | 252 | 84 | 86 | 82 |
| 13 | Scott Kennedy | 248 | 83 | 81 | 84 |
| 14 | Daniel Lee | 246 | 82 | 83 | 81 |
| 15 | Louis Dutton | 238 | 85 | 77 | 76 |
| 16 | Sam Gilbody | 236 | 78 | 79 | 79 |
| 17 | Lee Hindle | 236 | 79 | 80 | 77 |
| 18 | Ricky Collard | 235 | 77 | 78 | 80 |
| 19 | Mel Pocock | 190 | – | 95 | 95 |
| 20 | Aiden Breakspear | 159 | 81 | – | 78 |
| 21 | Stephanie Oakes | 75 | – | – | 75 |
Farmbike B
| | | | | | |
| --- | --- | --- | --- | --- | --- |
| Pos | Competitor | Points | R1 | R2 | R3 |
| 1 | Dale Howard | 224 | 75 | 76 | 73 |
| 2 | Jasper Parsons | 216 | 71 | 73 | 72 |
| 3 | Stuart Robson | 216 | 73 | 72 | 71 |
| 4 | Joe Banks | 216 | 72 | 74 | 70 |
| 5 | Freddie Hales | 211 | 74 | 75 | 62 |
| 6 | Joe Brown | 207 | 70 | 70 | 67 |
| 7 | Jack Perry | 202 | 68 | 69 | 65 |
| 8 | Pryce Howard | 200 | 69 | 71 | 60 |
| 9 | Bradley Goodman | 198 | 67 | 67 | 64 |
| 10 | Darrell Mitchell | 197 | 61 | 68 | 68 |
| 11 | Lewis Dansie | 195 | 66 | 63 | 66 |
| 12 | Mitchel Warren | 194 | 65 | 66 | 63 |
| 13 | Kane Coker | 185 | 60 | 64 | 61 |
| 14 | Jonathan Bolster | 181 | 62 | 60 | 59 |
| 15 | Izaak Aldred | 177 | 58 | 61 | 58 |
| 16 | Jamie Stokes | 176 | 64 | 55 | 57 |
| 17 | John Pohlman | 172 | 57 | 59 | 56 |
| 18 | Rob Cooling | 172 | 59 | 58 | 55 |
| 19 | Stephanie Oakes | 166 | 56 | 56 | 54 |
| 20 | Lizzie Banks | 165 | 55 | 57 | 53 |
| 21 | Sam Thomson | 150 | 76 | – | 74 |
| 22 | Cole Howard | 134 | – | 65 | 69 |
| 23 | Ben Fisher | 125 | 63 | 62 | – |
Super Stock
| | | | | | |
| --- | --- | --- | --- | --- | --- |
| Pos | Competitor | Points | R1 | R2 | R3 |
| 1 | Lewis Rose | 75 | 25 | 25 | 25 |
| 2 | Ash Gorman | 66 | 22 | 22 | 22 |
| 3 | Jordan Woodward | 52 | 16 | 18 | 18 |
| 4 | Ben Rose | 49 | 18 | 16 | 15 |
| 5 | Craig Sharp | 43 | 15 | 12 | 16 |
| 6 | Charlie Woodward | 42 | 14 | 14 | 14 |
| 7 | Luke Walker | 39 | 11 | 15 | 13 |
| 8 | Nick Luckman | 37 | 13 | 13 | 11 |
| 9 | George Pym | 33 | 12 | 9 | 12 |
| 10 | Ben Ash | 27 | 7 | 10 | 10 |
| 11 | Warren Benner | 27 | 10 | 8 | 9 |
| 12 | Morgan Collingwood | 25 | 9 | 11 | 5 |
| 13 | Jake Rose | 23 | 8 | 7 | 8 |
| 14 | Travis Taylor | 18 | 5 | 6 | 7 |
| 15 | Cameron Baird | 15 | 4 | 5 | 6 |
| 16 | Alex Hepher | 14 | 6 | 4 | 4 |
| 17 | Tyla James | 9 | 3 | 3 | 3 |
Pro
| | | | | | |
| --- | --- | --- | --- | --- | --- |
| Pos | Competitor | Points | R1 | R2 | R3 |
| 1 | Blaine Blackwell | 297 | 100 | 100 | 97 |
| 2 | Troy Beck | 290 | 93 | 97 | 100 |
| 3 | Kieran Sembiante | 285 | 97 | 93 | 95 |
| 4 | Daniel Fisher | 283 | 95 | 95 | 93 |
| 5 | Jody Burton | 273 | 91 | 91 | 91 |
| 6 | Leo Vowles | 268 | 89 | 89 | 90 |
| 7 | Daniel Muddiman | 265 | 90 | 87 | 88 |
| 8 | Danny Kidd | 262 | 83 | 90 | 89 |
| 9 | Soctt Pohlman | 258 | 86 | 86 | 86 |
| 10 | Jack Pearce | 257 | 87 | 83 | 87 |
| 11 | Paul Benham | 253 | 85 | 85 | 83 |
| 12 | Chris Rose | 251 | 84 | 82 | 85 |
| 13 | Dan Foreman | 245 | 88 | 84 | 73 |
| 14 | Jason Gardener | 244 | 81 | 79 | 84 |
| 15 | Joao Dias | 242 | 82 | 80 | 80 |
| 16 | Callum Gutteridge | 239 | 76 | 81 | 82 |
| 17 | Jake Thompson | 234 | 79 | 76 | 79 |
| 18 | Rhys Streeter | 229 | 71 | 77 | 81 |
| 19 | Tony Herd | 228 | 80 | 71 | 77 |
| 20 | Alex Cheshire | 225 | 75 | 75 | 75 |
| 21 | Jack Harrison | 223 | 77 | 78 | 68 |
| 22 | Ben Moran | 222 | 70 | 74 | 78 |
| 23 | Neil Parsons | 221 | 74 | 73 | 74 |
| 24 | Ash Arrowsmith | 216 | 78 | 66 | 72 |
| 25 | Jay Taylor | 215 | 67 | 72 | 76 |
| 26 | Matthew Cole | 208 | 69 | 68 | 71 |
| 27 | Phil Thomas | 205 | 68 | 67 | 70 |
| 28 | Harry Streeter | 155 | – | 88 | 67 |
| 29 | Scott Joyner | 142 | 73 | – | 69 |
| 30 | Ryan Barnett | 136 | 66 | 70 | – |
| 31 | Tom Burrill | 72 | 72 | – | – |
| 32 | Kiya Glassey | 69 | – | 69 | – |
Clubman
| | | | | | |
| --- | --- | --- | --- | --- | --- |
| Pos | Competitor | Points | R1 | R2 | R3 |
| 1 | Troy Flynn | 191 | 63 | 63 | 65 |
| 2 | Craig Griffiths | 190 | 64 | 64 | 62 |
| 3 | Jeff Pike | 188 | 62 | 62 | 64 |
| 4 | Jack Guntrip | 188 | 65 | 60 | 63 |
| 5 | Steve Scott | 177 | 61 | 59 | 57 |
| 6 | Teagan Parnell | 176 | 58 | 58 | 60 |
| 7 | Shaun Ballard | 173 | 42 | 65 | 66 |
| 8 | Adam Burton | 173 | 60 | 57 | 56 |
| 9 | Leon Cotterill | 172 | 57 | 56 | 59 |
| 10 | Adrian Hullah | 166 | 55 | 53 | 58 |
| 11 | Josh Cheshire | 161 | 54 | 54 | 53 |
| 12 | Jason Hawkes | 161 | 56 | 55 | 50 |
| 13 | Jordan Burton | 156 | 52 | 50 | 54 |
| 14 | Shaun Ballard | 155 | 59 | 51 | 45 |
| 15 | Matt Barnard | 154 | 51 | 52 | 51 |
| 16 | Paul Radford | 152 | 53 | 47 | 52 |
| 17 | David Batner | 151 | 48 | 48 | 55 |
| 18 | Jon-Paul Cotton | 146 | 49 | 49 | 48 |
| 19 | Carl Elliott | 143 | 50 | 46 | 47 |
| 20 | Darren Macaulay | 137 | 46 | 45 | 46 |
| 21 | Daniel Wilson | 131 | 45 | 42 | 44 |
| 22 | Andrew Cheshire | 126 | 44 | 40 | 42 |
| 23 | Lee Clark | 122 | – | 61 | 61 |
| 24 | Christopher Brown | 121 | 40 | 38 | 43 |
| 25 | Alex Sutton | 117 | 39 | 37 | 41 |
| 26 | Colin Blackwell | 90 | 47 | 43 | – |
| 27 | Kieran Hazelden | 87 | 38 | – | 49 |
| 28 | Alex Macaulay | 82 | 41 | 41 | – |
| 29 | Craig Swales | 82 | 43 | 39 | – |
| 30 | Louis James | 44 | – | 44 | – |
Masters
| | | | | | | | | |
| --- | --- | --- | --- | --- | --- | --- | --- | --- |
| Pos | Competitor | Points | R1 | R2 | R3 | R4 | R5 | R6 |
| 1 | Jody Burton | 75 | 25 | – | 25 | – | 25 | – |
| 2 | Dan Foreman | 60 | 22 | – | 22 | – | 16 | – |
| 3 | Jason Gardener | 58 | 18 | – | 18 | – | 22 | – |
| 4 | Tony Herd | 50 | 16 | – | 16 | – | 18 | – |
| 5 | Jeff Pike | 43 | – | 14 | – | 15 | – | 14 |
| 6 | Steve Scott | 40 | – | 13 | – | 14 | – | 13 |
| 7 | Matt Barnard | 35 | – | 11 | – | 13 | – | 11 |
| 8 | Shaun Ballard | 33 | – | 12 | – | 12 | – | 9 |
| 9 | David Batner | 31 | – | 9 | – | 10 | – | 12 |
| 10 | Jon-Paul Cotton | 31 | – | 10 | – | 11 | – | 10 |
| 11 | Scott Joyner | 30 | 15 | – | – | – | 15 | – |
| 12 | Andrew Cheshire | 25 | – | 8 | – | 9 | – | 8 |
| 13 | Craig Swales | 15 | – | 7 | – | 8 | – | – |
Vets
| | | | | | | | | |
| --- | --- | --- | --- | --- | --- | --- | --- | --- |
| Pos | Competitor | Points | R1 | R2 | R3 | R4 | R5 | R6 |
| 1 | Chris Rose | 75 | 25 | – | 25 | – | 25 | – |
| 2 | Neil Parsons | 62 | 22 | – | 22 | – | 18 | – |
| 3 | Jay Taylor | 56 | 16 | – | 18 | – | 22 | – |
| 4 | Phil Thomas | 50 | 18 | – | 16 | – | 16 | – |
| 5 | Adam Burton | 44 | – | 15 | – | 15 | – | 14 |
| 6 | Adrian Hullah | 43 | – | 14 | – | 14 | – | 15 |
| 7 | Paul Radford | 39 | – | 13 | – | 13 | – | 13 |
| 8 | Colin Blackwell | 24 | – | 12 | – | 12 | – | – |
Rookies
| | | | | | | | | |
| --- | --- | --- | --- | --- | --- | --- | --- | --- |
| Pos | Competitor | Points | R1 | R2 | R3 | R4 | R5 | R6 |
| 1 | Leo Vowles | 75 | 25 | – | 25 | – | 25 | – |
| 2 | Jack Harrison | 56 | 22 | – | 18 | – | 16 | – |
| 3 | Ben Moran | 53 | 16 | – | 15 | – | 22 | – |
| 4 | Alex Cheshire | 52 | 18 | – | 16 | – | 18 | – |
| 5 | Shaun Ballard | 40 | – | 13 | – | 13 | – | 14 |
| 6 | Teagan Parnell | 39 | – | 14 | – | 12 | – | 13 |
| 7 | Harry Streeter | 37 | – | – | 22 | – | 15 | – |
| 8 | Ryan Barnett | 29 | 15 | – | 14 | – | – | – |
Round 4 – Sunday
Kids 50cc
| | | | | | |
| --- | --- | --- | --- | --- | --- |
| Pos | Competitor | Points | R1 | R2 | R3 |
| 1 | Jacob Hackett | 75 | 25 | 25 | 25 |
| 2 | Oaklan Winnall | 66 | 22 | 22 | 22 |
| 3 | Zach White | 54 | 18 | 18 | 18 |
| 4 | Seth Golding | 44 | 12 | 16 | 16 |
| 5 | Jenson Batner | 44 | 14 | 15 | 15 |
| 6 | Oakly Summers | 41 | 15 | 12 | 14 |
| 7 | Mason Foreman | 40 | 13 | 14 | 13 |
| 8 | Harley-James Barrow | 36 | 11 | 13 | 12 |
| 9 | Alfie Ward | 29 | 9 | 9 | 11 |
| 10 | Oliver Crowther-Utley | 28 | 10 | 8 | 10 |
| 11 | Frankie Flynn | 24 | 4 | 11 | 9 |
| 12 | Coby Cole | 23 | 8 | 7 | 8 |
| 13 | Eddie Pearce | 23 | 7 | 10 | 6 |
| 14 | Jack Gardener | 18 | 6 | 5 | 7 |
| 15 | Harley Kidd | 16 | 5 | 6 | 5 |
| 16 | Hayden Kerrigher | 16 | 16 | – | – |
Kids 65cc
| | | | | | |
| --- | --- | --- | --- | --- | --- |
| Pos | Competitor | Points | R1 | R2 | R3 |
| 1 | Robbie Daily | 75 | 25 | 25 | 25 |
| 2 | Riley-Ray Barrow | 66 | 22 | 22 | 22 |
| 3 | Franky Donoghue | 54 | 18 | 18 | 18 |
| 4 | Jaiden Donoghue | 48 | 16 | 16 | 16 |
| 5 | Ethan Georgiou | 45 | 15 | 15 | 15 |
| 6 | Leo Ormondroyd | 42 | 14 | 14 | 14 |
| 7 | Joshua Tilley | 37 | 13 | 11 | 13 |
| 8 | Flynn Kennard | 37 | 12 | 13 | 12 |
| 9 | Talen Hodgson | 29 | 11 | 8 | 10 |
| 10 | Tom White | 28 | 10 | 9 | 9 |
| 11 | Luca-James Allen-Harvey | 23 | – | 12 | 11 |
| 12 | George Goodacre | 22 | 7 | 7 | 8 |
| 13 | Aaron Shepherd-Smith | 19 | 9 | 10 | – |
| 14 | Roman Drew | 16 | 6 | 4 | 6 |
| 15 | Charlie Bashforth | 15 | 8 | – | 7 |
| 16 | Tommy Hodgson | 15 | 5 | 6 | 4 |
Youth Junior
| | | | | | |
| --- | --- | --- | --- | --- | --- |
| Pos | Competitor | Points | R1 | R2 | R3 |
| 1 | Mitchell Woodward | 75 | 25 | 25 | 25 |
| 2 | Tyler Griffiths | 66 | 22 | 22 | 22 |
| 3 | Hugh Darley | 51 | 15 | 18 | 18 |
| 4 | Olly Haynes | 48 | 16 | 16 | 16 |
| 5 | Miley Hodgson | 48 | 18 | 15 | 15 |
| 6 | Jess Cooling | 41 | 13 | 14 | 14 |
| 7 | Lily-May Stokes | 38 | 14 | 13 | 11 |
| 8 | Alfie Saunders | 36 | 11 | 12 | 13 |
| 9 | Max Cotton | 35 | 12 | 11 | 12 |
| 10 | Harry Banks | 29 | 9 | 10 | 10 |
| 11 | Franciszek Drzewinski | 10 | 10 | – | – |
Youth Senior
| | | | | | |
| --- | --- | --- | --- | --- | --- |
| Pos | Competitor | Points | R1 | R2 | R3 |
| 1 | Harry Lee | 75 | 25 | 25 | 25 |
| 2 | Harrison Haslam | 66 | 22 | 22 | 22 |
| 3 | Ethan Lochrie | 49 | 16 | 18 | 15 |
| 4 | Ben Johnstone | 47 | 15 | 16 | 16 |
| 5 | Jimmy Flockhart | 46 | 18 | 14 | 14 |
| 6 | Jacob Darley | 43 | 10 | 15 | 18 |
| 7 | Evan Howard | 38 | 14 | 11 | 13 |
| 8 | Jayden Bickerton | 36 | 12 | 12 | 12 |
| 9 | Ruby Howard | 36 | 13 | 13 | 10 |
| 10 | Jack Saunders | 32 | 11 | 10 | 11 |
Farmbike A
| | | | | | |
| --- | --- | --- | --- | --- | --- |
| Pos | Competitor | Points | R1 | R2 | R3 |
| 1 | Chris Bayliss | 291 | 100 | 91 | 100 |
| 2 | Mathew Bayliss | 289 | 97 | 97 | 95 |
| 3 | Mel Pocock | 288 | 95 | 100 | 93 |
| 4 | Brett Pocock | 278 | 93 | 95 | 90 |
| 5 | Cam Macdonald | 274 | 90 | 93 | 91 |
| 6 | Josh Coleman | 272 | 86 | 89 | 97 |
| 7 | Aaron Omahony | 269 | 91 | 90 | 88 |
| 8 | Callum McCaul | 261 | 88 | 88 | 85 |
| 9 | George Clarke | 258 | 89 | 80 | 89 |
| 10 | Gary Birtwistle | 257 | 84 | 86 | 87 |
| 11 | Luke Coker | 254 | 83 | 85 | 86 |
| 12 | Shay Botcher | 251 | 81 | 87 | 83 |
| 13 | Daniel Lee | 251 | 85 | 84 | 82 |
| 14 | Freddie Hales | 244 | 80 | 83 | 81 |
| 15 | Jasper Parsons | 241 | 79 | 82 | 80 |
| 16 | Louis Dutton | 166 | 82 | – | 84 |
| 17 | Stuart Robson | 159 | 78 | 81 | – |
| 18 | Lewis Rose | 87 | 87 | – | – |
Farmbike B
| | | | | | |
| --- | --- | --- | --- | --- | --- |
| Pos | Competitor | Points | R1 | R2 | R3 |
| 1 | Sam Thomson | 232 | 76 | 78 | 78 |
| 2 | Lee Hindle | 231 | 75 | 79 | 77 |
| 3 | Ricky Collard | 227 | 74 | 77 | 76 |
| 4 | Bradley Goodman | 221 | 72 | 75 | 74 |
| 5 | Joe Banks | 216 | 70 | 73 | 73 |
| 6 | Lewis Dansie | 211 | 68 | 74 | 69 |
| 7 | Darrell Mitchell | 210 | 66 | 69 | 75 |
| 8 | Kane Coker | 209 | 67 | 71 | 71 |
| 9 | Jack Perry | 205 | 63 | 70 | 72 |
| 10 | Mitchel Warren | 204 | 69 | 68 | 67 |
| 11 | Jonathan Bolster | 195 | 65 | 64 | 66 |
| 12 | Cole Howard | 195 | 60 | 72 | 63 |
| 13 | Ben Fisher | 193 | 62 | 66 | 65 |
| 14 | Izaak Aldred | 192 | 59 | 65 | 68 |
| 15 | Stephanie Oakes | 184 | 58 | 62 | 64 |
| 16 | Dale Howard | 156 | 77 | – | 79 |
| 17 | Scott Pohlman | 137 | – | 67 | 70 |
| 18 | Joe Brown | 136 | 73 | 63 | – |
| 19 | Lizzie Banks | 118 | 57 | 61 | – |
| 20 | Connor Ward | 76 | – | 76 | – |
| 21 | Chris Klaichan | 71 | 71 | – | – |
| 22 | Pryce Howard | 64 | 64 | – | – |
| 23 | Jamie Stokes | 61 | 61 | – | – |
| 24 | John Pohlman | 56 | 56 | – | – |
Super Stock
| | | | | | |
| --- | --- | --- | --- | --- | --- |
| Pos | Competitor | Points | R1 | R2 | R3 |
| 1 | Lewis Rose | 75 | 25 | 25 | 25 |
| 2 | Ben Rose | 56 | 18 | 16 | 22 |
| 3 | Craig Sharp | 55 | 22 | 18 | 15 |
| 4 | Jordan Woodward | 54 | 14 | 22 | 18 |
| 5 | Luke Walker | 46 | 15 | 15 | 16 |
| 6 | Charlie Woodward | 41 | 13 | 14 | 14 |
| 7 | Nick Luckman | 35 | 16 | 8 | 11 |
| 8 | Warren Benner | 34 | 10 | 11 | 13 |
| 9 | George Pym | 34 | 12 | 10 | 12 |
| 10 | Morgan Collingwood | 30 | 8 | 12 | 10 |
| 11 | Ben Ash | 24 | 11 | 13 | – |
| 12 | Travis Taylor | 23 | 7 | 7 | 9 |
| 13 | Jake Rose | 18 | 9 | 9 | – |
| 14 | Tyla James | 11 | 5 | 6 | – |
| 15 | Cameron Baird | 6 | 6 | – | – |
Pro
| | | | | | |
| --- | --- | --- | --- | --- | --- |
| Pos | Competitor | Points | R1 | R2 | R3 |
| 1 | Kieran Sembiante | 294 | 100 | 97 | 97 |
| 2 | Blaine Blackwell | 291 | 91 | 100 | 100 |
| 3 | Daniel Fisher | 287 | 97 | 95 | 95 |
| 4 | Harry Streeter | 277 | 95 | 91 | 91 |
| 5 | Paul Benham | 271 | 93 | 89 | 89 |
| 6 | Dan Foreman | 262 | 88 | 86 | 88 |
| 7 | Daniel Muddiman | 260 | 82 | 88 | 90 |
| 8 | Leo Vowles | 255 | 69 | 93 | 93 |
| 9 | Scott Joyner | 254 | 87 | 82 | 85 |
| 10 | Danny Kidd | 252 | 84 | 85 | 83 |
| 11 | Jake Thompson | 251 | 86 | 81 | 84 |
| 12 | Scott Thomas | 243 | 85 | 80 | 78 |
| 13 | Jason Gardener | 241 | 79 | 76 | 86 |
| 14 | Jack Guntrip | 235 | 78 | 78 | 79 |
| 15 | Callum Gutteridge | 232 | 71 | 79 | 82 |
| 16 | Joao Dias | 232 | 83 | 69 | 80 |
| 17 | Neil Parsons | 228 | 80 | 71 | 77 |
| 18 | Alex Cheshire | 226 | 75 | 75 | 76 |
| 19 | Jeff Pike | 225 | 70 | 74 | 81 |
| 20 | Tony Herd | 225 | 77 | 73 | 75 |
| 21 | Craig Griffiths | 225 | 81 | 72 | 72 |
| 22 | Ben Moran | 224 | 73 | 77 | 74 |
| 23 | Jay Taylor | 217 | 74 | 70 | 73 |
| 24 | Jack Harrison | 210 | 72 | 68 | 70 |
| 25 | Jack Pearce | 180 | 90 | 90 | – |
| 26 | Jody Burton | 174 | – | 87 | 87 |
| 27 | Shaun Ballard | 173 | 89 | 84 | – |
| 28 | Chris Rose | 159 | 76 | 83 | – |
| 29 | Soctt Pohlman | 138 | – | 67 | 71 |
Clubman
| | | | | | |
| --- | --- | --- | --- | --- | --- |
| Pos | Competitor | Points | R1 | R2 | R3 |
| 1 | Ash Arrowsmith | 199 | 67 | 65 | 67 |
| 2 | Troy Flynn | 196 | 65 | 63 | 68 |
| 3 | Steve Scott | 193 | 66 | 64 | 63 |
| 4 | Teagan Parnell | 189 | 68 | 62 | 59 |
| 5 | Matthew Cole | 186 | 64 | 56 | 66 |
| 6 | Phil Thomas | 186 | 62 | 60 | 64 |
| 7 | Adrian Hullah | 185 | 61 | 59 | 65 |
| 8 | Adam Burton | 180 | 60 | 58 | 62 |
| 9 | Leon Cotterill | 177 | 59 | 57 | 61 |
| 10 | Josh Cheshire | 176 | 63 | 55 | 58 |
| 11 | Lee Clark | 175 | 54 | 61 | 60 |
| 12 | Shaun Ballard | 165 | 55 | 53 | 57 |
| 13 | David Batner | 161 | 57 | 48 | 56 |
| 14 | Matt Barnard | 161 | 56 | 50 | 55 |
| 15 | Jordan Burton | 157 | 51 | 52 | 54 |
| 16 | Carl Elliott | 150 | 49 | 49 | 52 |
| 17 | Colin Blackwell | 149 | 52 | 47 | 50 |
| 18 | Daniel Wilson | 147 | 50 | 46 | 51 |
| 19 | Christopher Brown | 142 | 48 | 45 | 49 |
| 20 | Alex Sutton | 139 | 47 | 44 | 48 |
| 21 | Rhys Streeter | 135 | – | 66 | 69 |
| 22 | Jason Hawkes | 112 | 58 | 54 | – |
| 23 | Jon-Paul Cotton | 104 | – | 51 | 53 |
| 24 | Paul Radford | 96 | 53 | 43 | – |
Masters
| | | | | | | | | |
| --- | --- | --- | --- | --- | --- | --- | --- | --- |
| Pos | Competitor | Points | R1 | R2 | R3 | R4 | R5 | R6 |
| 1 | Dan Foreman | 72 | 25 | – | 22 | – | 25 | – |
| 2 | Scott Joyner | 56 | 22 | – | 18 | – | 16 | – |
| 3 | Jason Gardener | 52 | 18 | – | 16 | – | 18 | – |
| 4 | Jody Burton | 47 | – | – | 25 | – | 22 | – |
| 5 | Jeff Pike | 45 | 15 | – | 15 | – | 15 | – |
| 6 | Tony Herd | 44 | 16 | – | 14 | – | 14 | – |
| 7 | Steve Scott | 40 | – | 14 | – | 13 | – | 13 |
| 8 | Shaun Ballard | 35 | – | 11 | – | 12 | – | 12 |
| 9 | David Batner | 33 | – | 13 | – | 9 | – | 11 |
| 10 | Matt Barnard | 32 | – | 12 | – | 10 | – | 10 |
| 11 | Jon-Paul Cotton | 20 | – | – | – | 11 | – | 9 |
Vets
| | | | | | | | | |
| --- | --- | --- | --- | --- | --- | --- | --- | --- |
| Pos | Competitor | Points | R1 | R2 | R3 | R4 | R5 | R6 |
| 1 | Neil Parsons | 72 | 25 | – | 22 | – | 25 | – |
| 2 | Jay Taylor | 58 | 18 | – | 18 | – | 22 | – |
| 3 | Adrian Hullah | 50 | – | 16 | – | 16 | – | 18 |
| 4 | Phil Thomas | 50 | – | 17 | – | 17 | – | 16 |
| 5 | Chris Rose | 47 | 22 | – | 25 | – | – | – |
| 6 | Adam Burton | 45 | – | 15 | – | 15 | – | 15 |
| 7 | Colin Blackwell | 41 | – | 13 | – | 14 | – | 14 |
| 8 | Paul Radford | 27 | – | 14 | – | 13 | – | – |
Rookies
| | | | | | | | | |
| --- | --- | --- | --- | --- | --- | --- | --- | --- |
| Pos | Competitor | Points | R1 | R2 | R3 | R4 | R5 | R6 |
| 1 | Harry Streeter | 69 | 25 | – | 22 | – | 22 | – |
| 2 | Leo Vowles | 64 | 14 | – | 25 | – | 25 | – |
| 3 | Alex Cheshire | 51 | 18 | – | 15 | – | 18 | – |
| 4 | Ben Moran | 48 | 16 | – | 16 | – | 16 | – |
| 5 | Jack Harrison | 44 | 15 | – | 14 | – | 15 | – |
| 6 | Teagan Parnell | 40 | – | 13 | – | 13 | – | 14 |
| 7 | Shaun Ballard | 40 | 22 | – | 18 | – | – | – |