Dirty Dozen with Oli Sansom
Oli Sansom has been super busy in 2020, what with racing Quad and Beachcross at every opportunity, including taking his first British Champs Pro win, starting up the MX Academy practice track in the Midlands, and running a Yamaha dealership, but he managed to sneak in answering our Dirty Dozen questions.
So let's dive into the questions…
Dirt Hub: Do you have a Pre-Race Playlist you listen too, and if so name a couple of tracks that are on it?
Oli: Pre-race playlist I listen to Mist the grime artist who is a personal friend of mine from Birmingham. He came from nothing to the top of the charts so I have a lot of time for him showing if you stick to your dreams they can come true with the right amount of effort. "So high" or some of his older tunes.
DH: When was the last time you cried?
Oli: Last time I cried? Mmm… When I came over the line at Mildenhall when I finally won my first ACU British championship moto. That meant so much to me.
DH: What is your favourite inspirational quote?
Oli: "Never ride faster than your angels can fly"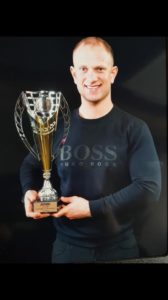 DH: Do you have any weird suspicions or pre-race rituals?
Oli: Tap my front number board on the line #3
DH: What drives you most to get up in the morning and go training?
Oli: That feeling of winning and being a Champion, drives me to train. "The more you sweat in practice the less you bleed in battle "
DH: If you didn't race what sport would you play?
Oli: I boxed as a youth and had 18 amateur bouts. I love the sport and definitely would box if I couldn't race.
DH: What is your biggest Phobia?
Oli: I don't like snakes and spiders lol
DH: Who is your biggest sporting idol and why?
Oli: Tyson fury, he's a true inspiration. "Read his book"
DH: Where do you see yourself in five years time?
Oli: To have won a British championship title and be healthy and successful in my business.
DH: What is your all-time favourite movie?
Oli: Any of the Rocky movies
DH: Who has had the biggest impact on your career?
Oli: My mechanic Dave Porter. He has been with me now for 17 years.
DH: What is your philosophy on life?
Oli: To laugh, live life to the full, don't overthink things and have fun!