2023 Minibike British Championship is Go – Dates, Venues & Info
The 2023 Minibike British Championship will be contested over six rounds over three weekends.
Feature Image courtesy of Minibike Champs
The Championship starts for rounds one and two on April 29/30th a new venue for MBC at Greenfield Dirt Track on the newly built Greenfield Minibike Track in Lincoln.
Rounds Three and four will be staged at the prestigious Kieradan Park, Scunthorpe on the 24/25th June.
And the final rounds five and six will take place at FatCat Moto Parc, Doncaster on the 23/24th September.
No Membership Fees for 2022 members
Yep, that's right! If you were a member in 2022 your membership is automatically rolled over for 2023! If you have changed race class or number please just drop us an email (Number changes only on available numbers)
2023 Membership fees
Adults £15
Youth/Kids £10
2023 Membership opens Friday 10/02/23
2023 Members Event entry fees
Adult Race classes £50 per day – £95 weekend (Online pre entry)
Youth/Kids classes £40 per day – £75 weekend (Online pre entry)
2023 Non Member Event entry fees
Adult Race classes £60 per day – £105 weekend (Online pre entry)
Youth/Kids classes £50 per day – £85 weekend (Online pre entry)
Pay on the day entry fee
Is an additional £10 for members and non members, please pre enter!
Nora Motorsport
Day licences – £10 per day and £15 for weekend
Transponders – £10 per day and £15 for weekend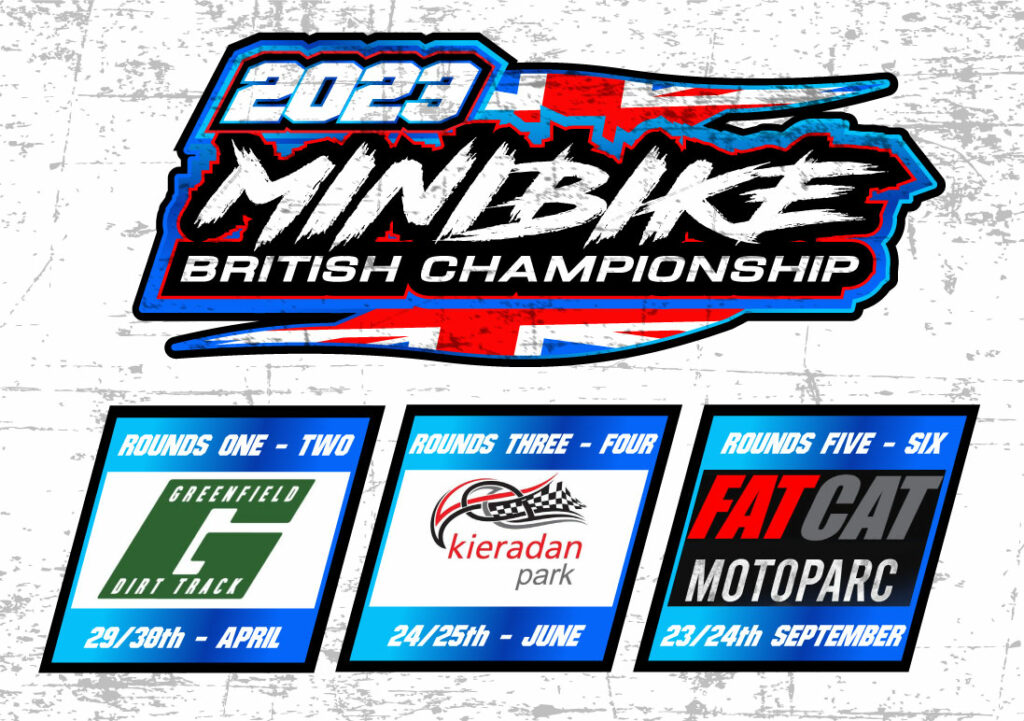 Event Organiser – Jamie Courtney adds, "It's been a tough winter deciding what to do with the Championship with the cost of living crisis and rider numbers being so low throughout the 2022 season.
Apologies for the lack of posts on our social media but we have had to take our time and consider all options before announcing 2023 plans.
Minibike Champs started in 2012 and it was a similar situation with costs spiralling and businesses struggling. But, racers still wanted to race their bikes.
Minibike Champs has always been somewhere for racers to come along and enjoy themselves and have fun along with friends and family over a weekend at our events.
A lot of time and consideration has been taken on how many events and what dates to run for 2023 and a smaller calendar at the right venues will be crucial along with the riders who support the events and take part for the future of MBC.
Those who have been part of MBC along the years will know how dedicated and passionate about the sport we are here at Minibike Champs. We can't wait to see familiar and new faces this year and look forward to getting racing again on the 29/30th April at Greenfield for rounds one and two!"