Searle & Gifting hit the heights at Round 4! 2022 Revo ACU British Motocross Championship Round 4 – Race Report & Results
Round 4 of the Revo ACU British Motocross Championship saw us head to the famous Canada Heights circuit and again we were greeted by glorious sunshine. Spectators turned out to take in the sunshine and enjoy some great racing. At this round we had the 85BW, 125cc, 250cc, MX2 and MX1 classes competing.
Report by Rhys Roberts – RHL Activities – Images courtesy of RHL Activities/Conway MX
In the 85BW class Billy Askew took the overall with two dominant race wins, stretching his advantage at the top of the Championship table. Prior to round 4 Jake Walker seemed to be the number 1 challenger to Askew however, this time out Josh Vail showed he has the speed to contend for this Championship. Vail qualified 1st with the fastest time in the morning and came home with two comfortable 2nd place finishes for 2nd overall. Jake Walker had a quieter weekend out taking home two 3rd place finishes for 3rd overall.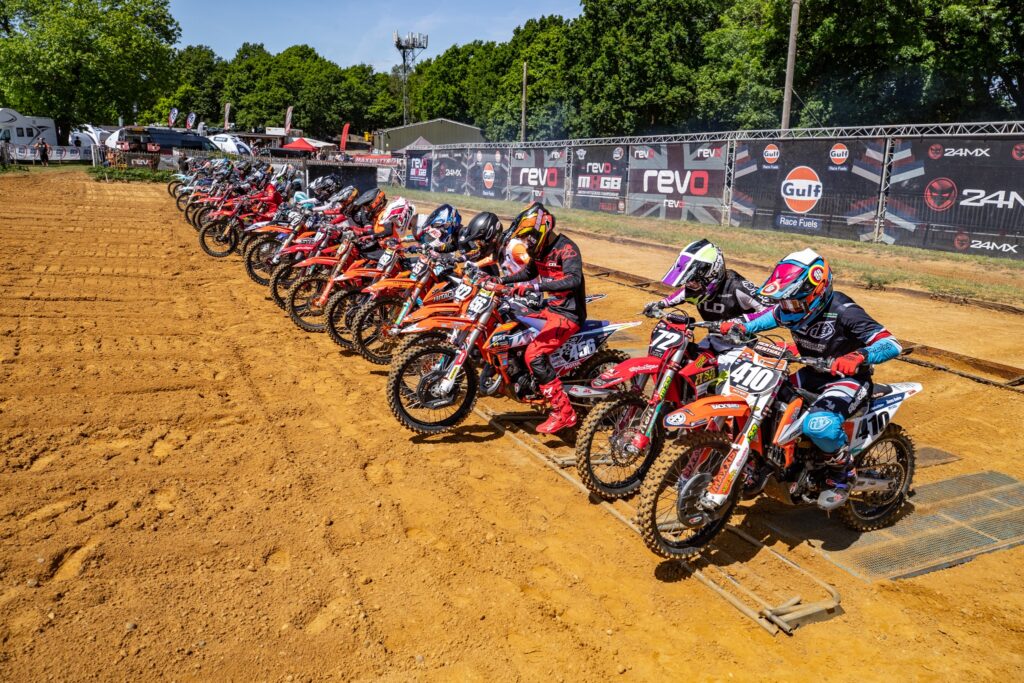 The ever entertaining 125cc category didn't disappoint at Canada Heights with plenty of drama in both races. It all started in race 1 when championship leaders Charlie Heyman and Ollie Colmer came together down the start straight causing both of them to go down. This forced them to battle through the pack leaving the door open for Joe Brooks to breeze home with the race win with Tyler Hooley in 2nd and Kasamir Hindersson in 3rd. Heyman and Colmer came back for race 2 determined to get out front after only managing mid pack finishes in race 1 and that's what they did, with Heyman taking the race win and Colmer coming home in 2nd. These mixed results made for an interesting podium. Brooks took the overall with 1-3 scores, Tyla Hooley took 2nd with 2-4 scores and Heyman snatched the third step on the podium after damaged limitations in moto 1.
Canada Heights saw the return of the 250cc youth class and once again Tyler Westcott took both race wins in convincing fashion proving he really is in control of this Championship. Jak Taylor looks to be quicker every time he jumps on the bike, and you can tell he is pushing hard to try and take the fight to Westcott. Taylor took home two 2nd place finishes for 2nd overall. Hudson Roper put in two solid performances for 3rd overall.

The MX2 class took a shocking blow in race 1 when its Championship leader Conrad Mewse went down in a collision on the start straight. Mewse got up gingerly favouring his right arm and didn't attempt to get back on his 426 Stebbings machine. He left the venue and didn't return to the line for race 2. With Mewse out, the door was open for a list of hungry challengers to try and take the overall. Revo Seven Kawasaki rider Dylan Walsh looked to be the favourite after he took pole in qualifying setting the fastest lap time even with Mewse in the picture. Walsh took the holeshot however a suspected rear brake issue prevented him from really challenging for the win in race 1 and the Kawasaki man took a 2nd place finish. This round saw the return of the Hitachi KTM riders and Isak Gifting looked very fast. With Walsh having brake issues in race one, Gifting took an easy race win. Race two saw them line up again and just like race one Walsh grabbed the holeshot forcing Gifting to make the pass straight up. Gifting did this in the early stages of the race and the GP rider ended up taking home a perfect scorecard and the overall. Walsh had to settle for 2nd overall with a 2-2 scorecard but with more time on the 250 what will he be able to do in the coming rounds? Kay Karssemakers had an easy day and grabbed 3rd overall with a 3-3 scorecard. 4th overall and 1st expert went to a very deserved Jamie Wainwright who finally had a straightforward weekend being able to show the speed he has.
Tommy Searle was a man that couldn't be beaten in the MX1 class at Canada Heights after sweeping up for a perfect weekend. Searle took home both race wins in dominant fashion giving him the overall and extending his points advantage at the top of the Championship. The real race was for the second spot on the podium between Josh Gilbert and Harri Kullas, the two battled it out in both motos and ended up trading results. Gilbert took home second overall with a 3-2 scorecard and the better last race result and Kullas took 3rd overall with a 2-3 scorecard. Shaun Simpson expressed how much he likes returning to the Canada Heights circuit each year, however he will be disappointed with missing out on the podium, with 4-4 scores on the day yielding him 4th overall. 5th on the day went to John Adamson who had two solid races. The ASA United GasGas squad will be happy with the progress the Scotsman has made this year.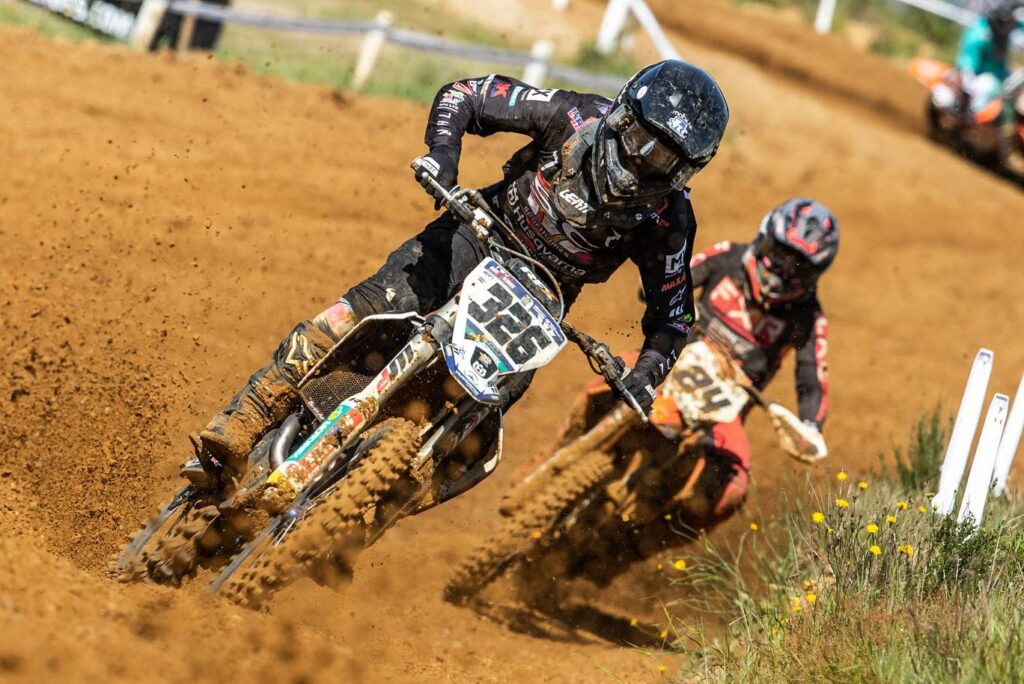 Results
MX1
| | | | | |
| --- | --- | --- | --- | --- |
| Pos | Competitor | Points | R1 | R2 |
| 1 | Tommy Searle | 50 | 25 | 25 |
| 2 | Josh Gilbert | 42 | 20 | 22 |
| 3 | Harri Kullas | 42 | 22 | 20 |
| 4 | Shaun Simpson | 36 | 18 | 18 |
| 5 | John Adamson | 31 | 15 | 16 |
| 6 | Brad Todd | 28 | 13 | 15 |
| 7 | Martin Barr | 26 | 12 | 14 |
| 8 | Jason Meara | 23 | 11 | 12 |
| 9 | Stuart Edmonds | 19 | 6 | 13 |
| 10 | Dan Thornhill | 19 | 8 | 11 |
| 11 | Glenn Mccormick | 19 | 10 | 9 |
| 12 | Jake Millward | 16 | 16 | – |
| 13 | Luke Benstead | 15 | 5 | 10 |
| 14 | Jack Brunell | 15 | 7 | 8 |
| 15 | Petar Petrov | 14 | 14 | – |
| 16 | Liam Knight | 13 | 9 | 4 |
| 17 | Luke Smith | 9 | 3 | 6 |
| 18 | Billy Mackenzie | 7 | – | 7 |
| 19 | Richard Mckeown | 6 | 4 | 2 |
| 20 | Charlie Putnam | 5 | – | 5 |
| 21 | Jayden Boyd Ashwell | 5 | 2 | 3 |
| 22 | Drew Anderson | 2 | 1 | 1 |
MX2
| | | | | |
| --- | --- | --- | --- | --- |
| Pos | Competitor | Points | R1 | R2 |
| 1 | Isak Gifting | 50 | 25 | 25 |
| 2 | Dylan Walsh | 44 | 22 | 22 |
| 3 | Kay Karssemakers | 40 | 20 | 20 |
| 4 | Jamie Wainwright | 31 | 13 | 18 |
| 5 | Tom Grimshaw | 31 | 16 | 15 |
| 6 | Ben Putnam | 31 | 18 | 13 |
| 7 | James Carpenter | 29 | 15 | 14 |
| 8 | Josh Spinks | 23 | 7 | 16 |
| 9 | Jamie Law | 20 | 8 | 12 |
| 10 | Calum Mitchell | 20 | 10 | 10 |
| 11 | Brad Anderson | 17 | 6 | 11 |
| 12 | Charlie Cole | 14 | 14 | – |
| 13 | Neville Bradshaw | 12 | 12 | – |
| 14 | Adam Collings | 11 | 11 | – |
| 15 | Matt Bayliss | 10 | 1 | 9 |
| 16 | Jake Sheridan | 10 | 2 | 8 |
| 17 | Aaron Ongley | 10 | 5 | 5 |
| 18 | Alfie Jones | 9 | 9 | – |
| 19 | Tom Murphy | 7 | – | 7 |
| 20 | Sam Nunn | 6 | – | 6 |
| 21 | Travis Steels | 5 | 4 | 1 |
| 22 | Louie Kessell | 4 | – | 4 |
| 23 | Jake Preston | 3 | – | 3 |
| 24 | Michael Ellis | 3 | 3 | – |
| 25 | Wal Beaney | 2 | – | 2 |
Youth 250
| | | | | |
| --- | --- | --- | --- | --- |
| Pos | Competitor | Points | R1 | R2 |
| 1 | Tyler Westcott | 50 | 25 | 25 |
| 2 | Jak Taylor | 44 | 22 | 22 |
| 3 | Hudson Roper | 38 | 18 | 20 |
| 4 | Harvey Cashmore | 31 | 20 | 11 |
| 5 | Charlie Palmer | 30 | 12 | 18 |
| 6 | Ben Zeale | 29 | 14 | 15 |
| 7 | Callum Murfitt | 26 | 10 | 16 |
| 8 | Jake Rackham | 25 | 13 | 12 |
| 9 | Josh Bassett | 23 | 9 | 14 |
| 10 | Leon Williams | 23 | 15 | 8 |
| 11 | Domonic Newbury | 22 | 16 | 6 |
| 12 | Bayliss Utting | 21 | 8 | 13 |
| 13 | Eidur Orri Palmarsson | 21 | 11 | 10 |
| 14 | Mckenzie Marshall | 16 | 7 | 9 |
| 15 | Lenny Ashley | 13 | 6 | 7 |
| 16 | Frankie West | 10 | 5 | 5 |
Youth 125
| | | | | |
| --- | --- | --- | --- | --- |
| Pos | Competitor | Points | R1 | R2 |
| 1 | Joe Brookes | 45 | 25 | 20 |
| 2 | Tyla Hooley | 40 | 22 | 18 |
| 3 | Charlie Heyman | 35 | 10 | 25 |
| 4 | James Barker | 34 | 18 | 16 |
| 5 | Ollie Colmer | 29 | 7 | 22 |
| 6 | Raife Broadley | 27 | 15 | 12 |
| 7 | George Hopkins | 27 | 16 | 11 |
| 8 | Liam Bennett | 22 | 13 | 9 |
| 9 | Harrison Greenough | 21 | 8 | 13 |
| 10 | Cole Mccullough | 20 | 5 | 15 |
| 11 | Kasimir Hindersson | 20 | 20 | – |
| 12 | Jacob Randall | 14 | 14 | – |
| 13 | Ben Mustoe | 14 | – | 14 |
| 14 | Matt Tolley | 14 | 6 | 8 |
| 15 | Beau Brown | 13 | 11 | 2 |
| 16 | Charlie Griffiths | 12 | 2 | 10 |
| 17 | Jude Turton | 12 | 12 | – |
| 18 | Dan Arkell | 11 | 4 | 7 |
| 19 | Ashden Barlow | 9 | 9 | – |
| 20 | Erez Melman | 8 | 3 | 5 |
| 21 | Carl Harris | 7 | 1 | 6 |
| 22 | Ezra Blackwell | 4 | – | 4 |
| 23 | Kayden Smith | 3 | – | 3 |
| 24 | Benny Bradley | 1 | – | 1 |
Big Wheel 85
| | | | | |
| --- | --- | --- | --- | --- |
| Pos | Competitor | Points | R1 | R2 |
| 1 | Billy Askew | 90 | 45 | 45 |
| 2 | Josh Vail | 84 | 42 | 42 |
| 3 | Jake Walker | 80 | 40 | 40 |
| 4 | Freddie Gardiner | 74 | 36 | 38 |
| 5 | Ryan Waggott | 71 | 35 | 36 |
| 6 | Charlie Richmond | 70 | 38 | 32 |
| 7 | Ollie Bubb | 69 | 34 | 35 |
| 8 | Brandon Hedayat | 62 | 29 | 33 |
| 9 | Jamie Keith | 62 | 32 | 30 |
| 10 | Lucy Barker | 61 | 30 | 31 |
| 11 | Drew Stock | 61 | 33 | 28 |
| 12 | Chester Hyde | 58 | 31 | 27 |
| 13 | Austin Beasty | 56 | 27 | 29 |
| 14 | Will Haddock | 54 | 20 | 34 |
| 15 | Ben Mcconville | 54 | 28 | 26 |
| 16 | Jack Brearey | 50 | 25 | 25 |
| 17 | Gus Mustoe | 50 | 26 | 24 |
| 18 | Lewis Spratt | 47 | 24 | 23 |
| 19 | Riley Small | 45 | 23 | 22 |
| 20 | Tyler Jones | 42 | 21 | 21 |
| 21 | Will Turner | 41 | 22 | 19 |
| 22 | Fabian Junior Morrison | 39 | 19 | 20 |
| 23 | Oliver McHugh | 34 | 16 | 18 |
| 24 | Alfie Osborn | 18 | 18 | – |
| 25 | Alfie Payne | 17 | 17 | – |
| 26 | Braidy Tucker | 15 | 15 | – |