Rising Star of the DTRA Ted Wilkinson!
Ted Wilkinson, the 12-year-old from Runcorn in Cheshire who has won three of the Dirt Track Riders Association (DTRA) youth championships since 2016 will be the next racer to feature in our rising star interviews.
Interview by Max Inman – Images courtesy of Braking Point Images
Dirt Hub: How did you get into racing?
Ted: My Dad got me into racing, he bought my first bike when I was four years old.
DH: What was your first bike?
Ted: A Yamaha PW50, which I still have and will never sell!
DH: Where was your first race?
Ted: It was with a club called Lancashire Off-Road Grass Track Association in Preston when I was six.
DH: What bike did you ride in your debut race?
Ted: I was on an automatic 50cc Husqvarna.
DH: Where was your first podium?
Ted: At another Grasstrack race in Preston, I came third.
DH: What is your most memorable racing moment?
Ted: Having won the DTRA British Championship three times in different junior classes you might think it was one of those but my most memorable racing moment so far was at King's Lynn, the 2019 season opener. It was my first race back after missing a season due to injury, my bike seized on the start of the first heat. I thought my day's racing was over but George Pickering stepped in and let me use one of his CRF100 minibikes. I found it tough racing against the 85cc two-strokes but I had great fun riding the minibike flat out in top gear every lap and managed to get fourth place.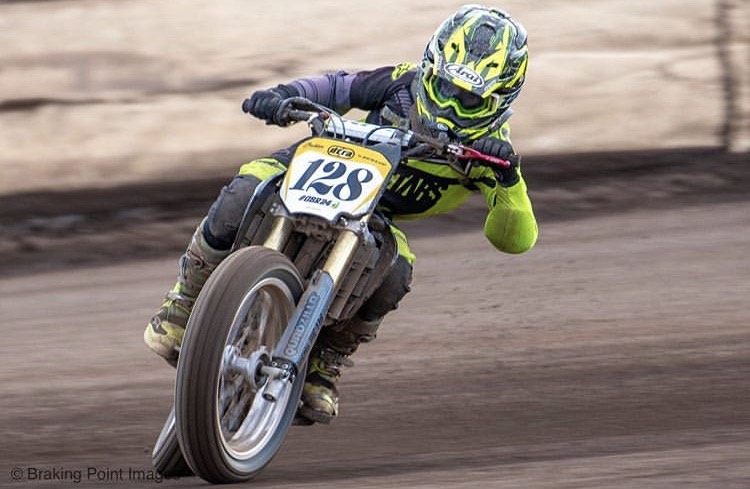 DH: What is your favourite track?
Ted: I'd say Amman Valley half-mile in Wales. It is fast and loose. My favourite to spectate is Peterborough Speedway, when the MCN Show is in town.
What is your favourite bike you've ever raced?
Ted: My Husqvarna 85 because my riding has progressed so much since I got it, but I also can't wait to race the Evolve Motorsport Honda 150.
DH: What age did you start riding?
Ted: I started riding when I was four years old and spent about a year riding a Yamaha PW50 and then moved onto an automatic 50cc Husqvarna which was the first bike I raced.
DH: Where do you see your racing career in ten years?
Ted: I'd like to be racing in the American Flat Track championship as well as competing in a road racing world championship.
DH: Who inspires you to race?
Ted: My dad, he was the person who started me off racing and we have great fun together when he teaches me things about my bike. My preparation leading up to the race is almost as important as the race itself.
DH: What are the biggest challenges you face as a young racer?
Ted: My biggest challenge is probably the mental side of it because if you don't have the right mindset you're probably not going to win.
DH: What is the best place you've ever ridden?
Ted: Belle Vue Speedway in Manchester. The track preparation is immaculate. The track I've made the most memories at is Buxton Speedway with the Ride & Skid It team. Ride & Skid It is a flat track and speedway team run by Aidan Collins, he has won the national flat track championship many times. I've learnt so much as a rider there and the atmosphere is great.
DH: What is the best tip you've ever been given?
Ted: I've been given some really good tips along the way but my favourite is from Aidan Collins, "Balls to the wall" and my dad says "Pin it!".
DH: Do you take part in any other sports other than flat track?
Ted: I do a lot, to keep fit I love mountain biking and running. I enjoy shooting with my Grandad when I am not racing as well.
DH: How do you prepare for race day?
Ted: I like to try to have an early night before racing, I never really feel like breakfast in the morning but always have a bowl of fruit to get up and running. I like to get my riding gear on early and make sure my goggles are clean and tear-offs are ready. Then I like to sit on my bike thinking about my race and make sure everything feels good, then I'm ready to race.
DH: What is it you enjoy most about racing with the DTRA?
Ted: The whole experience, racing the bike on the pipe and the buzz of sliding sideways through the corners.
DH: Who has had the biggest impact on your racing career?
Ted: Well I have a few people who have had an impact on my racing but the main ones are my mum and dad who have taken me all over the country racing and have really helped get me to where I am now. Aiden Collins and his team have been a big part of my learning curve. The latest big impact was from the Evolve Team, they put together a mega Honda 150 for me to ride in the 2020 DTRA season, which is awesome.
DH: What do you think will happen to UK flat track in the future?
Ted: I think it will grow and become more popular. It's great to see the likes of Team Evolve and Team Greenfield putting together professional looking race teams which makes DTRA more competitive, hopefully, we can get even more.
DH: What effect do you think that will have on your career?
Ted: I hope it will help me in my career in racing, with more sponsors it could help me achieve my dreams of racing in America.
For our Rising Star of the DTRA feature with Fergus Bluff head here >> https://www.dirthub.co.uk/rising-star-of-the-dtra-fergus-bluff/