New Champions Crowned in London! 2020 Arenacross Tour Finale – Report, Results and Final Standings
The 2020 Arenacross Tour crowned a new Champion, Fro System's Brian HSU took the Superfinal title in front of a sold out crowd at The SSE Arena, Wembley in London. Fierce challenges from former Champion Cedric Soubeyras (ASA United Husqvarna) who came in second with Aussie Supercross legend Dan Reardon (Fro Systems) in third.
Images courtesy of X-Cast Media
The Pro 450 Championship was won by SR75 World Suzuki rider Charles Lefrancois who has had a dominant Arenacross. Former triple Champion Thomas Ramette (Offset CBD) came in second in the Championship despite a first lap crash in the Superfinal. Shocktech Kawasaki's Fabien Izoird took a hard earned third.
The newcomer Brian HSU (Fro Systems) topped the Pro Lites with ASA United Husqvarna rider Cedric Soubeyras in second and Wooldridge Honda's Julien Lebeau in third.
The finale in London was off the charts.

Check out the highlights from the evening show!
Adam Wells would go on to win the Pro-Am final from Matt Lomas and Sion Talbot but the title would go the way of Jack Timms, just two points ahead of George Clarke with Talbot third.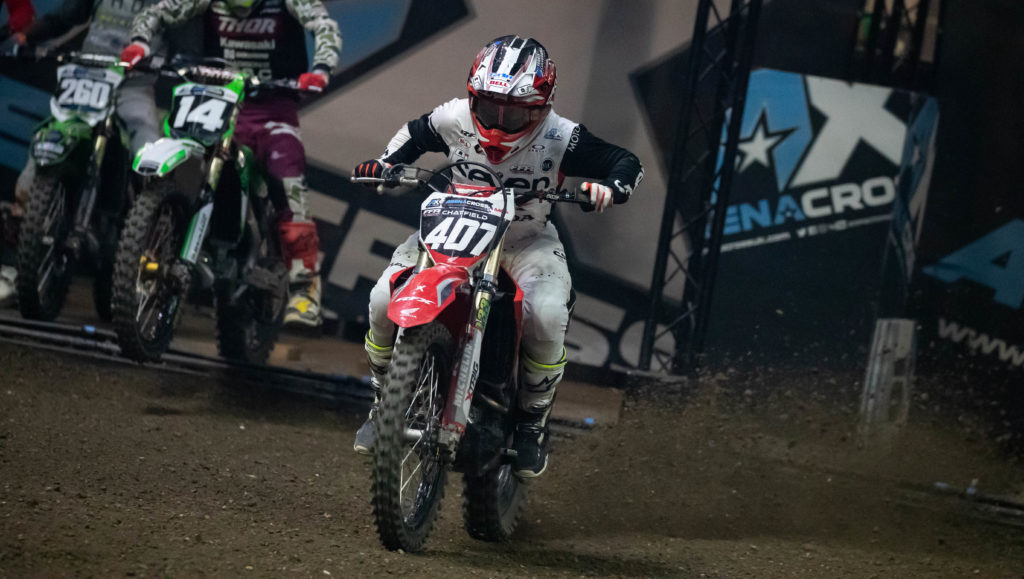 With a win and a second Ben Clayton would take the Rookies title by 12 points over Carl Ostermann, with Jago Beasty taking two thirds to secure the number three spot on the final podium. Ostermann would win the first race but a fourth in the second moto halted his title aspirations. Robert Storer would save his best until last with a great second in the 2nd moto.
Isaac Ash proved to be the Supermini Small Wheel maestro only being defeated once all series long. Sebastian Moore had his best round finishing second in each moto, but with 3-3 scorecard Alfie Osborn would be the series Runner Up, with Austin Beasty in third.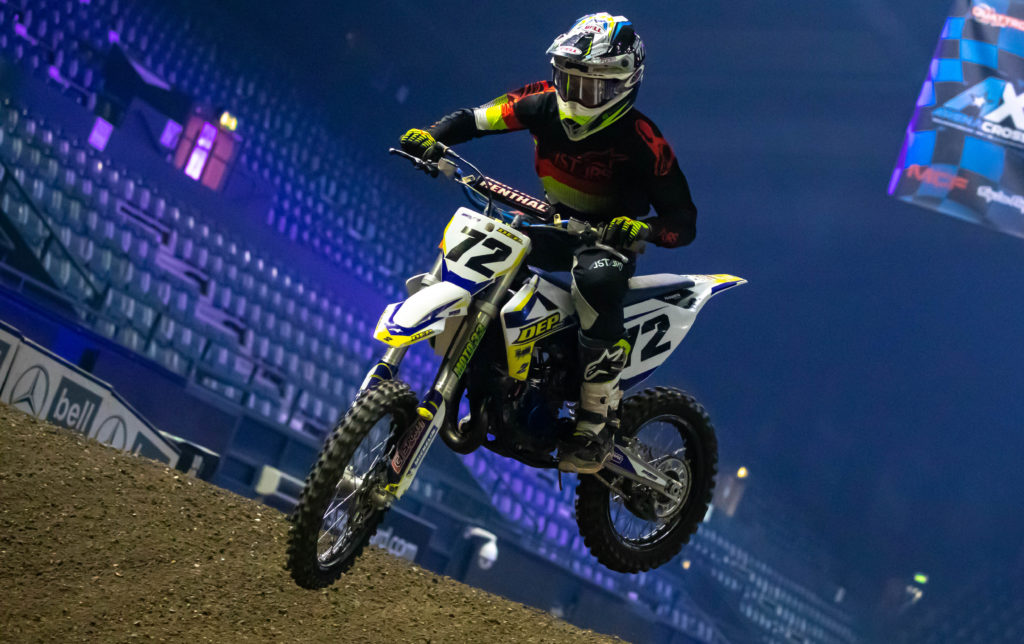 In the Supermini Big Wheels, the battle between Raife Broadley and Charlie Irwin continued to rage as they shared a win and a second apiece with Jules Pietre in third on each occasion. When it came to the overall though Broadley would be the victor 10 points ahead of Irwin with Matthew Beatie in third.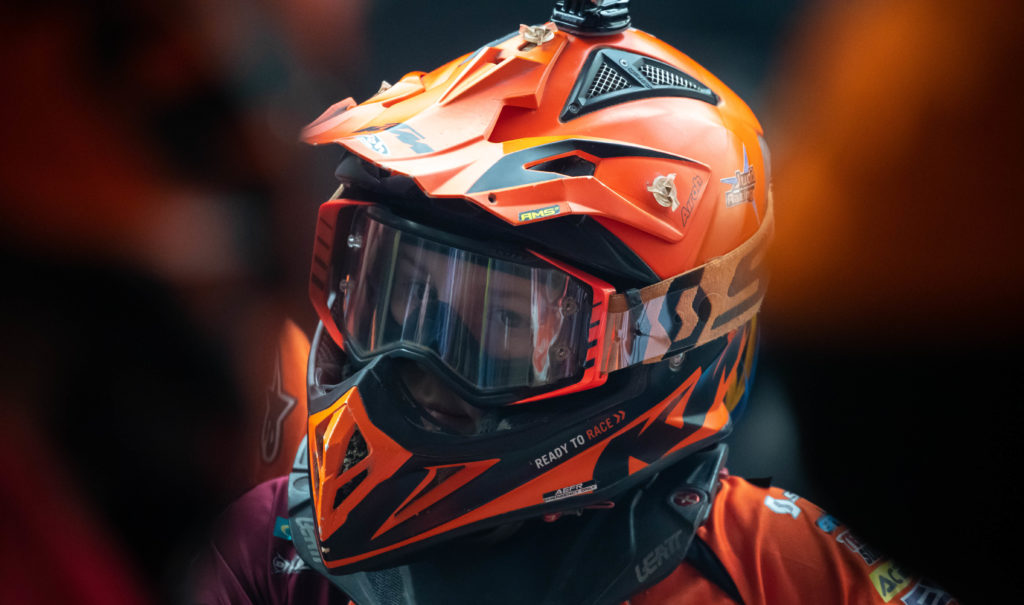 Dean Rudnick would open his Wembley account with a win in the first 65cc race but the soon be crowned champ Drew Stock couldn't be kept down and he would gain revenge in the second race taking the chequers and the title with it. Rudnik may have won on the night with a 1-2 but he would finish second overall in the final standings with Robbie Daly in third.  Daly would open his day with a second before finishing fifth in moto two, while Harrison Davies had his best round of the series with a pair of thirds for third on the night and fourth in the series.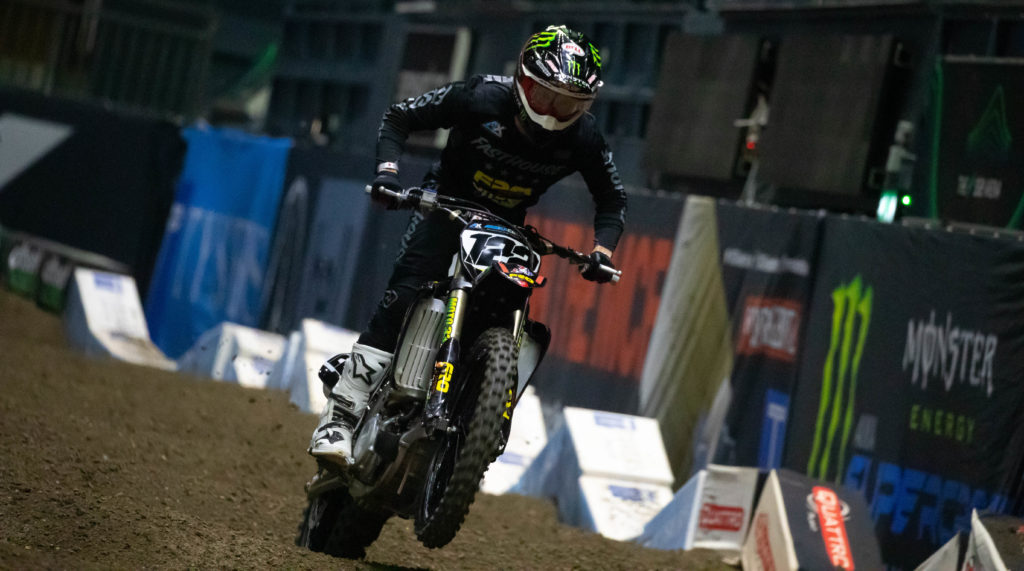 Results
Super Final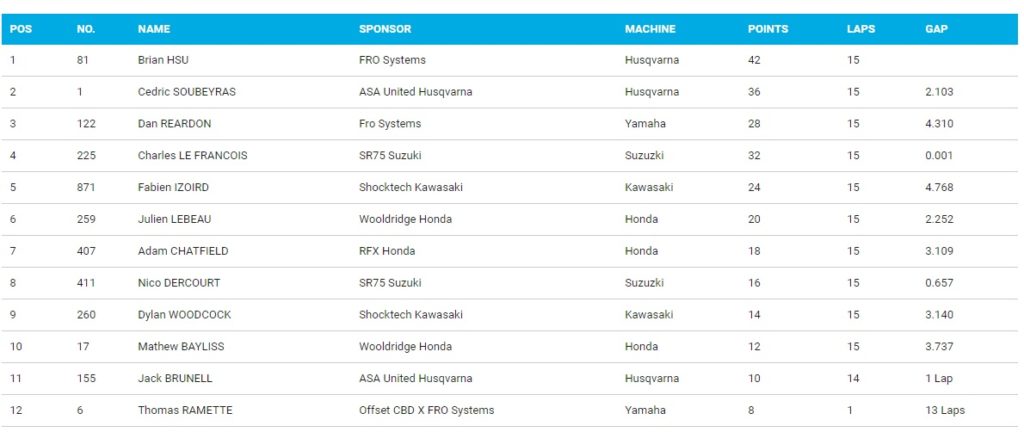 Pro 450 Race 1
Pos Competitor Laps Last Lap Diff Gap Best Lap
1 225 Charles LE FRANCOIS 12 25.302 24.170
2 6 Thomas RAMETTE 12 24.598 0.473 0.473 24.131
3 871 Fabien IZOIRD 12 25.340 5.259 4.786 24.602
4 155 Jack BRUNELL 12 25.619 7.303 2.044 24.464
5 144 Colin Jurin 12 25.720 10.227 2.924 24.506
6 17 Mathew BAYLISS 12 26.187 13.723 3.496 25.256
7 941 Angelo PELLEGRINI 12 25.676 13.724 0.001 24.858
8 221 Kevin Ballenger 12 25.418 14.460 0.736 25.047
9 162 Stuart EDMONDS 12 26.544 19.591 5.131 25.450
10 381 Scooter Webster 11 30.165 1 Lap 1 Lap 26.049
11 122 Dan REARDON 12 Laps 11 Laps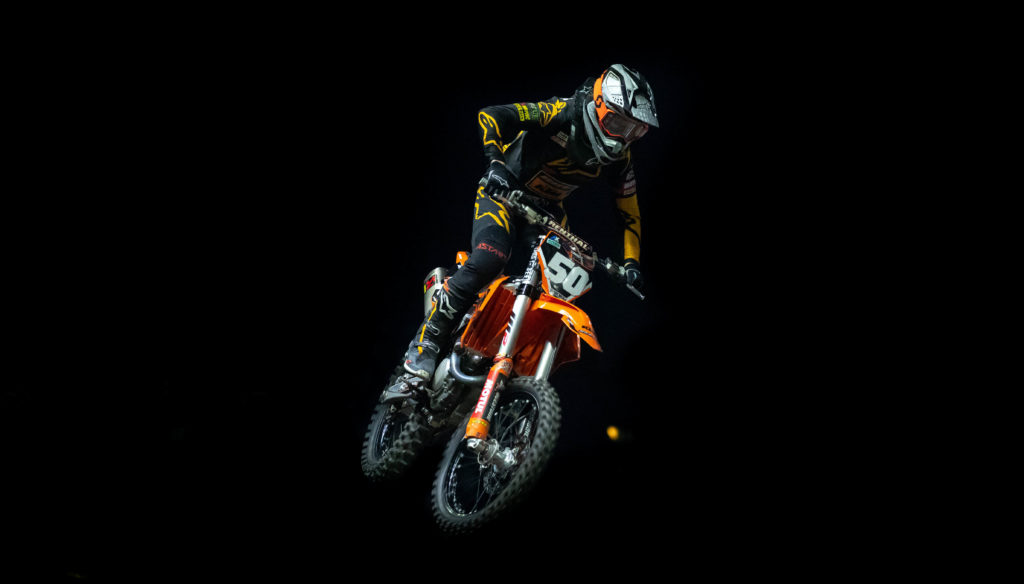 Pro 450 Race 2
Pos Competitor Laps Last Lap Diff Gap Best Lap
1 225 Charles LE FRANCOIS 12 25.198 24.759
2 871 Fabien IZOIRD 12 25.197 0.552 0.552 24.567
3 155 Jack BRUNELL 12 25.527 2.287 1.735 24.913
4 6 Thomas RAMETTE 12 25.293 4.085 1.798 24.565
5 122 Dan REARDON 12 26.145 5.509 1.424 24.463
6 17 Mathew BAYLISS 12 25.662 7.983 2.474 24.850
7 941 Angelo PELLEGRINI 12 25.395 9.960 1.977 25.005
8 162 Stuart EDMONDS 12 26.489 17.021 7.061 25.435
9 381 Scooter Webster 12 26.621 20.764 3.743 25.715
10 221 Kevin Ballenger 12 25.555 22.076 1.312 24.920
11 144 Colin Jurin 11 30.426 1 Lap 1 Lap 24.888
Pro Lites Race 1
Pos Competitor Laps Last Lap Diff Gap Best Lap
1 81 Brian HSU 12 28.178 23.193
2 1 Cedric SOUBEYRAS 12 29.634 2.180 2.180 23.441
3 259 Julien LEBEAU 12 22.943 5.001 2.821 22.943
4 407 Adam CHATFIELD 12 25.135 6.032 1.031 23.675
5 260 Dylan WOODCOCK 12 25.046 7.103 1.071 24.288
6 411 Nico DERCOURT 12 24.483 8.419 1.316 24.073
7 50 Martin BARR 12 25.718 11.784 3.365 24.505
8 14 Joe CLAYTON 12 34.157 18.776 6.992 24.324
9 313 Jordan KEOGH 12 26.425 19.997 1.221 24.902
10 111 Eythor Reynisson 10 42.754 2 Laps 2 Laps 25.788
Pro Lites Race 2
Pos Competitor Laps Last Lap Diff Gap Best Lap
1 1 Cedric SOUBEYRAS 12 24.649 23.884
2 259 Julien LEBEAU 12 24.933 1.600 1.600 24.144
3 411 Nico DERCOURT 12 25.172 3.298 1.698 22.436
4 81 Brian HSU 12 24.160 6.781 3.483 24.160
5 407 Adam CHATFIELD 12 26.908 9.976 3.195 24.438
6 14 Joe CLAYTON 12 25.325 11.176 1.200 24.819
7 50 Martin BARR 12 25.091 11.727 0.551 24.522
8 260 Dylan WOODCOCK 12 26.397 14.348 2.621 24.934
9 313 Jordan KEOGH 12 26.771 16.397 2.049 25.252
10 111 Eythor Reynisson 12 27.262 22.648 6.251 25.526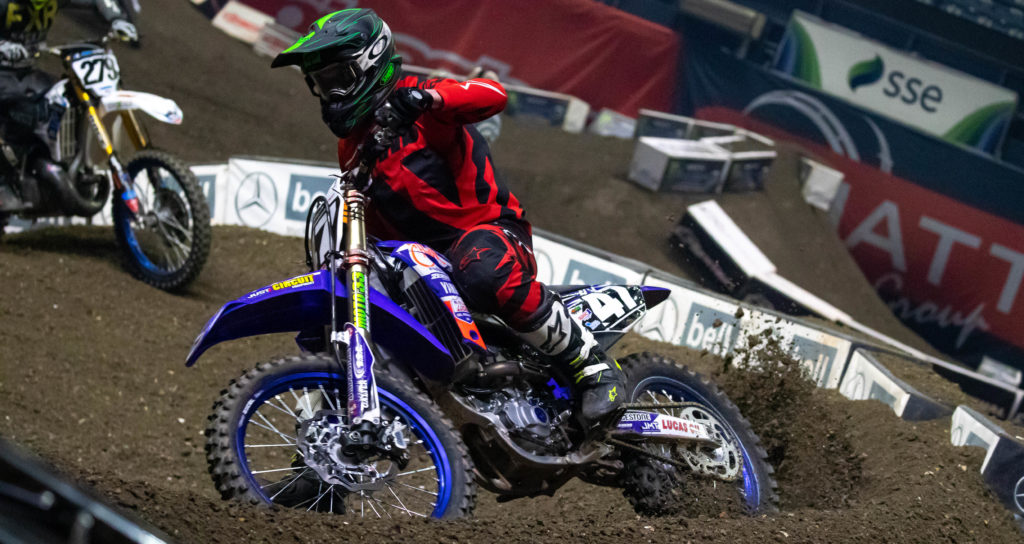 Pro-Am Final
Pos Competitor Laps Last Lap Diff Gap Best Lap
1 156 Adam WELLS 10 27.855 25.938
2 169 Matt LOMAS 10 27.438 5.072 5.072 26.372
3 39 Sion Talbot 10 30.052 10.953 5.881 25.750
4 79 George Clarke 10 38.045 14.564 3.611 26.274
5 143 Luke BULL 10 30.269 17.087 2.523 26.675
6 75 Aaron ONGLEY 10 28.111 18.864 1.777 27.047
7 279 Adam HARRIS 9 26.526 1 Lap 1 Lap 26.282
8 55 Steve BIXBY 9 32.805 1 Lap 26.376 28.219
9 4 Bradley DOYLE 9 30.480 1 Lap 18.132 27.088
10 28 Jack TIMMS 9 59.479 1 Lap 14.626 26.329
11 15 Bradley WHEELER 8 32.740 2 Laps 1 Lap 28.934
12 33 Dexter Wharton 1 28.543 9 Laps 7 Laps 28.543
Rookies Race 1
Pos Competitor Laps Last Lap Diff Gap Best Lap
1 96 Carl OSTERMANN 9 25.406 24.909
2 11 Ben CLAYTON 9 25.828 0.897 0.897 25.437
3 262 Jaygo BEASTY 8 27.440 1 Lap 1 Lap 27.088
4 108 Robert STORER 8 28.817 1 Lap 3.793 28.685
5 77 William Holder 8 31.492 1 Lap 10.732 29.885
6 88 Alexander Mortada 8 31.331 1 Lap 2.880 31.331
7 717 Calum Marriott 8 32.599 1 Lap 5.705 31.122
8 4 Dan Maule 7 36.666 2 Laps 1 Lap 31.222
Rookies Race 2
Pos Competitor Laps Last Lap Diff Gap Best Lap
1 11 Ben CLAYTON 10 50.011 25.063
2 108 Robert STORER 10 30.199 3.805 3.805 27.266
3 262 Jaygo BEASTY 10 28.472 10.617 6.812 27.051
4 96 Carl OSTERMANN 10 1:02.152 11.939 1.322 24.915
5 77 William Holder 10 30.981 23.184 11.245 29.521
6 88 Alexander Mortada 10 30.413 26.564 3.380 29.997
7 4 Dan Maule 8 33.651 2 Laps 2 Laps 28.846
Superminis Race 1
Pos Competitor Laps Last Lap Diff Gap Best Lap
1 72 Raife BROADLEY 8 30.187 28.648
2 50 Charlie IRWIN 8 30.224 8.477 8.477 28.976
3 389 Jules PIETRE 8 29.382 9.556 1.079 29.163
4 100 Isaac ASH 8 31.234 17.292 7.736 31.234
5 442 Barend Du Toit 8 33.168 23.367 6.075 32.094
6 810 Sebastian Moore 7 34.505 1 Lap 1 Lap 34.123
7 101 Richard KRAL 7 34.157 1 Lap 0.406 33.444
8 94 Alfie OSBORN 7 34.424 1 Lap 2.354 34.089
9 111 Beanie REECE 7 34.476 1 Lap 5.738 25.875
10 21 Lewis SPRATT 7 34.473 1 Lap 0.132 34.445
11 105 Matthew BEATTIE 7 1:15.794 1 Lap 2.341 30.582
12 241 Austin BEASTY 6 39.538 2 Laps 1 Lap 33.651
13 22 Tyler MABIKA 6 42.036 2 Laps 0.999 37.324
Superminis Race 2
Pos Competitor Laps Last Lap Diff Gap Best Lap
1 50 Charlie IRWIN 8 29.976 27.825
2 72 Raife BROADLEY 8 30.758 5.686 5.686 27.105
3 389 Jules PIETRE 8 31.704 8.379 2.693 28.502
4 442 Barend Du Toit 8 32.376 22.343 13.964 31.024
5 100 Isaac ASH 8 32.380 27.280 4.937 31.420
6 101 Richard KRAL 7 33.798 1 Lap 1 Lap 32.485
7 810 Sebastian Moore 7 35.139 1 Lap 7.677 33.429
8 94 Alfie OSBORN 7 33.204 1 Lap 1.839 33.204
9 21 Lewis SPRATT 7 33.510 1 Lap 0.983 33.495
10 105 Matthew BEATTIE 7 37.145 1 Lap 0.001 31.694
11 241 Austin BEASTY 7 34.973 1 Lap 4.370 34.081
12 111 Beanie REECE 7 34.808 1 Lap 1.888 34.567
13 22 Tyler MABIKA 6 37.330 2 Laps 1 Lap 36.993
65's Race 1
Pos Competitor Laps Last Lap Diff Gap Best Lap
1 22 Dean Alexander RUDNIK 7 33.892 33.350
2 800 Robbie DALY 7 34.266 3.453 3.453 33.898
3 7 Harrison DAVIES 7 34.750 6.140 2.687 34.750
4 18 Drew STOCK 7 34.879 6.549 0.409 34.398
5 17 George Cherry 7 34.011 8.767 2.218 34.011
6 67 Arthur MOORE 7 37.321 14.648 5.881 34.925
7 105 Olly WALKER 7 39.179 34.233 19.585 38.556
8 100 Daniel HOLLIS-REEVES 6 39.854 1 Lap 1 Lap 38.802
9 12 Jordan KINSELLA 6 38.700 1 Lap 11.104 38.700
10 709 Aaron Shepherd-Smith 6 43.858 1 Lap 4.566 40.910
11 64 Daniel ROSBOROUGH 6 1:11.118 1 Lap 4.872 37.807
12 259 Fabian Junior MORRISON 2 38.007 5 Laps 4 Laps 38.007
65's Race 2
Pos Competitor Laps Last Lap Diff Gap Best Lap
1 18 Drew STOCK 7 33.934 33.934
2 22 Dean Alexander RUDNIK 7 32.666 1.556 1.556 32.666
3 7 Harrison DAVIES 7 35.646 7.927 6.371 35.204
4 17 George Cherry 7 35.067 9.096 1.169 24.884
5 67 Arthur MOORE 7 37.507 15.447 6.351 35.427
6 800 Robbie DALY 7 34.664 18.583 3.136 34.547
7 105 Olly WALKER 7 38.684 32.976 14.393 38.079
8 64 Daniel ROSBOROUGH 7 39.826 34.886 1.910 37.913
9 100 Daniel HOLLIS-REEVES 6 41.375 1 Lap 1 Lap 39.343
10 709 Aaron Shepherd-Smith 6 42.661 1 Lap 10.091 41.293
11 12 Jordan KINSELLA 5 2:02.226 2 Laps 1 Lap 39.516
Final Championship Standings