High Fives for Kennett! 2019/2020 Pitbike Speedway Championship Finale – Race Report and Results
The final and fifth round of the 2019/2020 Pitbike Speedway Championship descended on a superbly prepped Eastbourne Speedway Mini track on Sunday.
Report by Eastbourne Mini track – Images courtesy of Dale Baldwin Photography
With Storm Dennis postponing this event a week ago when we arrived at the stadium having travelled in rain the whole journey even I was amazed to see the track so solid for once we had some wind and ai think that played into our hands a little the track was the best it had ridden this season and we are glad that it finally paid off! – wait till we add the banking Mini Track Daytona coming up 🤪
With this Edward Kennett once again saw off the rest of the field to win his 4th GP of the campaign. Putting his vast amount of motorcycle experience to the test. Closely followed by the unbeaten scorer and new dark horse in the class Richard Avis and Connor Dugard claiming the final podium spot. A tremendous effort from Simon Bird in only his second meeting to lead Elite veterans Dugard, Clement, OAP Godden and GP 4 winner Brennan for 5 laps before narrowly missing out on the podium on the last turn. Charlie Heal once again showed his determination making another A final in only his first season.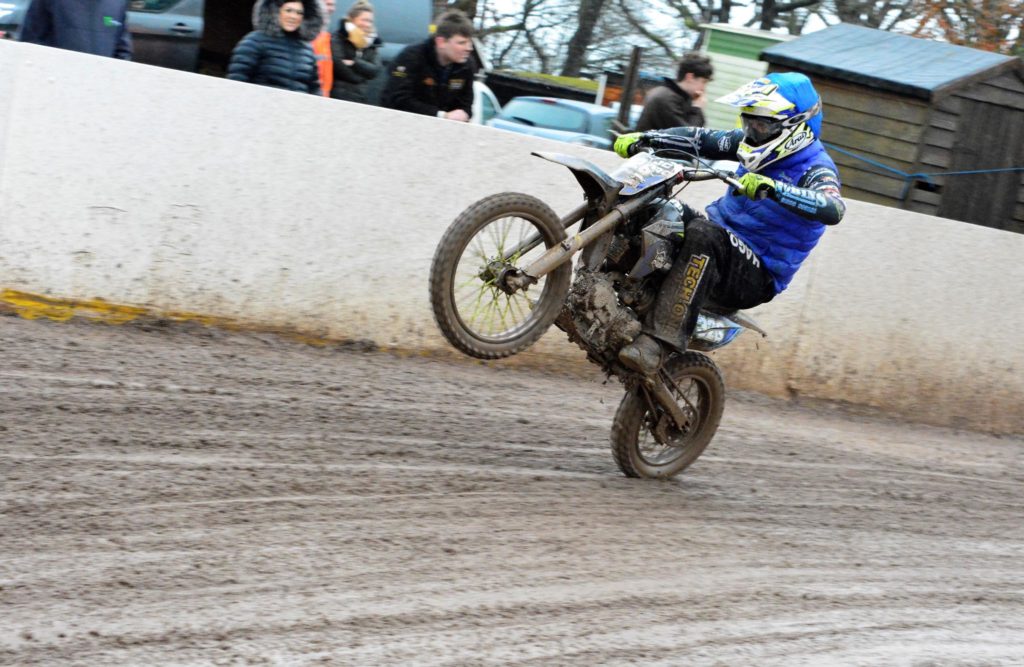 Kelsey and Martin Dugard led the PRO-AM class alongside Loosey Goosey Jukey before his day ended with a crash with MD. Another high scoring effort from Obed Cooper who also won the Most Improved rider of the season following his progression into this class and his performance at the King of The Ring earlier this season. Another award was picked up this week for Best Newcomer of the year and there were a few candidates for this however we gave the award to James Bowles for his progression through the classes from Clubman to Elite on his standard 140 – great effort James.
The Clubman class saw newbie Roger Strudwick lead the field along with Lydia Penfold progressing too after she won the battle of the women with Emily Moore to progress through to the next final. Can Emily get her own back in the Clash of the Titans? A good effort from Joe Clement saw him win his first final after having a hard crash early on with Stuart Lee-Amies – rest that shoulder blade!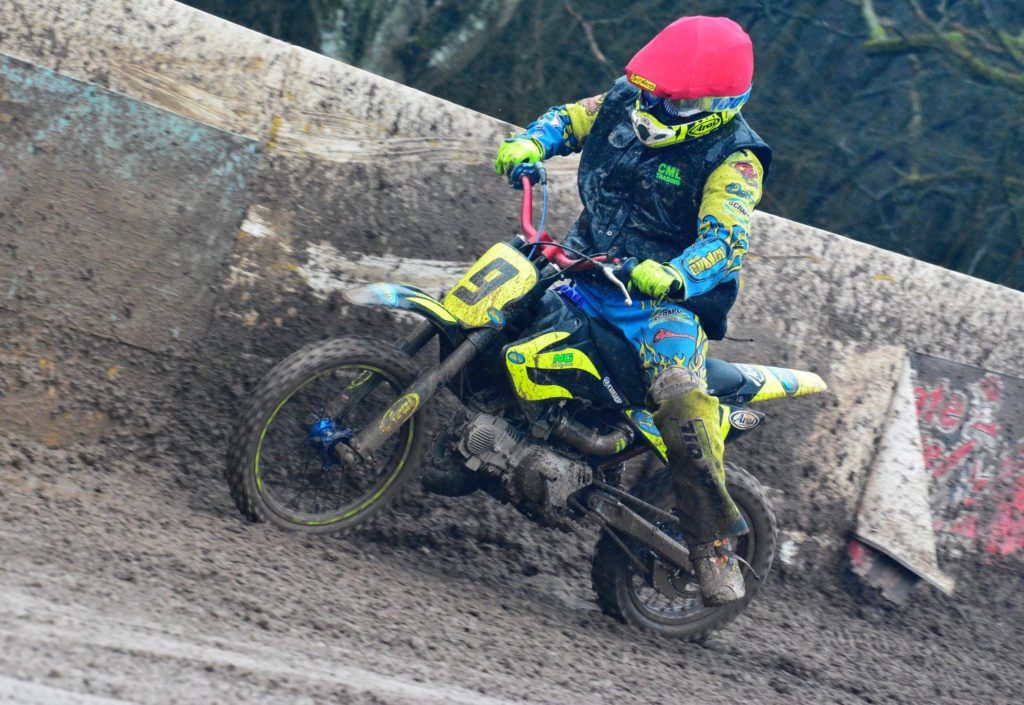 Back over to Iwade for the Clash of the Titans this Sunday 11am first race may the best team win!
World Championship points after Rd5 including dropped worst score ….
1. 200 -🏅Edward Kennett – 50 50 49 50 50 (49.8)
2. 188 – 🥈Charley Powell – 49 48 39 49 42 (45.4)
3. 188 – 🥉Mitchel Godden – 47 47 45 48 46 (46.6)
4. 185 – Connor Dugard – 46 42 44 47 48
5. 175 – Dan Berwick – 45 43 47 40 0
6. 173 – Jim Clement – 43 41 46 38 43
7. 167 – Charlie Heal – 41 39 42 0 45
8. 165 – Martyn Sturgeon – 38 45 37 43 39
9. 155 – Simon Field – 44 38 30 32 41
10. 153 – Joe Penfold – 40 40 40 33 33
11. 149 – Jesse Moore -36 37 35 41 35
12. 142 – Jack Penfold – 28 34 43 37 0
13. 140 – Lewis Ballentyne – 27 29 36 39 36
14. 138 – Tom Brennan – 0 0 50 44 44
15. 138 – Paul Knott – 48 44 0 46 0
16. 130 – Benny Read – 42 46 0 42 0
17. 119 – Obed Cooper – 12 21 33 28 37
18. 117 – Aaron Shubert – 30 30 24 35 32
19. 116 – Richard Avis. – 0 0 38 29 49
20. 115 – James Bowles – 17 25 25 25 40
21. 103 – Derek Keys – 31 17 22 21 29
22. 101 – Keith Strudwick – 0 26 41 34 0
23. 99 – Jake Szabo – 35 33 31 0 0
24. 99 – Ian Lee-amies – 18 31 19 0 31
25. 98 – Paul Smith – 32 19 27 20 0
26. 94 – Jason Edwards – 0 49 0 45 0
27. 92 – Garry Ram Dunn – 20 32 20 17 20
28. 85 – Kieran Robb – 33 22 0 0 30
29. 83 – Simon Bird – 0 0 0 36 47
30. 74 – Mark Edwards – 39 35 0 0 0
31. 74 – Ron Steward – 10 1 23 23 18
32. 72 – Trevor Steward – 21 20 21 10 0
33. 67 – Jako Nottingham – 25 28 0 14 0
34. 65 – Dave Heal – 0 36 29 0 0
35. 65 – Chris Shallcross. – 0 0 34 31 0
36. 64 – John Bourner. – 0 0 18 30 16
37. 64 – Neil Hooper – 19 0 13 11 21
38. 63 – Peter Thurston – 37 0 26 0 0
39. 61 – Peter Kimber. – 0 0 11 24 26
40. 61 – Gareth Howes. – 0 0 33 0 28
41. 60 – Daniel Edwards – 34 0 0 26 0
42. 59 – Chris White – 23 27 9 0 0
43. 57 – Lee Riley – 22 16 0 0 19
44. 57 – Dan White – 9 12 8 9 27
45. 56 – Dyno – 0 1 28 27 0
46. 52 – Josh Russell – 29 23 0 0 0
47. 48 – Adam Shipp – 0 0 48 0 0
48. 46 – Jon Brooker – 15 10 6 15 0
49. 43 – Emily Moore – 4 18 1 8 13
50. 42 – Luke Russell – 3 7 16 16 0
51. 42 – Stuart Lee-amies – 14 13 7 1 8
52. 40 – Jake Crump – 0 0 12 6 22
53. 38 – Martin Dugard – 0 0 0 0 38
54. 38 – Vinny Smith. – 0 0 15 23 0
55. 38 – Lydia Penfold – 5 0 3 13 17
56. 36 – Jamie Sealey – 16 11 4 5 0
57. 34 – Kelsey Dugard – 0 0 0 0 34
58. 34 – Jon Moore – 11 9 0 2 12
59. 32 – James Pindard – 8 1 4 5 15
60. 31 – Steve Soper – 2 15 1 3 11
61. 29 – Joe Clement – 6 8 1 1 14
62. 26 – John Riley – 26 0 0 0 0
63. 26 – Kev Jones – 13 0 1 12 0
64. 24 – Barry Coates – 24 0 0 0 0
64. 24 – Ben IIsley – 0 24 0 0 0
66. 23 – Roger Strudwick – 0 0 0 0 23
67. 19 – Jamie Bursill – 0 0 0 19 0
68. 19 – Paul Morfey – 0 0 1 18 0
69. 18 – Patrick Holford – 1 6 1 1 9
70. 17 – Craig Prior. – 0 0 17 0 0
71. 14 – Jeremy Skipp – 0 14 0 0 0
71. 14 – Chris Stanton. – 0 0 14 0 0
73. 12 – Tommy Kember. – 0 0 1 1 10
74. 11 – James Laker. – 0 0 10 1 0
75. 10 – Tom McDonald – 7 0 2 1 0
76. 8 – Ethan Hoare. – 0 0 1 7 0
77. 2 – Derek Strudwick – 1 1 0 0 0
77. 2 – Stuart Milton – 1 0 0 1 0
77. 2 – Sam Thurston. – 0 0 1 1 0
77. 2 – Shane Kennett. – 0 0 1 1 0
81. 1 – Chris Neame. – 0 0 1 0 0
82. 0 – Rodney McDonald – 0 0 DSQ 0 0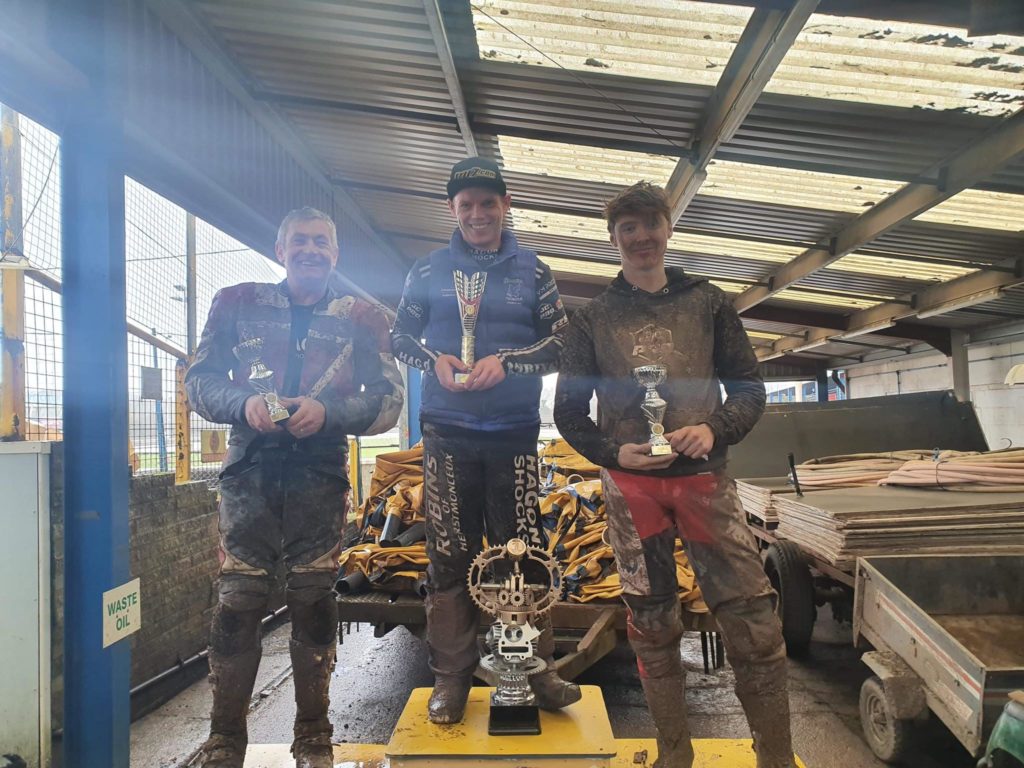 1) 🌍 Iwade – WC GP1 – Edward Kennett 🏆
2) 🌎 Arlington – WC GP2 – Edward Kennett 🏆
3) 🌍 Iwade – WC GP3 – Tom Brennan 🏆
4) 🌍 Iwade – WC GP4 – Edward Kennett 🏆
5) 🌎 Arlington – WC GP5- Edward Kennett 🏆