Thomas on top at Richard Fitch Memorial Motocross – Race Report & Results
Halstead MCC staged the annual Richard Fitch memorial meeting at their Wakes Colne circuit on Sunday, held in very warm conditions. At times the temperature reached over 30 degrees, with the club members working hard to combat the dusty conditions. It was the 15th year of the memorial event, in which one of the country's finest young riders tragically lost his life at Hawkstone Park in 2005.
Report by Charlie Ralph – Images courtesy of Chris Carter
The meeting included rounds of the NGR over 30's, along with the South Eastern Evo's, as well as races for all-comers.
Lee Powell got the better of series leader, Tim Clark, to win the first NGR race, and the other two legs were won in style by Yamaha rider, John Hinz. Clark, along with Leon Woodford and Peter Hook battled for series points in each moto.
The riders on Evo bikes, mostly pre-1990, put on a great show. Local ace, Jason Morland and Brett Fisher led the pack in race one, but it was Basildon's Steve Bixby who stormed through to take the win.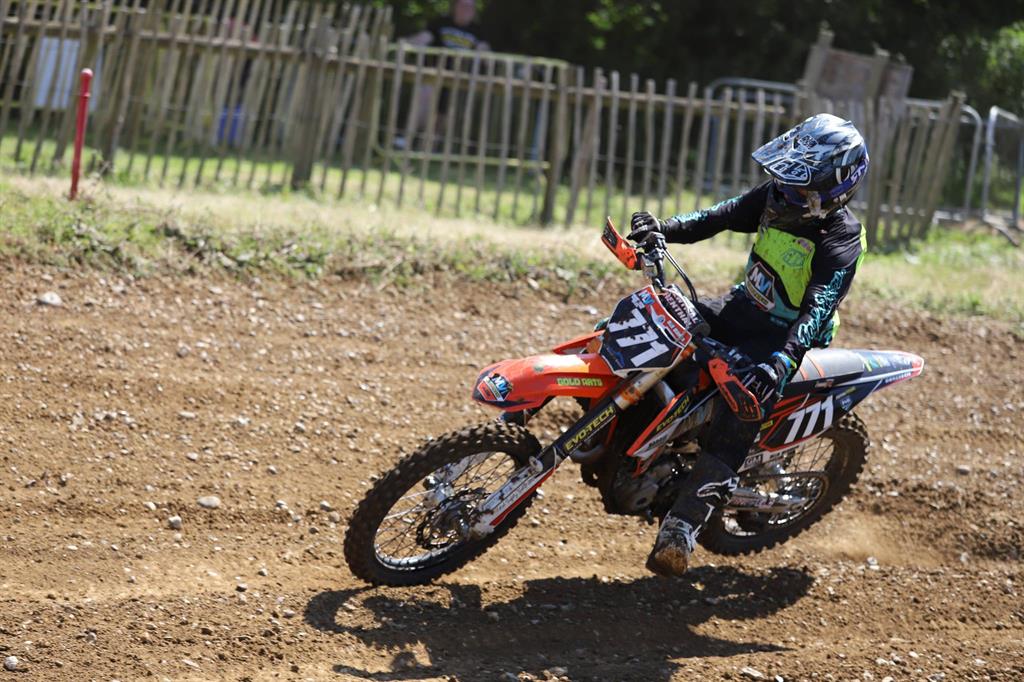 Bixby was in fine form, winning the other two legs as well, with Fisher getting the better of Morland each time.
Kent visitor, Junior Thomas, won the Richard Fitch trophy race, but was pushed hard by Ollie Beamish. Teenager Daniel Sultana held third place throughout.
In the A group of allcomers, overall victory went to Beamish, who had two race wins, plus a second place. Thomas fought hard for second overall, taking a win and two second positions. Sultana was third in all three moto's, and fourth place was fought out between Harry Clark and South African newcomer, Slade Pullin, in the first two legs. However, a crash by Pullin in the third race spoilt his overall chances.
Harry Peck took two wins and a second place to win the B group. Richard Paxman had three good rides for second overall.
Results
NGR over 30's overall 1st John Hinz, 2nd Peter Hook, 3rd Tim Clark, 4th Lee Powell, 5th Andrew Davies
Evo's 1st Steve Bixby, Brett Fisher, 3rd Jason Morland, 4th Alex Hornsby, 5th Jon Barfoot
Allcomers group A 1st Ollie Beamish, 2nd Junior Thomas, 3rd Daniel Sultana, 4th Harry Clark, 5th Harrison Forde
Allcomers group B 1st Harry Peck, 2nd Richard Paxman, 3rd Scott Goodson, 4th Ryan Mesk, 5th Shaun Tacey
Richard Fitch memorial race 1st Junior Thomas, 2nd Ollie Beamish, 3rd Daniel Sultana, 4th Jason Morland, 5th Slade Pullin