The Browns are back in town! Waterlooville MCC Sidecarcross – Report and Results
This weekend the Waterlooville Club organised the first Sidecar event since lockdown at the Cusses Gorse track, and it was well supported with 30 modern sidecars and an EVO class, also with Quads and solo races.
Report and Images by Tracy Thacker

There were NO public spectators, although each rider could have one helper and up to three additional team members per rider from their social bubble.The British champions Stuart Brown and Josh Chamberlain were on top form taking wins in all three races, and a great overall win on the day.Race one started with a hole shot from Brown / Chamberlain going on to take the first win of the day. Jake Brown with passenger Joe Millard tucking into second. Behind the battle was on for third with Gary Moulds and new 2020 passenger Lewis Gray leading the challenge until they were left track side with a gearbox problem. This left George Kinge, also with a new 2020 passenger Steve Kirwin, in third and fighting to keep Brown / Millard in sight but had to settle for third.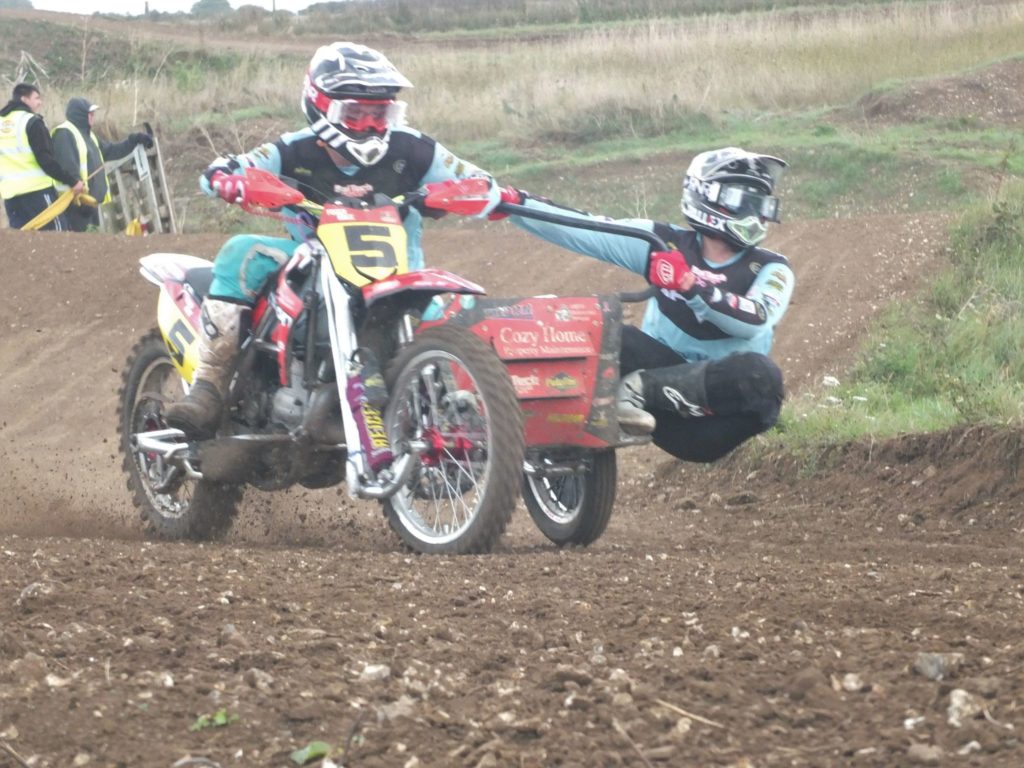 Behind, Michael Hodges / Paul Horton battled into fourth after a slow start, passing Dan Foden with stand-in passenger Nathan Cooper, with regular team-mate Jim Kinge out with a broken leg. Despite clutch problems, Liam Mudie and Christopher Booth were sixth, just ahead of Brett Wilkinson and Ryan Humphrey who went to line late but recovered well.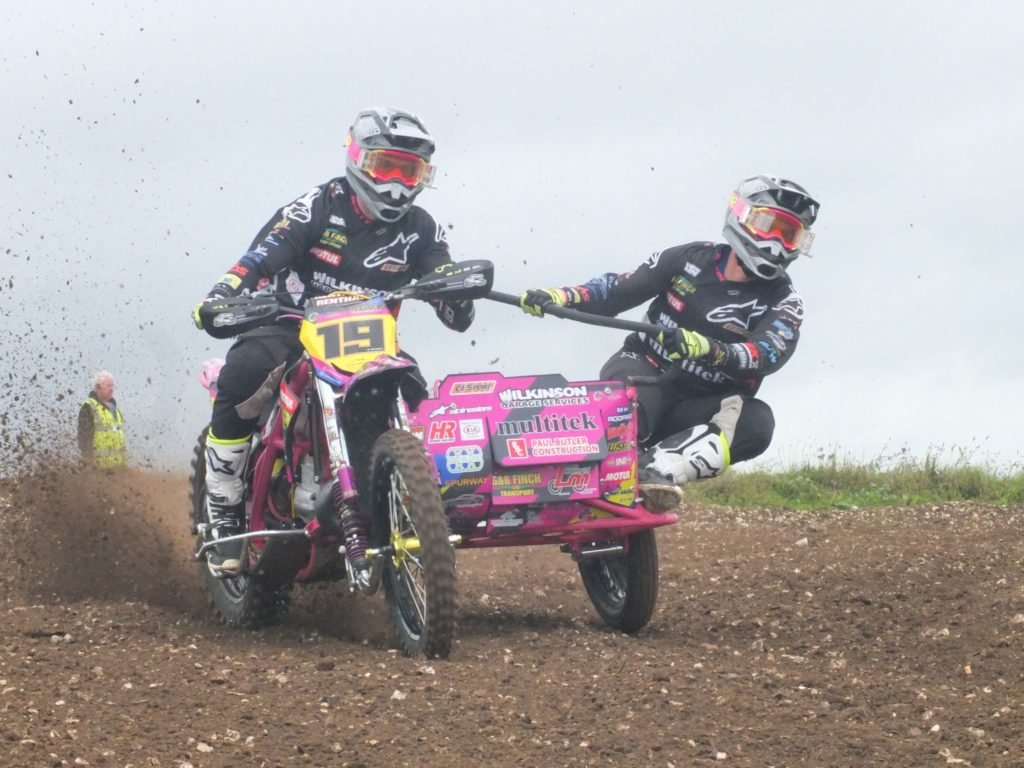 In Race two the track was a little wet after a shower during the interval, but just a small shower, and the sun was trying to come back out. Brown / Chamberlain took another holeshot with Brown / Millard tucking in behind, but again they had to settle for second. Kinge / Kirwin held third, but the battle was on with Wilkinson / Humphrey chasing from behind they fought for a few laps, but it was Wilkinson / Humphrey who blasted ahead to take third ahead of Kinge / Kirwin.Moulds / Gray were fighting back after a back row start but tumbled over the table-top, leaving them out of the race for a second time. This left Hodges / Horton fifth, with Foden /Cooper fighting through to take sixth in the final few laps.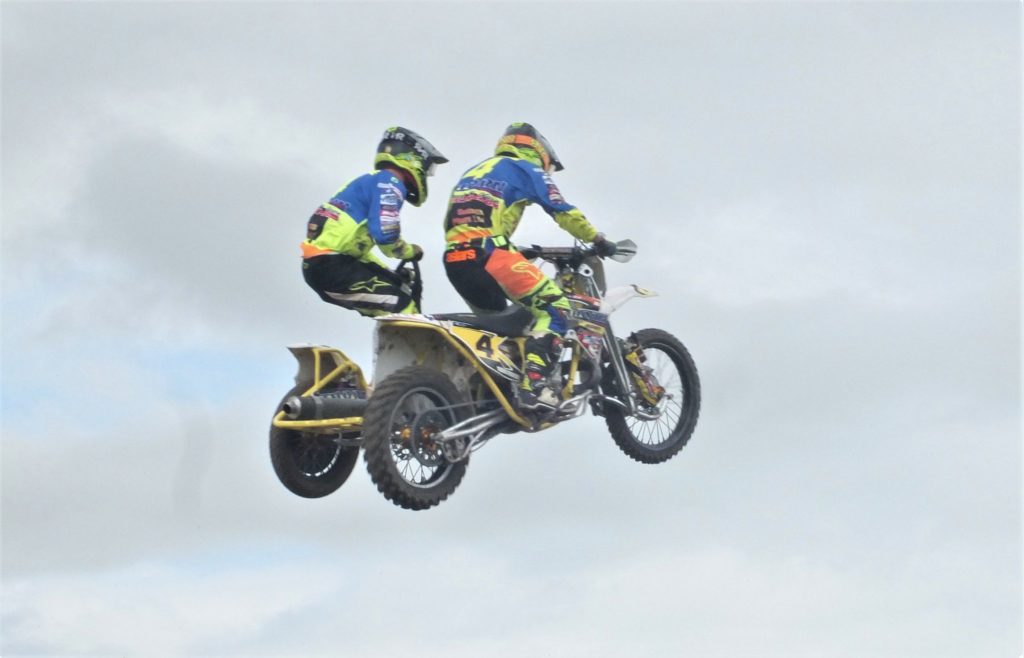 In the final race of the day, Brown / Chamberlain took an early lead, going on to a third win. Brown / Millard held a great second and another great race. This time Kinge / Kirwin left nothing to chance, settling into third early in the race, and holding on to the flag, which was enough for third overall. Hodges / Horton stayed close in fourth, but the action was behind. Wilkinson / Humphrey initially held fifth and on a charge forward, but had to go back to the pits with a problem, this left Moulds with stand in passenger Christopher Booth in fifth, but behind Foden /Cooper where in a charge chasing for a few laps until finally getting past on the final lap.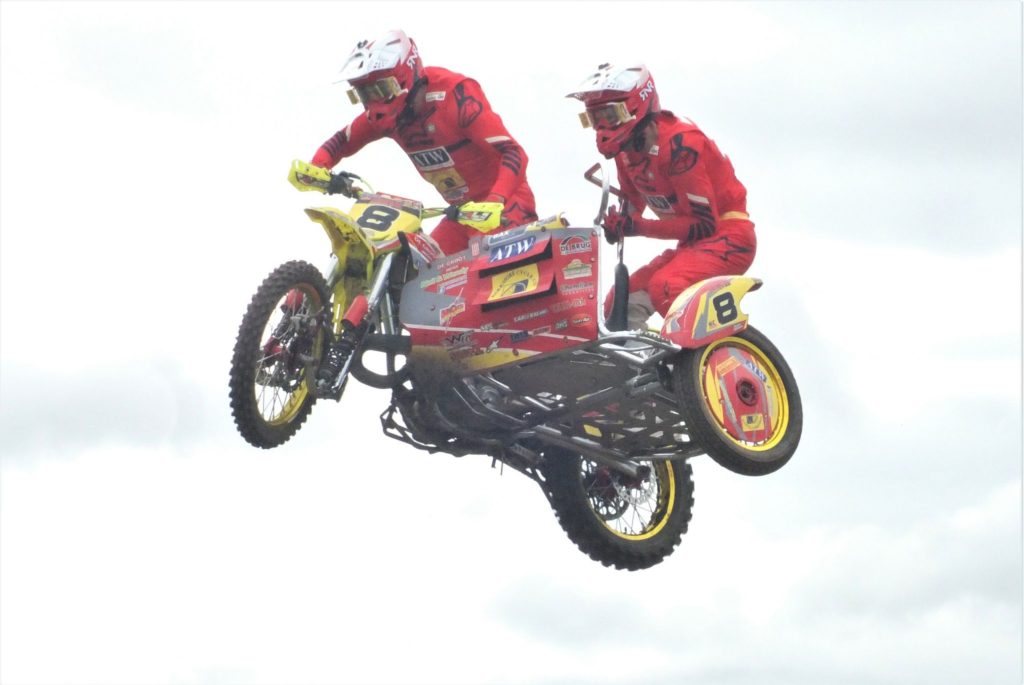 So, the first sidecar lockdown race ended without issue, and everyone was pleased to be back – let's hope we see many more of this type of safe events. Well down to all involved in the organisation and smooth running.
Results
1st 1 Stuart Brown/ Josh Chamberlain 25+25+25=75
2nd 8 Jake Brown / Joe Millard 22+22+22=66
3rd 17 George Kinge / Steve Kirwin 20+18+20=58
4th 4 Mike Hodges / Paul Horton 18+16+18=52
5th 5 Dan Foden / Nathan Cooper 16+15+16=47
6th 11 Paul Pelling / Jack Wilkinson 11+13+13=37
7th 19 Brett Wilkinson / Ryan Humphrey 14+20+1=35
8th 100 Dan Goodall/ Liam Hodges 12+12+10=34
9th 145 Lee Foyle/ Kevin Foyle 3+14+14=31
10th 111 Rob Foden / Ryan Henderson 8+9+11=28
11th 137 Taylor Whitt/ Blake Stevenswood 2+11+12=25
12th 13 Rob Oldfield / Faye Barnes 10+8+7=25
13th 21 Gary Moulds / Lewis Grey / Christopher Booth 0+0+15=15
14th 56 Luke Banks/ Daniel Spencer 0+7+8=15
15th 77 Chris Jones / Ashley Williams 4+6+5=15
16th 89 Liam Mudie / Christopher Booth 15+0+0=15
17th 92 Adam Field / Darren Bishop 6+0+9=15
18th 96 David Steeds / Blake Stevens-Wood 5+10+0=15
19th 27 Jack Etheridge / Zac Snell 13+0+0=13
20th 741 Vaida Racevivius / Nekijas Kondrotas 1+5+6=12
21st 52 Matt Connor / Brian Grey 7+4+0=11
22nd 113 Kev Feltham/ Jack Newbury 9+0+0=9
23rd 354 Steve Jones / Rob jones 0+1+4=5
24th 24 Neil Warrington/ Eric Maguire 0+3+0=3
25th 50 John Barrett / Jordan Purser 0+0+3=3
26th 13 Daniel Darrow/ Colin Barrow 0+0+2=2
27th 371 Steven Bazell / Paul Silvester 0+2+0=2
28th 67 John Pallister / Andrew Sheppard 0+0+0=0
29th 888 Brian Turner/ Ricky Macgogh 0+0+0=0