Rocking around the Exebridge tree! Endurorocks Hare and Hounds Championship Round 3 – Race Report and Results
Endurocks Hare and Hounds series took a visit to Exebridge in Somerset for Round 3. With a venue that is only used every other year and yet another full line up of over 100 riders this was going to be a treat.
Report by Sam Warren – Images courtesy of Hayley Warren – Hayleys Photography
Unfortunately, a rider sustained a broken wrist early on in the race resulting in a red flag to allow access for medical staff resulting in a full restart followed by a 2 hour sprint.
The racing was tight and fast with Dylan Baynton, Any Milliar and Charlie Frost all taking their turns leading the expert class. At the chequered it was Frost, Baynton, Milliar in the top 3 spots with Josh Player and Brett Rowland rounding out the top 5.
The Clubman class saw Sam Richards and Rowan Penheigan swapping positions for the top spot until Richards managed to open a gap on lap 9 which he held until he took the chequered. Penheigan took 2nd with Josh Knight in 3rd. James Larcombe and Tayler Brooke round out the top 5.
The Clubman over 40's class was a battle from start to finish. Tony Penhaligon took the early lead with Wayne Mundell in a close 2nd. These two traded blows the entire race with Wayne Mundell taking the win by a mere 5 seconds! Both put on a hell of a show finishing a lap up on the rest of their class. Michael Brooks took 3rd with Stephen Franks and Ian Mundell rounding out the top 5.
In Sportsman class Sam Warren came round as the early leader with Stuart Westcott in tow. the top 3 saw a lot of action with multiple riders taking their turns to lead with the end result being Stuart Westcott followed by Jordan Kiff and Daniel Hern for your top 3. Jose Javier Ciordia Redondo and Sam Warren rounded out the top 5.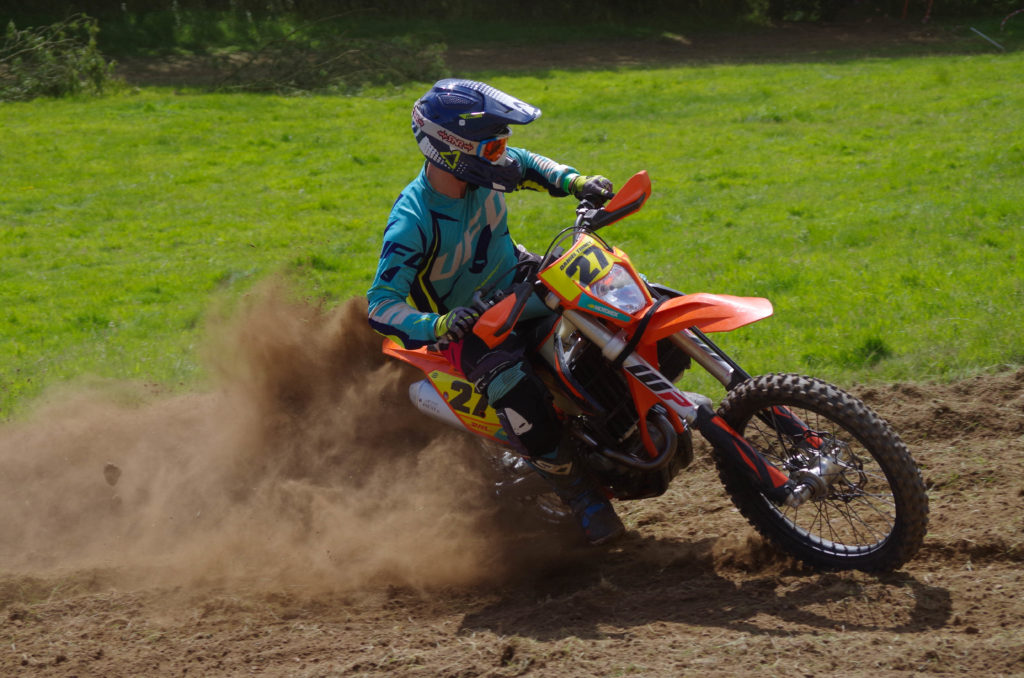 In Sportsman over 40's Nicholas Lee took a commanding win, leading from start to finish finishing an entire lap ahead of 2nd place finisher Ian Sandercock. Jon Sheppey took home 3rd with Martin Bell and Simon Kenchington rounding out the top 5.
In the novice class it was a 3 horse race with Jack Rudd, Scott Lintott and Jake Woodgate all taking their turn leading. As the chequered flag waved it was Rudd followed by Lintott and  Woodgate with a total of 2 minutes between 1st and 3rd. Jack Larcombe and George Lovell round out the top 5.
As always we would like to extend our thanks to all the medical staff, marshalls and caterers to make these events possible.
Rd 4 is at the legendary Cotton farm on September 13th, not one to be missed!
Results
Overall
Place Bib Name Category Time
1 442 Charlie Frost Experts 2:05:21.5
2 67 Dylan Baynton Experts 2:07:31.2
3 38 Ant Milliar Experts -1 lap
4 123 Josh Player Experts -1 lap
5 265 Brett Rowland Experts -1 lap
6 98 Chris Milliar Experts -1 lap
7 89 Owen Richards Experts -1 lap
8 334 Joe Parfitt Experts -1 lap
9 210 George Bowerman Experts -1 lap
10 125 Jamie Paget Experts -2 laps
11 300 Ben Harvey-Grounds Experts -2 laps
12 60 Mitch Frost Experts -2 laps
13 37 Marcus Alba Experts -2 laps
14 96 Harry Neal Experts -2 laps
15 3 Dean Kiff Experts -2 laps
16 42 Ben Mullen Experts -2 laps
17 720 Wayne Mundell Clubman Over40's -2 laps
18 911 Tony Penhaligon Clubman Over40's -2 laps
19 86 Jeremy Box Experts -2 laps
20 227 Jack Fleming Experts -2 laps
21 20 Kyle Jacobs Experts -2 laps
22 169 Jack Twentyman Experts -3 laps
23 30 Sam Richards Clubman -3 laps
24 596 Niles Reid Experts -3 laps
25 651 Rowan Penheigan Clubman -3 laps
26 317 Josh Knight Clubman -3 laps
27 180 James Larcombe Clubman -3 laps
28 101 Phil Chapple Experts -3 laps
29 95 Tayler Brooke LP Racing Clubman -3 laps
30 711 Dave Colton Clubman -3 laps
31 900 Olly Richards Clubman -3 laps
32 34 Michael Brooks Clubman Over40's -3 laps
33 177 Charlie Richards Clubman -3 laps
34 218 John Jago Clubman -3 laps
35 17 Jamie Harvey Clubman -3 laps
36 231 Mark Lewis Experts -3 laps
37 113 Gareth Leonard Experts -3 laps
38 75 Jason Wright Clubman -3 laps
39 203 Jadyn Giles Clubman -3 laps
40 138 Stephen Franks Clubman Over40's -4 laps
41 204 Kirk Giles Giles Clubman -4 laps
42 580 Ed Eames Clubman -4 laps
43 211 Ian Mundell Clubman Over40's -4 laps
44 88 Robert Aldworth Clubman -4 laps
45 190 Kieran Mclelland Clubman -4 laps
46 91 Graham Reid Clubman Over40's -4 laps
47 431 Joe Leeming Clubman -4 laps
48 22 Adam Hughes Lp Racing Clubman -4 laps
49 72 Stuart Westcott Sportsman -4 laps
50 771 Will Palmer Clubman -4 laps
51 235 Jordan Kiff Sportsman -4 laps
52 77 Daniel Hern Sportsman -4 laps
53 822 Nicholas Lee Sportsman Over40's -4 laps
54 5 Dan Fishlock Clubman -5 laps
55 344 Andrew Williams Clubman -5 laps
56 611 Jose Javier Ciordia Redondo Sportsman -5 laps
57 350 Joseph Williams Clubman -5 laps
58 614 Sam Warren Sportsman -5 laps
59 269 Kevin Penhailgan Clubman -5 laps
60 48 Stuart Williams Sportsman -5 laps
61 273 Toni Burrows Clubman Over40's -5 laps
62 18 Ben Dyer Sportsman -5 laps
63 127 Jack Rudd Novice -5 laps
64 58 Scott Lintott Novice -5 laps
65 131 Philip Hull Clubman Over40's -5 laps
66 47 Jake Woodgate Novice -5 laps
67 64 Ian Sandercock Sportsman Over40's -5 laps
68 199 Gary Mccoy Experts -6 laps
69 46 Jon Sheppey Sportsman Over40's -6 laps
70 161 Jack Larcombe Novice -6 laps
71 186 Simon Bray Sportsman -6 laps
72 290 Sam Clowes Clubman -6 laps
73 102 George Lovell Novice -6 laps
74 76 Martin Bell Sportsman Over40's -7 laps
75 469 Sean Reynolds Clubman -7 laps
76 222 Luke Hughes Lp Racing Novice -7 laps
77 444 Simon Kenchington Sportsman Over40's -8 laps
78 61 Timmy Frost Sportsman Over40's -8 laps
79 996 Matt Busby Novice -8 laps
80 560 Austin Clarke Clubman Over40's -8 laps
81 44 Steven Palmer Sportsman -8 laps
82 172 Lee Lawton Clubman -8 laps
83 92 James Drinkwater Experts -9 laps
84 124 Nicholas Jackson Sportsman Over40's -9 laps
85 710 Jason Steane Novice -9 laps
86 460 Stewart Jarvis Clubman Over40's -10 laps
87 280 Mark Elliott Clubman Over40's -10 laps
88 470 Nathan Bentley Clubman -10 laps
89 357 Simon Ford Experts -10 laps
90 90 Rob Newell Novice -10 laps
91 192 Richard Bland Sportsman Over40's -10 laps
92 234 Joe Sullivan Clubman -11 laps
93 23 Jack Packer Clubman -11 laps
94 261 Stef Jewell Clubman -11 laps
95 279 Rob Elliott Novice -11 laps
96 24 Jamie Wilkins Sportsman -11 laps
97 245 Nathan Twigg Novice -12 laps
98 33 Chris Coward Sportsman Over40's -13 laps
99 133 Harry Davey Clubman -13 laps
100 198 David Nash Novice -13 laps
101 143 Mark Hughes Clubman Over40's -13 laps
102 664 Dan Groom Experts -14 laps
103 569 Craig Osment Clubman -14 laps
104 246 Jason Ford Experts -14 laps
105 134 Gary Worth Clubman -15 laps
106 52 Jack Ellis Sportsman -15 laps
107 760 Leon Driver Sportsman -15 laps
By class
Clubman
Place Bib Name Category Time
1 30 Sam Richards Clubman 2:01:21.4
2 651 Rowan Penheigan Clubman 2:01:44.6
3 317 Josh Knight Clubman 2:02:46.9
4 180 James Larcombe Clubman 2:03:19.2
5 95 Tayler Brooke LP Racing Clubman 2:03:58.1
6 711 Dave Colton Clubman 2:04:20.0
7 900 Olly Richards Clubman 2:04:30.8
8 177 Charlie Richards Clubman 2:04:44.3
9 218 John Jago Clubman 2:06:08.3
10 17 Jamie Harvey Clubman 2:07:46.4
11 75 Jason Wright Clubman 2:08:32.7
12 203 Jadyn Giles Clubman 2:08:41.8
13 204 Kirk Giles Giles Clubman -1 lap
14 580 Ed Eames Clubman -1 lap
15 88 Robert Aldworth Clubman -1 lap
16 190 Kieran Mclelland Clubman -1 lap
17 431 Joe Leeming Clubman -1 lap
18 22 Adam Hughes Lp Racing Clubman -1 lap
19 771 Will Palmer Clubman -1 lap
20 5 Dan Fishlock Clubman -2 laps
21 344 Andrew Williams Clubman -2 laps
22 350 Joseph Williams Clubman -2 laps
23 269 Kevin Penhailgan Clubman -2 laps
24 290 Sam Clowes Clubman -3 laps
25 469 Sean Reynolds Clubman -4 laps
26 172 Lee Lawton Clubman -5 laps
27 470 Nathan Bentley Clubman -7 laps
28 234 Joe Sullivan Clubman -8 laps
29 23 Jack Packer Clubman -8 laps
30 261 Stef Jewell Clubman -8 laps
31 133 Harry Davey Clubman -10 laps
32 569 Craig Osment Clubman -11 laps
33 134 Gary Worth Clubman -12 laps
– 99 Jac Stevens Clubman DNS
– 160 Lee Meredith Clubman DNS
Clubman Over40's
Place Bib Name Category Time
1 720 Wayne Mundell Clubman Over40's 2:06:45.6
2 911 Tony Penhaligon Clubman Over40's 2:06:50.6
3 34 Michael Brooks Clubman Over40's -1 lap
4 138 Stephen Franks Clubman Over40's -2 laps
5 211 Ian Mundell Clubman Over40's -2 laps
6 91 Graham Reid Clubman Over40's -2 laps
7 273 Toni Burrows Clubman Over40's -3 laps
8 131 Philip Hull Clubman Over40's -3 laps
9 560 Austin Clarke Clubman Over40's -6 laps
10 460 Stewart Jarvis Clubman Over40's -8 laps
11 280 Mark Elliott Clubman Over40's -8 laps
12 143 Mark Hughes Clubman Over40's -11 laps
– 79 Gary Potts Clubman Over40's DNS
Experts
Place Bib Name Category Time
1 442 Charlie Frost Experts 2:05:21.5
2 67 Dylan Baynton Experts 2:07:31.2
3 38 Ant Milliar Experts -1 lap
4 123 Josh Player Experts -1 lap
5 265 Brett Rowland Experts -1 lap
6 98 Chris Milliar Experts -1 lap
7 89 Owen Richards Experts -1 lap
8 334 Joe Parfitt Experts -1 lap
9 210 George Bowerman Experts -1 lap
10 125 Jamie Paget Experts -2 laps
11 300 Ben Harvey-Grounds Experts -2 laps
12 60 Mitch Frost Experts -2 laps
13 37 Marcus Alba Experts -2 laps
14 96 Harry Neal Experts -2 laps
15 3 Dean Kiff Experts -2 laps
16 42 Ben Mullen Experts -2 laps
17 86 Jeremy Box Experts -2 laps
18 227 Jack Fleming Experts -2 laps
19 20 Kyle Jacobs Experts -2 laps
20 169 Jack Twentyman Experts -3 laps
21 596 Niles Reid Experts -3 laps
22 101 Phil Chapple Experts -3 laps
23 231 Mark Lewis Experts -3 laps
24 113 Gareth Leonard Experts -3 laps
25 199 Gary Mccoy Experts -6 laps
26 92 James Drinkwater Experts -9 laps
27 357 Simon Ford Experts -10 laps
28 664 Dan Groom Experts -14 laps
29 246 Jason Ford Experts -14 laps
– 613 Jack Talbot Experts DNS
Novice
Place Bib Name Category Time
1 127 Jack Rudd Novice 2:05:57.6
2 58 Scott Lintott Novice 2:06:12.9
3 47 Jake Woodgate Novice 2:07:35.1
4 161 Jack Larcombe Novice -1 lap
5 102 George Lovell Novice -1 lap
6 222 Luke Hughes Lp Racing Novice -2 laps
7 996 Matt Busby Novice -3 laps
8 710 Jason Steane Novice -4 laps
9 90 Rob Newell Novice -5 laps
10 279 Rob Elliott Novice -6 laps
11 245 Nathan Twigg Novice -7 laps
12 198 David Nash Novice -8 laps
– 118 Adam Spencer Novice DNS
– 263 Ryan Daniels Novice DNS
– 409 Ashley Howe Novice DNS
Sportsman
Place Bib Name Category Time
1 72 Stuart Westcott Sportsman 2:06:23.8
2 235 Jordan Kiff Sportsman 2:08:08.1
3 77 Daniel Hern Sportsman 2:08:12.3
4 611 Jose Javier Ciordia Redondo Sportsman -1 lap
5 614 Sam Warren Sportsman -1 lap
6 48 Stuart Williams Sportsman -1 lap
7 18 Ben Dyer Sportsman -1 lap
8 186 Simon Bray Sportsman -2 laps
9 44 Steven Palmer Sportsman -4 laps
10 24 Jamie Wilkins Sportsman -7 laps
11 52 Jack Ellis Sportsman -11 laps
12 760 Leon Driver Sportsman -11 laps
– 36 Matthew Cahill Sportsman DNS
Sportsman Over40's
Place Bib Name Category Time
1 822 Nicholas Lee Sportsman Over40's 2:08:36.4
2 64 Ian Sandercock Sportsman Over40's -1 lap
3 46 Jon Sheppey Sportsman Over40's -2 laps
4 76 Martin Bell Sportsman Over40's -3 laps
5 444 Simon Kenchington Sportsman Over40's -4 laps
6 61 Timmy Frost Sportsman Over40's -4 laps
7 124 Nicholas Jackson Sportsman Over40's -5 laps
8 192 Richard Bland Sportsman Over40's -6 laps
9 33 Chris Coward Sportsman Over40's -9 laps