My Greatest Race with Paul Hurry!
International Longtrack and Grasstrack Racer Paul Hurry has been around Oval Motorcycle sport since he was born, being son to the legendary rider and now promoter; Graham.
Images Courtesy of Amanda Morrison
Now 44 and in recovery from leg reconstruction which he underwent in January, Paul was looking to take part in the Longtrack Qualifiers once again this year if things went to plan to become a GP rider in 2021. Still, with racing on hold, we caught up with him to talk about his past and his "Greatest Race" in the first of our new series. In this instance, Paul has come up with two, both of which took place in 1997 when he was racing the best in the world at just 22 years of age…
The first one would be Vecta which is a big international grasstrack they hold on a Saturday evening, and it was towards the end of the season. Everyone used to do Vecta on a Saturday evening and the World Longtrack revenge on the Sunday in Parken. So it was probably one of my first internationals with Simon Wigg, Kelvin Tatum, Gerd Riss, Robert Barth, Egon Muller and Karl Maier.
The thing that sticks out is that it was wet, really wet and it was the European Sidecar final, so they were umming and aahing whether they were going to run it or not and at one point they said the solos were off, its game over you can all go home. Then they changed their minds, and it was back on. So we have all got changed, and the zip broke on my kevlars and luck would have it Lester Goodwin, and his brother Clive was there, and he had a spare set, so I jumped in them. It was quite wet and crappy, and I got to the final, and I think it was Wiggy, Egon Muller, Karl Maier, Robert Barth and Gerd Riss and I think Schoie (Steve Schofled) was in it as there was 8 in a race then.
I was just happy to get to the final. I don't know what happened, but I bolted out of the start, and I was gone. You can't quite believe it as you are riding and thinking "they are going to start coming by me in a minute", and no one did. Then on the last lap, Robert Barth or Gerd Riss dived up the inside of me going into the pit corner, and I thought "I am not going to have this, I am going to run round in the dirt at the bottom of the fence". But because it was so wet and crappy you couldn't see it, so I have gone up and hit the fence and gone back around the outside, and as I have gone across the finish line to win my chain has come off. I was so lucky to have won that. There was not much of a run from the exit of the fourth turn to the finish line, and as I have got to the finishing line my bikes just gone rrrrring, and I'm like what's gone on. At that point, I was too busy punching the air. Alan Whale was taking pictures there, and he said he has never seen anyone hit the fence and go up so high and get away with it. It was a stroke of luck.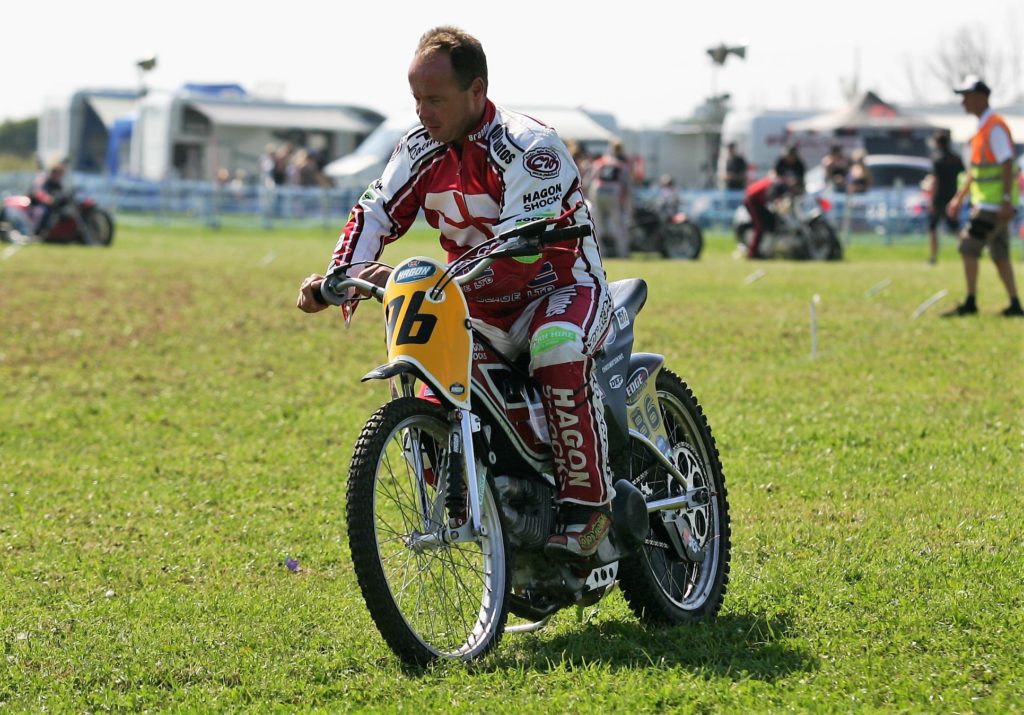 Previous to this I had won Marmande in France which was my first big victory, and that was a Grand Prix round. That was totally out of the blue as well as the previous round in Holland, I blew two engines in practice and went out on my Speedway engine. So to have a real dodgy GP as the one before, and to come back to Marmande where I had only been to once before three years ago, so I wasn't expecting anything.
One of my sponsors Roy Francis had brought me a new Jawa as a replacement for the engines that I had blown up in Holland. And I will never forget it as during the day I was hanging around with Schoie, and he said as there was nothing to do as it was a late start, "why don't we go into town, grab something to eat and have a look around the shops". To me, that was like "you're going to do normal things in the day when we are racing tonight?" So I went down the town with Schoie whizzing in and out of shops, and I will never forget it as I brought quite a few Quicksilver and Billabong clothes as they were really cheap over there and I had spent quite a bit of money. So I thought shit I need to have a good meeting tonight to pay for all of these clothes I have bought. I got to the meeting and felt alright. I won my first ride, them my second ride, then my third and fourth so I was unbeaten going into the final. I am thinking "you are on a crest of wave here". I made a half-decent start in the final, but Steve Johnston made a better one and got in front coming out of the second corner before you go down the long straight and he moved up towards the fence, but I had the run. But I am thinking "Christ the gaps gonna shut in a minute if I don't get there quick" and as I sort of got to him I had to duck under his throttle hand to get through. I was able to go on and win it, and that was one of the biggest wins of my career as it was a Grand Prix. When it finishes there they turn off all of the lights, and they put the spotlight on you, so it was quite a show, and coming back towards the pits I could see my Dad and Mechanic Mario, who had been helping me since I had started jumping up and down, and your thinking this is it.