My Greatest Race – Jamie Dobb
Jamie Dobb is Great Britain's last Motocross GP world champion, winning the 125cc title back in 2001.
Interview by Jeff Perrett – Images supplied by Jamie Dobb
Then a factory KTM racer, Dobb was the dominant rider of that year, when GP's were raced with the one moto format. What looked to be a smooth and effortless march to the title was put in jeopardy when Jamie broke his collarbone at the Swedish GP, but things were about to get even harder following that crash. Here Jamie runs through why the GP at Namur in Belgium is his greatest race. Under the circumstances, it's easy to see why.
"I went to Sweden with a huge lead and something happened on the start and I went down and broke my collarbone. I flew back thinking 'you know what? It's fine I can still come back from this.' I had it operated on the Monday and the following week I went to France and got second at the GP and I thought 'I'm back on track, we're all good. That could've been a hell of lot worse.' The following Wednesday I went practicing and the clutch broke on my bike. There was a little red plastic bit on the hydraulic clutch and that snapped. I went hard into a corner and went for the clutch and it wasn't there and I washed out the front end, went over the bars and into the face of a jump. It wasn't a huge crash but it was enough to break my other collarbone!
"So off I went to the hospital and they said 'no, it looks alright, you're fine.' This was a Wednesday and we had a weekend off so I thought okay, I'll just rest up and take it steady. The following Tuesday I got a call from the specialist at the hospital that had since looked at my X-Ray and told me that I have broken it. So I went to see a surgeon that Craig Elwell had set me up with him to get another operation on it on the Tuesday. On the other collarbone I broke I was doing push-ups on it the next day so I though it won't be a problem. I'll get this one done on Tuesday or Wednesday and I'll drive over to Namur after that and will be good to go. I went to see him for the consultation and he basically said 'sorry mate, I can't help you!' Obviously that came as a bit of shock at the time. What I had done is snapped it right at the very end and it was just too difficult to operate on because he didn't have enough bone to screw or plate into without it being a longer, more complicated surgery that would be a load of time out. So of course I didn't want to do that and throw away the championship. He said, 'then you've just got to get on with it and grit your teeth.'
"I drove out to Belgium with Naomi in the car with me thinking am I even going to be able to ride, because I hadn't since the crash. I hadn't done anything! We got there and I just tried not to think about it too much and do my regular routine. I went out for the first warm up session and thankfully it felt okay. As I came around past the pit area for the first lap all the crew were there, Naomi, Fred my mechanic, Kurt Nicoll (then KTM racing director) and their eyes were as big as saucers staring at me. So I slowed up a bit, put my thumb up and shouted at them 'it's okay, it's okay!' I can remember the look of relief on their faces. It was anxious times.
"Obviously it's the back story and lead up to Namur that makes it my greatest race. I'd been dominating the championship pretty much from the get-go and then got two broken collarbones in a space of a couple of weeks. I just knew I couldn't let it slip. You get one broken collarbone and you think, 'yeah. I can deal with this' but then when you get two together it's hard not to think 'what the bloody hell is happening here?!'
"We woke up on the Sunday and it had been raining hard in the night. The track was slippery but not too deep with mud, not ideal conditions to ride with two broken collarbones because obviously it was easier to make a mistake and have to deal with any pain if you crash but I just though 'I can't make them (my collarbones) any worse, so deal with it and concentrate on the job in hand and try not to think about them.' Although to be fair if I had crashed on either of them maybe I would've messed them up worse, especially the one that had been plated but thankfully I didn't.
"Anyway, I went out on the track on expecting to be sore but I wasn't. I had absolutely zero pain. I can't tell you now why not and I couldn't have told you then. It's just weird. My only guess is that I was just so in the moment and determined not to lose the chance of the being World champion that maybe I was just so focused I didn't feel the pain. I been training with Kirk Gibbons for a couple of years at that point, Aldon Baker was helping me with nutrition and a few other things. I was in the best shape of my career, both physically and mentally. I also really believe that I was on such a high with Naomi expecting our first child – Gracie, and it was like this perfect storm for me. Like I knew it was going to be one of the best years of my life. I've always wanted a kid and made no secret of it. I'm a farmer's boy and a bit old fashioned, but I always wanted to get married and start a family. Naomi and I got married the previous October and then we fell pregnant not long after that. Before the GP at German we had a scan and I saw her for the first time in that scan and I just gained so much confidence and self belief within myself from seeing that one scan. It was insane.
"I think that also made the weekend at Namur that bit easier to deal with. Naomi was seven month pregnant at the time and it just felt to me like we're almost there and I've got to win this thing and keep it all on track. Gracie was born in October, a year after our wedding.
"I went to line feeling as confident as ever, I honestly don't think I gave my collarbones any second thought once I was behind that start gate, I certainly can't remember doing so anyway. The gate dropped and I got a horrendous start, probably the worse one I had all year. I think I was about 15th to 20th, something like that. I dropped down in the woods from the Citadel on the opening lap and under that little footbridge and pulled my roll-offs and they snapped! By the time I got down to the café bar on the road section at the bottom of the hill I couldn't see shit, my goggles had gone and I thought 'no way, not today, this ain't happening'. Then I just started passing people left, right and centre. I can't even remember most of it, it was like I in a trance and a little bit 'out of body'. I know that sounds a bit off but I can't really explain it. I ended winning the race by a comfortable margin and it felt almost easy. That's no disrespect to my competition at all; it's just how it felt and how it was, one of those days where it just all feels effortless like you're not even trying somehow.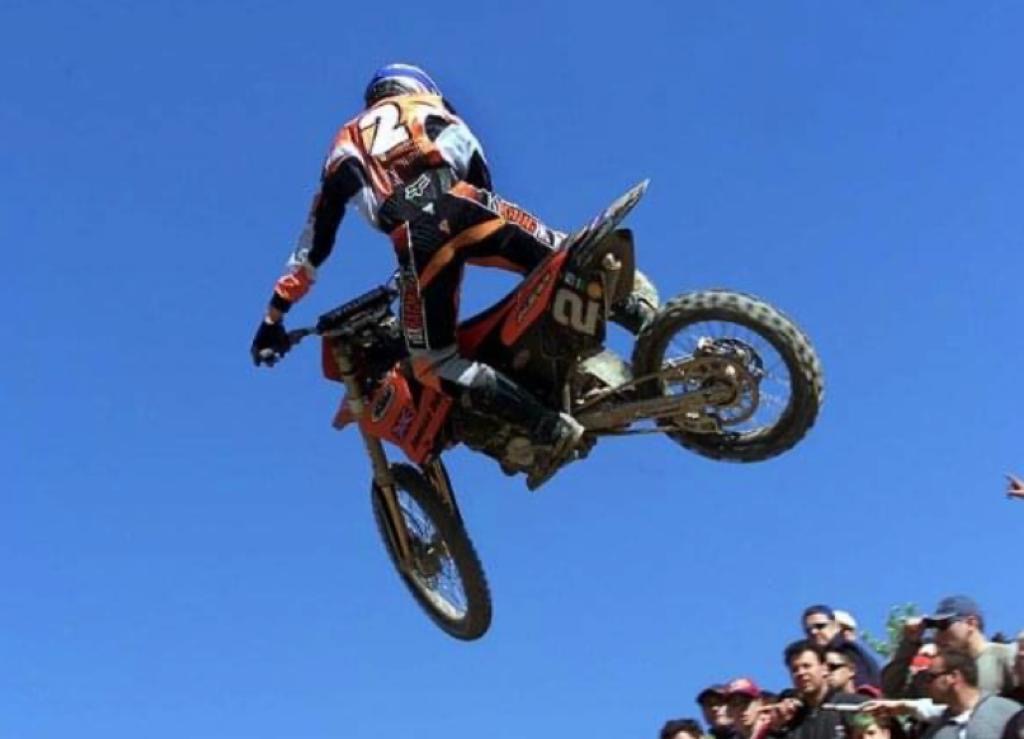 "It was such a huge win for me, when you're thinking 'can I even ride?' to pull that out of the bag. On top of that I made more points on Steve Ramon, so it wasn't as if I had got through the two broken collarbones with damage limitation and lost points. My team were more surprised than me, to be honest, and there was a definite feel-good vibe in the camp after the race. I think they knew the significance of the win more than me at the point.
"When I did actually clinch the title at Gaildorf in Germany a couple of rounds later it was almost a bit of an anti-climax compared to the feeling straight after crossing the line at Namur, to be honest. It was the worse result I had got all year. Up to that point I had either won or got second and I wrapped up the title by finishing fourth. After the race they ushered me off the track away from all the press and where my team were for some reason, I still don't really don't know why, and it seemed to take ages for the team to get to me. It felt like I was on my own for about ten minutes and I wasn't really sure how I was feeling. It certainly hadn't sunken in straight away. Once Naomi and all the team got to me and was going crazy this overwhelming sense of happiness and achievement washed over me.
"From driving out of Namur I kind of knew I had it and had one hand on the title. I was more confident than ever after that weekend, but obviously I knew I had to be smart. It's almost like the broken collarbones were the reminder to stay focused and that little wake up call that things can go wrong and don't get too far ahead of yourself. I started thinking 'if I've come through that and still won like I had it's going to take something way out of my control to stop me from winning this thing, so be in control of what I can be.' To eliminate some of that risk Kurt then banned me from practising after Namur!"
To read David Thorpes Greatest Race head here >> https://www.dirthub.co.uk/my-greatest-race-david-thorpe/