King Charles to victory! Lincolnshire Enduro Club Championship Round 1 – Race Report and Results
Over 120 riders descended into the tiny Wolds village of Ashby Puerorum at the weekend for the Lincolnshire Enduro Club Championship supported by Gear 4's first round of their 2020 Hare and Hounds Challenge Series.
Report by Martin Southwick – Images courtesy of Graeme Taylor Images
Being somewhat obsessed with the weather here in the UK, we can always find something wrong with it. However, truth be told, conditions were none other than perfect for racing on Sunday. Surprisingly, the overnight (and recent) rainstorms didn't really have an effect on the terrain of the 5.5 mile course. Given the recent strong winds, they probably helped dry proceedings out before the race started. (Its the first time the Met office has played nicely with LEC's first race of each season. Last year the club saw monsoon conditions, and two years ago we had the abandonment due to big snows sent from Russia!!!) As usual, the club worked hard over the previous weeks to provide a mixed course of fast open going, some wooded areas and also utilised parts of the old Moto X track. It certainly seems to pay dividends, Ashby is now becoming one of the riders favourite tracks.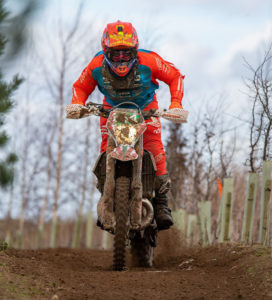 Whilst some class winners came from the list of usual suspects from previous seasons, there were also some new faces on the scene to mix it up a bit. One name unfamiliar to most was the winner on the day Charlie Frost. Hailing from Bath in Somerset, the youngster riding his Eurotek 300 KTM had a pretty big lead of some 7 minutes at the end of the Experts race. Club regular Danny Catlin came home in second spot, and whilst both riders totalled 16 laps, those seven minutes was easily enough for a maiden victory for Charlie. Those two riders were the only ones in class to gain that amount of laps with third place man, Lewis Eliis a further lap in deficit. Another new name and class winner with a big lead at the end of 180 minutes of racing was Daniel Maxey in the Clubman class. Travelling a long way from Eastleigh in Hants, Daniel's margin of victory was almost 5 minutes over runner up George Pearce. Local lad Mathew Parkinson was third, a little under 10 minutes further back. All these lads managed 14 laps, as did the top 6 in class.
The biggest group of the day was provided by the Sportsman 2T class. With 26 riders out there, it was one or two of the more familiar names this time that filled the top spots. Benjamin Schneider ( 12 laps) came away with yet another winning margin of nigh on 5 minutes. Ryan Overton was also on 12 laps as the flag went down on his second place, with Ben Harrison a distant third.
All four of the quickest lads in the Sportsman 4T class gained 12 laps also. Thomas Hobbs's victory was a little less this time; a shade under 4 minutes over club regular Joshua Johnson. Another 3 minutes further behind that was Christopher Palmer in third spot. As always the "Advanced Years" classes are as close as ever. With the club now running an over 60's class, its never too late to go back to that old Shakespearean adage, "Its just kids having fun" !!. First blow of the year was struck by Kev Bartle Sr, with Ian Stewart 2nd, and John Cotterill 3rd. In the over 40's, one of the biggest winning margins of the day came from Darren Bedford. Whilst Danny Clarke (in second place), and Darren were on the same lap at the end, there was almost 8 minutes separating them. Jules Croft was a further lap behind that. Neil Tapper won the over 50's section by some 4 minutes from a fast finishing Andy Jackson whilst Ian Shepherd slotted home in 3rd. Ben Hampel was the winner in the newly formed "Evo"Class.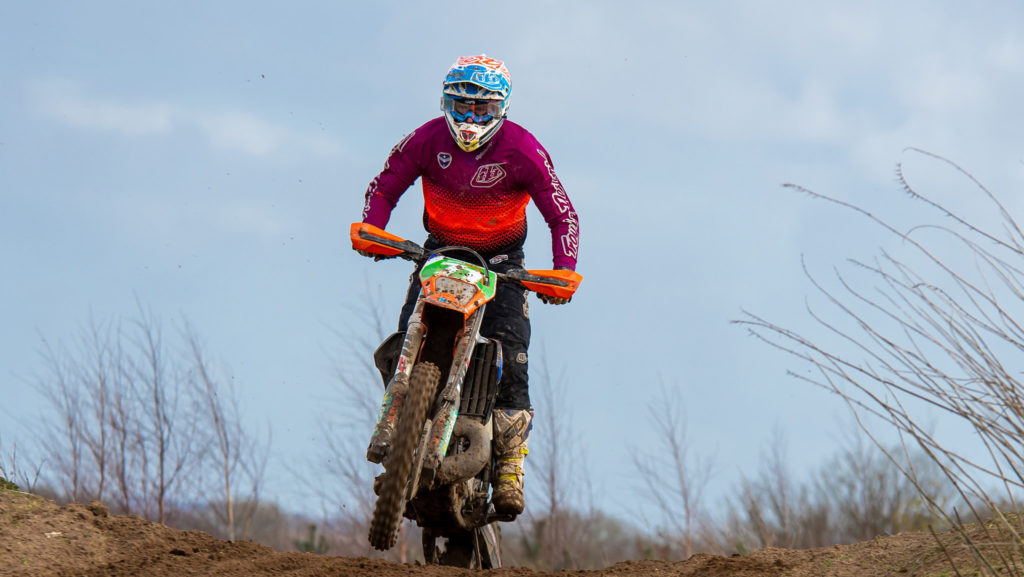 A big shout should be given to the three Beginners on the day; Jamie Walker, Andrew Moss, and Alexander Richardson. Whilst there are no points awarded in this class, its always good to welcome newcomers onto the start line. See you on the grid next month guys !!
Thanks also should be given to all first aiders, marshalls, helpers, timekeepers (Tick Tock Timing solutions), and all catering staff etc. The club salutes you. We wouldn't have a club without you.
The next race is at North Willingham on 5th April. (LN83RJ) Full details and any further information required . . . see here . . . . .https://www.facebook.com/groups/LincolnshireEnduroClub/
Results
Head here for the Full Results for the Lincolnshire Enduro Club Championship Round 1 >> 2020 LEC Round 1 Results