Frost rules at Cotton Farm! Endurocks Hare and Hound Championships Round 4 – Race Report and Results
Sunday 13th September saw Endurocks Events host the 4th round of their Hare & Hounds series in Cotton Farm in Tiverton. The combination of a well known and loved venue which has hosted racing for over a decade combined with great weather and a stacked line up of over 100 entrants made this a weekend not to be missed.
Report by Sam Warren – Images courtesy of Hayley Warren – Hayleys Pics
In the Experts class it was Dylan Baynton who took the early lead and opened up a decent gap on Charlie Frost. About half way into the 2.5 hour race, found another gear closing in on Baynton, passing him and then checking out to take the win. Anthony Milliar put in a great effort after getting tangled up in some trees on lap one and coming round in 21st he dropped the hammer to wind up third. Owen Richards and Mitch Frost round out the top 5.
The Clubman class saw Adam Hughes LP Racing take the early lead with Sam Richards nipping at his heels the whole time. As the race progressed, Richards passed Hughes and made it count, taking the race win with Hughes in second. James Larcombe, Jake Strawbridge and Jason Wright round out the top 5.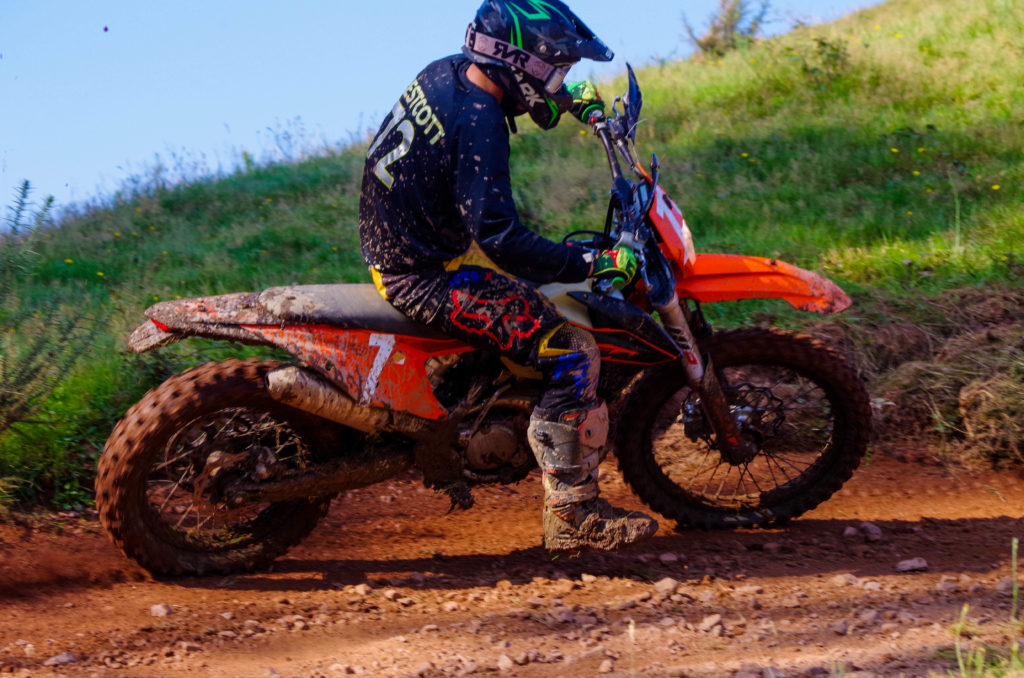 Clubman over 40's saw no change in the top 5 from the start to the finish with Tony Penhaligon taking the win. Philip Gilder, Michael Brooks, Neil Ross Bradninch and Philip Hull rounded out the top 5.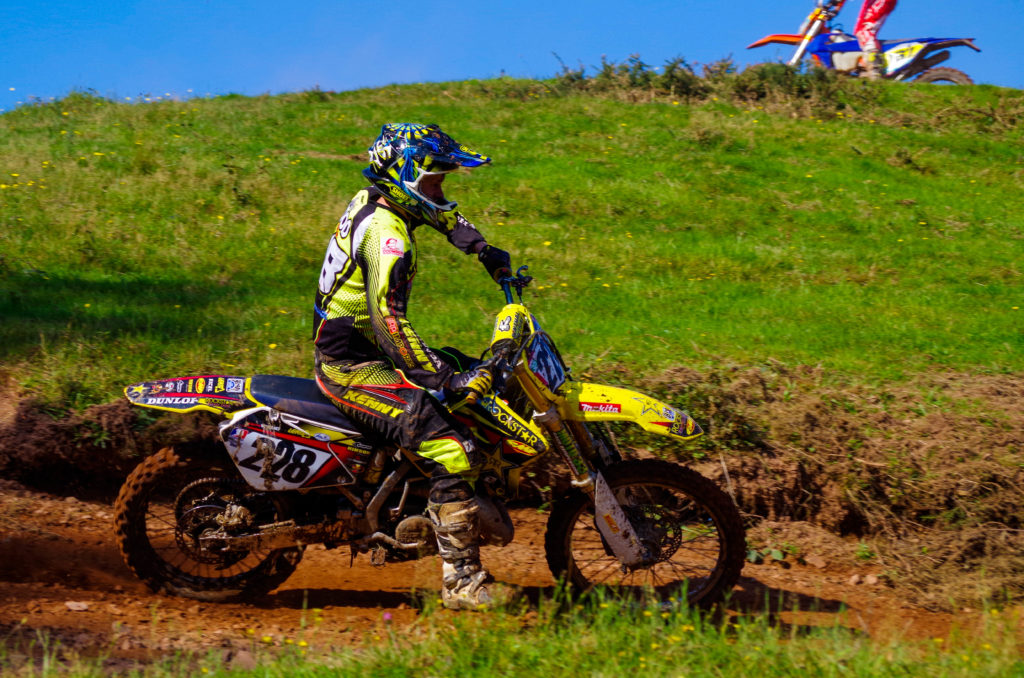 The Sportsman class saw Sam Warren take the early lead until a bike issue took him out of contention early on. Stuart Westcott took the lead in lap 3 where he remained until the chequered flag to take the win. He was followed by Stuart Williams in 2nd and Daniel Hern in 3rd. Jack Smith and Ben Dyer round out your top 5.
The Sportsman over 40's class Ian Sandercock had a great day leading from start to finish, Jon Sheppey took 2nd and Simon Kenchington took 3rd. Ross Henderson and Eldon Jackson round out the top 5.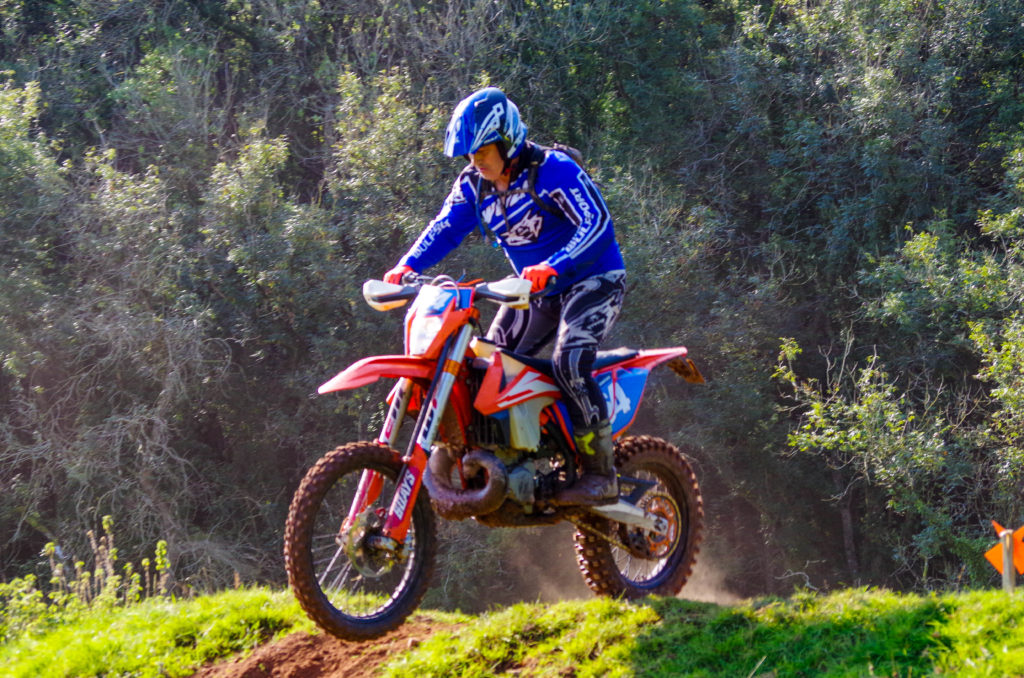 The Novice class saw Kevin Penhaligon lead from start to finish with Joel Worthington in tow. Jack Rudd came in 3rd with Jack Larcombe and Jake Woodgate rounding out the top 5.
As always we would like to extend our thanks to all the marshalls, medics and everyone who helps make these events possible.
The next round is set to go ahead at Priestlands, Huntsham on September 27th.
Priestlands race registration: https://www.webscorer.com/register?raceid=220381
Results
Overall
Place Bib Name Category Time
1 442 Charlie Frost Experts 2:29:09.5
2 67 Dylan Baynton Experts -1 lap
3 38 Ant Milliar Experts -1 lap
4 89 Owen Richards Experts -1 lap
5 60 Mitch Frost Experts -2 laps
6 37 Marcus Alba Experts -2 laps
7 83 Zach Patching Experts -2 laps
8 720 Wayne Mundell Experts -2 laps
9 316 Ben Zeale Experts -2 laps
10 613 Jack Talbot Experts -2 laps
11 20 Kyle Jacobs Experts -2 laps
12 300 Ryan Mundell Experts -2 laps
13 30 Sam Richards Clubman -2 laps
14 911 Tony Penhaligon Clubman Over40's -2 laps
15 86 Jeremy Box Experts -2 laps
16 22 Adam Hughes LP Racing Clubman -2 laps
17 189 Philip Gilder Clubman Over40's -3 laps
18 180 James Larcombe Clubman -3 laps
19 227 HARRY JEFFERIES Experts -3 laps
20 901 Jake Strawbridge Clubman -3 laps
21 75 Jason Wright Clubman -3 laps
22 55 William Biss Clubman -3 laps
23 88 Robert Aldworth Clubman -3 laps
24 112 Ian Fortune Clubman -3 laps
25 107 Fred BOX Experts -3 laps
26 335 Roland Penhaligon Clubman -3 laps
27 34 Michael Brooks Clubman Over40's -3 laps
28 902 Ben Scott Experts -3 laps
29 95 Tayler Brooke LP Racing Clubman -3 laps
30 445 Neil Ross Bradninch Clubman Over40's -3 laps
31 72 Stuart Westcott Sportsman -3 laps
32 23 Jack Packer Clubman -4 laps
33 690 Kevin "I Love Vicky Pardoe" Penhaligon Novice -4 laps
34 190 Kieran Mclelland Clubman -4 laps
35 133 Harry Davey Clubman -4 laps
36 111 Jack Burrough Clubman -4 laps
37 204 Kirk Giles Giles Clubman -4 laps
38 168 Ryan Comer Experts -4 laps
39 431 Slim Leeming Clubman -4 laps
40 48 Stuart Williams Sportsman -4 laps
41 913 Alex Westlake Clubman -4 laps
42 77 Daniel Hern Sportsman -4 laps
43 149 Joel Worthington Novice -4 laps
44 170 David Llewellyn Clubman -4 laps
45 777 Tom Bird Clubman -4 laps
46 813 Sam Guppy Clubman -4 laps
47 284 Jack Smith Sportsman -4 laps
48 18 Ben Dyer Sportsman -4 laps
49 127 Jack Rudd Novice -4 laps
50 614 Sam Warren Sportsman -5 laps
51 26 Matthew Lawrence Clubman -5 laps
52 52 Jack Ellis Sportsman -5 laps
53 167 John Foley Clubman -5 laps
54 910 Lexy Pitt Clubman -5 laps
55 611 Jose Javier Ciordia Redondo Sportsman -5 laps
56 64 Ian Sandercock Sportsman Over40's -5 laps
57 161 Jack Larcombe Novice -5 laps
58 131 Philip Hull Clubman Over40's -5 laps
59 47 Jake Woodgate Novice -5 laps
60 290 Tyler Clapton Clubman -5 laps
61 24 Jamie Wilkins Sportsman -6 laps
62 102 George Lovell Novice -6 laps
63 400 George Guppy Clubman -6 laps
64 45 Phil Merrett Sportsman -6 laps
65 46 Jon Sheppey Sportsman Over40's -6 laps
66 444 Simon Kenchington Sportsman Over40's -6 laps
67 58 Scott Lintott Novice -6 laps
68 105 Johnny Broomfield Novice -6 laps
69 44 Steven Palmer Sportsman -6 laps
70 163 Glenn Harding Sportsman -7 laps
71 512 Ross Henderson Sportsman Over40's -7 laps
72 198 David Nash Novice -7 laps
73 888 Leeroy Townsend Novice -7 laps
74 62 James Thomas Novice -7 laps
75 560 Austin Clarke Clubman Over40's -7 laps
76 424 Eldon Jackson Sportsman Over40's -7 laps
77 228 Justin Wood Clubman -7 laps
78 192 Richard Bland Novice -7 laps
79 680 Mark Docherty Clubman Over40's -8 laps
80 222 Luke Hughes LP Racing Novice -8 laps
81 249 Rhys Cross Clubman -8 laps
82 245 Nathan Twigg Novice -8 laps
83 191 Connor Talbot Novice -8 laps
84 138 Dean Bell Novice -8 laps
85 286 Finley Docherty Novice -8 laps
86 240 Luke Henderson Novice -8 laps
87 199 Gary McCoy Experts -9 laps
88 103 Gareth Knowles Novice -9 laps
89 525 Robin Isaac Sportsman Over40's -9 laps
90 831 Terry Finch Sportsman -9 laps
91 84 Kevin Green Sportsman -9 laps
92 33 Chris Coward Sportsman Over40's -9 laps
93 3 Jack Fleming Experts -10 laps
94 162 Harry Mitchell Experts -10 laps
95 90 Rob Newell Novice -10 laps
96 279 Rob Elliott Novice -10 laps
97 287 Adam Spencer Novice -11 laps
98 203 Jady Giles Clubman -12 laps
99 354 Nicholas Pearn Clubman Over40's -12 laps
100 472 Matt Holland Novice -12 laps
101 301 Rob Jago Experts -13 laps
102 960 Ben James Novice -13 laps
103 57 Tom Ross Clubman -14 laps
104 500 Paul Smith Sportsman Over40's -14 laps
105 142 -14 laps
106 961 Phillip Kyte Novice -14 laps
107 205 James Kimberley Sportsman -14 laps
Results by class
Clubman
Place Bib Name Category Time
1 30 Sam Richards Clubman 2:41:12.6
2 22 Adam Hughes LP Racing Clubman 2:42:34.4
3 180 James Larcombe Clubman -1 lap
4 901 Jake Strawbridge Clubman -1 lap
5 75 Jason Wright Clubman -1 lap
6 55 William Biss Clubman -1 lap
7 88 Robert Aldworth Clubman -1 lap
8 112 Ian Fortune Clubman -1 lap
9 335 Roland Penhaligon Clubman -1 lap
10 95 Tayler Brooke LP Racing Clubman -1 lap
11 23 Jack Packer Clubman -2 laps
12 190 Kieran Mclelland Clubman -2 laps
13 133 Harry Davey Clubman -2 laps
14 111 Jack Burrough Clubman -2 laps
15 204 Kirk Giles Giles Clubman -2 laps
16 431 Slim Leeming Clubman -2 laps
17 913 Alex Westlake Clubman -2 laps
18 170 David Llewellyn Clubman -2 laps
19 777 Tom Bird Clubman -2 laps
20 813 Sam Guppy Clubman -2 laps
21 26 Matthew Lawrence Clubman -3 laps
22 167 John Foley Clubman -3 laps
23 910 Lexy Pitt Clubman -3 laps
24 290 Tyler Clapton Clubman -3 laps
25 400 George Guppy Clubman -4 laps
26 228 Justin Wood Clubman -5 laps
27 249 Rhys Cross Clubman -6 laps
28 203 Jady Giles Clubman -10 laps
29 57 Tom Ross Clubman -12 laps
– 99 Jac Stevens Clubman DNS
– 218 John Jago Clubman DNS
Clubman Over40's
Place Bib Name Category Time
1 911 Tony Penhaligon Clubman Over40's 2:41:15.9
2 189 Philip Gilder Clubman Over40's -1 lap
3 34 Michael Brooks Clubman Over40's -1 lap
4 445 Neil Ross Bradninch Clubman Over40's -1 lap
5 131 Philip Hull Clubman Over40's -3 laps
6 560 Austin Clarke Clubman Over40's -5 laps
7 680 Mark Docherty Clubman Over40's -6 laps
8 354 Nicholas Pearn Clubman Over40's -10 laps
Experts
Place Bib Name Category Time
1 442 Charlie Frost Experts 2:29:09.5
2 67 Dylan Baynton Experts -1 lap
3 38 Ant Milliar Experts -1 lap
4 89 Owen Richards Experts -1 lap
5 60 Mitch Frost Experts -2 laps
6 37 Marcus Alba Experts -2 laps
7 83 Zach Patching Experts -2 laps
8 720 Wayne Mundell Experts -2 laps
9 316 Ben Zeale Experts -2 laps
10 613 Jack Talbot Experts -2 laps
11 20 Kyle Jacobs Experts -2 laps
12 300 Ryan Mundell Experts -2 laps
13 86 Jeremy Box Experts -2 laps
14 227 HARRY JEFFERIES Experts -3 laps
15 107 Fred BOX Experts -3 laps
16 902 Ben Scott Experts -3 laps
17 168 Ryan Comer Experts -4 laps
18 199 Gary McCoy Experts -9 laps
19 3 Jack Fleming Experts -10 laps
20 162 Harry Mitchell Experts -10 laps
21 301 Rob Jago Experts -13 laps
– 97 Christopher Milliar Experts DNS
– 707 Will Keenan Experts DNS
Novice
Place Bib Name Category Time
1 690 Kevin "I Love Vicky Pardoe" Penhaligon Novice 2:31:17.2
2 149 Joel Worthington Novice 2:36:24.7
3 127 Jack Rudd Novice 2:42:50.0
4 161 Jack Larcombe Novice -1 lap
5 47 Jake Woodgate Novice -1 lap
6 102 George Lovell Novice -2 laps
7 58 Scott Lintott Novice -2 laps
8 105 Johnny Broomfield Novice -2 laps
9 198 David Nash Novice -3 laps
10 888 Leeroy Townsend Novice -3 laps
11 62 James Thomas Novice -3 laps
12 192 Richard Bland Novice -3 laps
13 222 Luke Hughes LP Racing Novice -4 laps
14 245 Nathan Twigg Novice -4 laps
15 191 Connor Talbot Novice -4 laps
16 138 Dean Bell Novice -4 laps
17 286 Finley Docherty Novice -4 laps
18 240 Luke Henderson Novice -4 laps
19 103 Gareth Knowles Novice -5 laps
20 90 Rob Newell Novice -6 laps
21 279 Rob Elliott Novice -6 laps
22 287 Adam Spencer Novice -7 laps
23 472 Matt Holland Novice -8 laps
24 960 Ben James Novice -9 laps
25 961 Phillip Kyte Novice -10 laps
Sportsman
Place Bib Name Category Time
1 72 Stuart Westcott Sportsman 2:42:31.2
2 48 Stuart Williams Sportsman -1 lap
3 77 Daniel Hern Sportsman -1 lap
4 284 Jack Smith Sportsman -1 lap
5 18 Ben Dyer Sportsman -1 lap
6 614 Sam Warren Sportsman -2 laps
7 52 Jack Ellis Sportsman -2 laps
8 611 Jose Javier Ciordia Redondo Sportsman -2 laps
9 24 Jamie Wilkins Sportsman -3 laps
10 45 Phil Merrett Sportsman -3 laps
11 44 Steven Palmer Sportsman -3 laps
12 163 Glenn Harding Sportsman -4 laps
13 831 Terry Finch Sportsman -6 laps
14 84 Kevin Green Sportsman -6 laps
15 205 James Kimberley Sportsman -11 laps
– 183 Barry Voaden Sportsman DNS
– 262 James Lee Sportsman DNS
Sportsman Over40's
Place Bib Name Category Time
1 64 Ian Sandercock Sportsman Over40's 2:35:42.4
2 46 Jon Sheppey Sportsman Over40's -1 lap
3 444 Simon Kenchington Sportsman Over40's -1 lap
4 512 Ross Henderson Sportsman Over40's -2 laps
5 424 Eldon Jackson Sportsman Over40's -2 laps
6 525 Robin Isaac Sportsman Over40's -4 laps
7 33 Chris Coward Sportsman Over40's -4 laps
8 500 Paul Smith Sportsman Over40's -9 laps