Dirty Dozen with Carlton Husband
Phoenix Tools Apico Kawasaki motocross racer and MX2 Straight Rhythm UK winner Carlton Husband has taken time out to deliver his Dirty Dozen answers…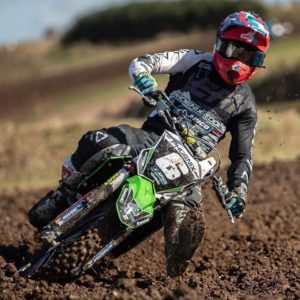 Feature image courtesy of Elliot Spencer @ MX Nationals – Other images courtesy of Phoenix Tools Apico Kawasaki
Dirt Hub: Do you have a Pre-Race Playlist you listen too, and if so name a couple of tracks that are on it?
Carlton: Any upbeat music
DH: When was the last time you cried?
Carlton: I can't remember, but have a feeling The next time will be when my little girl is born in a few weeks time
DH: What is your favourite inspirational quote?
Carlton: Get busy living or get busy dying
DH: Do you have any weird suspicions or pre-race rituals?
Carlton: No
DH: What drives you most to get up in the morning and go training?
Carlton: Knowing that I'm lucky enough not to have to slug an 8-5 job every day. Doing something you love makes getting up easy.
DH: If you didn't race what sport would you play?
Carlton: Boxing, I've always trained and had a few bouts but motocross has always came first
DH: What is your biggest Phobia?
Carlton: I haven't really got one, but growing old scares me
DH: Who is your biggest sporting idol and why?
Carlton: Non-MX Michael Jordan, his determination and always focused to win
MX James Stewart
DH: Where do you see yourself in five years time?
Carlton: Hopefully still riding and competing, if not maybe coaching
DH: What is your all-time favourite movie?
Carlton: Freddy got Fingered
DH: Who has had the biggest impact on your career?
Carlton: Barry Moore, one of the kindest men you will ever meet. He always finds a positive even on the toughest days.
DH: What is your philosophy on life?
Carlton: Live life to the full.
For more Dirty Dozen interviews head here >> https://www.dirthub.co.uk/dirty-dozen/