Cohen blisteringly fast at Bodmin! Apico BSMA National Round 2 – Race Report & Results
Swopping the Welsh mountains for the Cornish slate mines the Apico BSMA national took the series further afield down to Bodmin in Cornwall and a relatively new circuit just off the A30. A very technical track with hills, cambers, switchbacks and a few man-made elements through in with some great soil (and a few bits of slate). The track prep was spot on, moist in practice but after a couple of races, conditions were as close to perfect as could be even in the tropical conditions!
Report and Images by Ady Cowshall – Images of Speed
The combined vets started the race order off with the fastest qualifier Darren King not getting the best of starts with his closest on-track competitor in the younger age group out front James Dobson. This pair both took maximums in the respective groups Dobson went almost unchallenged both days as King didn't have his starts dialled and took heat himself from one or two of the younger riders, notably Sam Callow who rounded out a solid weekend with runner up spot in the over 35's. Mike Burgess got close on occasion to King in the over 45's but had to settle for second overall ahead of the screaming 125 Yamaha of Paul 'Wildman' Willis.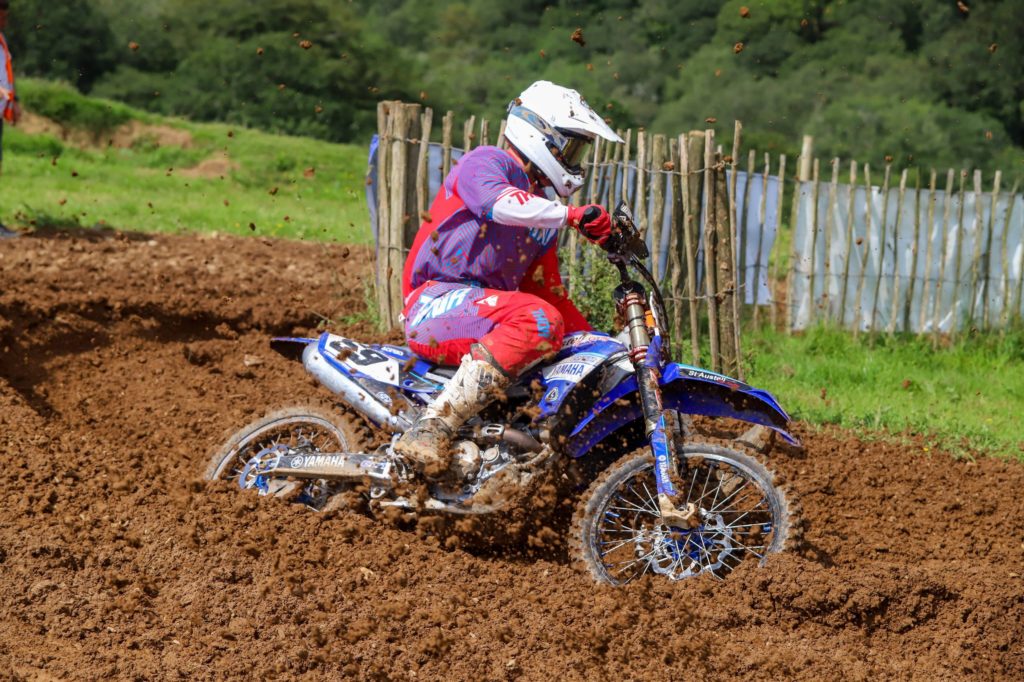 Willis's overall consistency and never give up attitude gave him third overall ahead of Neil Stevens who managed to beat the 125 pilot in a couple of the heats ending the weekend out with fourth overall while brother Mark Stevens looked good in practice a mechanical put him out before finishing one race! Ian James looked set for a great result in the over 35's consistently running third in class until the final race, going down, in turn, one and then again while carving his way through the pack, but he did enough to stave off Chris Peaty some 6points behind. It was tighter than a slipper on one of the ugly sisters behind James as local warrior Scotty Williamson and Phil Jones finished the weekend out one point adrift of each other.
The premier class took to the line next and it featured some epic battles. Jones was cut off going into turn 2 and Phillips set off to try to break him. Coming through the pack Jake Curtis Stevens overhauled both Welsh boys to take the flag. Phillips got out front again in heat two and held off Stevens late charge and again in moto three. Stevens small bore bike was no match for the big bores out of the gate in and extremely ripped start straight sapping the power from his little KX250. Phillips had to play bridesmaid in the final two races of the weekend giving Stevens a 4 point advantage to take to the next round. Behind them, Jones had to battle with Regan Skinner and Nathan Frayne on Saturday but had a stronger ride in both motos on Sunday going 3-3 leaving Frayne to pick up a spot after Skinner went down hard in the final outing dropping him down the order. Jason Down suffered from poor starts but seemed to have the endurance to last the races finishing strongly as the weekend progressed. Shout out for youngster Dan Maule who was close to the front runners pace in several motos rounding out the weekend with a great sixth overall.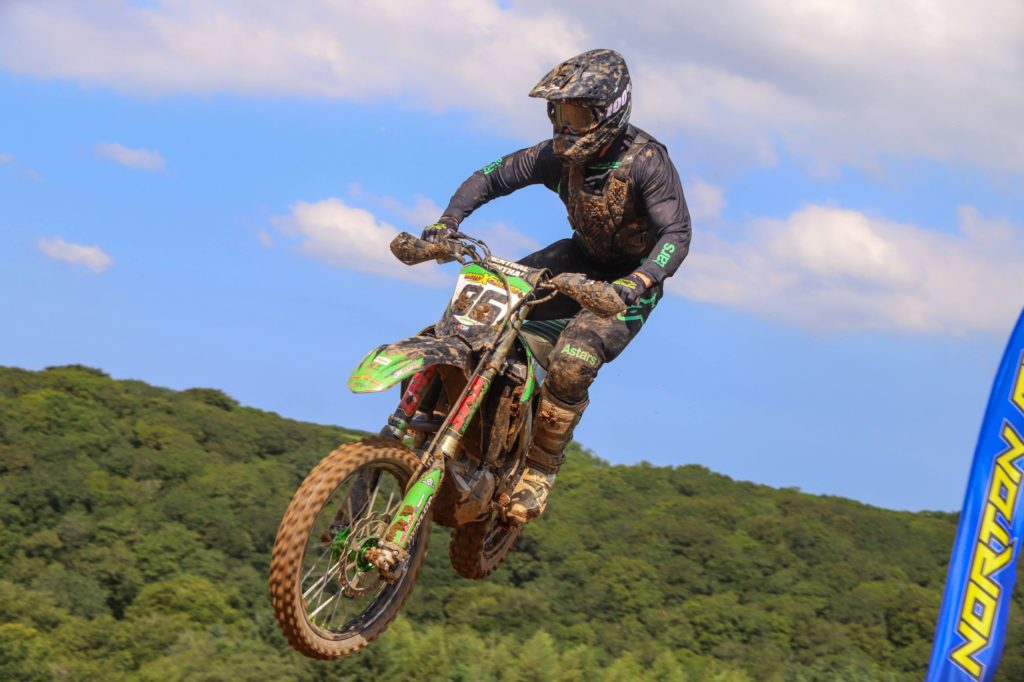 Seniors as always provided some class action with local ace Leon Williams sweeping the board only having a few laps to contend with any challenges Ben Zeale, Harvey James and Henry Life. Williams put his 250f at the front almost every time within a few corners of the start of each race leaving the competition with no doubt as to his intentions. Behind him, it was tight for runner up with Zeale and James both trading places but Zeale's first race fifth place gave it to James who consistently placed top 3 all weekend. Henry Life was given a run for his money in the 125 class after Jack Peacey stole the race two win but Life pulled out the stops to win the remaining heats taking a 6 point advantage away to the next round. With third-place finishes being handed out to the top six overall it was close racing all the way down the order. Some flashes of brilliance from Colin 'Bubba' Stewart aboard his TM rewarded him with one of those third-place finishes and fourth overall while Roan Delaney, Jay Platt and Luke Woolgrove took the others.

The Auto riders may have been daunted by the size of the track with all but Cohen Jagielski doing three minute plus lap times at the best! Jagielski was in a class of his own with half minute gap back to the next finisher in all but one race his speed was that great he would of finished inside the top five of the 65's! Behind saw a solid performance from Jacob Hackett coming home second in all five moto's, third overall went to Jamie Currie again third in each race apart from the fourth after a spill dropped him to sixth at the line. Elliot Shawyer was lucky to stay in front of Oaklan Winnall after several 'off's' but he did by one point in the overall standings. With only two top-five finishes Freddie Gurney benefited from the inconsistency of the field taking sixth overall.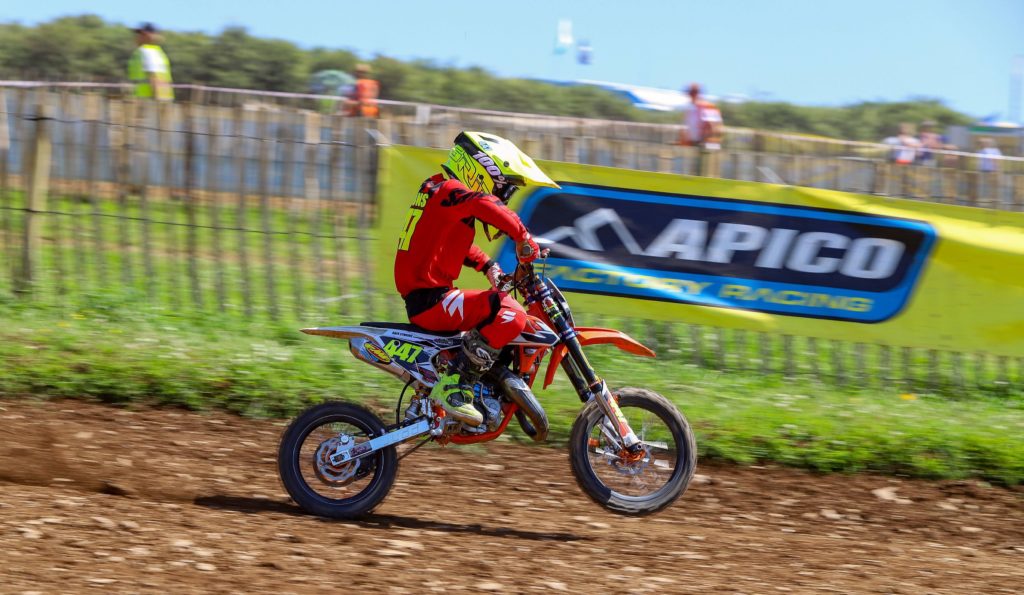 Junior riders on the 65cc machines went to the line next and after qualifying six seconds a lap faster than his nearest rival Cameron Chapman went out and smashed race one with a massive margin over second-placed Sean Smout. Heat two saw a similar result, Chapman taking the win but this time by only a few seconds over Ifan Wyn Rees and Smout a distant third. The tide turned in moto three as Rees took a comfortable win over Smout, Hayden Maslin third with Chapman crossing the line fourth. Rees went on to take the rest of the races with Smout and Chapman each going 2-3 giving Rees the overall, Chapman just managing to hold second and Smout taking third. Again the technically demanding circuit had thrown a lot of curveballs out with riders taking soil samples and throwing the overalls wide open with William Dennis going 7-5-5-4-5 for fourth and Maslin's 4-4-3-13-6 good enough for fifth.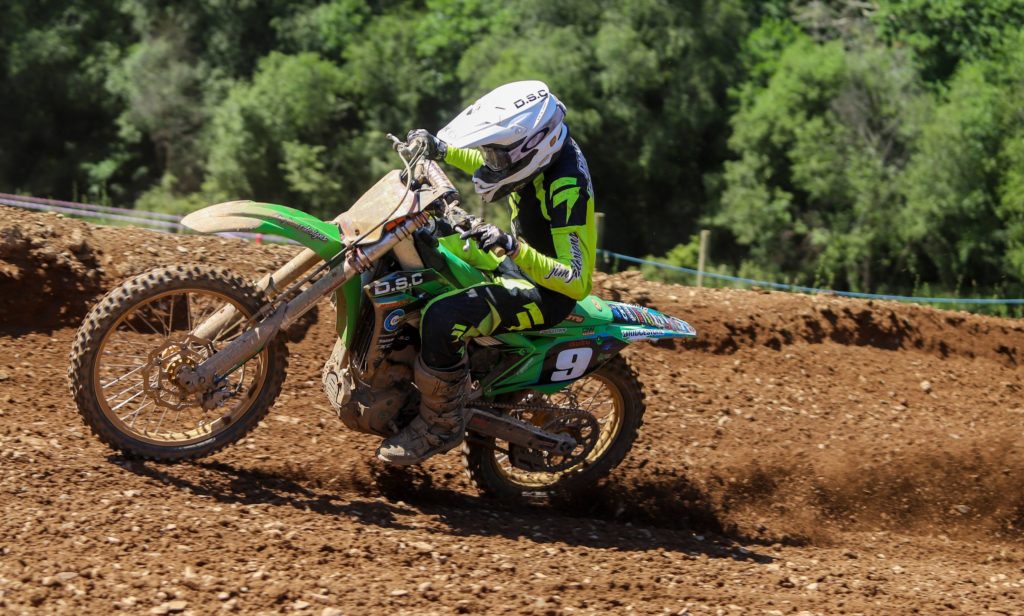 Small wheel 85's saw fastest qualifier Danny Flaude go down on numerous occasions leaving him with an uphill struggle to get back on terms with the top 3 only managing fourth in race one and a disastrous second moto crossing the line tenth. Meanwhile, Lucus Moncrieff made hay while the sun shone. Followed home by over half a minute in moto one by eventual overall runner up Ruben Always and Reegan Rogers on his rear fender. Moncrieff went on to take the second and third heats again with a comfortable margin with both Rogers and Always squabbling for podium places. Flaude had a better third outing pushing Always down to fourth and then came out swinging for the first encounter on Sunday taking the win in a close-fought battle with Always and Moncrieff. Moncrieff got the better of Flaude in the final event securing himself a well deserved overall. Super consistent Harry Woodland got a fifth overall for his efforts one place behind Flaude.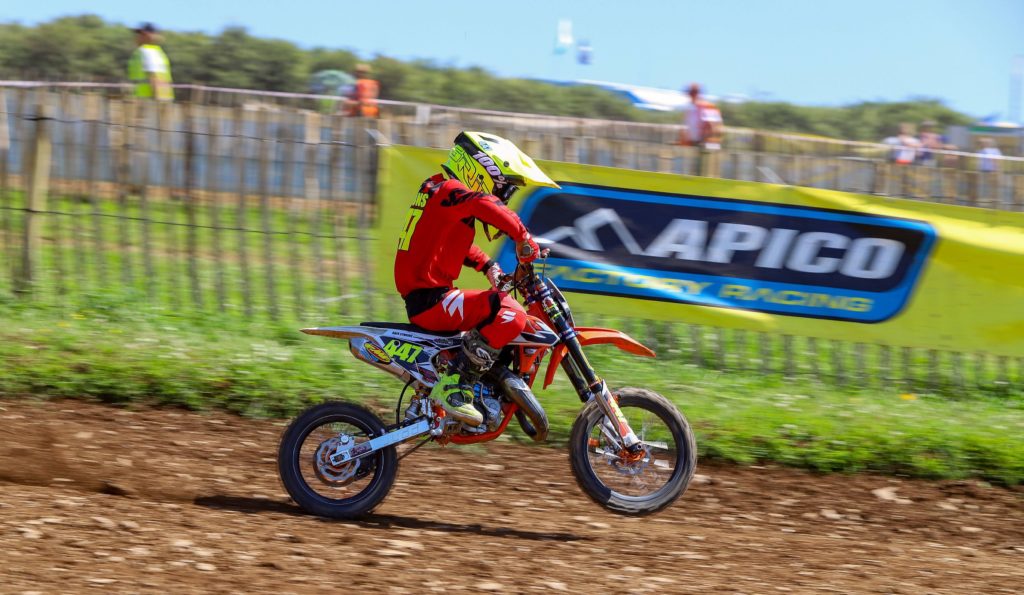 Big wheel 85 actions came next and it was some super close racing for the number one spot between series point leader Ben Sullivan and William Murphy. Consistently setting the fastest lap in each race Sullivan took the first and fourth moto's but Murphy took the other three wins to give him the overall and close the gap slightly in the championship race. The only rider that came close to putting any challenge in to either was Ashton Somerville in the final heat closing down Sullivan after he had lost the tow on Murphy while making a lunge down the inside for the lead. Somerville had been doing battle with Alfie Crealock-Levell, Lewis George and Ryan McKinney but had done enough to take the final podium place overall ahead of the competition.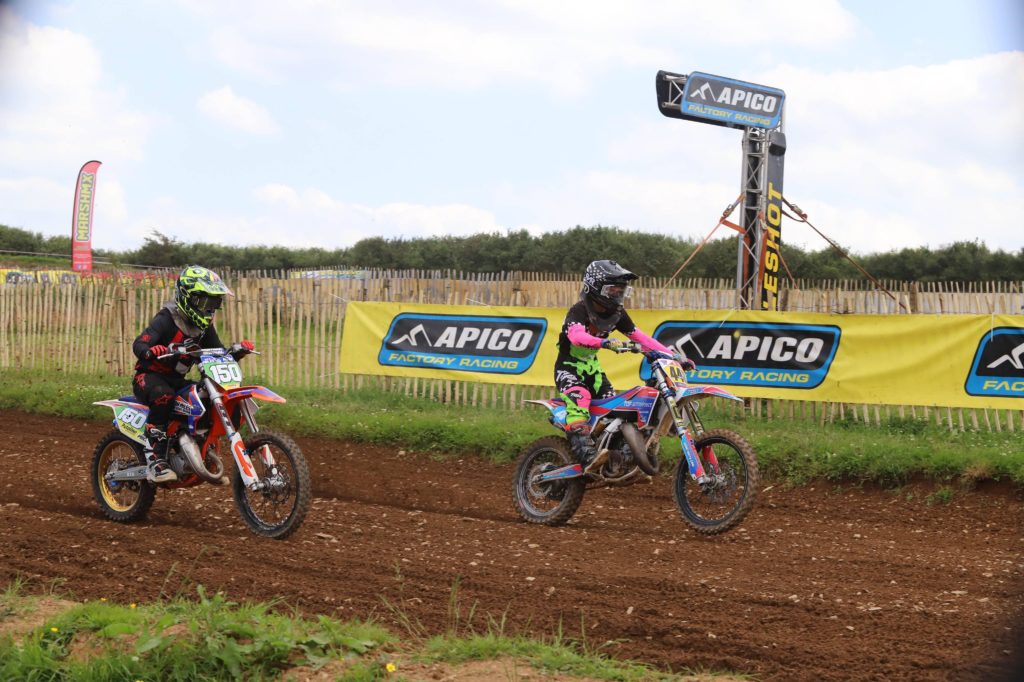 The B group adults took to the track last to round out each block and first-round winner Guy Jacobs again put in lap times in qualifying to demoralise his competition. So it was another huge lead taking the first heat from Brandon Eva, Joseph Langyon, Jack Adamson and Dan Crocker. Moto two saw another victory again over Eva and Langyon. Behind things were getting interesting as riders fell and didn't finish throwing the door wide open. Race three gave a hat trick to Jacobs and likewise the runner up and third places remained the same but with only a small margin to the leader. Sunday seemed to favour the 4 stroke of Eva as the going was a little harder underneath with a slick top surface and indeed Jacobs could do nothing to hold back a very determined Eva who stormed both moto's leaving Jacobs with no answer and close to losing out to Crocker in the final moto. Martin Luckwell's 11-6-7-7-6 was good enough to get his name in the paper gaining sixth overall.
With the next round moving to Culham on the 7th and 8th of August and the halfway point in the series it's going to start heating up!
Reports
Auto's
| | | | | | | | |
| --- | --- | --- | --- | --- | --- | --- | --- |
| Pos | Competitor | Points | R1 | R2 | R3 | R4 | R5 |
| 1 | COHEN JAGIELSKI | 225 | 45 | 45 | 45 | 45 | 45 |
| 2 | JACOB HACKETT | 215 | 43 | 43 | 43 | 43 | 43 |
| 3 | JAMIE CURRIE | 199 | 41 | 41 | 41 | 35 | 41 |
| 4 | ELLIOTT SHAWYER | 184 | 39 | 39 | 33 | 41 | 32 |
| 5 | OAKLAN WINNALL | 183 | 35 | 37 | 35 | 37 | 39 |
| 6 | FREDDIE GURNEY | 174 | 34 | 32 | 37 | 34 | 37 |
| 7 | JIMMY WHISTON | 166 | 30 | 35 | 39 | 39 | 23 |
| 8 | ALFIE PINCHER | 161 | 37 | 28 | 30 | 33 | 33 |
| 9 | SETH NICHLINSON | 160 | 32 | 30 | 32 | 31 | 35 |
| 10 | FINLEY RUNDLE | 156 | 33 | 29 | 31 | 29 | 34 |
| 11 | RAFE SYMONS | 149 | 28 | 34 | 34 | 26 | 27 |
| 12 | CAMERON BERRY | 148 | 24 | 33 | 28 | 32 | 31 |
| 13 | PRESTON CHORLEY | 147 | 29 | 31 | 29 | 30 | 28 |
| 14 | HARRI LUCKWELL | 131 | 31 | 26 | 26 | 23 | 25 |
| 15 | RONNIE MORGAN | 129 | 26 | 27 | 22 | 28 | 26 |
| 16 | MASON STADDON | 125 | 19 | 25 | 27 | 24 | 30 |
| 17 | TYLER PEATY | 121 | 27 | 24 | 25 | 25 | 20 |
| 18 | FREDDIE DARVILLE | 117 | 25 | 22 | 24 | 22 | 24 |
| 19 | RUBEN MATTA | 112 | 23 | 23 | 23 | 21 | 22 |
| 20 | JUDE HENNEY | 104 | 22 | 21 | 20 | 20 | 21 |
| 21 | OSCAR PATTON | 99 | 20 | 20 | 21 | 19 | 19 |
| 22 | OLIVER EVANS | 94 | 21 | 19 | 19 | 18 | 17 |
| 23 | WILLIAM BULLEY | 68 | 18 | 18 | – | 16 | 16 |
| 24 | LUCAS SAMPSON | 56 | – | – | – | 27 | 29 |
| 25 | SONNY JEWELL | 35 | – | – | – | 17 | 18 |
Junior 65's
| | | | | | | | |
| --- | --- | --- | --- | --- | --- | --- | --- |
| Pos | Competitor | Points | R1 | R2 | R3 | R4 | R5 |
| 1 | IFAN WYN REES | 219 | 41 | 43 | 45 | 45 | 45 |
| 2 | CAMERON CHAPMAN | 213 | 45 | 45 | 39 | 41 | 43 |
| 3 | SEAN SMOUT | 211 | 43 | 41 | 43 | 43 | 41 |
| 4 | WILLIAM DENNIS | 184 | 34 | 37 | 37 | 39 | 37 |
| 5 | HAYDEN MASLIN | 182 | 39 | 39 | 41 | 28 | 35 |
| 6 | RUBEN JENKINS | 175 | 37 | 35 | 35 | 37 | 31 |
| 7 | ELLIOTT MASON | 165 | 32 | 32 | 33 | 29 | 39 |
| 8 | HARRISON DOHERTY | 163 | 35 | 34 | 32 | 33 | 29 |
| 9 | JACK SAUNDERS | 162 | 31 | 33 | 34 | 32 | 32 |
| 10 | TIMMY PENGELLY | 159 | 33 | 28 | 31 | 34 | 33 |
| 11 | ALFIE MALINS | 155 | 30 | 30 | 30 | 31 | 34 |
| 12 | TERRY CHALLINOR | 152 | 28 | 31 | 28 | 35 | 30 |
| 13 | DANNY JAMAL | 142 | 26 | 29 | 29 | 30 | 28 |
| 14 | JENSEN HENNEY | 133 | 27 | 25 | 27 | 27 | 27 |
| 15 | ALFIE COTTER | 126 | 24 | 26 | 25 | 26 | 25 |
| 16 | SONNY PRICE | 124 | 25 | 24 | 24 | 25 | 26 |
| 17 | JAKE DIXON | 106 | 29 | 27 | 26 | 24 | – |
Small Wheel 85's
| | | | | | | | |
| --- | --- | --- | --- | --- | --- | --- | --- |
| Pos | Competitor | Points | R1 | R2 | R3 | R4 | R5 |
| 1 | LUCAS MONCRIEFF | 221 | 45 | 45 | 45 | 41 | 45 |
| 2 | RUBEN ALWAYS | 205 | 43 | 41 | 37 | 43 | 41 |
| 3 | REEGAN ROGERS | 203 | 41 | 43 | 43 | 37 | 39 |
| 4 | DANNY FLUDE | 199 | 39 | 31 | 41 | 45 | 43 |
| 5 | HARRY WOODLAND | 191 | 37 | 39 | 39 | 39 | 37 |
| 6 | LEWIS MORGAN | 163 | 33 | 35 | 34 | 29 | 32 |
| 7 | CAMERON MEADES | 163 | 28 | 34 | 33 | 34 | 34 |
| 8 | LEON SAMPSON | 156 | 35 | 32 | 25 | 31 | 33 |
| 9 | JAY DUGDALE | 151 | 34 | 33 | 31 | 26 | 27 |
| 10 | BOBBY RAY-SMITH | 147 | 30 | 26 | 27 | 33 | 31 |
| 11 | HARRY JOHNSON | 147 | 31 | 30 | 32 | 28 | 26 |
| 12 | ISACC PENGELLY | 144 | 29 | 27 | 28 | 30 | 30 |
| 13 | BILLY LIFE | 143 | 32 | 29 | 30 | 27 | 25 |
| 14 | GETHIN MORGAN | 142 | – | 37 | 35 | 35 | 35 |
| 15 | FREDDIE RICHARDS | 137 | 27 | 28 | 29 | 25 | 28 |
| 16 | LEWIS JENKS | 130 | 26 | 25 | 26 | 24 | 29 |
| 17 | RUBEN TREW | 128 | 25 | 24 | 24 | 32 | 23 |
| 18 | HARRY CUTTLER | 114 | 24 | 23 | 23 | 22 | 22 |
| 19 | CODY LANE | 88 | – | 21 | 22 | 21 | 24 |
| 20 | DONTE RODEN | 87 | – | 22 | 21 | 23 | 21 |
| 21 | WILLIAM COCKING | 40 | – | – | – | 20 | 20 |
Big Wheel 85's
| | | | | | | | |
| --- | --- | --- | --- | --- | --- | --- | --- |
| Pos | Competitor | Points | R1 | R2 | R3 | R4 | R5 |
| 1 | WILLIAM MURPHY | 221 | 43 | 45 | 45 | 45 | 43 |
| 2 | BENJAMIN SULLIVAN | 219 | 45 | 43 | 43 | 43 | 45 |
| 3 | ASHTON SOMERVILLE | 199 | 37 | 41 | 39 | 41 | 41 |
| 4 | ALFIE CREALOCK LEVELL | 197 | 41 | 37 | 41 | 39 | 39 |
| 5 | LEWIS GEORGE | 182 | 35 | 39 | 34 | 37 | 37 |
| 6 | RYAN MCKINNEY | 179 | 39 | 33 | 37 | 35 | 35 |
| 7 | TALLIS PRICE | 170 | 34 | 34 | 35 | 34 | 33 |
| 8 | HOLLIE ROBERTS | 165 | 33 | 32 | 33 | 33 | 34 |
| 9 | PIRAN GWENNAP | 158 | 32 | 31 | 31 | 32 | 32 |
| 10 | LEO RIXON | 151 | 30 | 30 | 30 | 30 | 31 |
| 11 | HENRY FENNER | 147 | 28 | 29 | 29 | 31 | 30 |
| 12 | CATLIN MEADS | 143 | 29 | 28 | 28 | 29 | 29 |
| 13 | MAX MILES | 98 | 31 | 35 | 32 | – | – |
| 14 | IEUAN JONES | 54 | 27 | 27 | – | – | – |
Seniors
| | | | | | | | |
| --- | --- | --- | --- | --- | --- | --- | --- |
| Pos | Competitor | Points | R1 | R2 | R3 | R4 | R5 |
| 1 | LEON WILLIAMS | 225 | 45 | 45 | 45 | 45 | 45 |
| 2 | HENRY LIFE | 223 | 45 | 43 | 45 | 45 | 45 |
| 3 | JACK PEACEY | 217 | 43 | 45 | 43 | 43 | 43 |
| 4 | HARVEY JAMES | 209 | 43 | 41 | 43 | 41 | 41 |
| 5 | BEN ZEALE | 207 | 37 | 43 | 41 | 43 | 43 |
| 6 | ROAN # DELANEY | 197 | 37 | 41 | 41 | 39 | 39 |
| 7 | LEWIS WILTSHIRE | 193 | 41 | 39 | 37 | 37 | 39 |
| 8 | CONNOR JAGO | 191 | 39 | 37 | 39 | 39 | 37 |
| 9 | COLIN STEWART | 184 | 33 | 34 | 39 | 41 | 37 |
| 10 | JAY # PLATT | 180 | 41 | 39 | 34 | 32 | 34 |
| 11 | LUKE WOOLGROVE | 178 | 34 | 35 | 37 | 31 | 41 |
| 12 | MITCHELL CONWAY | 177 | 39 | 33 | 33 | 37 | 35 |
| 13 | TRISTAN DANIELS | 175 | 35 | 35 | 35 | 35 | 35 |
| 14 | KENZIE # COLE | 169 | 30 | 37 | 35 | 34 | 33 |
| 15 | HARRISON JEPSON | 159 | 31 | 32 | 31 | 33 | 32 |
| 16 | RILEY WATTS | 158 | 32 | 30 | 30 | 35 | 31 |
| 17 | SOL OSBORNE | 145 | 29 | 29 | 29 | 30 | 28 |
| 18 | TAYLOR WILLS | 139 | 25 | 28 | 28 | 29 | 29 |
| 19 | ASHTON POTTER | 134 | 26 | 26 | 27 | 28 | 27 |
| 20 | THOMAS JAGO | 134 | 28 | 27 | 26 | 27 | 26 |
| 21 | ALFIE SMITH | 128 | 35 | 31 | 32 | – | 30 |
| 22 | RYAN HENWOOD | 103 | 27 | 25 | 25 | 26 | – |
Vets
| | | | | | | | |
| --- | --- | --- | --- | --- | --- | --- | --- |
| Pos | Competitor | Points | R1 | R2 | R3 | R4 | R5 |
| 1 | JAMIE DOBSON | 225 | 45 | 45 | 45 | 45 | 45 |
| 2 | DARREN KING | 225 | 45 | 45 | 45 | 45 | 45 |
| 3 | SAM CALLOW | 215 | 43 | 43 | 43 | 43 | 43 |
| 4 | MIKE # BURGESS | 215 | 43 | 43 | 43 | 43 | 43 |
| 5 | PAUL WILDMAN WILLIS | 197 | 37 | 39 | 41 | 41 | 39 |
| 6 | IAN JAMES | 191 | 41 | 41 | 41 | 41 | 27 |
| 7 | NEIL STEPHENS | 189 | 39 | 37 | 37 | 35 | 41 |
| 8 | CHRIS PEATY | 185 | 39 | 35 | 39 | 35 | 37 |
| 9 | SCOTTY # WILLIAMSON | 184 | 37 | 39 | 35 | 34 | 39 |
| 10 | PHIL JONES | 183 | 29 | 37 | 37 | 39 | 41 |
| 11 | BRYAN TUCKER | 179 | 35 | 35 | 33 | 39 | 37 |
| 12 | JAMIE EPPLESTONE | 175 | 35 | 34 | 34 | 37 | 35 |
| 13 | STEVE HALL | 163 | 32 | 31 | 31 | 34 | 35 |
| 14 | STEVEN # HARRIS | 162 | 33 | 33 | 30 | 32 | 34 |
| 15 | JAMES CHAMBERS | 159 | 34 | 31 | 31 | 33 | 30 |
| 16 | JAMES # WILLIAMS | 158 | 41 | 41 | 39 | 37 | – |
| 17 | BEN CANNINGS | 157 | 32 | 32 | 32 | 28 | 33 |
| 18 | DAVID WARNER | 156 | 31 | 30 | 33 | 30 | 32 |
| 19 | ANDREW # PLATT | 155 | 29 | 29 | 30 | 33 | 34 |
| 20 | BRIAN GRIME | 154 | 30 | 30 | 29 | 32 | 33 |
| 21 | JASON FISHER | 116 | 30 | 29 | 29 | – | 28 |
| 22 | CHRISTION # HILL | 102 | 34 | 33 | 35 | – | – |
| 23 | DARREN # PEARCE | 99 | 31 | 34 | 34 | – | – |
| 24 | JUSTIN # NAPIER | 97 | 33 | 32 | 32 | – | – |
| 25 | MARC x HOSKINS | 60 | – | – | – | 29 | 31 |
| 26 | RYAN x HOSKIN | 60 | – | – | – | 31 | 29 |
Adult A
| | | | | | | | |
| --- | --- | --- | --- | --- | --- | --- | --- |
| Pos | Competitor | Points | R1 | R2 | R3 | R4 | R5 |
| 1 | JAKE CURTIS STEVENS | 221 | 45 | 43 | 43 | 45 | 45 |
| 2 | GLEN PHILLIPS | 217 | 43 | 45 | 45 | 41 | 43 |
| 3 | CARL JONES | 201 | 41 | 37 | 39 | 43 | 41 |
| 4 | NATHAN FRAYNE | 189 | 37 | 39 | 35 | 39 | 39 |
| 5 | JASON DOWN | 181 | 35 | 35 | 37 | 37 | 37 |
| 6 | DAN MAULE | 169 | 34 | 32 | 34 | 34 | 35 |
| 7 | THOMAS SHUTLER | 167 | 33 | 34 | 33 | 33 | 34 |
| 8 | FRAZER GARDNER | 158 | 30 | 33 | 31 | 32 | 32 |
| 9 | DANIEL BARTLETT | 157 | 32 | 31 | 30 | 31 | 33 |
| 10 | REAGAN SKINNER | 156 | 39 | 41 | 41 | 35 | – |
| 11 | TOM O'CONNOR | 150 | 31 | 29 | 29 | 30 | 31 |
| 12 | RHYS GRIMES | 141 | 28 | 27 | 27 | 29 | 30 |
| 13 | SAM MORCON | 91 | 29 | 30 | 32 | – | – |
| 14 | CONNOR LIBBY | 56 | – | 28 | 28 | – | – |
Adult B
| | | | | | | | |
| --- | --- | --- | --- | --- | --- | --- | --- |
| Pos | Competitor | Points | R1 | R2 | R3 | R4 | R5 |
| 1 | GUY JACOBS | 221 | 45 | 45 | 45 | 43 | 43 |
| 2 | BRANDON EVA | 219 | 43 | 43 | 43 | 45 | 45 |
| 3 | JOSEPH LANYON | 201 | 41 | 41 | 41 | 39 | 39 |
| 4 | DAN CROCKER | 193 | 39 | 39 | 37 | 37 | 41 |
| 5 | MARTIN LUCKWELL | 169 | 31 | 35 | 34 | 34 | 35 |
| 6 | JACK MILSTED | 167 | 37 | 33 | 33 | 30 | 34 |
| 7 | JOEL WORTHINGTON | 166 | 34 | 34 | 32 | 33 | 33 |
| 8 | THOR TUCKER | 156 | 26 | 31 | 35 | 35 | 29 |
| 9 | JORDAN HARRIS | 152 | 33 | 32 | 39 | 22 | 26 |
| 10 | ANTONY TWIDDLE | 150 | 35 | 37 | – | 41 | 37 |
| 11 | ALFIE CROCKER | 146 | 30 | 30 | 30 | 25 | 31 |
| 12 | ALISTAIR GWENNAP | 134 | 27 | 29 | 29 | 24 | 25 |
| 13 | STEVEN DAY | 130 | 23 | 25 | 26 | 28 | 28 |
| 14 | RIKKI BURTON | 126 | 25 | 27 | 28 | 19 | 27 |
| 15 | KELLY PHILLIP | 112 | 22 | 24 | 24 | 18 | 24 |
| 16 | HARLEY JONES | 104 | 28 | 26 | 27 | 23 | – |
| 17 | ADAM DIXON | 97 | 24 | 28 | 25 | 20 | – |
| 18 | LUKE PRICE | 92 | 29 | – | 31 | 32 | – |
| 19 | JONATHAN BUDD | 61 | – | – | – | 29 | 32 |
| 20 | LEON REED | 61 | – | – | – | 31 | 30 |
| 21 | LUKE BUTLER | 32 | 32 | – | – | – | – |
| 22 | JAMES SANSON | 27 | – | – | – | 27 | – |
| 23 | KONA JENKINS | 26 | – | – | – | 26 | – |
| 24 | DANIEL BUDD | 21 | – | – | – | 21 | – |