Bumper Entry at Kilmington for opening Somerset Scramble – Race Report & Results
Last Sunday April 18th the Somerset Scramble Club hosted its Best in the West Spring Scramble at Kilmington Nr Axminster in Devon.
Report and Images by Dave Rich
There was a bumper entry in all classes which included the opening round of 6 of the Under and Over 40's Evo Championship which had been introduced for 2021. Before the meeting got underway with practice everyone took part in a minute's clapping as a Mark of Respect to Bryan 'Badger' Goss and the Duke of Edinburgh.
The Classic class was full of bikes from different eras saw Adam Butt on the 350 Hickie BSA with a flyer in the opening race who was to set the pace at the front from Sam Oliver and the 380 CZ of Kristian Marshall. Butt was to lead for the first couple of laps until he found himself under pressure from Marshall who had got the better of Oliver and it was not long before Marshall found a way past Butt and was to go on to take the win from Butt with Tim Dallaway on the 500 Hickie BSA passing Oliver to take 3rd.
In the second moto, there was no stopping Marshall who had fitted a new head gasket after the opening race took yet another win but this time it was Dallaway who finished in second ahead of Oliver. The last race saw the big 650 BSA of Peter Hollinshead lead early doors from Marshall who again had to have a new gasket fitted after race 2 with Oliver there in third, but with just half a lap completed Marshall came to a halt when his head stud had pulled which ended his race. Dallaway was a man on a mission in this one and was soon to pass Oliver and closed right in on Hollinshead and soon found a way past and was to ease away to take the win from Oliver with Mitchell Harris coming through to take third.
The Under 40's Evo opening race saw the CR 250 of Lee Skinner with a flyer out of the gate who was soon to set off and giving chase after moving up from 4th was James Kensington on the YZ 250, but Skinner held a 2 second lead to take the win from Kensington with Tyler Green taking third. The second race was probably the best race of the day with Skinner again leading this time from Kensington with Kensington all over him on lap 2 and was to force his way to the front, but Skinner who had a gearbox problem kept with Kensington and was all over him as they went into the last lap with both riders banging bars at times and it was Skinner who took the win literally by a whisker at the line with Allen Waring taking third. In the last race Skinner was out on his spare bike and did not get the best start in this one and it was Kensington who was soon to hit the front on the opening lap passing Waring, but Waring was not to let Kensington get away and stuck with him to the line with Kensington holding him off to win by just half a second with Skinner coming home in third to take the overall by just one point.
In the Over 40's Evo class, the CR 500 of Brian Wheeler notched up a hattrick of comfortable wins to lay down the gauntlet at the opening round in the Championship. Wayne Butt on the CR 250 and the YZ 250 of Phil Lewis was to have a good battle in the first race with Butt taking second whereas in the second race Lewis took 2nd ahead of Butt, but both riders did not start the last race and it was the consistency of Steve Locke who took second overall with David White taking third overall.
In the Twinshock A class, the stage was set for a battle royal with some top-class riders in attendance, but unfortunately, one of them in the shape of Terry House tweaked his knee in practice and was a nonstarter. Wayne Butt on the 490 Maico was in devastating form and notched up a hat-trick of wins. Lee Skinner took second to Butt in the first two races, but his fork springs broke in the last one and he was to retire, and it was Tim Dallaway who took an excellent second. Bryan Withers on the 500 Husky put up a fine display and did lead the second race for a while before losing out to Butt, but Withers had three consistent rides to take second overall ahead of Matt Thomas who took third overall.
In the Twinshock B class, it was Ryan Baker who won the opening race, but a mechanical problem put him out of the other two races which were won by Shaun Church who finished second to Baker in the opening race which was to give him the overall.
The Twinshock C class was to produce three different winners with Paul Clarke winning race 1, Roger Brain the second race and Adam Tabrett winning the last race ahead of Steve Davey to give him the overall by three points from Davey who had also been consistent all day.
In the Twinshock D class, there was no one dominating as it produced three different winners in the shape of Jason Broomfield, Shaun Hiscock, and Michael Hill but it was Hiscock who with two thirds to add to his win who took the overall.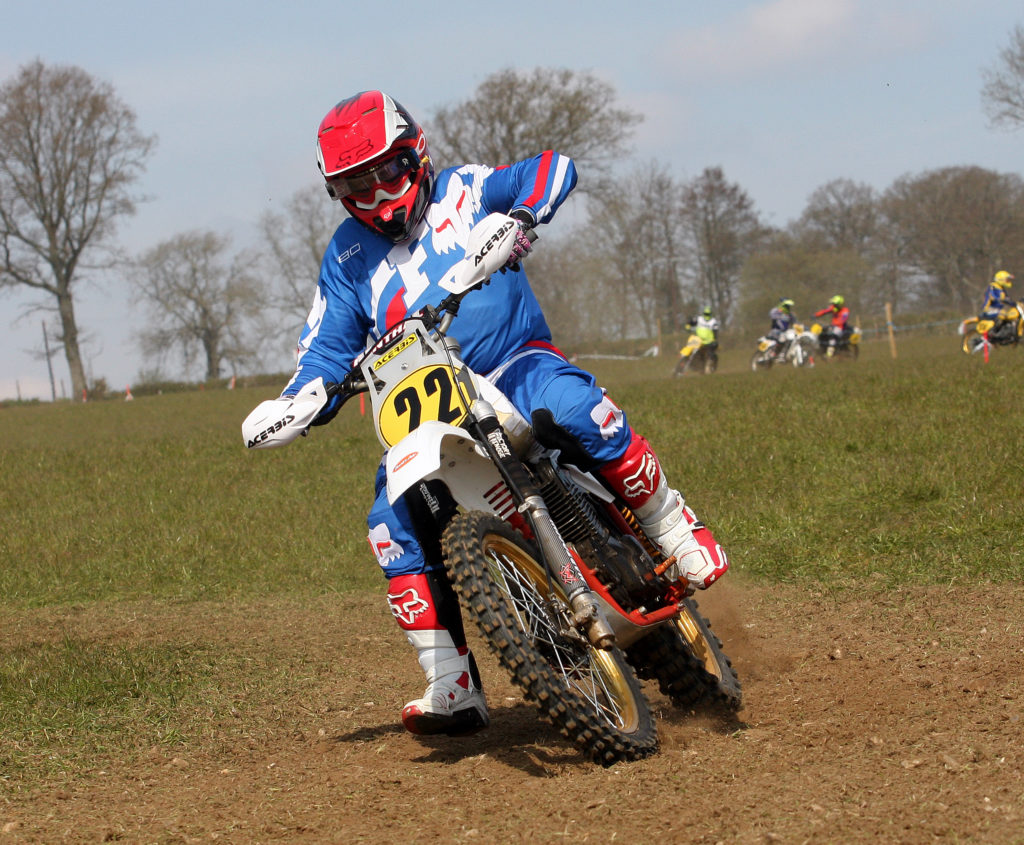 Results