Brennan Breaks Kennett's GP maximum! 2019/2020 Pitbike Speedway Championship Round 3 – Race Report and Results
Tom Brennan smashed the opposition at Iwade on Sunday to claim his first Pitbike Speedway Championship victory of the current campaign and at the first time of asking.
Images courtesy of Amanda Morrison
Brennan just back from a winter speedway tour of Australia must be rueful that the most prestigious oval world championship may have slipped through his young fingers by missing both rounds 1&2 of the current PITBIKE SPEEDWAY world championship series.
Previously unbeaten Kennett had no answer to the youngster in the A final but limited the points damage by bagging the silver medal spot in Gp3 at the awesome Iwade Pitbike speedway circuit.
Championship contender Charley Powell came to grief in the B final. The missile crashed his machine on lap 3 while in second position, after clipping Shippy's back tyre exiting turn 4 and an awkward high side sent Powell down hard. The following pack scattered but Joe Penfold was unable to avoid the stricken Powell and duly ran him and his machine over good and proper.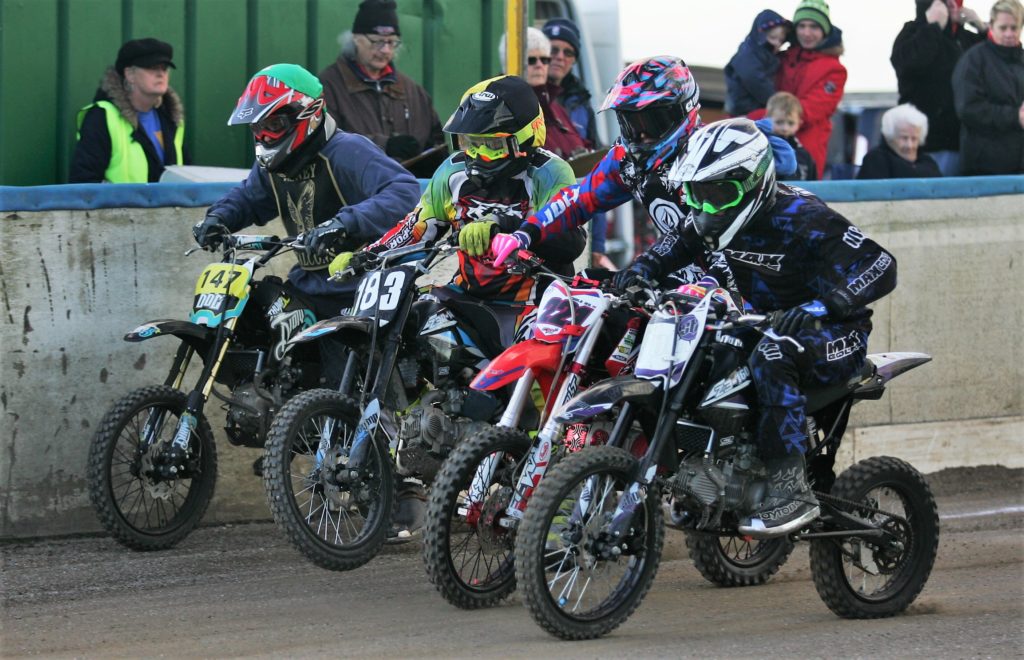 Powell's bike was damaged beyond a 2 minute repair with his fuel cell ruptured and its V-Power contents cascading everywhere, bits of the #92 machine lay scattered all over corner. Luckily we found the black box and his bike didn't ignite & turn into a Ukraine Boeing fireball coming out of Tehran. Powell was left bruised and dazed and even offered to buy a round on the way home. Obviously suffering from concussion we wish him well.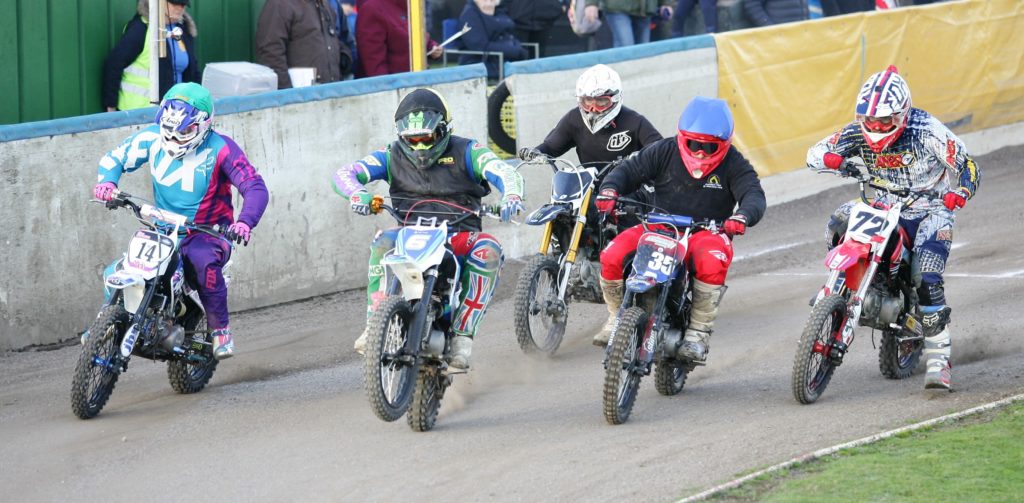 Oz Rocket Rodney McDonald filled the final podium spot with a great ride in his GP comeback just ahead of Adam Shipp. Mcdonald actually passed Kennett in the early stages but was in 3rd when the final flag fell. He, however, has forfeited his GP points for running his oversized motor in the Elite class but great to see him back on the bahn.
1st Tom Brennan 🇬🇧
2nd Edward Kennett 🇬🇧
3rd Rodney McDonald Aus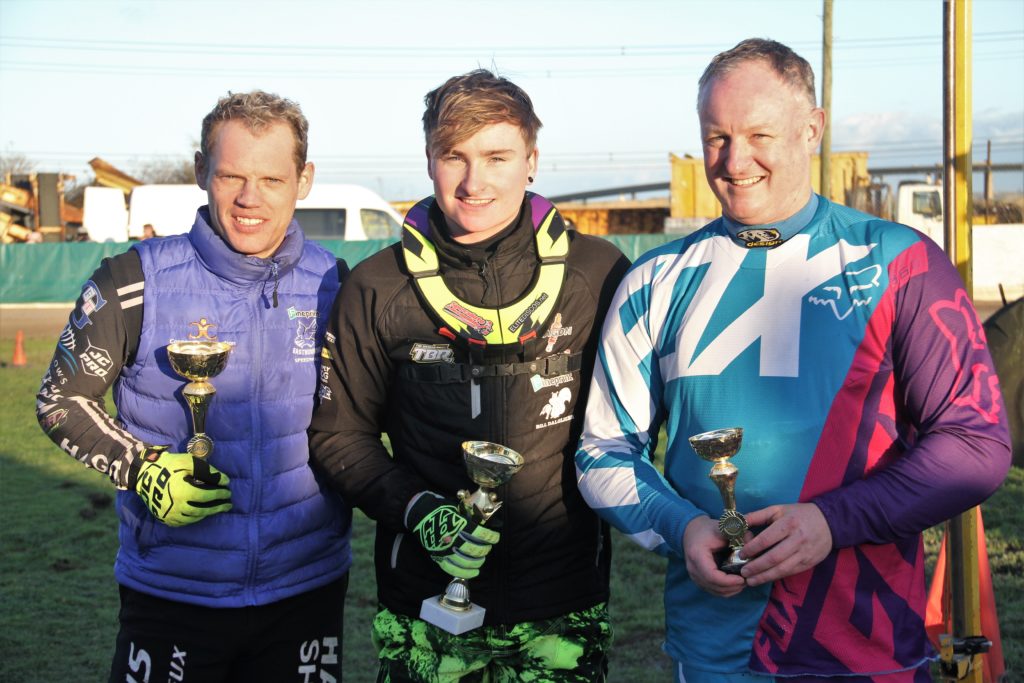 Edward Kennett extends his GP lead and veteran Mitch Godden now moves ahead of the missile Charley Powell for the silver spot. Dangerous Dan Jihadi Berwick moves up to 4th in the standings after a strong result in today's A final with the new 👑 King Of The Ring Connor Dugard sitting pretty in 5th.
New boy Keith Strudwick bagged an impressive 10th and 41 GP points overall from the Pro-Am class and another solid performance was put in by Obed Michael Cooper. These guys must be on the Elite fringe! 👀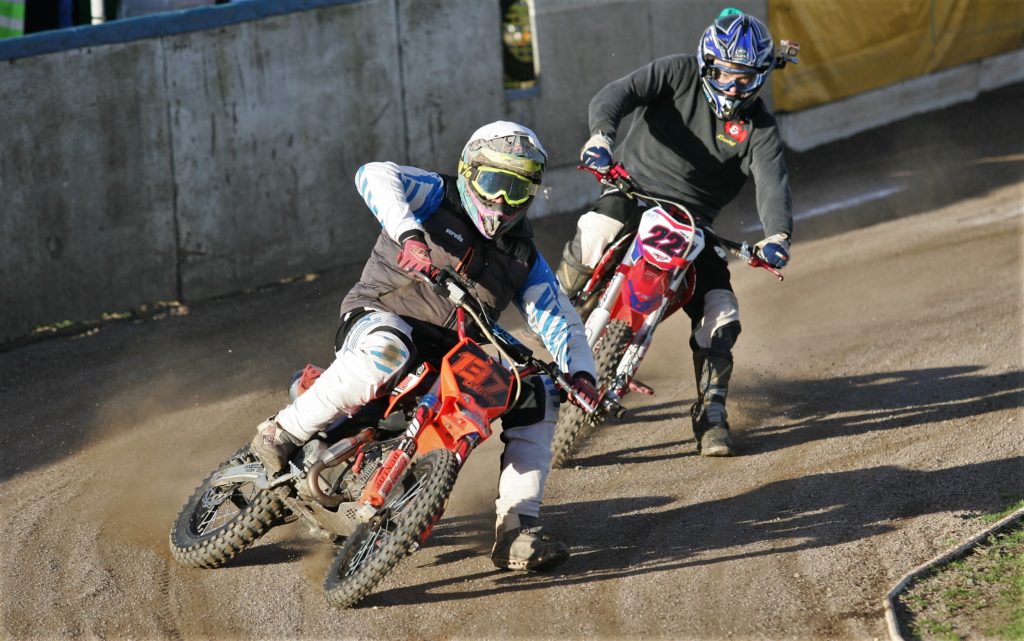 With at least 2 more GP rounds to follow and a worse round score dropped the championship is still wide open with it all to play for 🏁
This season has seen 4 events at the Kent circuit so far, the Home of Pitbike Speedway has produced amazingly 4 different winners….. Who's gonna be next??
Next Event: GP Rd 4
Iwade February 2nd – WC GP Rd4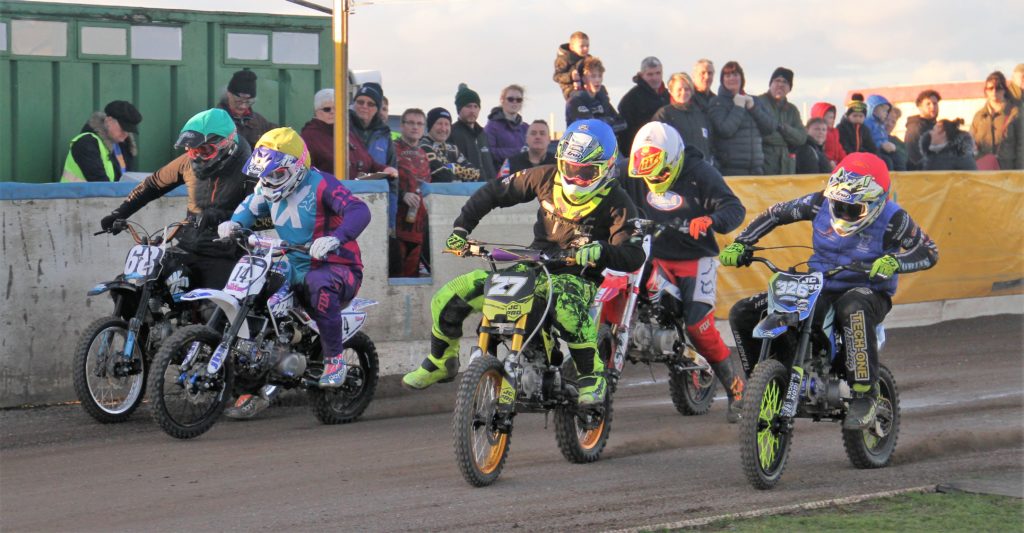 Congratulations to all our competitors today and mega thanks to Iwade and the excellent track staff and stand in points guru Clare Marsh. 💐
Championship standings as follows:
1. Edward Kennett 50 50 49 – 149
2. Mitchel Godden 47 47 45 – 139
3. Charley Powell 49 48 39 – 136
4. Dan Berwick 45 43 47 – 135
5. Connor Dugard 46 42 44 – 132
6. Jim Clement 43 41 46 – 130
7. Charlie Heal 41 39 42 – 122
8. Martyn Sturgeon 38 45 37 – 120
9. Joe Penfold 40 40 40 – 120
10. Simon Field 44 38 30 – 112
11. Jesse Moore 36 37 35 – 108
12. Jack Penfold 28 34 43 – 105
13. Jake Szabo 35 33 31 – 99
14. Lewis Ballentyne 27 29 36 – 92
15. Paul Knott 48 44 0 – 92
16. Benny Read 42 46 0 – 88
17. Aaron Shubert 30 30 24 – 84
18. Paul Smith 32 19 27 – 78
19. Mark Edwards 39 35 0 – 74
20. Garry Ram Dunn 20 32 20 – 72
21. Derek Keys 31 17 22 – 70
22. Ian Lee-amies 18 31 19 – 68
23. Keith Strudwick 0 26 41 – 67
24. James Bowles 17 25 25 – 67
25. Obed Cooper 12 21 33 – 66
26. Dave Heal 0 36 29 – 65
27. Peter Thurston 37 0 26 – 63
28. Trevor Steward 21 20 21 – 62
29. Chris White 23 27 9 – 59
30. Kieran Robb 33 22 0 – 55
31. Jako Nottingham 25 28 0 – 53
32. Josh Russell 29 23 0 – 52
33. Tom Brennan 0 0 50 – 50
34. Jason Edwards 0 49 0 – 49
35. Adam Shipp 0 0 48 – 48
36. Richard Avis. 0 0 38 – 38
37. Lee Riley 22 16 0 – 38
38. Daniel Edwards 34 0 0 – 34
38. Chris Shallcross. 0 0 34 – 34
40. Ron Steward 10 1 23 – 34
41. Stuart Lee-amies 14 13 7 – 34
42. Gareth Howes. 0 0 33 – 33
43. Neil Hooper 19 0 13 – 32
44. Jon Brooker 15 10 6 – 31
45. Dyno 0 1 28 – 29
46. Dan White 9 12 8 – 29
47. Jamie Sealey 16 11 0 – 27
48. John Riley 26 0 0 – 26
49. Luke Russell 3 7 16 – 26
50. Barry Coates 24 0 0 – 24
50. Ben IIsley 0 24 0 – 24
52. Emily Moore 4 18 1 – 23
53. Jon Moore 11 9 0 – 20
54. John Bourner. 0 0 18 – 18
55. Steve Soper 2 15 1 – 18
56. Craig Prior. 0 0 17 – 17
57. Vinny Smith. 0 0 15 – 15
58. Joe Clement 6 8 1 – 15
59. Jeremy Skipp 0 14 0 – 14
59. Chris Stanton. 0 0 14 – 14
61. Kev Jones 13 0 1 – 14
62. James Pindard 8 1 4 – 13
63. Jake Crump 0 0 12 – 12
64. Peter Kimber. 0 0 11 – 11
65. James Laker. 0 0 10 – 10
66. Tom McDonald 7 0 2 – 9
67. Patrick Holford 1 6 1 – 8
68. Lydia Penfold 5 0 3 – 8
69. Jamie Sealey. 0 0 5 – 5
70. Derek Strudwick 1 1 0 – 2
71. Stuart Milton 1 0 0 – 1
71. Ethan Hoare. 0 0 1 – 1
71. Chris Neame. 0 0 1 – 1
71. Sam Thurston. 0 0 1 – 1
71. Tommy Kember. 0 0 1 – 1
71. Shane Kennett. 0 0 1 – 1