The Blaine Game! 2020 British Minibike Championships Rounds 1 & 2 – Race Report and Results
It's been a long time coming but the British Minibike Championships returned to action at Champs Parc at the weekend and as always with the MBC there was a fantastic atmosphere around the paddock as everyone was happy to back and doing what they love best.
Images courtesy of Harry Lessman – Picturebike
The good old British Weather threw everything it had at the circuit with bright sunshine most of Saturday until the heavens opened for the last block of racing making things tricky, to say the least. More overnight rain put the MBC track crew to the test on Sunday morning, but they stepped up to the challenge and provided a great race track which served up some epic action throughout the day.
Riley-Ray Barrow is a star in the making and blitzed the field with 6 straight wins and a double overall in the Kids 50cc class. Aaron Shepherd-Smith battled hard with a triple dose of thirds to finish second on Saturday with Zach White in third and Dirt Hub's Ethan Georgiou in fourth. Seth Golding improved as the day went on and a second in the final Saturday moto was a great result and helped him to fifth overall with Tyler Moss sixth.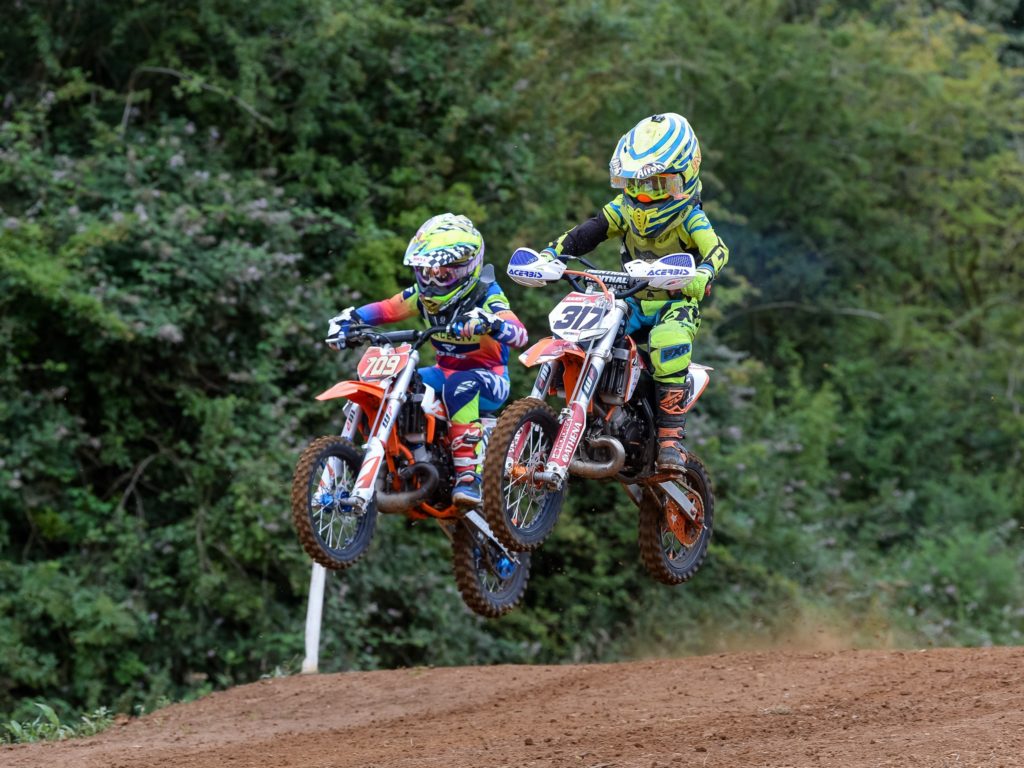 White would be the Runner up to Barrow on Sunday with Freddie Darvil making it onto the podium in third. Golding would improve by a position and finish Sunday in fourth with Harry Dearle getting into the mix in fifth. Georgiou would suffer a DNF in the first moto but came back with a vengeance with a superb second in moto two which helped him to keep in the top six overall for the day.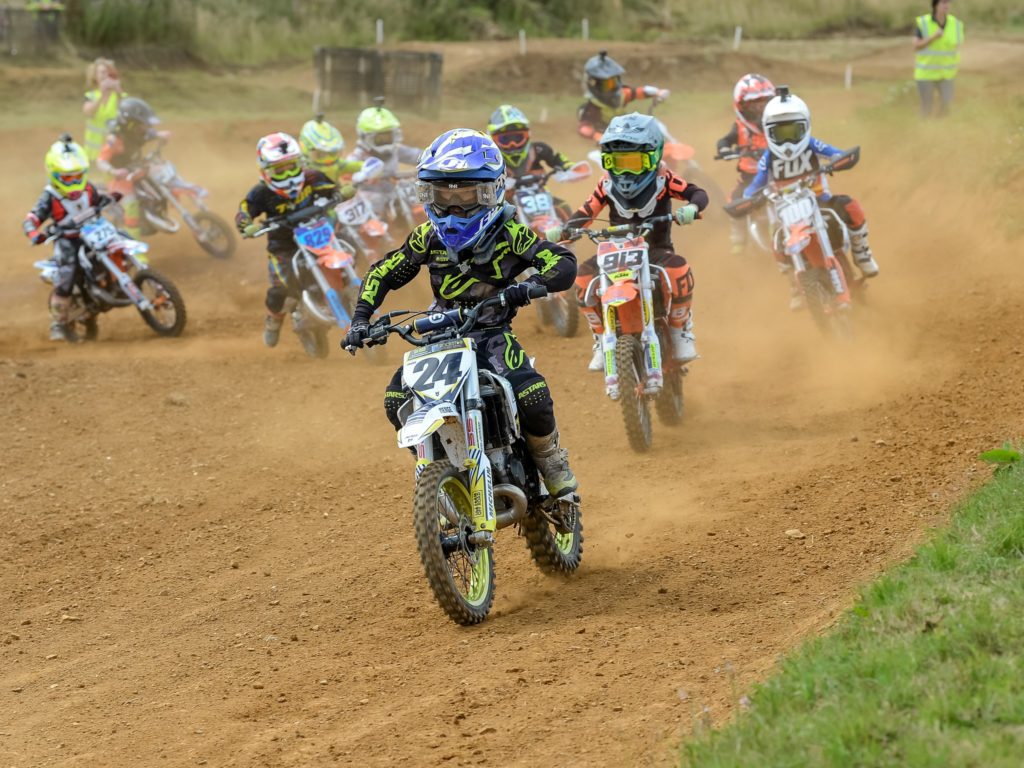 In the Kids 65cc group Robbie Daly rode like a demon and stormed to a complete set of 6 moto wins to stand on top of the podium on both days, with Marty Spires riding well on both days to follow Daly home for second overall on each occasion. On Saturday Jamie Thorpe would land the final podium spot after tieing on points with Spires. Kieran Bullock, Frankie Donoghue and Louie Moss would round out the top six on Saturday. Donoghue stepped it up on Sunday and took the Bronze medal position ahead of Thorpe, George Everest and Moss.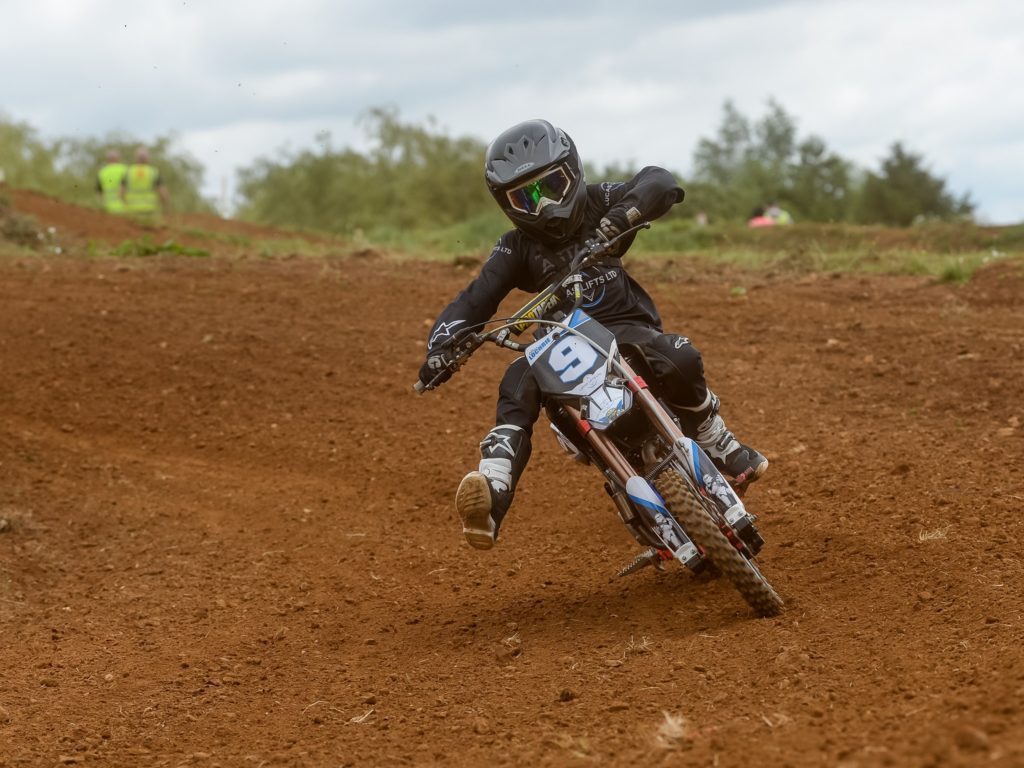 With quite a few riders moving up to the Youth Senior ranks the Youth Junior class only had two riders in it so it was down to Jamie Clarke and Maddy Banks to battle it out for the win. Clarke though had the result under control and won on each occasion.
The Youth Senior group is going to one to watch this year and after losing the title by just three points last year Leo Vowles is determined to stake his claim on the top prize in 2020 and he wasn't to beaten all weekend nailing both overall victories. Jake Speller was consistent throughout taking the runners up spot on both days fending off Senna Summers and Harry Streeter on each occasion, finishing in third and fourth respectively. Jack Perry and Ethan Lochrie were fifth and sixth on Saturday while Rocco Lanza would finish in the number 5 spot on Sunday ahead of Perry.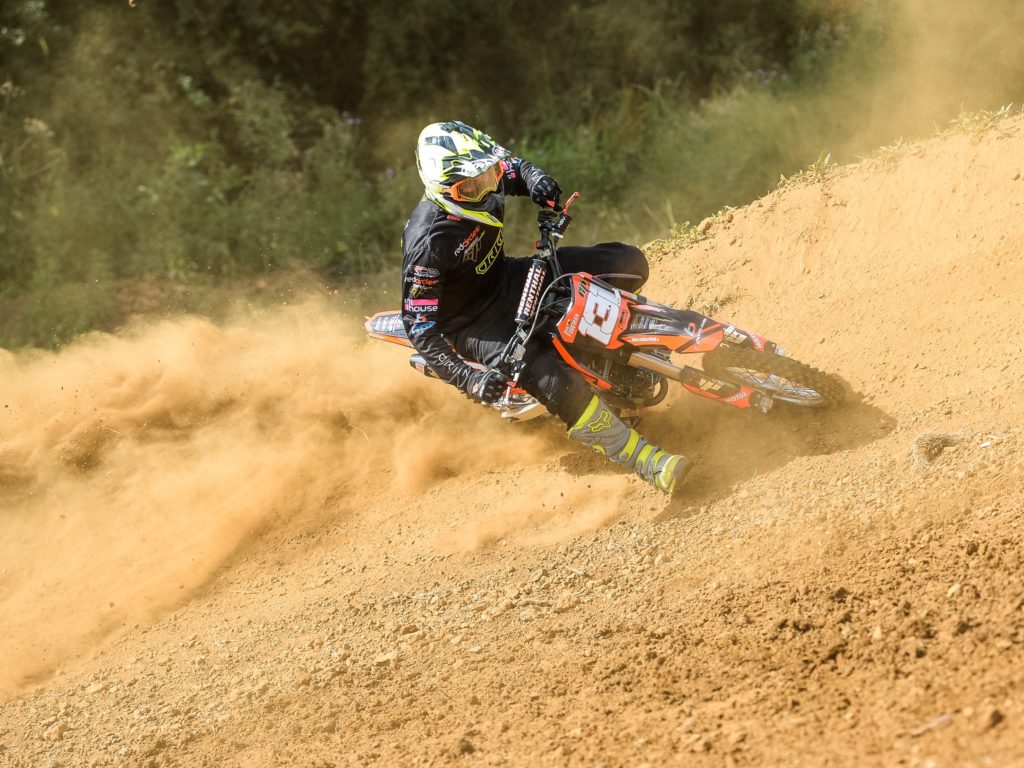 There is a new Maestro in town in the Masters class with Daniel Foreman a new name to the category and he made it his own going 1-1-1-1-1-2 for a double victory on his maiden Masters voyage. Last seasons runner up Matthew Chamberlain would match that feat with second overall on Saturday with Spencer Howard filling the remaining podium spot. On Sunday however, Scott Joyner stepped it up a gear and was the only rider to beat Foreman by winning the last moto which helped him to gain second overall on the day, with Glenn Wilson in third.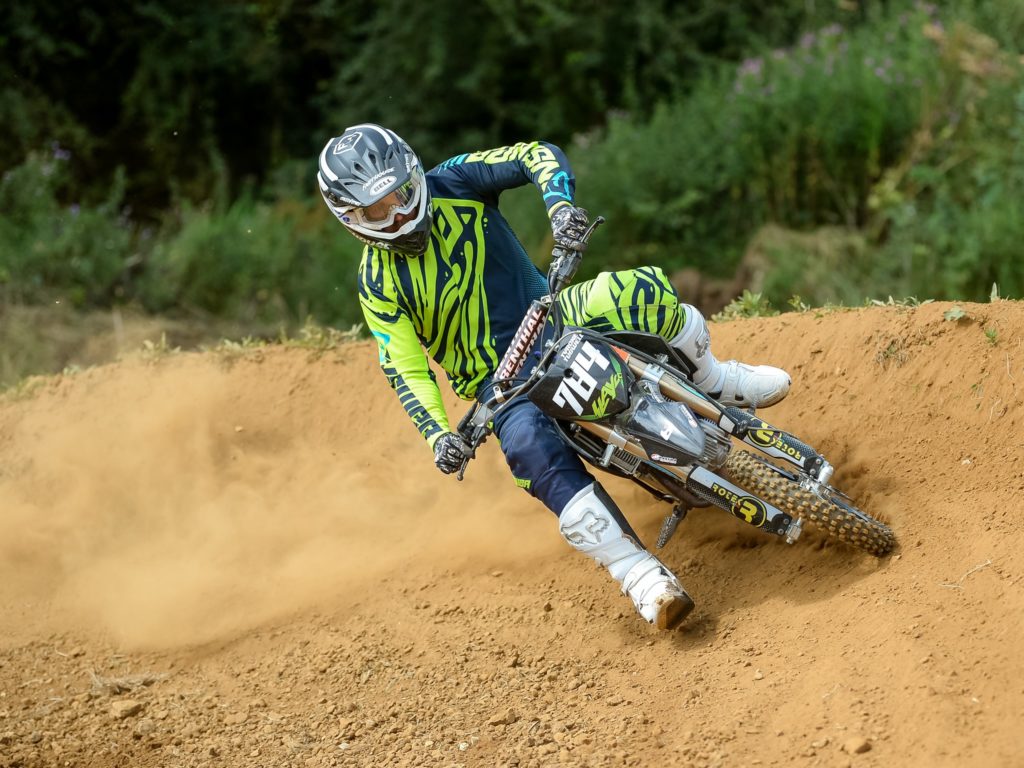 After a stunning championship-winning year in 2019 for Christopher Rose in the Vets all eyes were on him as the gate dropped on the 2020 campaign for the old timers, but striking the first blow on the series and taking the moto one chequers was Adam Burton. Phillip Thomas was the next to notch a victory before Rose, who had a moto 2 DNF fought back to win the final moto on Saturday. Saturday's overall winner would be Thomas from Burton with Jay Taylor in third.  A more focussed Rose rocked up on Sunday and he was back to his blistering best, scorching to a triple dose of race wins and the overall on the day. Thomas backed up his great Saturday for second overall on day two with Taylor again in third.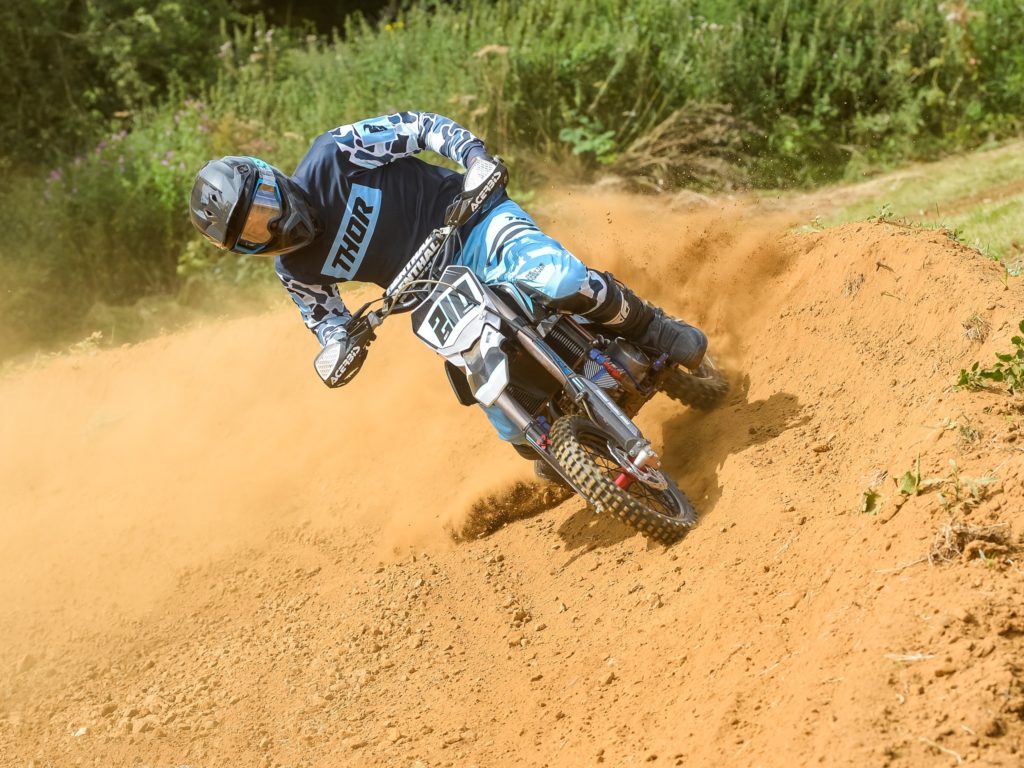 Reigning Stock Mod Champ Simon Vowles was back in the groove winning the class on Saturday being defeated only once by second-place finisher Daniel Lee, with Sam Thomas third. Sunday was a different day and although Vowles would fire in with the opening moto win, David Lamb and Lee stepped up their game with Lamb grabbing the overall, two points ahead of Lee with Vowles having to settle for third.
Ash Gorman blazed a superfast trail in the Super Stock class winning each and every moto, taking the overall on each day. Craig Sharp would edge out Tom Burril for second on Saturday, while reigning champ finished second on Sunday ahead of Tom Dunk in third.
The new Farm bike class would produce the best racing of the weekend with Arenacross star Matt Bayliss having some epic battles with Aaron OMahoney, Cam MacDonald and Freddie Lambeth with the top two separated by less than a second at the finish in two motos. Bayliss scrapped it out for the overall on both days but OMahoney and Macdonald both fired in with moto wins. OMahoney would end both days in second with Mcdonald third on Saturday and Lambeth third on Sunday.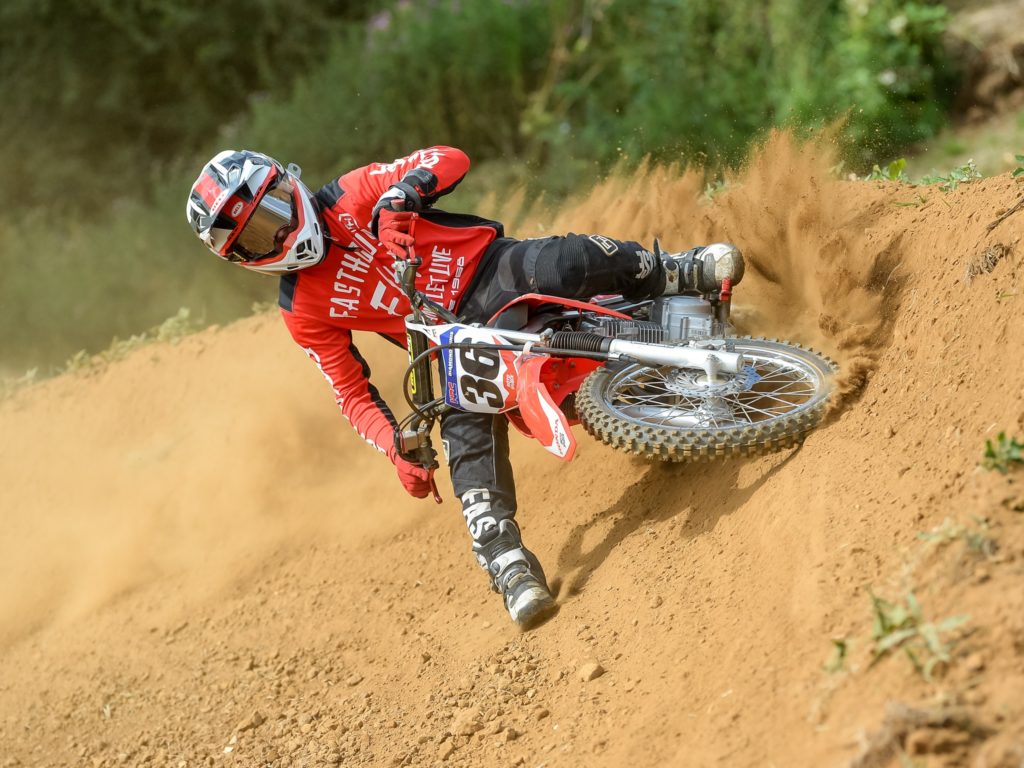 In the 140 Fun class Tyrone Tugwell went unbeaten to taste victory on both days ahead of Ollie Fletcher and Alex Hepher on Saturday and Tom Burrill and Fletcher on Sunday.
A stacked Clubman class saw some great racing and Saturdays top three consisted of Jack Harvey, Rhys Streeter and Tegan Parnell. On Sunday the top trio was Jeff Pyke, Craig Griffiths and Max Hadlington.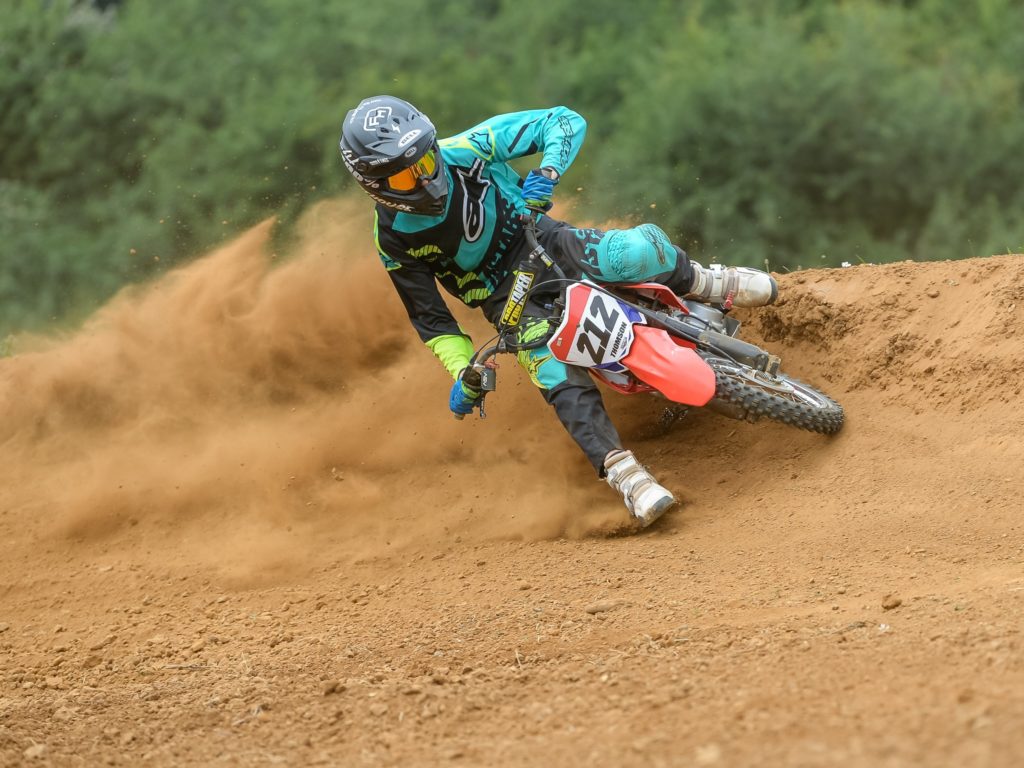 Onto the Pro class and last years Runner up and MBC stalwart Blaine Blackwell was in devasting form winning 5 of the six motos to top the standings on both days. His only defeat would come at the hands of Jody Burton who has made his season's intentions clear with second overall in both rounds. Daniel Muddiman is a new name to the Pro podium and he landed on it twice with third overall on both days.
The next round of the series will take place on the 29th and 30th August back at Champs Parc, Kettering. For the full info go to https://minibikechamps.com/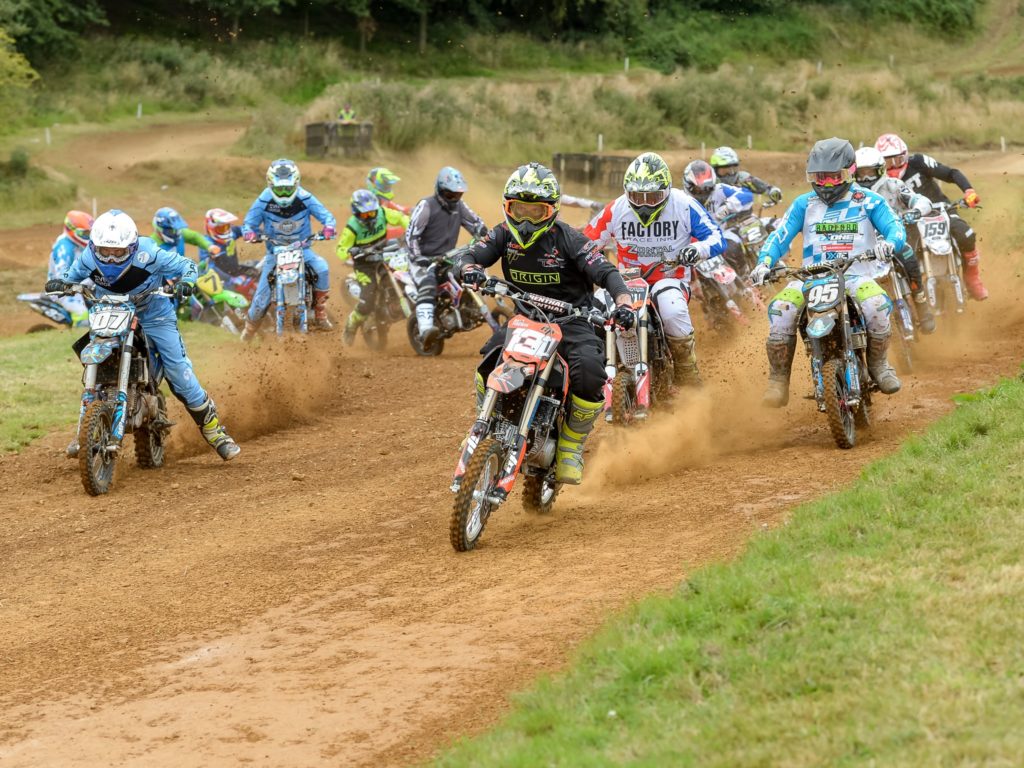 Results
Round 1 – Saturday
Kids 50cc
Pos Competitor Total Points r 1 r 2 r 3
1 118 Riley-Ray Barrow 75 25 25 25
2 709 Aaron Shepherd-Smith 60 20 20 20
3 913 Zach White 57 22 22 13
4 275 Ethan Georgiou 54 18 18 18
5 100 Seth Golding 50 13 15 22
6 18 Tyler Moss 45 15 14 16
7 94 Harry Dearle 44 16 13 15
8 24 Freddie Darvill 44 14 16 14
9 381 Riley Francis 36 12 12 12
10 143 Shae Johnson 28 8 9 11
11 900 Jake Pridmore 28 7 11 10
12 31 Oakley Summers 24 9 7 8
13 829 Jenson Batner 22 11 10 1
14 124 Mason Foreman 21 10 5 6
15 25 Jake Bryant 18 3 8 7
16 29 Corey Rowen 14 4 6 4
17 94a Ollie Rose 12 6 3 3
18 188 Harley-James Barrow 11 5 4 2
19 17 Maximus Beeley 10 1 – 9
20 17a Eddie Pearce 9 2 2 5
21 4 Tommy Stevenson 1 – 1 –
Kids 65cc
Pos Competitor Total Points r 1 r 2 r 3
1 800 Robbie Daly 75 25 25 25
2 22a Marty Spires 62 18 22 22
3 11 Jamie Thorpe 62 22 20 20
4 816 Kieran Bullock 48 16 18 14
5 99 Frankie Donoghue 46 20 8 18
6 213 Louie Moss 43 11 16 16
7 100 Harley Ince 40 15 15 10
8 54 Leo Ormondroyd 38 10 13 15
9 5 Chad Stevenson 36 14 10 12
10 10 Daniel Hollis-Reeves 34 12 14 8
11 28 Luca James Allen-Harvey 31 9 11 11
12 51 George Everest 31 13 12 6
13 88 Tyler Griffiths 26 8 9 9
14 107 Lewis Day 25 6 6 13
15 22 Jessica Cooling 14 4 3 7
16 15 Mason Havrod 12 3 4 5
17 615 Alfie Marshall 12 5 5 2
18 31 Corben Rowen 11 7 1 3
19 411 Jonathan Payne 7 – 7 –
20 221 Daniel Satchell-Hicks 7 1 2 4
21 36 Harry Banks 3 2 – 1
Youth Junior
Pos Competitor Total Points r 1 r 2 r 3
1 16 Jamie Clarke 75 25 25 25
2 36 Maddy Banks 66 22 22 22
Youth Senior
Pos Competitor Total Points r 1 r 2 r 3
1 52 Leo Vowles 75 25 25 25
2 2 Jake Speller 64 22 22 20
3 31 Senna Summers 53 11 20 22
4 109 Harry Streeter 51 15 18 18
5 211 Jack Perry 48 18 14 16
6 9 Ethan Lochrie 44 14 15 15
7 101 Freddy Hills 42 20 10 12
8 19 Ben Johnstone 39 12 13 14
9 39 Ben Moran 38 13 12 13
10 94 David Maw 32 10 11 11
11 7 Rocco Lanza 32 16 16 –
12 457 Jack Harrison 28 9 9 10
Fun Class
Pos Competitor Total Points r 1 r 2 r 3
1 758 Tyrone Tugwell 75 25 25 25
2 170 Ollie Fletcher 64 20 22 22
3 881 Alex Hepher 62 22 20 20
4 94 Patrick Ryan 18 18 – –
Farmbike Class
Pos Competitor Total Points r 1 r 2 r 3
1 17 Matthew Bayliss 70 25 25 20
2 5 Aaron OMahoney 66 22 22 22
3 461 Cam MacDonald 63 20 18 25
4 38 Freddie Lambeth 56 18 20 18
5 66 Sam Rogers 43 15 15 13
6 774 Scott Kennedy 40 8 16 16
7 62 Louie Dutton 39 13 11 15
8 22 Luke Tucker 39 16 14 9
9 396 Sam Russell 38 12 12 14
10 36 Shay Botcher 38 14 13 11
11 64 Alex Dutton 32 11 9 12
12 31 Senna Summers 30 10 10 10
13 25 Harry Baker 17 9 8 –
14 47 Gary Flint 15 7 – 8
SuperMod
Pos Competitor Total Points r 1 r 2 r 3
1 1 Simon Vowles 72 22 25 25
2 99 Daniel Lee 69 25 22 22
3 212 Sam Thomas 56 18 18 20
4 871 Dave Lamb 56 20 20 16
5 66 James Lee 49 15 16 18
6 95 Nick Luckman 46 16 15 15
SuperStock
Pos Competitor Total Points r 1 r 2 r 3
1 72 Ashley Gorman 75 25 25 25
2 45 Craig Sharp 56 16 20 20
3 3 Tom Burrill 54 18 18 18
4 93 Tom Dunk 44 22 22 –
5 29 George Pym 44 15 13 16
6 5 Tom Crowder 44 14 15 15
7 1 Craig Powell 42 20 – 22
8 17 Simon Crowther 28 12 16 –
9 411 Michael Gwilliams 27 13 14 –
10 89 Adam Crowther 23 11 12 –
11 87 Dane Carter 10 10 – –
Masters
Pos Competitor Total Points r 1 r 2 r 3
1 131 Daniel Foreman 75 25 25 25
2 201 Matthew Chamberlain 64 22 22 20
3 159 Spencer Howard 56 18 20 18
4 602 Scott Joyner 54 20 18 16
5 7 Glenn Wilson 53 16 15 22
6 93 Jemal Dernawi 16 – 16 –
Vets
Pos Competitor Total Points r 1 r 2 r 3
1 211 Philip Thomas 67 22 25 20
2 414 Adam Burton 65 25 22 18
3 2 Jay Taylor 62 20 20 22
4 33 Paul Radford 47 15 16 16
5 71 Colin Blackwell 45 16 14 15
6 95 Chris Rose 43 18 – 25
7 726 Andrew Cheshire 40 13 13 14
8 7x Geoff Arrowsmith 27 12 15 –
9 420 Ian Fairbrother 18 – 18 –
10 10 Paul Gell 14 14 – –
Clubman
Pos Competitor Total Points r 1 r 2 r 3
1 152 Jack Harvey 64 20 22 22
2 109 Rhys Streeter 63 18 20 25
3 5 Tegan Parnell 51 16 15 20
4 46 Richard White 50 25 25 –
5 77 Jordan Burton 45 11 16 18
6 211 Criag Griffiths 44 14 18 12
7 710 Anthony Dalton 42 15 12 15
8 24 Leon Cotterill 37 10 13 14
9 511 Jack Arrowsmith 36 9 11 16
10 282 Dan Webb 36 22 14 –
11 116 Josh Cheshire 31 8 10 13
12 915 Joe Clement 25 7 7 11
13 137 Jim Clement 13 13 – –
14 252 James Pindard 12 12 – –
15 36 Lizzie Banks 12 6 6 –
16 420 Darren Macauley 9 – 9 –
17 88 Carl Elliott 8 – 8 –
Pro
Pos Competitor Total Points r 1 r 2 r 3
1 71 Blaine Blackwell 210 70 70 70
2 717 Jody Burton 201 67 67 67
3 66 Daniel Muddiman 195 65 65 65
4 9 Scott Pohlman 177 63 51 63
5 155 Paul Benham 174 53 61 60
6 13 Cole Howard 174 56 59 59
7 63 Callum Gutteridge 173 54 58 61
8 319 Steve Ledger 171 58 57 56
9 16 Pryce Howard 170 59 53 58
10 146 Simon Gummer 169 60 52 57
11 511x Ashley Arrowsmith 165 55 56 54
12 247 Matthew Cole 162 52 55 55
13 334 Jack Guntrip 157 50 54 53
14 117 Jeff Pyke 150 49 50 51
15 210 Scott Thomas 121 61 60 –
16 100 Callum Radford 111 48 63 –
17 106 Alex Cheshire 106 57 49 –
18 190 Jason Hawkes 103 51 – 52
Round 2 – Sunday
Kids 50cc
Pos Competitor Total Points r 1 r 2 r 3
1 118 Riley-Ray Barrow 75 25 25 25
2 913 Zach White 64 22 20 22
3 24 Freddie Darvill 56 20 18 18
4 100 Seth Golding 48 18 15 15
5 317 Harry Dearle 44 16 14 14
6 275 Ethan Georgiou 38 – 22 16
7 124 Mason Foreman 38 13 12 13
8 381 Riley Francis 38 15 13 10
9 709 Aaron Shepherd-Smith 36 – 16 20
10 900 Jake Pridmore 32 11 9 12
11 188 Harley-James Barrow 28 9 10 9
12 31 Oakley Summers 27 8 11 8
13 18 Tyler Moss 23 12 – 11
14 143 Shae Johnson 20 14 3 3
15 29 Corey Rowen 19 5 8 6
16 829 Jenson Batner 17 10 – 7
17 25 Jake Bryant 17 7 5 5
18 94a Ollie Rose 16 6 6 4
19 17a Eddie Pearce 13 4 7 2
20 4 Tommy Stevenson 8 3 4 1
21 17 Maximus Beeley 4 2 2 –
22 34 Oliver Crowther 2 1 1 –
Kids 65cc
Pos Competitor Total Points r 1 r 2 r 3
1 800 Robbie Daly 75 25 25 25
2 22a Marty Spires 64 22 22 20
3 99 Frankie Donoghue 56 18 16 22
4 11 Jamie Thorpe 51 20 20 11
5 51 George Everest 44 11 15 18
6 213 Louie Moss 43 13 14 16
7 816 Kieran Bullock 43 16 18 9
8 10 Daniel Hollis-Reeves 37 12 11 14
9 411 Jonathan Payne 33 8 10 15
10 5 Chad Stevenson 32 7 13 12
11 54 Leo Ormondroyd 31 10 8 13
12 100 Harley Ince 29 15 9 5
13 28 Luca James Allen-Harvey 28 14 12 2
14 88 Tyler Griffiths 26 9 7 10
15 107 Lewis Day 19 6 5 8
16 31 Corben Rowen 18 5 6 7
17 15 Mason Havrod 12 3 3 6
18 22 Jessica Cooling 12 4 4 4
19 615 Alfie Marshall 7 2 2 3
Youth Junior
Pos Competitor Total Points r 1 r 2 r 3
1 16 Jamie Clarke 75 25 25 25
2 36 Maddy Banks 66 22 22 22
Youth Senior
Pos Competitor Total Points r 1 r 2 r 3
1 52 Leo Vowles 75 25 25 25
2 2 Jake Speller 66 22 22 22
3 31 Senna Summers 60 20 20 20
4 109 Harry Streeter 50 16 18 16
5 7 Rocco Lanza 45 13 14 18
6 211 Jack Perry 45 15 15 15
7 9 Ethan Lochrie 44 18 16 10
8 39 Ben Moran 41 14 13 14
9 19 Ben Johnstone 37 12 12 13
10 457 Jack Harrison 33 11 10 12
11 94 David Maw 32 10 11 11
Fun Class
Pos Competitor Total Points r 1 r 2 r 3
1 758 Tyrone Tugwell 75 25 25 25
2 3 Tom Burrill 66 22 22 22
3 170 Ollie Fletcher 40 20 20 –
Farmbike class
Pos Competitor Total Points r 1 r 2 r 3
1 17 Matthew Bayliss 72 25 25 22
2 5 Aaron OMahoney 69 22 22 25
3 38 Freddie Lambeth 58 20 18 20
4 461 Cam MacDonald 56 18 20 18
5 774 Scott Kennedy 44 14 14 16
6 36 Shay Botcher 43 16 12 15
7 62 Louie Dutton 43 13 16 14
8 31 Senna Summers 36 11 15 10
9 64 Alex Dutton 35 10 13 12
10 47 Aaron Summers 29 8 10 11
11 66 Sam Rogers 25 12 – 13
12 25 Harry Baker 20 9 11 –
13 22 Luke Tucker 15 15 – –
14 396 Sam Russell 7 7 – –
SuperMod
Pos Competitor Total Points r 1 r 2 r 3
1 871 Dave Lamb 69 22 25 22
2 99 Daniel Lee 67 20 22 25
3 1 Simon Vowles 63 25 18 20
4 66 James Lee 56 18 20 18
5 95 Nick Luckman 48 16 16 16
6 212 Sam Thomas 15 15 – –
SuperStock
Pos Competitor Total Points r 1 r 2 r 3
1 72 Ashley Gorman 75 25 25 25
2 1 Craig Powell 64 22 22 20
3 93 Tom Dunk 62 20 20 22
4 45 Craig Sharp 54 18 18 18
5 29 George Pym 46 14 16 16
6 17 Simon Crowther 30 15 15 –
7 133 Ben Rose 16 16 – –
8 89 Adam Crowther 14 – 14 –
9 411 Michael Gwilliams 13 13 – –
Masters
Pos Competitor Total Points r 1 r 2 r 3
1 131 Daniel Foreman 72 25 25 22
2 602 Scott Joyner 67 20 22 25
3 7 Glenn Wilson 58 18 20 20
4 170 Steven King 34 16 18 –
5 201 Matthew Chamberlain 22 22 – –
Vets
Pos Competitor Total Points r 1 r 2 r 3
1 95 Chris Rose 75 25 25 25
2 211 Philip Thomas 66 22 22 22
3 2 Jay Taylor 58 20 20 18
4 414 Adam Burton 56 18 18 20
5 10 Paul Gell 45 13 16 16
6 71 Colin Blackwell 44 15 14 15
7 726 Andrew Cheshire 41 14 13 14
8 33 Paul Radford 31 16 15 –
Clubman
Pos Competitor Total Points r 1 r 2 r 3
1 117 Jeff Pyke 67 22 20 25
2 211 Criag Griffiths 65 20 25 20
3 147 Max Hadlington 62 18 22 22
4 282 Dan Webb 61 25 18 18
5 190 Jason Hawkes 43 12 15 16
6 77 Jordan Burton 42 11 16 15
7 5 Tegan Parnell 41 15 14 12
8 710 Anthony Dalton 40 13 13 14
9 24 Leon Cotterill 34 10 11 13
10 116 Josh Cheshire 31 8 12 11
11 915 Joe Clement 26 7 9 10
12 88 Carl Elliott 19 – 10 9
13 252 James Pindard 16 16 – –
14 137 Jim Clement 14 14 – –
15 36 Lizzie Banks 14 6 – 8
16 420 Darren Macauley 9 9 – –
Pro
Pos Competitor Total Points r 1 r 2 r 3
1 71 Blaine Blackwell 205 70 65 70
2 717 Jody Burton 204 67 70 67
3 66 Daniel Muddiman 195 63 67 65
4 155 Paul Benham 187 61 63 63
5 210 Scott Thomas 178 60 61 57
6 146 Simon Gummer 173 53 60 60
7 319 Steve Ledger 171 56 59 56
8 63 Callum Gutteridge 168 54 56 58
9 9 Scott Pohlman 167 48 58 61
10 100 Callum Radford 166 58 57 51
11 152 Jack Harvey 165 55 55 55
12 247 Matthew Cole 158 52 53 53
13 109 Rhys Streeter 157 51 52 54
14 106 Alex Cheshire 156 57 49 50
15 13 Cole Howard 156 59 48 49
16 334 Jack Guntrip 151 49 50 52
17 511x Ashley Arrowsmith 149 50 51 48
18 36 Joe Banks 119 65 54 –
19 16 Pryce Howard 106 47 – 59