Morgan on form at the Farm! Dragon Quad Racing XC Championship Round 3 – Race Report and Results
Round 3 of the shortened Dragon Quad Racing 4 round XC season headed to the rolling hills of Greenhall Farm in Mid Wales.
Report by Ashley Holt – Images courtesy of Lisa-Ann Williams Holt
As is the norm the Youth Race kicked off the day on Sunday morning with blue skies with a Race time of 1.5 hrs, Oliver Pinder and Jake Best battled it out in the 250cc Hybrid Class with Ethan taking top spot and Oliver 2nd.
The 250cc saw Charlie Wheatley and Cai Evans swapping places at the front until a small mistake from Cai dropped him back and Charlie was able to pull clear. It remained that way for the rest of the race and it was Charlie who took the win from Cai in 2nd and James Maybury in 3rd.
In the 125cc class a return for Alix Edmed-Callaway after missing Round 2 saw her take an early lead and eventually complete 6 laps winning the 125 class from Jamie Burnett in 2nd and Jake Robson in 3rd.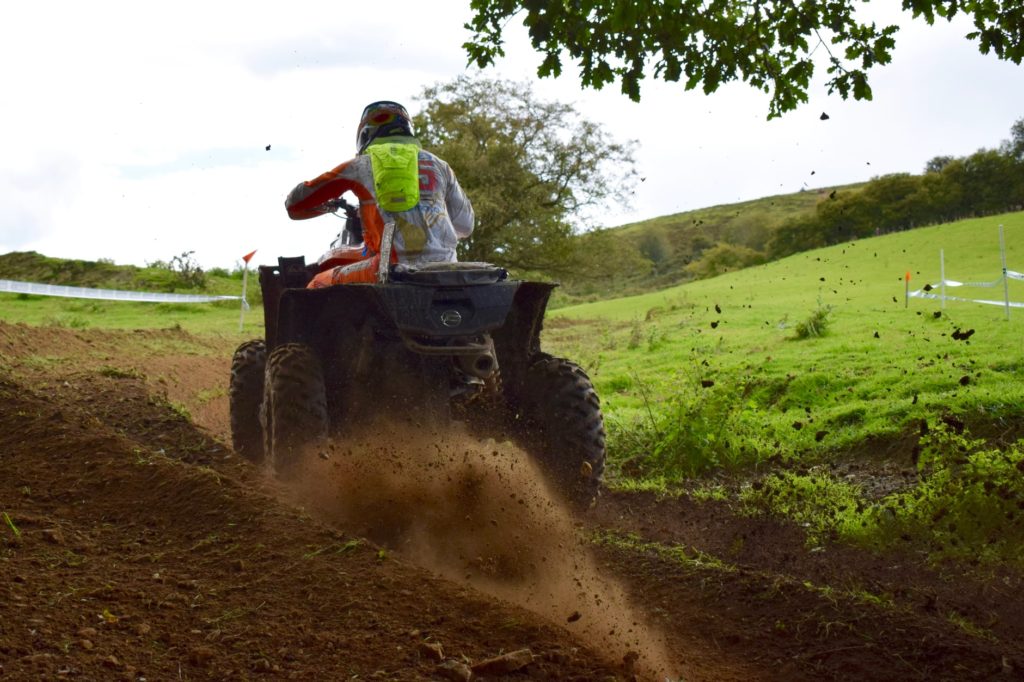 The Mini Quad class was back again with a good mix of entries, a class for 8-13 years which caters for 50cc riders, 90cc riders and 100cc open riders over a shorter 30 minute course, and there were lots of eager youngsters ready to Race!
The 100cc class saw some new faces and after 30 minutes of racing Joseph Hayes was the winner on his debut with Stephen Collins 2nd and Liam McGowan 3rd.
In the 90cc class Izzy Lloyd took her first win from Luke Waddington in 2nd and Tyler Willcock made it 2 from 2 in the 50cc class.
The afternoons Adult racing got underway just after midday in perfect conditions but with the threat of showers possibly mid race which could make things interesting for the riders.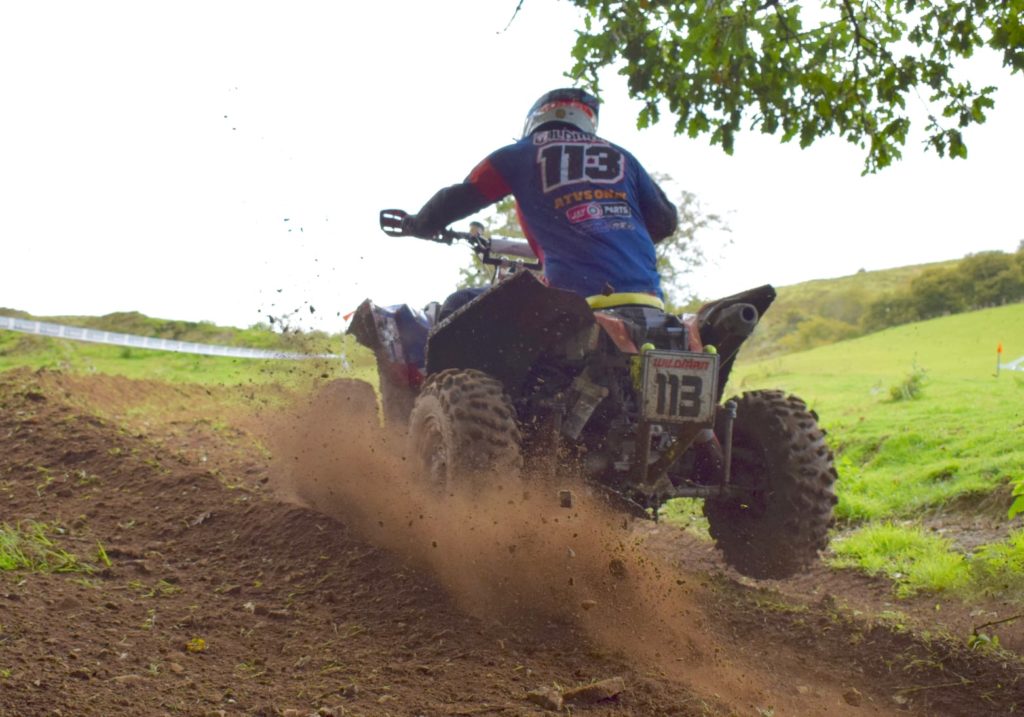 The Experts and Expert Plus class combined and it was the returning Weston Beach Race Champion Jamie Morgan who led away from Alex Bethell in 2nd. Alex pushed him hard in the opening laps but Jamie held the lead and pushed on setting fastest laps each time, it remained that way until the end with Jamie taking the win from Alex both with 14 laps with Joshua Waring in 3rd.
In the Expert class it was Jim Evans in 1st from Will Dunlop in 2nd and Michael Williams in 3rd a reverse of the Round 2 Result.
Tom Stevens was back on the top step in the clubman class with Ben Roberts in 2nd and an impressive 3rd for Moose Pittaway.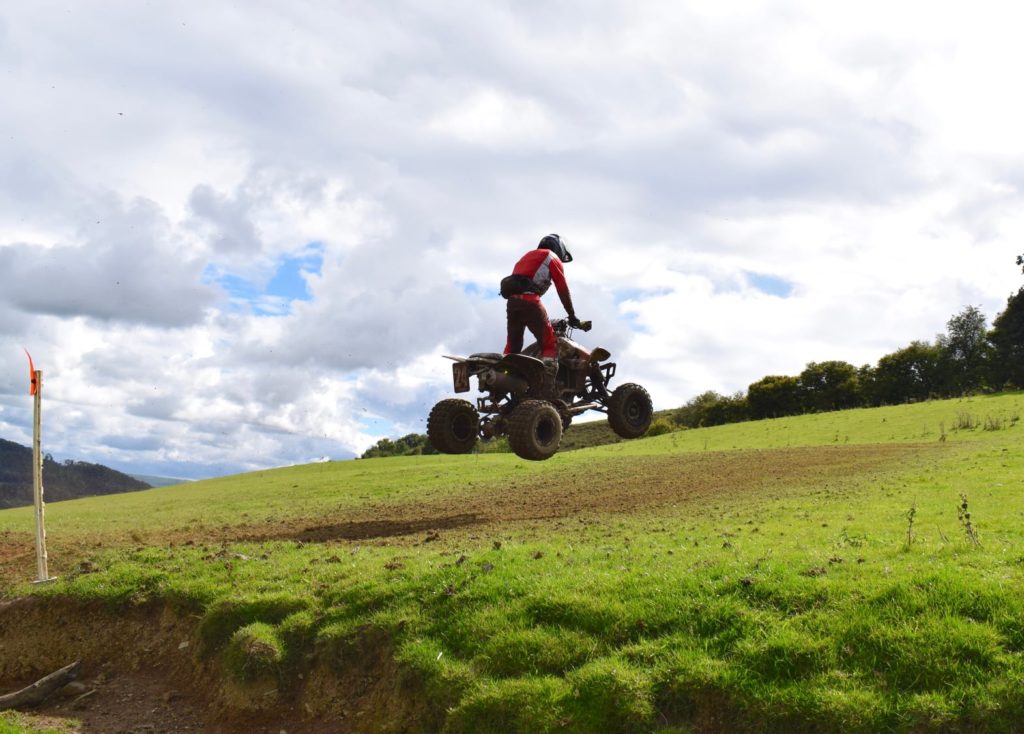 Jake Best went one better this round and took the sportsman class win from Jack Evans in 2nd Liam Griffiths 3rd.
Harry Stevens made it 3 from 3 in the 4×4 Lights with Neil Martin in 2nd Shaun Wealleans 3rd.
In the 4×4 Clubman class it was a packed field with some new names at the front, Kevin Watson was the winner and also an impressive 3rd overall with Dean Jones 2nd and Laura Linton 3rd.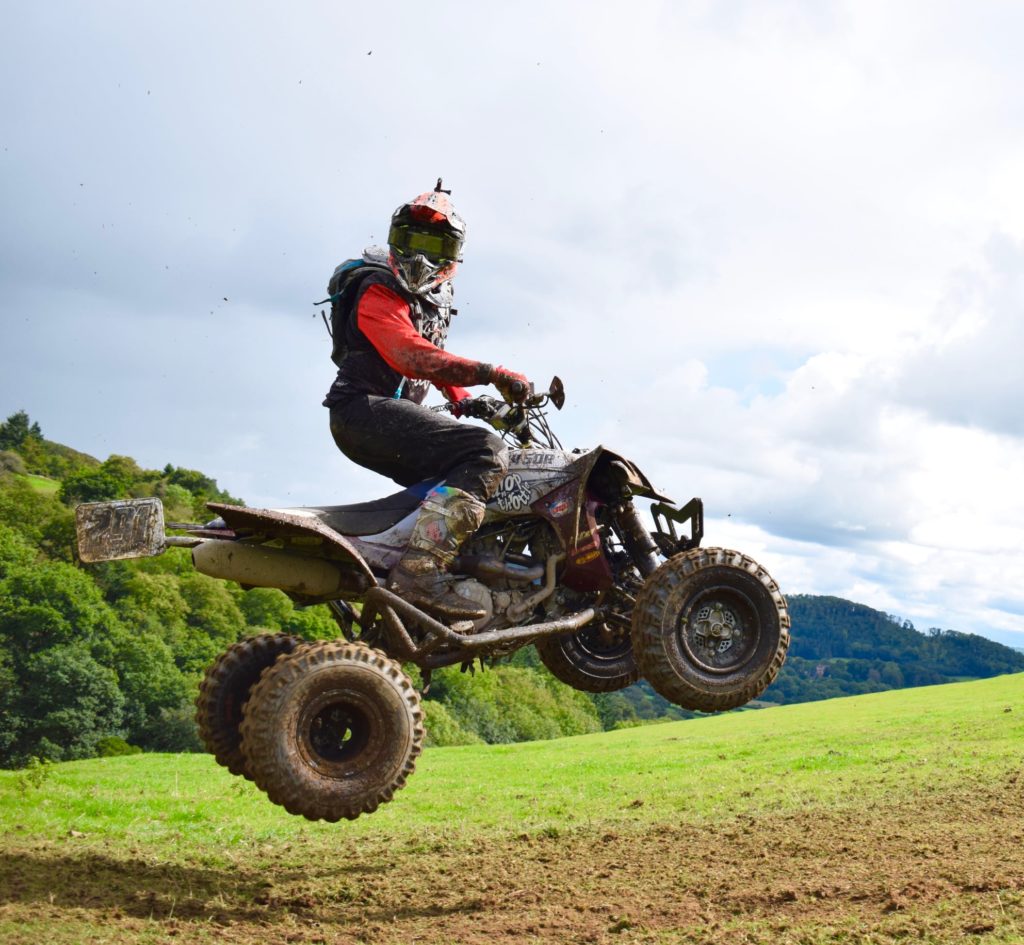 The 4×4 expert class was as competitive as always, problems for Simon David and Jason Wildman ruled them out of the podium places after some extremely close racing with both lapping within ½ a second of each other, it was Stuart Marley who capitalised to take the win from Graham Guy in 2nd and Nick Key 3rd .
Well done to all the winners today and each rider who took part.
A big Thanks to our Title Sponsor ATV's Only and associate GML ATV for the support this season and Series and to the Marshalls, Medics, photographer's, and Caterers who make the events possible.
We hope to see you all at Round 4 the final Round of this season Greenhall Farm September 2oth 2020.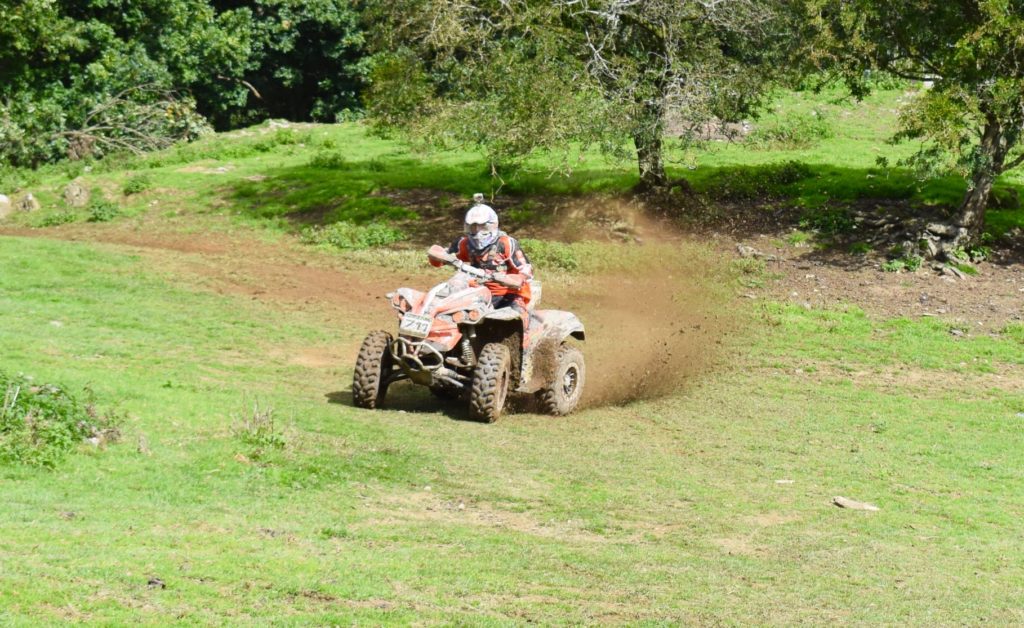 Results
Miniquad Race
Miniquad 100
Pos Competitor Total Time Diff Laps Best Lap Best Lap No. Best Speed
1 44 Joseph Hayes 30:45.339 18 1:36.741 12 0 km/h
2 14 Stephen Collins 31:15.055 29.716 18 1:39.516 14 0 km/h
3 10 Liam Mcgowan 31:16.089 30.750 18 1:23.827 10 0 km/h
4 8 Jack Collins 34:32.750 2 laps 16 1:41.608 11 0 km/h
5 6 Luca Balsano 31:52.728 12 laps 6 2:11.153 5 0 km/h
Miniquad 90
Pos Competitor Total Time Diff Laps Best Lap Best Lap No. Best Speed
1 112 Isabelle LLoyd 31:10.481 16 1:48.833 16 0 km/h
2 88 Luke Waddington 30:07.830 1 lap 15 1:55.476 10 0 km/h
Miniquad 50
Pos Competitor Total Time Diff Laps Best Lap Best Lap No. Best Speed
1 4 Tyler Wilcock 32:33.993 11 2:44.775 9 0 km/h
Youth 250 race
Youth 250
Pos Competitor Total Time Diff Laps Best Lap Best Lap No. Best Speed
1 333 Charlie Wheatley 1:31:17.723 7 12:50.963 7 0 km/h
2 99 Cai Evans 1:32:44.793 1:27.070 7 12:47.930 5 0 km/h
3 16 James Maybury 1:35:14.607 3:56.884 7 12:57.892 5 0 km/h
4 77 Morgan Junge 1:37:55.464 6:37.741 7 13:28.022 6 0 km/h
5 15 Chloe Maybury 1:31:14.729 1 lap 6 14:17.077 5 0 km/h
6 4 Frank Marston 1:31:27.924 1 lap 6 14:45.472 6 0 km/h
7 30 Louie Holt 1:34:09.873 1 lap 6 13:50.989 2 0 km/h
250 Hybrid
Pos Competitor Total Time Diff Laps Best Lap Best Lap No. Best Speed
1 19 Ethan Best 1:39:59.013 7 13:38.876 3 0 km/h
2 646 Oliver Pinder 1:45:09.250 1 lap 6 15:21.196 6 0 km/h
Youth 125
Pos Competitor Total Time Diff Laps Best Lap Best Lap No. Best Speed
1 55 Alix Edmed-kellaway 1:44:07.367 6 17:06.693 2 0 km/h
2 14 Jamie Burnett 1:31:40.236 1 lap 5 17:49.076 2 0 km/h
3 199 Jake Robson 1:34:58.172 1 lap 5 18:09.552 3 0 km/h
4 20 Ronnie Burnett 1:30:13.138 3 laps 3 25:47.861 2 0 km/h
DNF 1 Owen Stephens 33:21.345 1 0.000 – 0 km/h
Adult Race
Adult Expert +
Pos Competitor Total Time Diff Laps Best Lap Best Lap No. Best Speed
1 24 Jamie Morgan 2:36:37.791 14 10:21.927 8 0 km/h
2 1 Alex Bethell 2:41:29.697 4:51.906 14 10:49.344 3 0 km/h
3 164 Joshua Waring 2:31:15.321 2 laps 12 11:56.123 5 0 km/h
DNF 82 Richard Tordoff 1:15:38.651 6 11:54.927 4 0 km/h
4×4 Clubman
Pos Competitor Total Time Diff Laps Best Lap Best Lap No. Best Speed
1 265 Kevin Watson 2:22:04.658 12 12:15.286 9 0 km/h
2 555 Dean Jones 2:37:39.513 15:34.855 12 12:33.607 6 0 km/h
3 424 Laura Linton 2:30:00.119 1 lap 11 12:59.608 11 0 km/h
4 611 Derek Burns 2:30:55.434 1 lap 11 13:07.805 3 0 km/h
5 50 Mark French 3:00:06.973 5 laps 7 21:29.853 4 0 km/h
6 337 Emma Carpenter 3:00:29.655 5 laps 7 21:31.085 4 0 km/h
DNF 114 Paul Bennett 1:54:03.008 7 14:21.476 5 0 km/h
DNF 401 Robert Little 32:52.883 2 16:23.342 2 0 km/h
4×4 Heavy
Pos Competitor Total Time Diff Laps Best Lap Best Lap No. Best Speed
1 711 Stuart Marley 2:30:02.882 12 11:57.026 2 0 km/h
2 181 Graham Guy 2:36:51.774 6:48.892 12 12:41.957 6 0 km/h
3 443 Nick Key 2:39:58.922 1 lap 11 12:53.209 7 0 km/h
4 50 Simon David 2:40:39.729 1 lap 11 11:32.543 2 0 km/h
5 55 Harry Hinkley 2:41:34.363 4 laps 8 12:54.886 2 0 km/h
DNF 112 Jason Wildman 1:54:31.231 9 11:32.133 3 0 km/h
Adult Expert
Pos Competitor Total Time Diff Laps Best Lap Best Lap No. Best Speed
1 48 Jim Evans 2:34:36.629 12 12:24.956 2 0 km/h
2 93 William Dunlop 2:38:36.118 3:59.489 12 12:25.481 6 0 km/h
3 291 Michael Williams 2:42:40.725 8:04.096 12 12:27.083 9 0 km/h
Adult Clubman
Pos Competitor Total Time Diff Laps Best Lap Best Lap No. Best Speed
1 701 Tom Stevens 2:34:58.797 12 12:22.684 8 0 km/h
2 44 Ben Roberts 2:35:25.933 1 lap 11 12:13.758 3 0 km/h
3 39 Michael Pittaway 2:34:35.152 2 laps 10 14:12.176 4 0 km/h
4 804 Nigel Morris 2:36:12.473 2 laps 10 14:48.290 4 0 km/h
5 172 Dale Roberts 2:38:26.599 2 laps 10 14:39.307 5 0 km/h
6 46 Dean Johnson 2:35:09.920 5 laps 7 17:14.943 6 0 km/h
DNF 88 Daniel Evans 2:21:17.839 10 13:26.728 3 0 km/h
DNF 58 Paul Robinson 1:28:12.018 4 14:18.366 3 0 km/h
DNF 204 Fraser Lunt 59:12.321 3 14:34.139 2 0 km/h
DNF 193 Ryan Johnson 22:05.452 1 0.000 – 0 km/h
4×4 Lights
Pos Competitor Total Time Diff Laps Best Lap Best Lap No. Best Speed
1 104 Harry Stevens 2:36:30.519 12 12:34.173 5 0 km/h
2 371 Neil Martin 2:32:29.982 1 lap 11 13:26.761 5 0 km/h
3 67 Shaun Wealleans 2:44:50.339 1 lap 11 13:53.608 2 0 km/h
Adult Sportsman
Pos Competitor Total Time Diff Laps Best Lap Best Lap No. Best Speed
1 10 Jake Best 2:45:28.450 11 13:08.880 4 0 km/h
2 40 Jack Evans 2:32:26.906 1 lap 10 13:29.677 5 0 km/h
3 72 Liam John Griffiths 2:32:54.852 4 laps 7 16:58.422 3 0 km/h
4 12 Kevin Wilcock 2:58:42.726 6 laps 5 20:55.945 2 0 km/h
DNF 231 Lee Carpenter 2:24:22.596 6 21:29.086 4 0 km/h
DNF 17 Liam Collins 1:06:18.923 4 15:48.096 4 0 km/h
DNF 18 Lewis Collins 1:13:19.019 3 19:20.904 2 0 km/h