Dirty Dozen with Joe Clayton
With the 2020 Arenacross tour just around the corner, our latest Dirty Dozen feature, which fires twelve mixed questions at a range of Off-Road racers, is with Arenacross ace and Team Green Kawasaki team Member Joe Clayton.
Feature image courtesy of Dave Rich
Dirt Hub: Do you have a Pre-Race Playlist you listen too, and if so name a couple of tracks that are on it?
Joe: I do have a little race playlist I listen too. Some of the songs are: Thunderstruck-AC/DC, I'm shipping up to Boston- Dropkick Murphys, Fight night- Migos.
DH: When was the last time you cried?
Joe: I was crying with laughter this week.
DH: What is your favourite inspirational quote?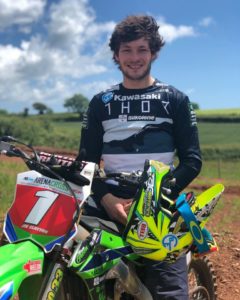 Joe: Hmm I'm not really sure, maybe it's:  "You can't win the championship at round one but you can lose it."
DH: Do you have any weird suspicions or pre-race rituals?
Joe: Oh yes, I always put on my left glove before riding. No idea why but I've just stuck with it!
DH: What drives you most to get up in the morning and go training?
Joe: Knowing I can get up and go ride is the best drive to get up in the morning!
DH: If you didn't race what sport would you play?
Joe: Maybe something with wheels that I could still race.
DH: What is your biggest Phobia?
Joe: Snakes, I don't know what it is about but I hate the things.
DH: Who is your biggest sporting idol and why?
Joe: I think it would have to be Ryan Dungey, he might not have won all the races he did but he was always in the right place at the right time to win the championships.
DH: Where do you see yourself in five years time?
Joe: I hope that I am out in America racing the AMA Supercross.
DH: What is your all-time favourite movie?
Joe: I love Step Brothers
DH: Who has had the biggest impact on your career?
Joe: I would say, my family, they have all helped me get to where I am today.
DH: What is your philosophy on life?
Joe: I think it would be to take every day as it comes as there are so many uncontrollable factors that can change your plans. All you can do is set goals to chase your dreams and try your best to achieve them.