Coldenhoff comes good at Hawkstone! 2023 Hawkstone International – Rundown & Results
The 2023 Hawkstone International Motocross took place at the hallowed Hawkstone Park circuit in Shropshire on Sunday in front of a stacked crowd and which saw Glenn Coldenhoff win the Super Final and the MX1 overall.
Images courtesy of Dave Rich
Roman Febvre won the first moto followed by Coldenhoff, Brent Van Doninck and an impressive Adam Sterry. Joel Rizzi was the top MX2 racer.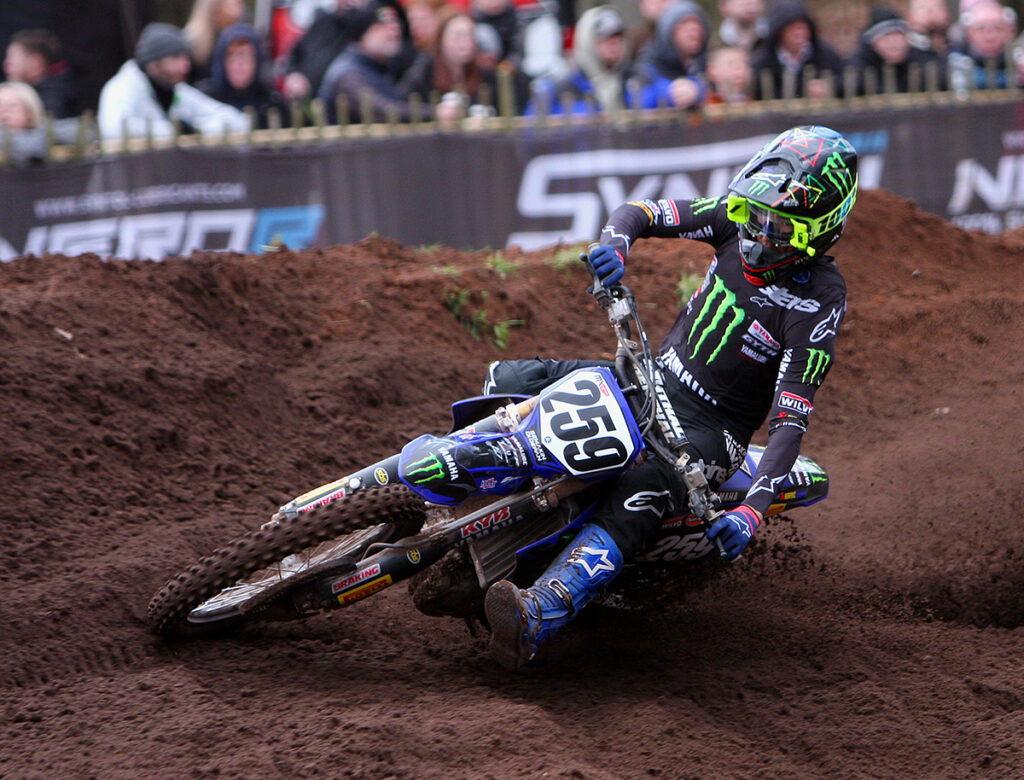 In moto two Coldenhoff bagged the win ahead of Jeffrey Herlings with Febvre third and Van Doninck in fourth. Once again Rizzi was the top MX2 rider over Jake Nicholls.
In the Super Final Coldenhoff was the victor, Van Doninck was second, Febvre was third.
The overall MX1 standings saw Coldenhoff win over Febvre and Van Doninck.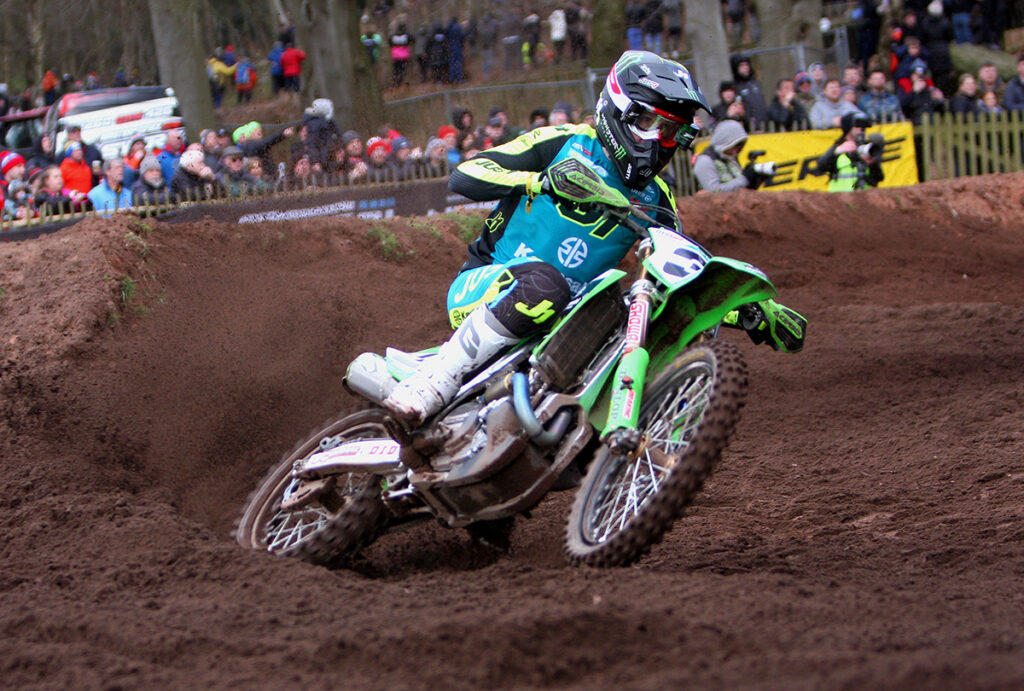 In MX2 Rizzi was the overall winner over Nicholls and Taylor Hammal.
The stacked EMX125 class saw Kasimir Hindesson going 2-1-1 for the overall. Reece Jones took the first moto win and was second overall with Cole McCullough in third.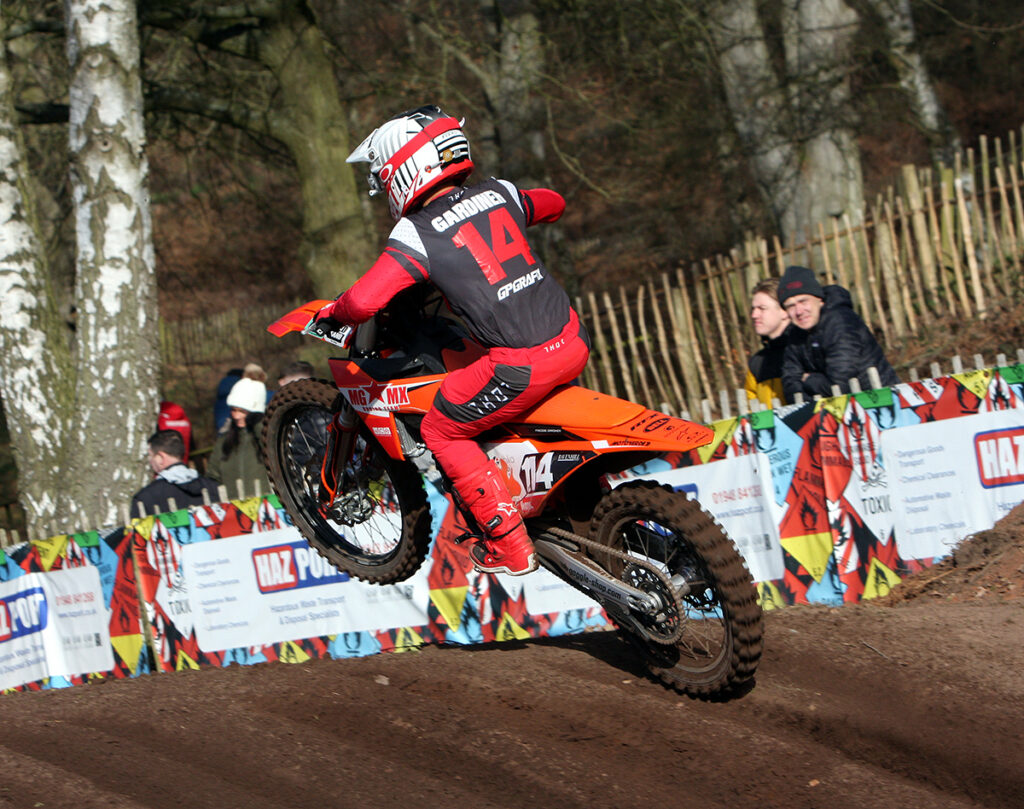 Over in the Adult Support class Arai Alcock went through the card to stand on the top step of the podium, Johnjoe Wright was second and Reece Ross was third.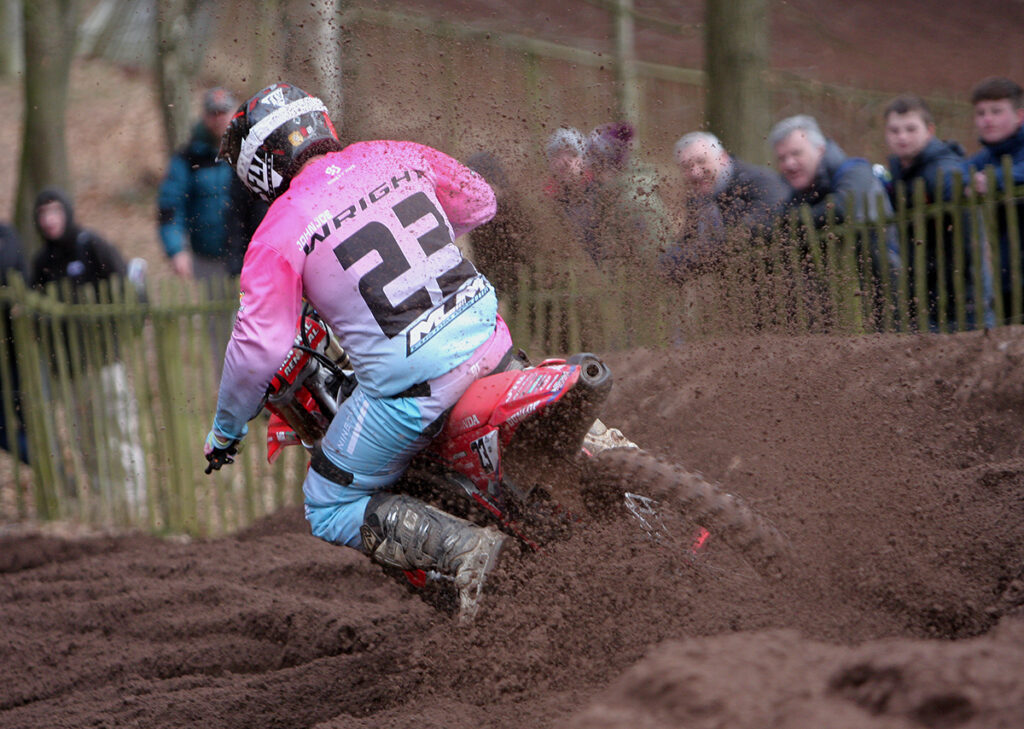 Results
MX1/MX2 Race 1
| | | | | |
| --- | --- | --- | --- | --- |
| Pos | Competitor | Diff | Laps | Best Lap |
| 1 | Romain Febvre | 0 | 12 | 02:11.3 |
| 2 | Glenn Coldenhoff | 1.645 | 12 | 02:11.8 |
| 3 | Brent van Doninck | 3.045 | 12 | 02:11.3 |
| 4 | Adam Sterry | 7.267 | 12 | 02:11.8 |
| 5 | Henry Jacobi | 12.011 | 12 | 02:13.1 |
| 6 | Alvin Ostlund | 51.55 | 12 | 02:15.7 |
| 7 | Jeffrey Herlings | 57.049 | 12 | 02:15.4 |
| 8 | Ashton Dickinson | 01:01.9 | 12 | 02:16.9 |
| 9 | Shaun Simpson | 01:05.7 | 12 | 02:18.1 |
| 10 | Liam Knight | 01:07.4 | 12 | 02:17.6 |
| 11 | Tristan Purdon | 01:09.6 | 12 | 02:16.2 |
| 12 | Tom Grimshaw | 01:12.7 | 12 | 02:17.6 |
| 13 | Joel Rizzi | 01:43.9 | 12 | 02:19.5 |
| 14 | Jamie Carpenter | 01:47.7 | 12 | 02:18.1 |
| 15 | Hardi Roosiorg | 01:50.1 | 12 | 02:20.5 |
| 16 | Davey Pootjes | 01:56.0 | 12 | 02:18.3 |
| 17 | Dan Thornhill | 02:00.3 | 12 | 02:19.3 |
| 18 | Taylor Hammel | 02:04.7 | 12 | 02:21.7 |
| 19 | Jake Nicholls | 02:05.4 | 12 | 02:22.1 |
| 20 | Ollie Colmer | 02:19.3 | 12 | 02:21.9 |
| 21 | Martin Barr | 02:24.7 | 12 | 02:15.0 |
| 22 | Ben Franklin | 02:31.6 | 12 | 02:23.8 |
| 23 | Alfie Jones | 1 lap | 11 | 02:24.1 |
| 24 | Sam Nunn | 1 lap | 11 | 02:22.6 |
| 25 | Jamie Wainwright | 1 lap | 11 | 02:23.0 |
| 26 | Jamie Law | 1 lap | 11 | 02:24.5 |
| 27 | Rory Jones | 1 lap | 11 | 02:24.1 |
| 28 | Louie Kessell | 1 lap | 11 | 02:25.2 |
| 29 | Calum Mitchell | 1 lap | 11 | 02:23.5 |
| 30 | Glenn McCormick | 1 lap | 11 | 02:26.5 |
| 31 | Shaun Mahoney | 1 lap | 11 | 02:26.5 |
| 32 | Rob Clitheroe | 1 lap | 11 | 02:27.3 |
| 33 | Tom Hughes | 2 laps | 10 | 02:32.2 |
| 34 | Calum Marriott | 2 laps | 10 | 02:31.6 |
| 35 | Harri Kullas | 6 laps | 6 | 02:15.9 |
| 36 | Luke Benstead | 10 laps | 2 | 02:27.5 |
| 37 | Luke Smith | 11 laps | 1 | 02:24.2 |
MX1/MX2 Race 2
| | | | | |
| --- | --- | --- | --- | --- |
| Pos | Competitor | Diff | Laps | Best Lap |
| 1 | Glenn Coldenhoff | 0 | 12 | 02:14.3 |
| 2 | Jeffrey Herlings | 2.191 | 12 | 02:14.0 |
| 3 | Romain Febvre | 12.942 | 12 | 02:14.6 |
| 4 | Brent van Doninck | 14.246 | 12 | 02:14.1 |
| 5 | Henry Jacobi | 54.362 | 12 | 02:14.8 |
| 6 | Adam Sterry | 01:00.3 | 12 | 02:16.1 |
| 7 | Alvin Ostlund | 01:07.5 | 12 | 02:17.7 |
| 8 | Shaun Simpson | 01:30.5 | 12 | 02:20.4 |
| 9 | Martin Barr | 01:33.7 | 12 | 02:20.1 |
| 10 | Tom Grimshaw | 01:42.8 | 12 | 02:20.1 |
| 11 | Jamie Carpenter | 01:48.7 | 12 | 02:21.5 |
| 12 | Joel Rizzi | 01:51.6 | 12 | 02:22.2 |
| 13 | Jake Nicholls | 02:00.8 | 12 | 02:21.8 |
| 14 | Liam Knight | 02:05.8 | 12 | 02:22.1 |
| 15 | Davey Pootjes | 02:16.6 | 12 | 02:23.5 |
| 16 | Dan Thornhill | 02:18.8 | 12 | 02:21.9 |
| 17 | Alfie Jones | 02:23.4 | 12 | 02:22.4 |
| 18 | Ollie Colmer | 1 lap | 11 | 02:23.3 |
| 19 | Taylor Hammel | 1 lap | 11 | 02:23.8 |
| 20 | Calum Mitchell | 1 lap | 11 | 02:23.9 |
| 21 | Jamie Wainwright | 1 lap | 11 | 02:25.8 |
| 22 | Ben Franklin | 1 lap | 11 | 02:23.4 |
| 23 | Sam Nunn | 1 lap | 11 | 02:24.1 |
| 24 | Rory Jones | 1 lap | 11 | 02:29.4 |
| 25 | Louie Kessell | 1 lap | 11 | 02:27.6 |
| 26 | Rob Clitheroe | 2 laps | 10 | 02:29.5 |
| 27 | Calum Marriott | 2 laps | 10 | 02:39.9 |
| 28 | Shaun Mahoney | 2 laps | 10 | 02:32.9 |
| 29 | Hardi Roosiorg | 7 laps | 5 | 02:20.4 |
| 30 | Tristan Purdon | 7 laps | 5 | 02:23.3 |
| 31 | Jamie Law | 9 laps | 3 | 02:28.3 |
| 32 | Luke Smith | 10 laps | 2 | 02:31.9 |
MX1/MX2 Super Final
| | | | | |
| --- | --- | --- | --- | --- |
| Pos | Competitor | Diff | Laps | Best Lap |
| 1 | Glenn Coldenhoff | 0 | 12 | 02:14.9 |
| 2 | Brent van Doninck | 4.503 | 12 | 02:14.4 |
| 3 | Romain Febvre | 9.515 | 12 | 02:14.3 |
| 4 | Jeffrey Herlings | 49.155 | 12 | 02:16.4 |
| 5 | Henry Jacobi | 01:09.5 | 12 | 02:21.1 |
| 6 | Alvin Ostlund | 01:13.1 | 12 | 02:20.6 |
| 7 | Shaun Simpson | 02:12.5 | 12 | 02:24.4 |
| 8 | Joel Rizzi | 02:12.8 | 12 | 02:24.5 |
| 9 | Liam Knight | 02:15.6 | 12 | 02:25.0 |
| 10 | Hardi Roosiorg | 02:18.4 | 12 | 02:25.5 |
| 11 | Tom Grimshaw | 02:22.9 | 12 | 02:26.5 |
| 12 | Dan Thornhill | 02:27.4 | 12 | 02:27.0 |
| 13 | Jamie Wainwright | 1 lap | 11 | 02:28.8 |
| 14 | Sam Nunn | 1 lap | 11 | 02:29.9 |
| 15 | Alfie Jones | 1 lap | 11 | 02:27.7 |
| 16 | Louie Kessell | 1 lap | 11 | 02:31.7 |
| 17 | Calum Mitchell | 2 laps | 10 | 02:30.4 |
| 18 | Adam Sterry | 4 laps | 8 | 02:23.2 |
| 19 | Harri Kullas | 7 laps | 5 | 02:23.7 |
| 20 | Martin Barr | 7 laps | 5 | 02:25.6 |
| 21 | Taylor Hammel | 7 laps | 5 | 02:26.6 |
| 22 | Jake Nicholls | 9 laps | 3 | 02:26.4 |
| 23 | Shaun Mahoney | 10 laps | 2 | 02:47.8 |
| 24 | Calum Marriott | 11 laps | 1 | 02:41.6 |
| 25 | Tristan Purdon | 11 laps | 1 | 10:19.8 |
MX1 Overall
| | | | | |
| --- | --- | --- | --- | --- |
| Pos | Competitor | Points | R1 | R2 |
| 1 | Glenn Coldenhoff | 47 | 22 | 25 |
| 2 | Romain Febvre | 45 | 25 | 20 |
| 3 | Brent van Doninck | 38 | 20 | 18 |
| 4 | Jeffrey Herlings | 36 | 14 | 22 |
| 5 | Adam Sterry | 33 | 18 | 15 |
| 6 | Henry Jacobi | 32 | 16 | 16 |
| 7 | Alvin Ostlund | 29 | 15 | 14 |
| 8 | Shaun Simpson | 25 | 12 | 13 |
| 9 | Tom Grimshaw | 20 | 9 | 11 |
| 10 | Liam Knight | 20 | 11 | 9 |
| 11 | Jamie Carpenter | 18 | 8 | 10 |
| 12 | Martin Barr | 16 | 4 | 12 |
| 13 | Davey Pootjes | 14 | 6 | 8 |
| 14 | Ashton Dickinson | 13 | 13 | – |
| 15 | Dan Thornhill | 12 | 5 | 7 |
| 16 | Tristan Purdon | 10 | 10 | – |
| 17 | Louie Kessell | 9 | 3 | 6 |
| 18 | Hardi Roosiorg | 7 | 7 | – |
| 19 | Glenn McCormick | 2 | 2 | – |
| 20 | Harri Kullas | 1 | 1 | – |
MX2 Overall
| | | | | |
| --- | --- | --- | --- | --- |
| Pos | Competitor | Points | R1 | R2 |
| 1 | Joel Rizzi | 50 | 25 | 25 |
| 2 | Jake Nicholls | 42 | 20 | 22 |
| 3 | Taylor Hammal | 38 | 22 | 16 |
| 4 | Ollie Colmer | 36 | 18 | 18 |
| 5 | Alfie Jones | 35 | 15 | 20 |
| 6 | Ben Franklin | 29 | 16 | 13 |
| 7 | Jamie Wainwright | 27 | 13 | 14 |
| 8 | Sam Nunn | 26 | 14 | 12 |
| 9 | Calum Mitchell | 25 | 10 | 15 |
| 10 | Rory Jones | 22 | 11 | 11 |
| 11 | Rob Clitheroe | 18 | 8 | 10 |
| 12 | Shaun Mahoney | 17 | 9 | 8 |
| 13 | Calum Marriott | 15 | 6 | 9 |
| 14 | Jamie Law | 12 | 12 | – |
| 15 | Tom Hughes | 7 | 7 | – |
EMX 125 overall
| | | | | | |
| --- | --- | --- | --- | --- | --- |
| Pos | Competitor | Points | R1 | R2 | R3 |
| 1 | Kasimir Hindesson | 72 | 22 | 25 | 25 |
| 2 | Reece Jones | 69 | 25 | 22 | 22 |
| 3 | Cole McCullough | 60 | 20 | 20 | 20 |
| 4 | Wal Beaney | 52 | 16 | 18 | 18 |
| 5 | Jake Walker | 50 | 18 | 16 | 16 |
| 6 | Beau Brown | 45 | 15 | 15 | 15 |
| 7 | Freddie Gardiner | 40 | 12 | 14 | 14 |
| 8 | Yarin Evans | 31 | 6 | 12 | 13 |
| 9 | Lucy Barker | 29 | 10 | 7 | 12 |
| 10 | Wesley McGavin | 24 | 4 | 13 | 7 |
| 11 | Kayden Smith | 23 | 14 | – | 9 |
| 12 | Max Smith | 21 | 11 | 10 | – |
| 13 | Jack Dando | 19 | 2 | 6 | 11 |
| 14 | Ben McConville | 17 | 9 | 8 | – |
| 15 | Declan Wright | 16 | 3 | 5 | 8 |
| 16 | Ryan Waggott | 15 | – | 11 | 4 |
| 17 | Kai Thorpe | 14 | 7 | 4 | 3 |
| 18 | Ashden Barlow | 13 | 13 | – | – |
| 19 | Lewis Bethall | 11 | – | 1 | 10 |
| 20 | Harry Shand | 9 | 5 | 3 | 1 |
| 21 | Emmanuel Bako | 9 | – | 9 | – |
| 22 | Jack Brearey | 8 | – | 2 | 6 |
| 23 | Cody Spacagna | 8 | 8 | – | – |
| 24 | Levi Saunders | 5 | – | – | 5 |
| 25 | Alfie Crealock-Lovell | 2 | – | – | 2 |
| 26 | Rocco Hands | 1 | 1 | – | – |
Adult Support Overall
| | | | | | |
| --- | --- | --- | --- | --- | --- |
| Pos | Competitor | Points | R1 | R2 | R3 |
| 1 | Arai Elcock | 75 | 25 | 25 | 25 |
| 2 | Johnjoe Wright | 66 | 22 | 22 | 22 |
| 3 | Reece Ross | 54 | 14 | 20 | 20 |
| 4 | Ben Zeale | 44 | 16 | 18 | 10 |
| 5 | Charlie Griffiths | 40 | 11 | 11 | 18 |
| 6 | Sam Hughes | 40 | 12 | 14 | 14 |
| 7 | Brad Thornhill | 39 | 8 | 15 | 16 |
| 8 | Harvey Cashmore | 38 | 18 | 9 | 11 |
| 9 | Hudson Roper | 37 | 10 | 12 | 15 |
| 10 | David Finnamore | 32 | 13 | 10 | 9 |
| 11 | Dan Brough | 28 | 2 | 13 | 13 |
| 12 | Sebastian Berthiaume | 28 | – | 16 | 12 |
| 13 | Charlie Razzell | 23 | 15 | 7 | 1 |
| 14 | Daniel Arkell | 20 | 20 | – | – |
| 15 | Joel Fisher | 16 | 4 | 4 | 8 |
| 16 | Ashley Cotterell | 15 | – | 8 | 7 |
| 17 | Joe Khamouli | 14 | 5 | 3 | 6 |
| 18 | Matt Tolley | 14 | 6 | 6 | 2 |
| 19 | Aaron Patstone | 9 | 9 | – | – |
| 20 | Paul Burn | 7 | 1 | 1 | 5 |
| 21 | Callum Bircher | 7 | 7 | – | – |
| 22 | Harry Foster | 6 | – | 2 | 4 |
| 23 | Ryan Nock | 6 | 3 | – | 3 |
| 24 | Sam Cowie | 5 | – | 5 | – |