Timmy defies the thieves and rides a blinder!
Not a day goes by when we don't hear about another bike being stolen. Another hard-earned beloved machine which has given its rider and family hours and hours of joy, gone within a blink of an eye and it's absolutely heartbreaking especially when its a little kid's pride and joy.
It's not often that a story of a stolen bike turns into a good news story but for once it has.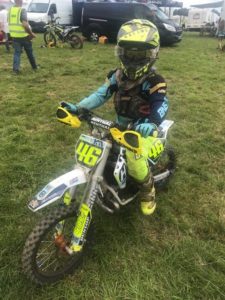 Timmy Pengelly is a super keen racer with the South West Motocross Club alongside his brother Isaac, who was looking forward to 2020 season until Coronavirus hit. With racing halted Timmy's Husqvarna TC50 was taken into their local mechanic at Gibbs Suspension for a rebuild and it is there that Timmy's beloved bike was stolen.
The thieves ram raided the shop on the 10th June and by forcing the doors of the shop inwards they damaged many of the bikes in the shop, with the only bike they could grab from the pile being Timmy's.
Timmy's Mum Feina takes up the story "When we got the phone call in the early hours of the morning we were gutted. Timmy was heartbroken his auto really is his first love. I immediately shared the theft all over Facebook! Within two days I had the name of the thief, the bike was only about 15 miles from our home. The police were unable to find the bike during the search of the property however some kind people took matters into their own hands and tracked it down. Timmy literally cried tears of joy when the bike got dropped home to us. It was damaged with smashed plastics. They had ripped off his graphics and burnt his clutch out. The bike shop kindly took it back and repaired the damage, and we finally got it back just in time for Timmy to do the first race of the season at Landrake Moto Park with South West Mx on the Saturday!! He only went and got 4th overall!! Out of a gate of over 30! And up against some seriously fast riders. Timmy has no sponsorship or training we literally do this as a family because we love it. We don't care if he wins or loses so long as he's smiling at the end of the day !!! We are so lucky to have recovered his bike and for him to go and smash the race was just the icing on the cake!! I told him he rode it like he stole it -but he didn't as it's his!"
Congratulations to Timmy for riding so well at Landrake and for sharing this great news with us when so much of we hear on this subject is bad. Also well done to Timmy's brother Isaac for finishing 15th from a gate of 35 in the 65's with some great riders in the line-up.
Timmy and his family would like to thank everyone who shared and spread the word about his bike and everyone who helped in getting it back!