The Winners Circle – Jack Bell
Allrounder Jack Bell fired in three-round wins out of four to win the Scunthorpe Summer Flat Track Championships in 2020 and earns himself a place in The Winners Circle.
Images courtesy of Ian Rispin
The 17-year-old Lincolnshire native has already notched up a number of titles in his young career including seven Mablethorpe Sand racing titles and the DTRA British Youth Senior British Flat Track Championship in 2019 alongside countless other wins in speedway, supermoto, grass track and beach racing.  He was also part of the Marc Marquez camp in 2015 and 2016.
Jack takes up the story of his season by telling us about how he got into racing before we grilled him on his Scunthorpe win "I started off practising at Chris Walkers Motocross track at Grantham when I was 9. When I turned 10 I started competing at the Mablethorpe sand racing club. From there people recommend flat track to me. I started flat tracking in 2015 when I was 12. During this time I played about with speedway on a Daytona 150. I rode in the British youth speedway series and rode for the Peterborough Thundercats in the Northern Junior League. Since 2019 I have been focusing mainly on Flat Track which seems to be working well for me. When we can I enjoy doing a few Supermoto races with the British mini bike series on my Supermoto set up pitbike."
Dirt Hub: What were your goals leading up to the championship?
Jack: To be honest we had no goals for the championship, we didn't expect to do many of the rounds due to other racing commitments that were due to take place for me. I really enjoy racing at Scunthorpe, there is a great group of people there and the crew that run the meetings are fantastic. Anne and Richard do a great job of running the meetings. I would say it was a good learning curve with my first pro year on the 450 so it was good to get familiar with different track conditions, and racing in general and the new challenge of using Dunlop tyres.
DH: How did you find the track during the series?
Jack: The Scunthorpe series is only based at Scunthorpe. However the track can be different each time, Rob Godfrey does a great job of keeping the track in good condition (although he can get a bit excited in the water truck at times 😉)
DH: What was your best round of the championship and why?
Jack: I've had many great races at Scunthorpe with my mates. I enjoy close racing with a lot of overtaking. I remember there being a meeting where I felt really comfortable on my new Crf450 which was a big confidence boost for the rest of the year.
DH: What was your worst round of the series and why?
Jack: I didn't really have a bad round through-out the championship. I kept consistent throughout the championship finishing with three 1sts and one 2nd. One round was cancelled. All through the series we learnt new things and changed the bike setups so each round we come away with a positive feeling.
DH: Who are your biggest rivals in the series?
Jack: I have respect for all the riders on track. I don't really have any rivals, we are all competing for the same thing. I would say Tim Greig is a strong competitor due to his experience and unique style.
DH: Can you talk us through what you remember from the rounds…
Jack: Each round is different from one another. Most of the time we have a full grid at the start line of about 15 riders. So the starts are very important, turn one is carnage if you are stuck in the middle 😬 I was very consistent throughout the championship and had no crashes! I enjoyed a lot of overtaking and battles with my competitors when I have been trying to work my way to the front.
DH: How do you feel to win the championship?
Jack: Winning the championship has really boosted my confidence on my crf450 and has given us a good indication of what to expect from my first year with the pros. It's taught me a lot about the bigger bikes and I know what I need to work on for next year. Winning the summer championship back to back feels good!
DH: Who would you like to thank for their support?
Jack: Firstly I would like to thank my Mum and Dad for their support, taking me to the meetings, preparing and cleaning the bike and just helping out in general. My brother Ben and my mate Max Bartle for turning up and supporting me through the season. Above all my sponsors, without them, I would not be where I am with my racing. We have had Aveland Electrical backing me for 5 years now. I am also riding for the Champions Flat Track School. The support and advice from Peter Boast has helped me out a lot and has definitely made me the rider I am today.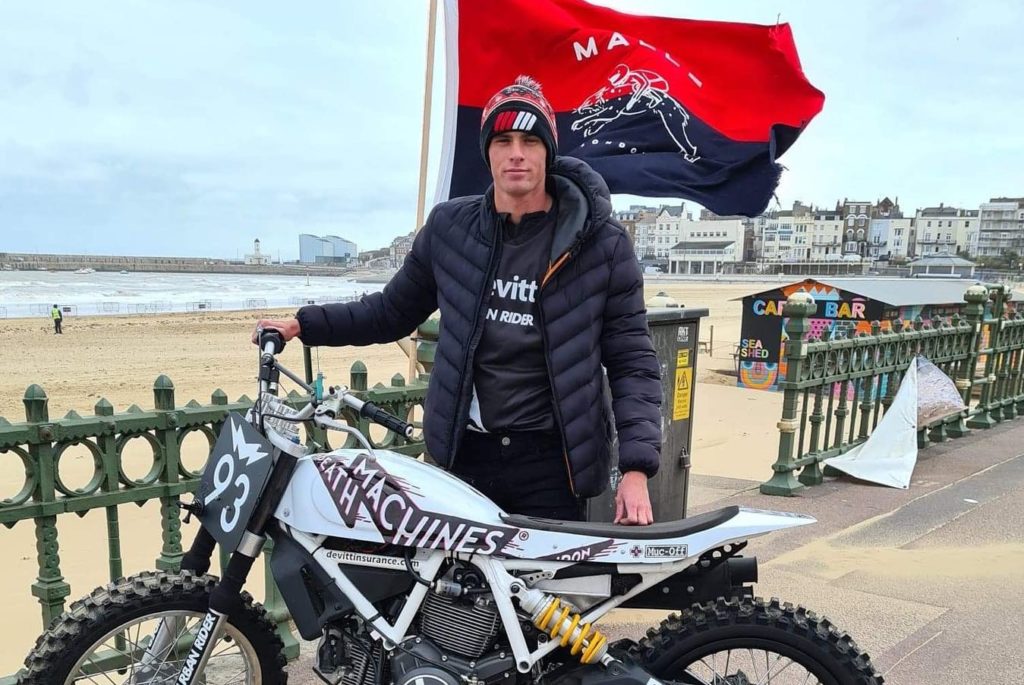 DH: What are your plans for 2021?
Jack: We have new and exciting Plans for 2021… looking at the calendar it's more full than last year anyway! We plan on racing a full season in the Pro class in the Flat Track Nationals with Dirt Track Riders Association, riding for Champions Flat Track School. This will be my first year in with the pros, I can't wait to take on this challenge. I am also racing a Hooligan bike in the Dirt Track Riders series. I am riding the DMOL (Death Machines of London) X Devitt Ducati scrambler. This is also a new challenge for me this year. Having a good team behind me I can't wait to get started!
There are a few events I am looking forward to with the Scrambler including the Malle Mile beach race and Malle Mile festival. It's also great to see a new series, Dirt Track Events beginning with the support of Karl Rushen and Trevor Heath. I can see this being very popular. They have some great venues we are going to with a 6 round championship. I also plan on doing a few races in the Freetech Endurance Championship on a tarmac surface. Fingers crossed the beach racing at the end of the year goes ahead too! At the beginning of the year, there were plans of doing a European championship but unfortunately, it has been cancelled.
Follow Jack on his socials
Facebook- Jack Bell 93 Racing
Instagram- jackbell.93