Southgate shines at Wattisfield! 2022 Eastern Motocross Championship Round 2 – Race Report & Results
Last Sunday saw Round 2 of the Stebbings Car Superstore and PP Sports Insurance ACU Solo Eastern Motocross Championship at Wattisfield Hall. A full entry of 170 expert and juniors lined up for the 12-race programme. The dry weather brought out a large crowd to the Diss MCC venue, and the day provided some great racing on a well-prepared dust free track.
Luke Parker, Matt Pope Motorcycles – HRM Boilers 450 Gas Gas set the fastest time in practice from Lewis Tombs 450 Honda followed by Shaun Southgate 450 Herts MX Honda.
In the first leg premier class race, Parker got the holeshot from Southgate, but Parker dropped it on lap two followed by Southgate who also had an off just after the finish line on lap 4. This allowed Tombs to build up a comfortable lead of 12 seconds by the end of the race. Parker managed to pull his way back to 2nd but dropped it again on lap 11. Southgate came home 2nd which was some achievement as he was riding with a front mudguard bent underneath the front fork heads.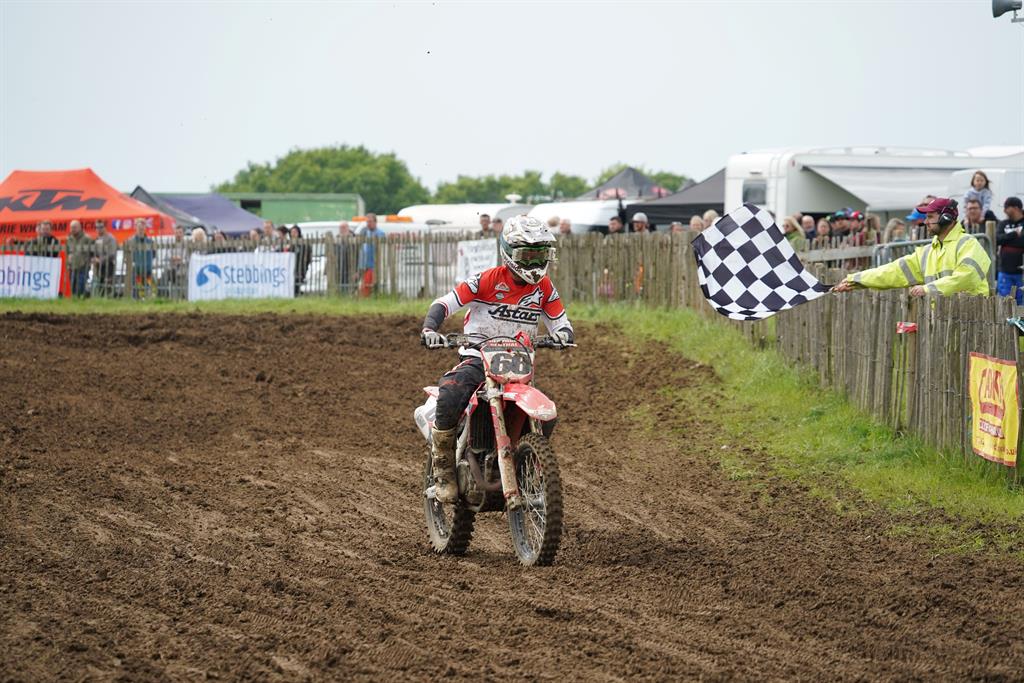 In leg 2 Ben Cole, GH Motorcycles Husky took the holeshot followed by Southgate who took over the lead from Cole on lap 2. Lewis Tombs took 2nd from Cole on lap 3 and finished less than a second behind leader Southgate for a very close finish. Parker who started in 7th clawed his way back to 3rd.
Leg 3 saw Parker get the holeshot maintaining this until the end of the race. However, like race 2 it was a very close race with Shan Southgate finishing less than one second behind, followed by Tombs in 3rd setting the fastest lap of 1m 32.

Once all the points had been totalled up, Shaun Southgate took overall honours from Lewis Tombs, with Parker in 3rd.
In the premier Junior Class Joseph Leeks took overall honours from Travis Frost, and Sean Ottway. In the support A Junior Race Mark Goodson took 1st from Henry Cox and enduro star Craig Roper.
Support B Josh Sturman took the honours from Andrew Cattermole and Teddy Howard and Group C was won by Alex Buckenham with Joe Scillitoe in 2nd with Ryan Harrington- Groves in 3rd.
A big thanks to all marshals and officials who made the event possible, plus thanks also to series sponsors Stebbings Car Superstore and PP Sports Insurance and event sponsor Clarkes of Walsham.
A date of the diary is the next event at Wattisfield Hall which is the evening motocross on the 29th June. This is the most popular event of the year attracting a big crowd with short sharp races.
Entries for this open on the 1st June and riders are reminded not to delay putting their entries as it is expected to fill up very quickly.
Results
Premier Experts
| | | | | | |
| --- | --- | --- | --- | --- | --- |
| Pos | Competitor | Points | R1 | R2 | R3 |
| 1 | Shaun Southgate | 69 | 22 | 25 | 22 |
| 2 | Lewis Tombs | 67 | 25 | 22 | 20 |
| 3 | Luke Parker | 65 | 20 | 20 | 25 |
| 4 | Benjamin Cole | 54 | 18 | 18 | 18 |
| 5 | Max Broadbelt | 47 | 15 | 16 | 16 |
| 6 | Wiliam Farrow | 42 | 14 | 13 | 15 |
| 7 | Brad Woodroffe | 42 | 16 | 12 | 14 |
| 8 | Harry Clark | 37 | 13 | 14 | 10 |
| 9 | Robert Nicoll | 36 | 8 | 15 | 13 |
| 10 | Adam Reeve | 35 | 12 | 11 | 12 |
| 11 | Jamie Roper | 30 | 11 | 10 | 9 |
| 12 | Callum McCaul | 27 | 10 | 9 | 8 |
| 13 | Bayliss Utting | 19 | – | 8 | 11 |
| 14 | Archie Fisher | 19 | 7 | 5 | 7 |
| 15 | Oliver Brader | 17 | 4 | 7 | 6 |
| 16 | Connor Baldry | 17 | 9 | 6 | 2 |
| 17 | Benjamin Alexander | 14 | 6 | 3 | 5 |
| 18 | Benjamin Parry | 11 | 3 | 4 | 4 |
| 19 | Philip Burton | 10 | 5 | 2 | 3 |
Premier Juniors
| | | | | | |
| --- | --- | --- | --- | --- | --- |
| Pos | Competitor | Points | R1 | R2 | R3 |
| 1 | Joseph Leeks | 72 | 22 | 25 | 25 |
| 2 | Travis Frost | 64 | 20 | 22 | 22 |
| 3 | Sean Ottway | 61 | 25 | 18 | 18 |
| 4 | Freddie O'Leary | 44 | 14 | 16 | 14 |
| 5 | Jake Rackham | 40 | – | 20 | 20 |
| 6 | Thomas Batts | 40 | 10 | 15 | 15 |
| 7 | Cullen Hawkins | 39 | 15 | 13 | 11 |
| 8 | Finley Jarvis | 38 | 8 | 14 | 16 |
| 9 | Charlie Nudds | 38 | 16 | 10 | 12 |
| 10 | Joe Hall | 31 | 18 | – | 13 |
| 11 | Shaun Leggett | 31 | 11 | 11 | 9 |
| 12 | Connor Bunkle | 25 | 9 | 12 | 4 |
| 13 | Joe Phillips | 22 | 3 | 9 | 10 |
| 14 | William King | 22 | 12 | 5 | 5 |
| 15 | Louis Dutton | 20 | 6 | 7 | 7 |
| 16 | Mitchell Murfitt | 19 | 5 | 8 | 6 |
| 17 | Toby Morley | 15 | 7 | – | 8 |
| 18 | Luke Nolan | 13 | 4 | 6 | 3 |
| 19 | Jack Sheppard | 13 | 13 | – | – |
Support A
| | | | | | |
| --- | --- | --- | --- | --- | --- |
| Pos | Competitor | Points | R1 | R2 | R3 |
| 1 | Mark Goodson | 131 | 45 | 41 | 45 |
| 2 | Henry Cox | 114 | 37 | 34 | 43 |
| 3 | Craig Roper | 113 | 31 | 43 | 39 |
| 4 | Jolian Dutton | 97 | 33 | 27 | 37 |
| 5 | Jack Whitlam | 90 | 29 | 32 | 29 |
| 6 | Aaron Smith | 89 | 34 | 21 | 34 |
| 7 | Jae Jeffries | 88 | 19 | 28 | 41 |
| 8 | Joshua Deadman | 88 | 26 | 31 | 31 |
| 9 | Gareth Lane | 87 | 39 | 23 | 25 |
| 10 | Sam Rogers | 85 | 25 | 39 | 21 |
| 11 | Scott Claydon | 84 | 17 | 37 | 30 |
| 12 | James Taylor | 82 | 35 | 15 | 32 |
| 13 | Paul Hubbard | 81 | 22 | 35 | 24 |
| 14 | Shaun Palfrey | 79 | 24 | 29 | 26 |
| 15 | Jack Klimowicz | 78 | 43 | – | 35 |
| 16 | Lee Butson | 76 | 32 | 33 | 11 |
| 17 | Nathan Moulton | 73 | 18 | 22 | 33 |
| 18 | Paul Aldridge | 68 | 27 | 18 | 23 |
| 19 | Adam Durkin | 66 | 41 | 25 | – |
| 20 | Edward Pegram | 63 | 23 | 13 | 27 |
| 21 | Mason Miller | 63 | 30 | 17 | 16 |
| 22 | Benjamin Watling | 57 | 20 | 19 | 18 |
| 23 | Robbie Pearmain | 56 | 12 | 24 | 20 |
| 24 | Vincent Snell | 53 | 9 | 30 | 14 |
| 25 | Josh Andrews | 52 | 11 | 26 | 15 |
| 26 | Lee Keyton | 50 | 8 | 14 | 28 |
| 27 | Simon Daniels | 47 | – | 45 | 2 |
| 28 | Jack Watling | 46 | 21 | 16 | 9 |
| 29 | Karl Sturman | 43 | 28 | 5 | 10 |
| 30 | Sam Nicholls | 39 | 15 | 11 | 13 |
| 31 | Olly Quinsee | 38 | 7 | 9 | 22 |
| 32 | Ty Atkins | 33 | 6 | 10 | 17 |
| 33 | Charlie Starsmoore | 32 | 13 | 7 | 12 |
| 34 | Oliver Macey | 30 | 5 | 6 | 19 |
| 35 | Bradley Allen | 30 | 10 | 12 | 8 |
| 36 | Lewis Saunders | 28 | 14 | 8 | 6 |
| 37 | Stephen Atkins | 24 | – | 20 | 4 |
| 38 | Alexander Dutton | 19 | 16 | 2 | 1 |
| 39 | James Gadd | 13 | 2 | 4 | 7 |
| 40 | James Light | 11 | 3 | 3 | 5 |
| 41 | George Reeves Furness | 4 | 4 | – | – |
| 42 | Lewis Joyce | 3 | – | – | 3 |
| 43 | Jake Pearce | 2 | 1 | 1 | – |
Support B
| | | | | | |
| --- | --- | --- | --- | --- | --- |
| Pos | Competitor | Points | R1 | R2 | R3 |
| 1 | Josh Sturman | 129 | 43 | 43 | 43 |
| 2 | Andrew Cattermole | 129 | 45 | 45 | 39 |
| 3 | Teddy Howard | 121 | 35 | 41 | 45 |
| 4 | Jay Peperell | 119 | 39 | 39 | 41 |
| 5 | Ryan Preston | 103 | 34 | 37 | 32 |
| 6 | Henry Utting | 98 | 37 | 34 | 27 |
| 7 | Ollie Denyer | 95 | 41 | 35 | 19 |
| 8 | Luke Clifton | 94 | 30 | 31 | 33 |
| 9 | Oliver Brinkley | 92 | 32 | 29 | 31 |
| 10 | Daniel Lawlor | 91 | 24 | 30 | 37 |
| 11 | Matthew Cummings | 91 | 33 | 28 | 30 |
| 12 | Reece Horne | 90 | 29 | 32 | 29 |
| 13 | Jenson Whitehall | 84 | 16 | 33 | 35 |
| 14 | Luke Reeve | 73 | 23 | 24 | 26 |
| 15 | Max Monk | 72 | 27 | 22 | 23 |
| 16 | Aidan Weston | 72 | 28 | 23 | 21 |
| 17 | Wayne Fulcher | 68 | 17 | 27 | 24 |
| 18 | Lloyd Goldstraw | 62 | 15 | 25 | 22 |
| 19 | Alfie Hunt | 62 | 31 | 14 | 17 |
| 20 | Aaron Holden | 62 | 25 | 21 | 16 |
| 21 | Robert Bond | 60 | 20 | 12 | 28 |
| 22 | Justin Dennis | 57 | 22 | 15 | 20 |
| 23 | Troy Brumpton | 55 | 18 | 26 | 11 |
| 24 | Joshua Warren | 53 | 26 | 2 | 25 |
| 25 | Craig Page-Baker | 51 | 14 | 19 | 18 |
| 26 | Joshua Parker | 47 | 12 | 20 | 15 |
| 27 | Tyler Grimwood | 41 | 11 | 17 | 13 |
| 28 | George Stark | 37 | 19 | 18 | – |
| 29 | Senna Summers | 37 | 21 | 16 | – |
| 30 | James Collier | 35 | 8 | 13 | 14 |
| 31 | Harley Mower | 34 | – | – | 34 |
| 32 | Samuel Cook | 34 | 13 | 9 | 12 |
| 33 | Katie Stock | 26 | 10 | 10 | 6 |
| 34 | Chris Gaut | 21 | 6 | 6 | 9 |
| 35 | Jack Hunton | 18 | 3 | 5 | 10 |
| 36 | Ethan Pajak | 18 | 2 | 11 | 5 |
| 37 | Joshua Middleton | 15 | – | 7 | 8 |
| 38 | Alfie Arnold | 15 | 7 | 8 | – |
| 39 | John Smith | 13 | 9 | – | 4 |
| 40 | Tavis Coulson | 12 | 4 | 1 | 7 |
| 41 | Zachary Kneller | 10 | 5 | 3 | 2 |
| 42 | Jack Noon | 7 | – | 4 | 3 |
| 43 | Jake Cazey | 1 | 1 | – | – |
Support C
| | | | | | |
| --- | --- | --- | --- | --- | --- |
| Pos | Competitor | Points | R1 | R2 | R3 |
| 1 | Alex Buckenham | 133 | 43 | 45 | 45 |
| 2 | Joe Scillitoe | 129 | 45 | 41 | 43 |
| 3 | Ryan Harrington-Groves | 118 | 34 | 43 | 41 |
| 4 | Shaun Tacey | 115 | 41 | 39 | 35 |
| 5 | Darren Dowds | 113 | 39 | 37 | 37 |
| 6 | William Mcrae | 110 | 37 | 34 | 39 |
| 7 | Andrew Webster | 94 | 27 | 33 | 34 |
| 8 | Robert Green | 93 | 31 | 31 | 31 |
| 9 | David Homan | 93 | 33 | 30 | 30 |
| 10 | Jonathan Nudds | 91 | 30 | 29 | 32 |
| 11 | Darren Stone | 90 | 35 | 35 | 20 |
| 12 | Tony Rooke | 85 | 32 | 27 | 26 |
| 13 | William Pooley | 84 | 25 | 26 | 33 |
| 14 | Shaun Griffiths | 82 | 26 | 28 | 28 |
| 15 | Thomas Davies | 72 | 23 | 25 | 24 |
| 16 | Anna Groves | 71 | 24 | 20 | 27 |
| 17 | Ashley Reeve | 70 | 28 | 17 | 25 |
| 18 | Darren Watts | 65 | 22 | 21 | 22 |
| 19 | Andrew Smith | 63 | 21 | 19 | 23 |
| 20 | Adam Groom | 63 | 20 | 24 | 19 |
| 21 | Matthew Herring | 61 | 29 | 32 | – |
| 22 | Kai Ryder | 56 | 17 | 18 | 21 |
| 23 | Jake Harvey | 52 | – | 23 | 29 |
| 24 | Trevor Neave | 51 | 18 | 16 | 17 |
| 25 | Adam Baker | 43 | 14 | 14 | 15 |
| 26 | Lewis Diggins | 43 | 16 | 13 | 14 |
| 27 | Graham Muff | 37 | 12 | 9 | 16 |
| 28 | Daniel Allen | 34 | 5 | 11 | 18 |
| 29 | Geraint Hubbard | 34 | 19 | 15 | – |
| 30 | Kevin Puttock | 32 | 10 | 22 | – |
| 31 | Colin Booker | 31 | 9 | 10 | 12 |
| 32 | Kane Johnson | 28 | 8 | 7 | 13 |
| 33 | Stephen Hood | 27 | 15 | 12 | – |
| 34 | Robert Farrow | 21 | 13 | 8 | – |
| 35 | Darren Soames | 19 | 4 | 4 | 11 |
| 36 | Aiden Payne | 18 | 2 | 6 | 10 |
| 37 | Mark Jackson | 16 | 3 | 5 | 8 |
| 38 | Paul Neave | 11 | – | 2 | 9 |
| 39 | Jeremy Savory | 11 | 1 | 3 | 7 |
| 40 | Michael Blaxell | 11 | 11 | – | – |
| 41 | George Brinkley | 7 | – | 1 | 6 |
| 42 | Jason Turner | 7 | 7 | – | – |
| 43 | Jonathan Boreham | 6 | 6 | – | – |