Sensational Foden fires Team GB to Second in 2023 FIM Sidecarcross of Nations – Race Report & Results
Raceday of the 2023 FIM Sidecarcross of Nations in Cingoli, Itlay began in glorious weather, with temperatures in the high twenties expected. The enthusiastic crowd was in party mood and welcomed the quad and sidecar teams onto the start area as the equally enthusiastic announcer called them out. Team USA were typically flamboyant with the stars and stripes proudly displayed by each team member.
Race Report by Barry Nutley – Images courtesy of WSC
The track appeared to be in great shape and with ten minutes to go before the opening race, the tension was immense.
Warm Up – There were no dramas, and the overall feeling was one of excitement, but in a relaxed way, with all world championship duties over and done with. The track rode well, had not been overly watered, and all was in good shape for the off.
Quads would go first, so things would change slightly before the sidecars took to the track.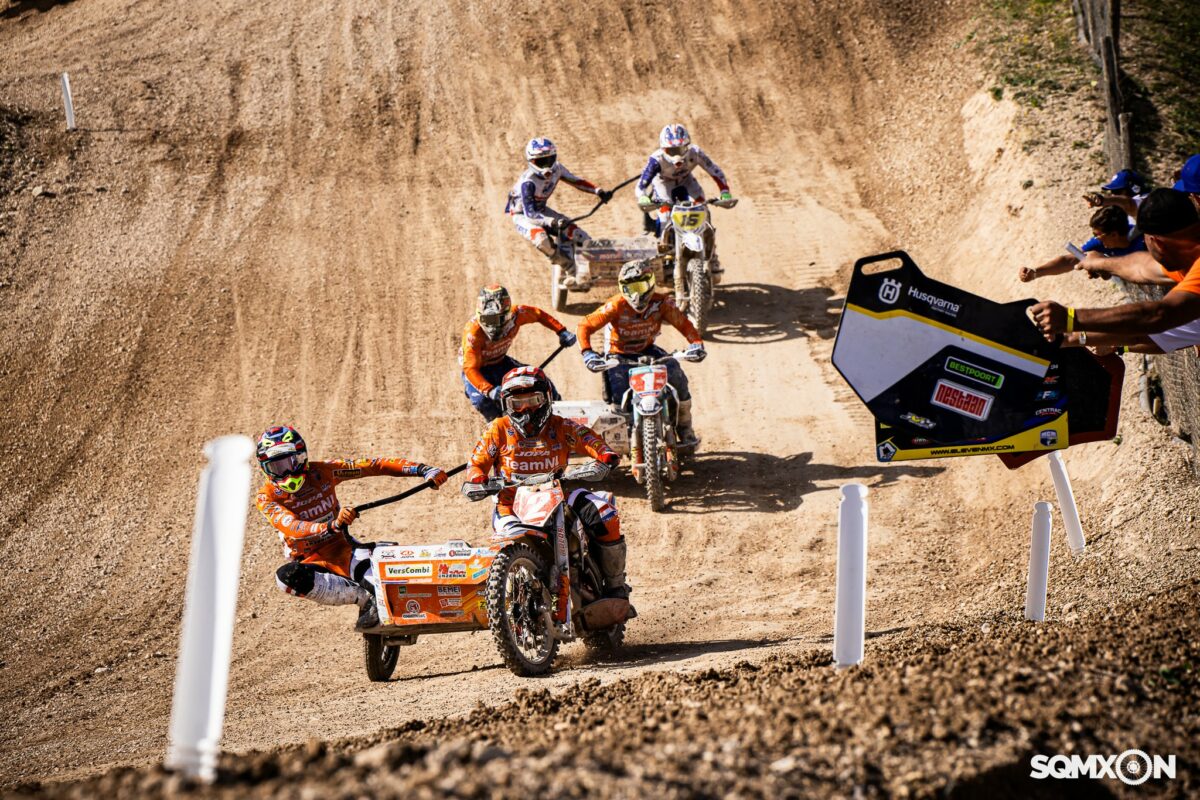 Race One (A+B) – The heat had risen by at least a couple of degrees, and this would be tough for the teams.
From the gate, the rush to turn one was a success for Keuben/Van Der Wiel who shot into a good lead out of turn one. Etienne Bax had started from row two and would have to work hard all race long. The Prunier brothers and their French pals Hamard/Lupon were next up ahead of Dan Foden/Ryan Humphrey and Vanluchene/Bax. Hamard stopped with a mechanical problem allowing Vanluchene through.
There was then a terrific four-way battle between Keuben, Foden, Prunier and Vanluchene with the Belgian team fighting through to second place.
Foden was suddenly in front, and then slipped fourth, only to start a recovery plan.
Vanluchene closed onto the back of race leader Keuben and was poised to make a move when suddenly the line was closed by Keuben.
Left with nowhere to go, Marvin hit the loose stuff trackside, slewed sideways and crashed heavily. Robbie Bax took a big knock and looked dazed.
This took them out of the running and Foden made the most of it. He and Ryan fought past Prunier and then Keuben.
Bax, by this time was up to fifth, having problems getting past the Estonians Lihtsa/Lina. The Baltic team were having a fantastic race.
Once at the front, Foden opened a two second lead which held good to the flag for a team GB victory. Bax made it home in second place.
Result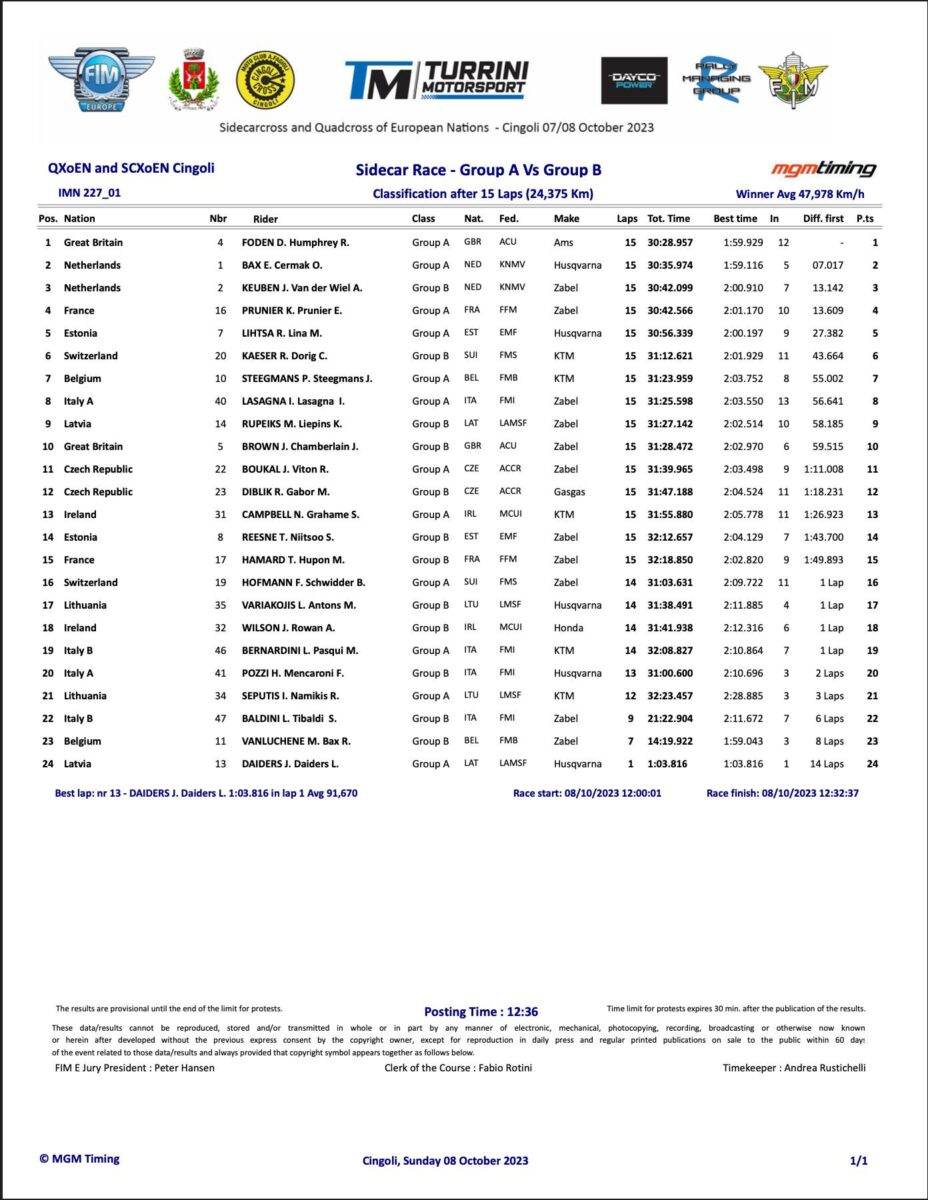 Race Two (B+C) –It was yet another holeshot for Justin Keuben/Aivar Van der Wiel ahead of the two French crews of Auvray/Musset and Hamard/Hupon, with a pile-up at the first turn involving Normak/Lamp. They were quick to recover and would claim a worthwhile position at the flag.
Last away from the gate after an appalling start, Brett Wilkinson/Joe Millard fought like lions behind Koen Hermans/Ben Van Den Bogaart who had started from the back row. The Lielbardis twins were quickly on the case of the leaders, and soon relegated Hamard, setting after the two leaders.
Davy Sanders/Luc Rostingt sat fifth, but were surrounded by scrapping outfits, including Jake Brown/Josh Chamberlain making the most of an average start.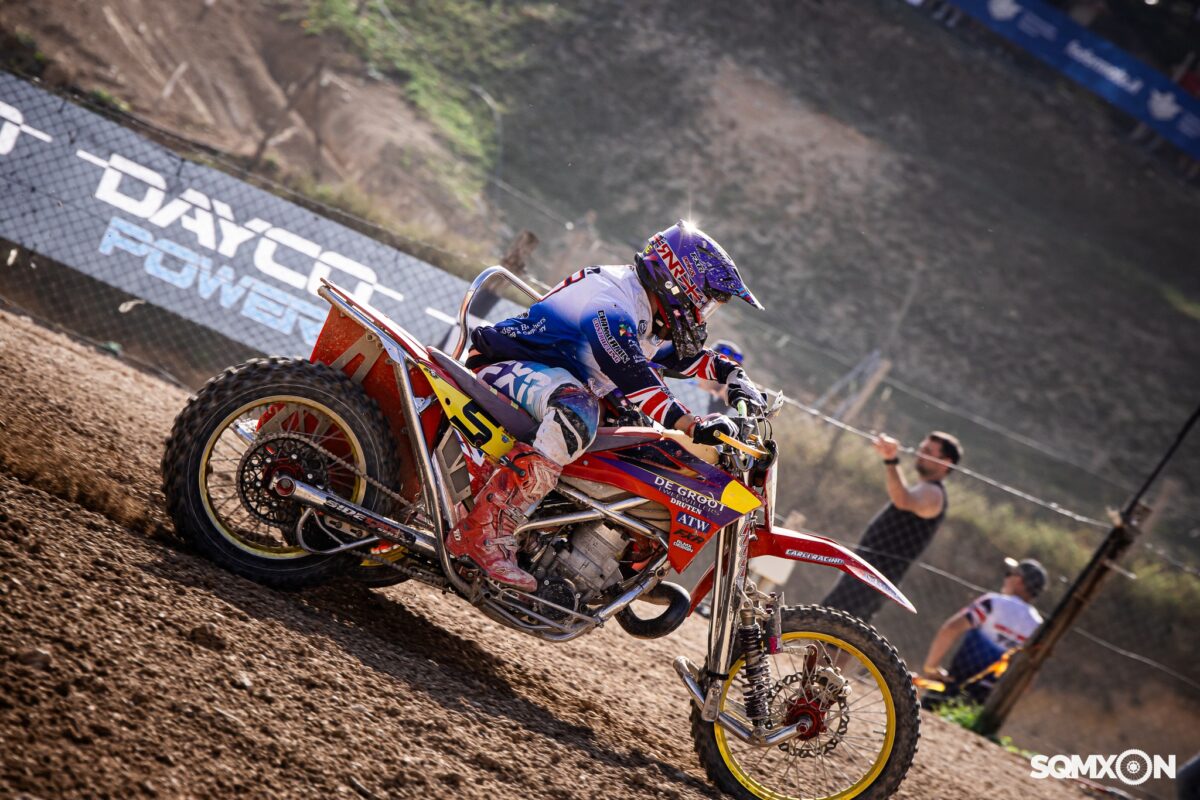 Back at the front, Auvray/Musset kept at it, almost taking the lead from Keuben on a couple of occasions, but the Netherlands team held their nerve, and stayed ahead.
Into the closing stages, and Hermans had fought to fifth ahead of Remo Kaser, only to have the mystery gremlin stop the bike once again. They got going in eighth, but it stopped again permanently, much to Herman's disgust.
The Lielbardis boys grabbed the lead with two laps left, just as Keuben stalled the bike, allowing Auvray to go second.
Wilkinson/Millard registered a fine fourth after a herculean fight through the pack, putting Great Britain in the lead of the standings.
Result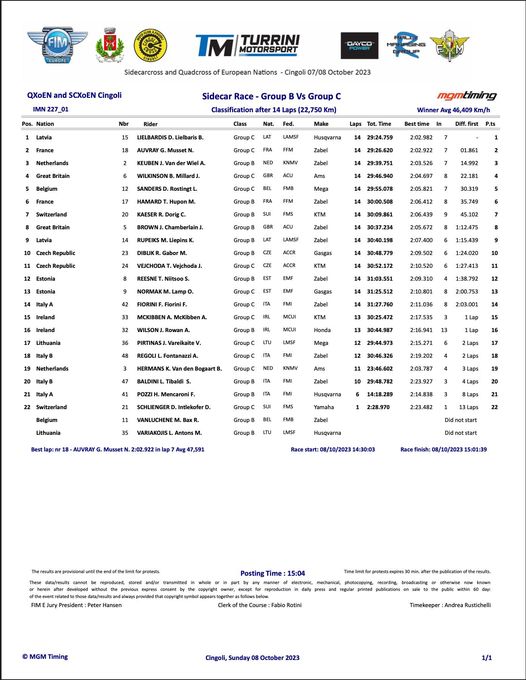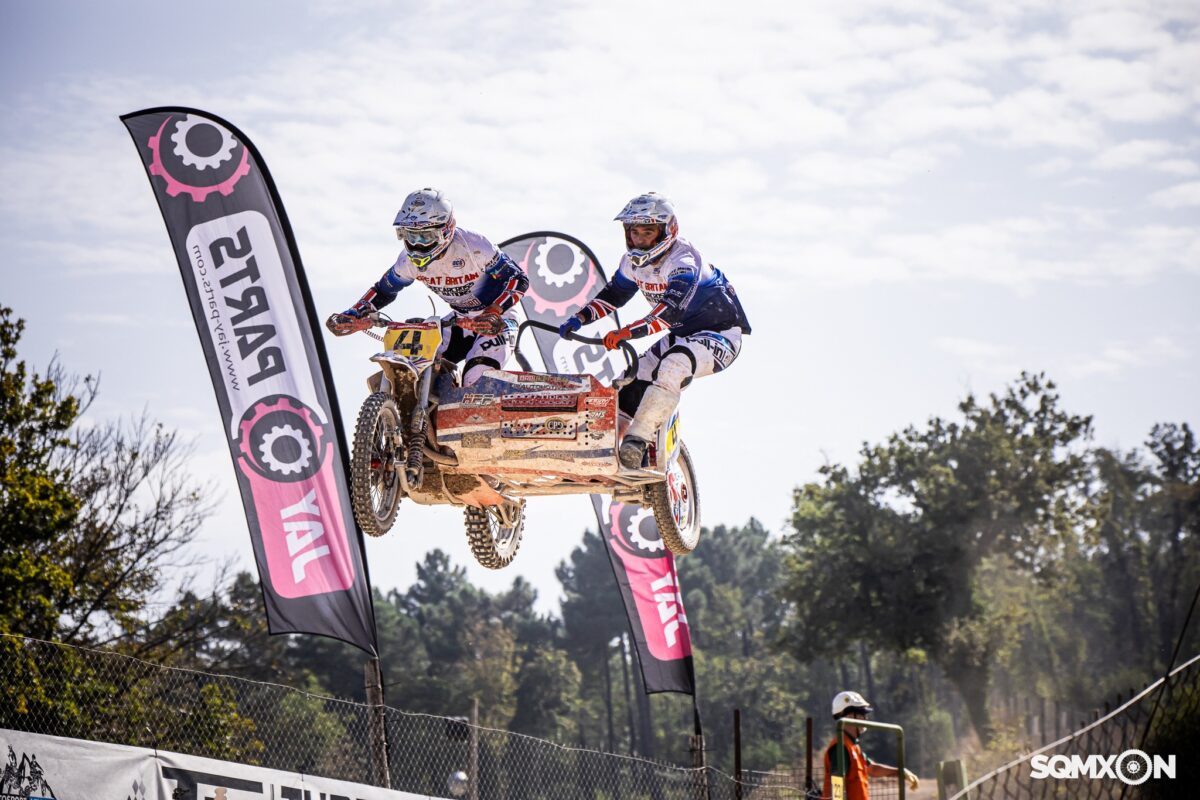 Race Three (A+C) – The gate went down for the final time with Koen Hermans/Ben Van Den Bogaart leading from Auvray/Musset and Steegmans/Steegmans third, vying for second spot. This was a great start for Peter Steegmans. He was to prove a thorn in the side for many on the early laps. Auvray was then forced to play catch up from twelfth place after he and Musset tipped up after hitting a deep hole on the opening lap.
Etienne Bax/Ondrej Cermak from the second row were quickly in the mix with Dan Foden/Ryan Humprey once again flexing their muscles to be at the sharp end. Steegmans was still in third as Bax made his way through to lead, passing Foden/Humphrey along the way.
Hermans now sat second, and that was how it looked to be, but no-one reckoned on Foden/Humphrey pushing as hard as they did. They moved second, going past Hermans in style, with Brett Wilkinson/Joe Millard making similar inroads from a lowly first lap.
The battle was all about Team GB versus Team Netherlands, and it was a great one.
Then came huge drama, as Bax signalled to Cermak there was a problem. They were then nursing the Husky home as first Foden went by followed by Hermans. Dan Foden and Ryan Humphrey were heading for their second victory of the day, and no-one was going to stop them.
Everyone was then looking at Brett Wilkinson to catch Hermans, but it was not to be. The gap was about six seconds at the flag, but Hermans held third and clinched the 2023 Sidecar Cross of Nations title for the Netherlands.
Result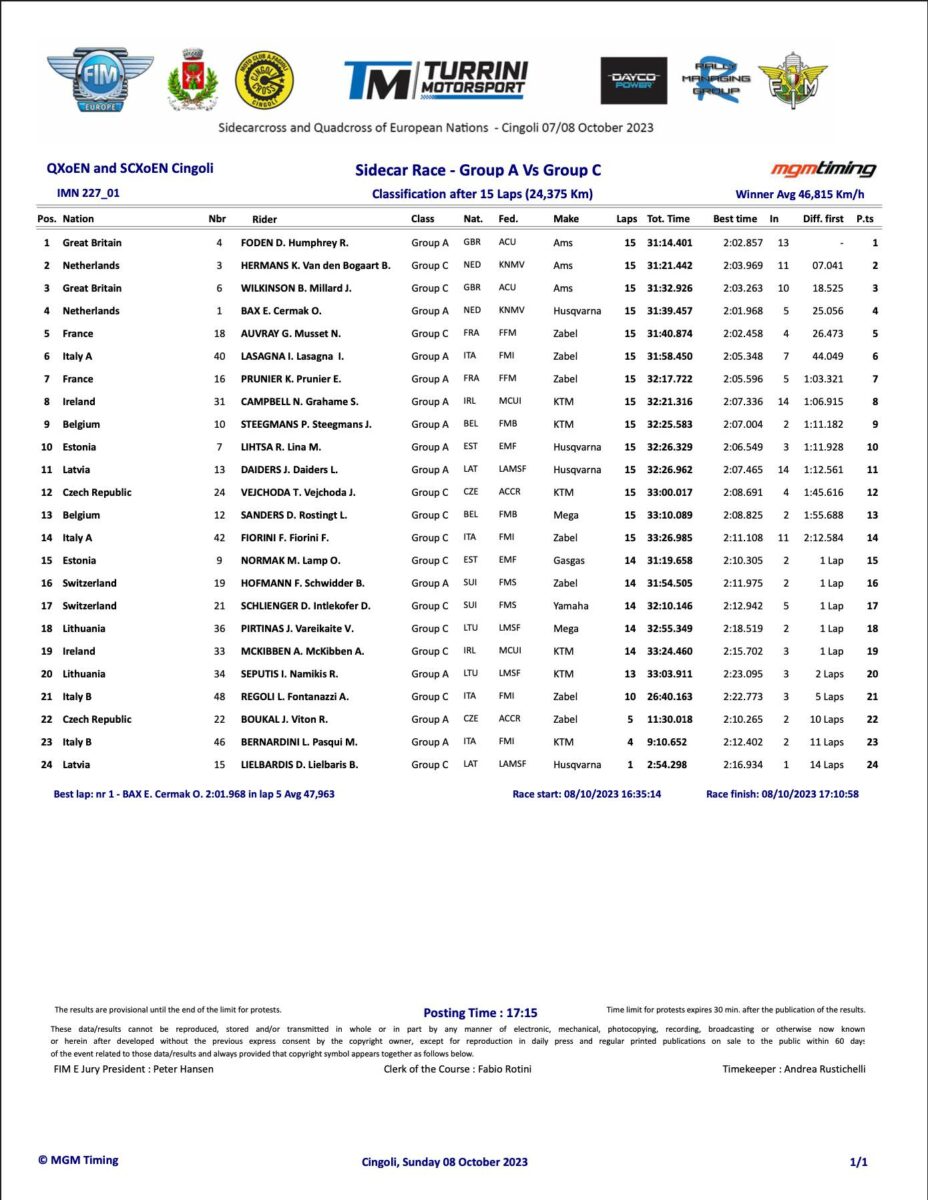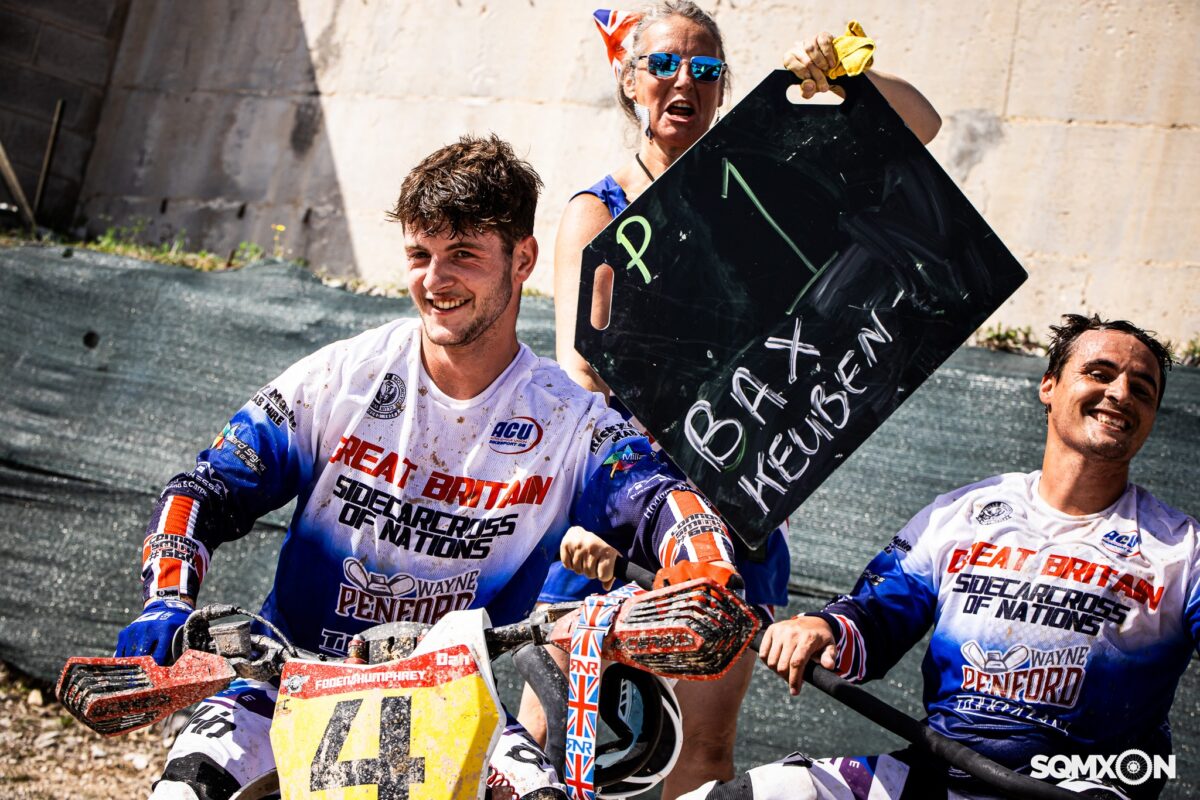 Overall Team Result