Mega win for Ricky! Fast Eddy Club Club Championships Round 2 – Race Report & Results
Sunday 11th July saw Round 2 of the Fast Eddy Club Championships, taking place for the second time at the 'Mega Venue' near to Llanfyllin, but on the other side of the road. The venue always warrants incredible feedback as the track has something for everyone- rolling hills and flat-out straights, as well as technical woods sections and grassy corners.
Report and Images courtesy of Tilde Tighe – Foto-X
After another practice day on Saturday, the Kids Race started at 3:30 and, despite the heavens opening overnight and for most of the morning, the sun was shining!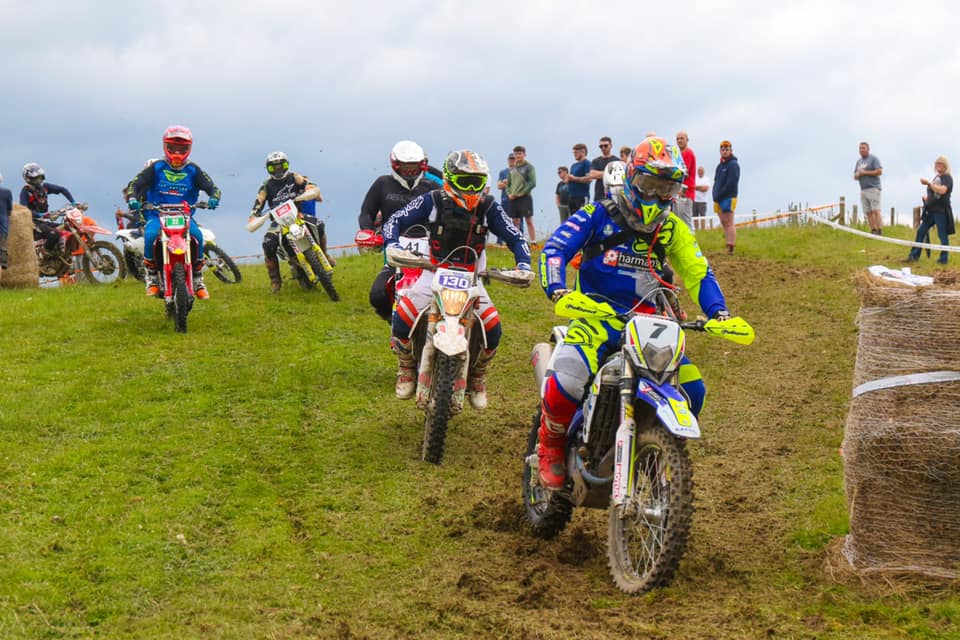 Tom Dyson put in an excellent ride In the BW 85cc class it was to take first place and the overall race win, finishing 1 minute 40 second ahead of second placed Millie Crump. Third in class was Conna Ward, having completed 9 laps. Jack Brookes took the class win in the SW 85cc class and he also achieved second overall in the race, followed by Royston Totty in second and Alfie Dawson in third.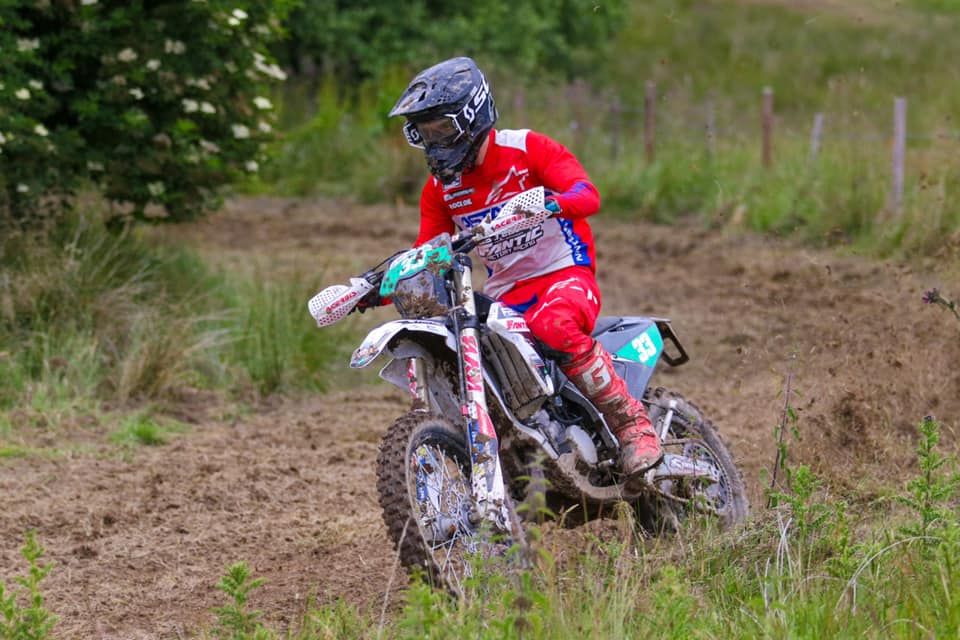 In the 65cc class it was Harry Jordan who took the top spot on the podium for the second time this season, as well as an impressive 3rd overall, putting in competitive times among kids on much bigger bikes. Second place went to Talon Harbour, followed closely by Selby Crump. The Autos e winner, Jack Foreman, completed 10 laps- more than some of the 85ccs! Second was Tommy Rowan with Adas Juska was close behind in third, the same podium as Round 1.
The first adults race on Sunday began bright and early at 9:30 am, it's going to take some getting used to that early wake up for the AM race riders!
Colby Moorcroft took the Sportsman 2T and overall race win, completing an impressive 11 laps and lapping every other competitor at least once! Jamie Dawson was a lap down to place second in class, with Tim Thornton third. In the Sportsman 4T class it was Roy Bloomfield who took the lead for the second time in front of Lawrence Wright in second and Ben Cook in third.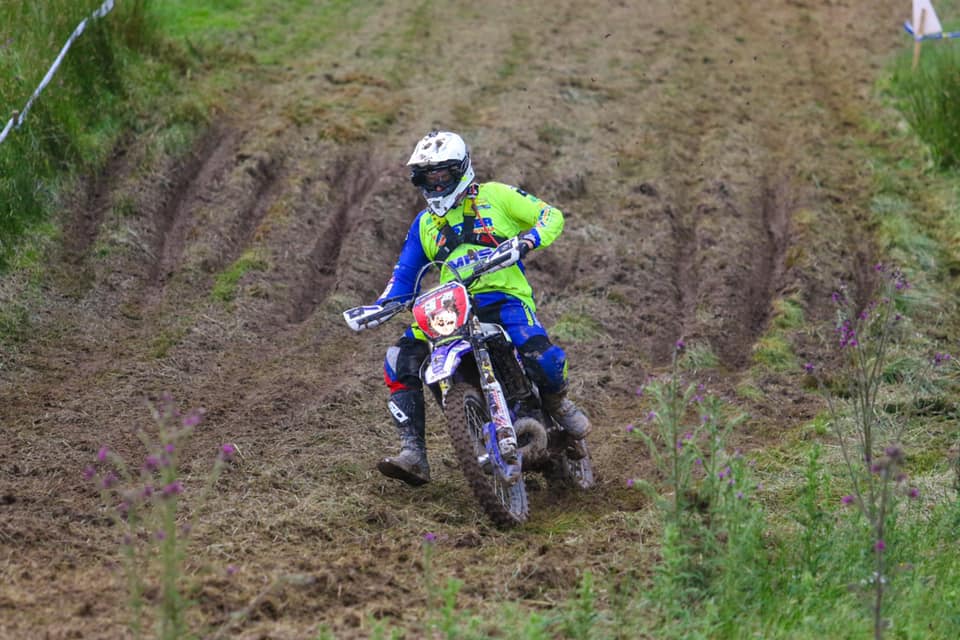 The Over 50s and Vets were once again highly contested classes! In the Over 50s B it was Julian Cook who took first place with a 2.5-minute lead on second placed Shaun James, followed by Steve Taylor in third. As for the Vets B class, Saxon Nel rode well to take the win, followed by Andy Whieldon in second and Kieran Jordan rounding out the podium in third.
In the Novice class, Mark Thompson got out in front and led his class throughout to win, 9 minutes ahead of second placed Reece Hadley and a lap up on third placed Kriksciukaitis Marius.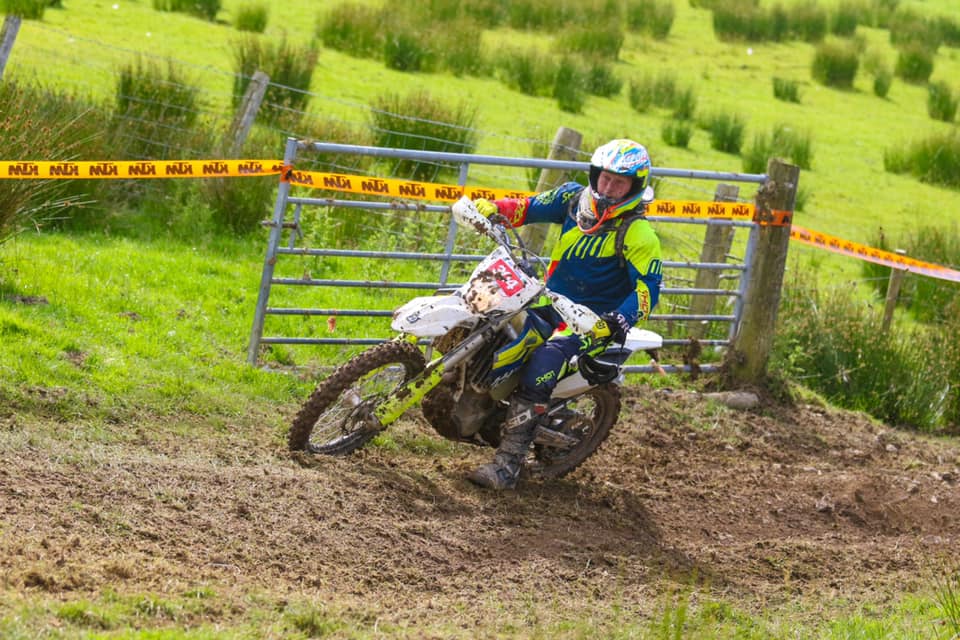 The 85cc Class was very competitive as always, and it's always great to see them making their way through the field to compete with the adults! However, it was Will Barnett who dominated the class to take the win nearly 3 minutes ahead of Stefan Hopkins in second place, with Dylan Tinker in third.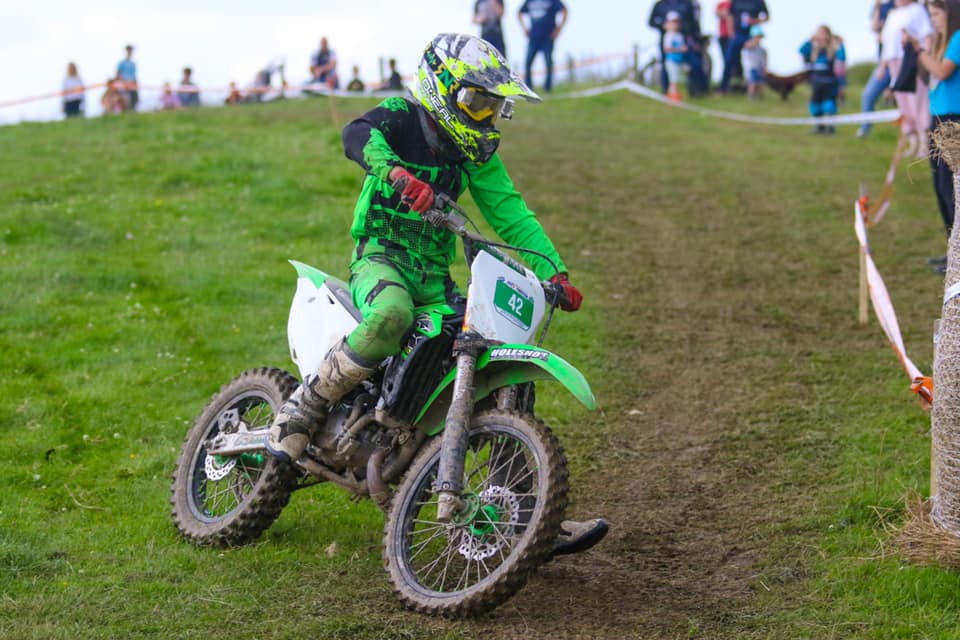 The PM race was also 2 hours long and tackled the track that had been worn in by the AM race riders, with a few extra sections added in to up the difficulty.
The Expert class was once again packed full of fast riders! It was Ricky Wiggins who put in an excellent ride to take the Expert class and overall race win! He managed 13 laps, as did second placed Joe Deakin, who was also second overall. Close behind them was Alfie Webb, taking third in class and overall.
Tom Sagar also decided to race at the very last minute, starting after all the classes had left the start line, and he provisionally achieved P2, but of course he is not part of the championship, therefore, gains no points.
In the Clubman 2T class it was Sion Evans who took the top spot on the podium, followed nearly 3 minutes behind by Ash Cotterell, with Cynan Jones a further 2 minutes behind in third. As for the Clubman 4T's, Henry Harman put in an excellent ride to take the class win, with Ryan Phillips hot on his tail just 13 seconds behind, and Freddie Davies in third.
It was Derek Bawn who came out on top again in the Vets A class! One lap behind in second place was Lee Hattersley, and Cefyn Games was also a lap down on Bawn in third. In the Over 50s, Chris Wagstaff put a great ride in and took the class win, followed by Andy Harvey and Pat Delaney, both 3.5 minutes and a lap down on Wagstaff respectively.
The final class in the PM race, Youth A, was exciting to watch too! In a great day for the PAR Homes Youth Team, Rhydian Rees dominated the race to take the top spot on the podium and lap Jack Sandland who took second place in class. Antonio Taylor was a further 4 minutes behind in third place.
Thanks for all the support as usual on behalf of the Fast Eddy Team, and see you for Round 3 at Greenhall Farm- keep an eye out on the Fast Eddy Facebook Group for confirmed dates and more!
Results
PM Race
| | | | |
| --- | --- | --- | --- |
| Pos | Competitor | Diff | Laps |
| 1 | Ricky Wiggins | 0 | 13 |
| 2 | Joe Deakin | 51.525 | 13 |
| 3 | Alfie Webb | 1 lap | 12 |
| 4 | Cole Cookland | 1 lap | 12 |
| 5 | Dawson Marriott | 1 lap | 12 |
| 6 | Jane Daniels | 1 lap | 12 |
| 7 | Adam James | 1 lap | 12 |
| 8 | Jacob James | 2 laps | 11 |
| 9 | Ethan Pugh | 2 laps | 11 |
| 10 | Sion Evans | 2 laps | 11 |
| 11 | Ash Cotterrell | 2 laps | 11 |
| 12 | Derek Bawn | 2 laps | 11 |
| 13 | Henry Harman | 2 laps | 11 |
| 14 | Ryan Phillips | 2 laps | 11 |
| 15 | Cynan Jones | 2 laps | 11 |
| 16 | Tom Slater | 2 laps | 11 |
| 17 | Ant Trawford | 2 laps | 11 |
| 18 | Josh Knight | 2 laps | 11 |
| 19 | Callum Hughes | 2 laps | 11 |
| 20 | Adam Barrett | 2 laps | 11 |
| 21 | Rhydian Rees | 2 laps | 11 |
| 22 | Jack Sandland | 3 laps | 10 |
| 23 | Lee Hattersley | 3 laps | 10 |
| 24 | Freddie Davies | 3 laps | 10 |
| 25 | Grant Thomas | 3 laps | 10 |
| 26 | Cameron Games | 3 laps | 10 |
| 27 | Antonio Taylor | 3 laps | 10 |
| 28 | Chris Wagstaff | 3 laps | 10 |
| 29 | Jack Evans | 3 laps | 10 |
| 30 | Cefyn Games | 3 laps | 10 |
| 31 | Olly Ray | 3 laps | 10 |
| 32 | Andrew Hickman | 3 laps | 10 |
| 33 | Roan Delaney | 3 laps | 10 |
| 34 | Russell Woolley | 3 laps | 10 |
| 35 | Andy Harvey | 3 laps | 10 |
| 36 | Will Westwell | 3 laps | 10 |
| 37 | Tom Brazier | 3 laps | 10 |
| 38 | Ryan Stoneley | 3 laps | 10 |
| 39 | Lucas Travers | 4 laps | 9 |
| 40 | Bobby Friel | 4 laps | 9 |
| 41 | Pat Delaney | 4 laps | 9 |
| 42 | Jason Rowlands | 4 laps | 9 |
| 43 | James Palmer | 4 laps | 9 |
| 44 | Seth Grazier | 4 laps | 9 |
| 45 | Dean Burgess | 4 laps | 9 |
| 46 | Cole Elliott | 5 laps | 8 |
| 47 | Archie Collier | 5 laps | 8 |
| 48 | Ben Cunnah | 5 laps | 8 |
| 49 | Jamie Wilson | 5 laps | 8 |
| 50 | Max Agar | 5 laps | 8 |
AM Race
| | | | |
| --- | --- | --- | --- |
| Pos | Competitor | Diff | Laps |
| 1 | Colby Moorcroft | 0 | 11 |
| 2 | Julian Cook | 1 lap | 10 |
| 3 | Saxon Nel | 1 lap | 10 |
| 4 | Roy Bloomfield | 1 lap | 10 |
| 5 | Andy Wheildon | 1 lap | 10 |
| 6 | Jamie Dawson | 1 lap | 10 |
| 7 | Tim Thornton | 1 lap | 10 |
| 8 | Shaun James | 1 lap | 10 |
| 9 | Lawrence Wright | 1 lap | 10 |
| 10 | Simon Tate | 1 lap | 10 |
| 11 | Kieran Jordan | 1 lap | 10 |
| 12 | Shaun Marchington | 1 lap | 10 |
| 13 | Ant Park | 1 lap | 10 |
| 14 | John Robson | 1 lap | 10 |
| 15 | Ben Cook | 1 lap | 10 |
| 16 | Kirk Giles | 1 lap | 10 |
| 17 | Will Barnett | 1 lap | 10 |
| 18 | Tom Tate | 1 lap | 10 |
| 19 | Daniel Blairs | 1 lap | 10 |
| 20 | Mark Thompson | 1 lap | 10 |
| 21 | Kris Ankritt | 1 lap | 10 |
| 22 | Oliver Cook | 1 lap | 10 |
| 23 | Lee Carpenter | 1 lap | 10 |
| 24 | Jake Trawford | 1 lap | 10 |
| 25 | Jayden Giles | 1 lap | 10 |
| 26 | Mindaugas Juska | 1 lap | 10 |
| 27 | Daniel Kean | 1 lap | 10 |
| 28 | Louis Allen | 1 lap | 10 |
| 29 | Stefan Hopkins | 1 lap | 10 |
| 30 | Dean Hancox | 1 lap | 10 |
| 31 | Neil Sweeney | 1 lap | 10 |
| 32 | Dylan Tinker | 1 lap | 10 |
| 33 | Tim Mitchell | 1 lap | 10 |
| 34 | Ryan Griffiths | 1 lap | 10 |
| 35 | Aaron Webb | 1 lap | 10 |
| 36 | Gavin Barnett | 1 lap | 10 |
| 37 | Reece Hadley | 1 lap | 10 |
| 38 | Marius Krikscautis | 2 laps | 9 |
| 39 | Rhydian Price | 2 laps | 9 |
| 40 | Kyle Strall | 2 laps | 9 |
| 41 | Alfie Davies | 2 laps | 9 |
| 42 | Ellis Smith | 2 laps | 9 |
| 43 | Damian Hirst | 2 laps | 9 |
| 44 | Jake Moore | 2 laps | 9 |
| 45 | Elgan Pugh | 2 laps | 9 |
| 46 | Leon Thomas | 2 laps | 9 |
| 47 | Michael Murphy | 2 laps | 9 |
| 48 | Steve Taylor | 2 laps | 9 |
| 49 | Kye Murray | 2 laps | 9 |
| 50 | Neville Mower | 2 laps | 9 |
| 51 | Dylan Lych | 2 laps | 9 |
| 52 | Lewis Cooling | 2 laps | 9 |
| 53 | Ricky Kirpanik | 3 laps | 8 |
| 54 | Archie Jordan | 3 laps | 8 |
| 55 | Wayne Parkes | 3 laps | 8 |
| 56 | Sion Williams | 3 laps | 8 |
| 57 | Ewan Edwards | 3 laps | 8 |
| 58 | Anthony Litchfield | 3 laps | 8 |
| 59 | Holly Rigden | 3 laps | 8 |
| 60 | Colin Evans | 3 laps | 8 |
| 61 | Mindaugas Jasas | 4 laps | 7 |
| 62 | Reece Hill | 4 laps | 7 |
| 63 | Rees Giles | 5 laps | 6 |
| 64 | Gareth Davis | 5 laps | 6 |
| 65 | Robertas Buoziuf | 6 laps | 5 |
| 66 | Dale Beck | 6 laps | 5 |
| 67 | Jason Guy | 6 laps | 5 |
| 68 | Joseph Duffy | 6 laps | 5 |
| 69 | Riley Hill | 7 laps | 4 |