Jane Daniels crowned Women's Enduro World Champion On Day One as Garcia takes E1 title At EnduroGP Of Portugal – Report, Highlights and Results
The opening day of racing at the seventh and final round of the Paulo Duarte FIM EnduroGP World Championship saw Red Bull KTM Factory Racing's Josep Garcia crowned Enduro1 World Champion. By winning the overall EnduroGP classification, en route to topping the Enduro1 category, Spaniard Garcia became the first 2023 champion crowned in Santiago do Cacem in Portugal.
Report and Images by EnduroGP
Further celebrations quickly followed in the paddock with Fantic JET Racing's Jane Daniels winning the Magnorange FIM Women's Enduro World Championship. Fantic Factory Racing's Kevin Cristino added to the occasion on Saturday afternoon by locking down the Youth Enduro world title too.
World champions crowned on day one at EnduroGP finale in Portugal
Josep Garcia (KTM) tops EnduroGP and secures Enduro1 title
Jane Daniels (Fantic) wins Women's Enduro World Championship
Day one at the seventh and final round of the Paulo Duarte FIM EnduroGP World Championship was one of multiple celebrations as the first of our 2023 world champions were crowned in Santiago do Cacem. After an exciting day's racing, the Enduro1, Youth Enduro, and Women's Enduro titles were won by Josep Garcia (KTM), Kevin Cristino (Fantic) and Jane Daniels (Fantic) respectively.
Exciting battles throughout EnduroGP classification on day one
Nerves were high among the potential champions as they rolled off the start ramp this morning in Santiago do Cacem. However, with the POLISPORT Extreme Test first on the menu, any remaining butterflies soon disappeared. CH Racing Sherco's Hamish MacDonald set the quickest time, with GASGAS Factory Racing's Andrea Verona right behind him in second and Beta Factory Racing's Brad Freeman third.
On the following JUST1 Enduro Test, RedMoto Honda's Nathan Watson and Samuel Bernardini went 1-2, but with Garcia slotting into third, it moved him into the overall lead. Verona went on to top the opening ACERBIS Cross Test to keep the pressure firmly on Garcia. Fast Eddy Racing's Jamie McCanney was holding down third overall, while EnduroGP points leader Steve Holcombe (Beta) was beginning to climb his way up the leaderboard after a bad start.
Winning the opening CrossPro Enduro Test, Garcia held a two-second lead over Verona as the duo ended lap one over 14 seconds clear of McCanney in third. McCanney, who was having one of his best rides of the season, was fending off Watson, MacDonald, and Holcombe, who were all within seven seconds of the Manxman.
At the end of lap two, Garcia had extended his advantage over Verona to 10 seconds, while Holcombe raced his way into third. The third and final lap would tell all.
Holcombe had Verona in his sights and won both the POLISPORT Extreme Test and JUST1 Enduro Test, before Garcia topped the final ACERBIS Cross Test as well as the CrossPro Enduro Test to ultimately win the day. Verona played his cards right and managed the gap perfectly to Holcombe to hold onto second. The EnduroGP title fight will go down to the wire tomorrow.
McCanney capped off a great ride for fourth overall, while Bernardini got the better of Watson and MacDonald to complete the top five.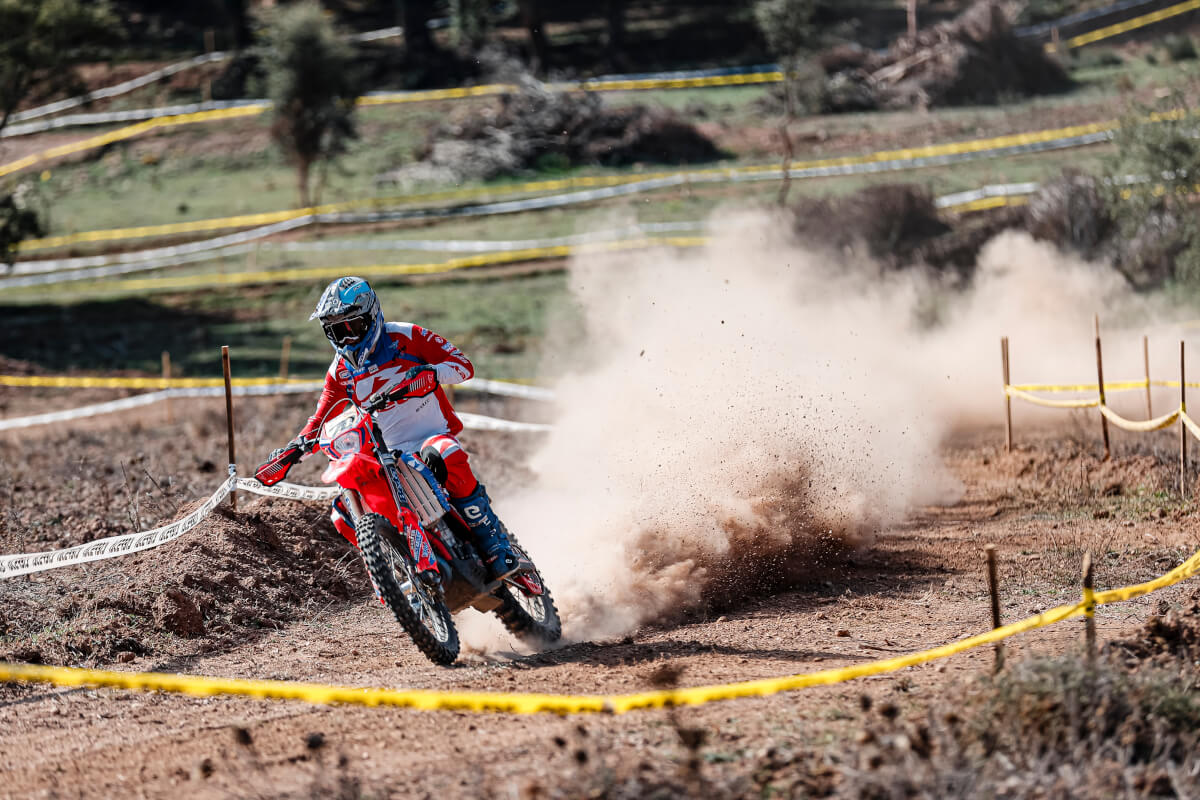 Garcia claims Enduro1 title on day one
With his EnduroGP win, Garcia marched ahead to claim Enduro1 honours and with it secure the Enduro1 world title with a day to spare. McCanney took second, with Pichon rounding out the podium.
The Enduro2 win went to Verona, finishing 15 seconds ahead of Holcombe. Verona's win also ensures the championship outcome between the duo won't be decided until tomorrow's final special test. Bernardini held off Watson to take third.
Brad Freeman put his Beta on top to take a crucial victory in Enduro3. He held off closest championship rival Mikael Persson (Husqvarna) by five seconds to increase his championship lead to 12 points. JET Zanardo Husqvarna's Christophe Charlier beat WP Eric Auge's Jaume Betriu by half a second to take the final step of the podium.

Daniels crowned Women's Enduro World Champion
The Magnorange FIM Women's Enduro World Championship saw Fantic JET Racing's Jane Daniels crowned world champion by securing her seventh consecutive win of the season. The Brit raced ahead to a 48-second margin of victory. However, she didn't have things easy. Francesca Nocera (Honda) topped six special tests to finish second. Mireia Badia (Rieju) ended her day third.
Cristino wins Youth Enduro world title
Settling for the runner-up spot behind Leo Joyon (Beta), Fantic's Kevin Cristino was crowned the 2023 Youth Enduro World Champion. Thibault Giraudon (Sherco) completed the top three.
The GALFER FIM Junior Enduro World Championship saw Fantic Factory Racing's Albin Norrbin take the win and close the gap to points leader Jed Etchells (Fantic) to seven points heading into tomorrow's final day of racing.
Etchells finished three seconds behind Norrbin in second, while Max Ahlin (KTM) was third. There was some early celebration for Etchells today, with the Manxman winning the Junior1 title.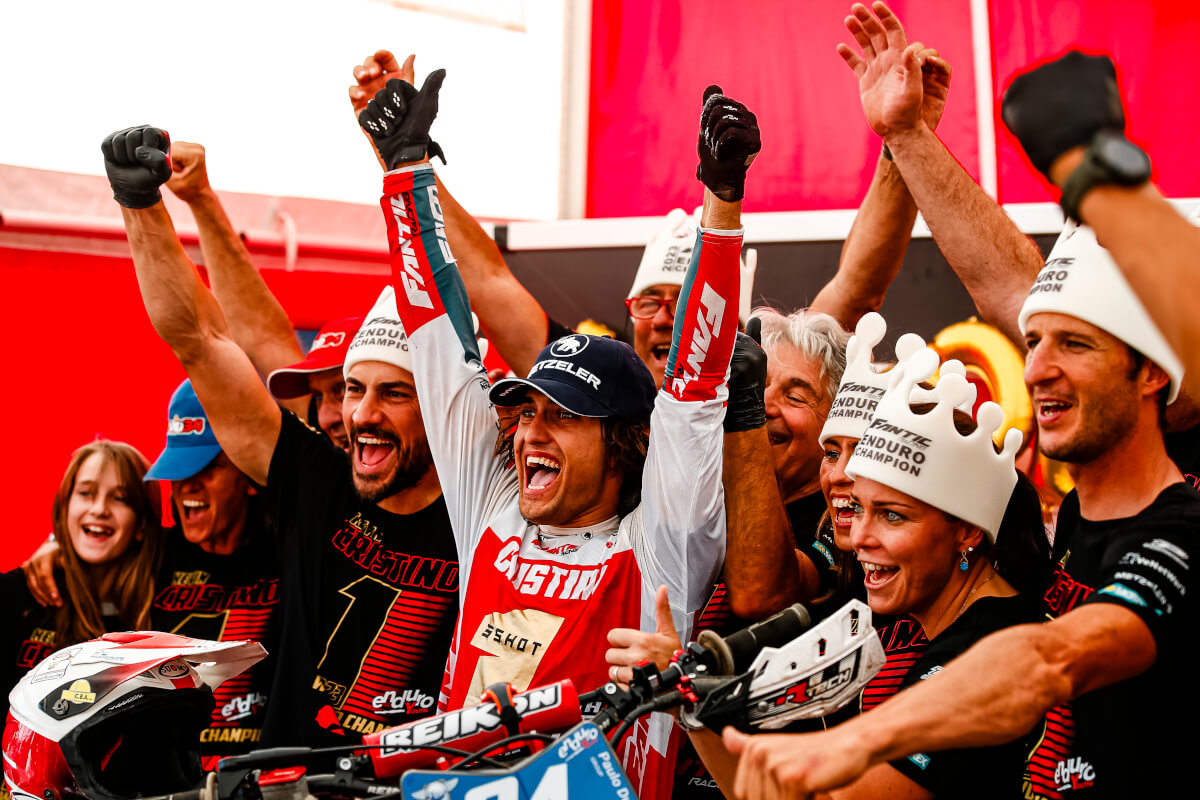 Josep Garcia (KTM): "After a big year it's incredible to come away with the Enduro1 title. There has been lots of ups and downs, but I never gave up trying. I'm happy for my team and everyone supporting me to take this win."
Kevin Cristino (Fantic): "It feels amazing to win the title. I've been working towards this goal for three years and now I've done it. Thank you to my team for helping me reach this moment!"
Jane Daniels (Fantic): "I'm so happy to take the title. It wasn't an easy day. The heat really got to me and I found it tough out there. Winning the title with seven wins from seven starts is amazing. It would be lovely to cap off my year with a perfect season, so I'll give my best."
Results: Round 7 – GP of Portugal, Day 1
EnduroGP
1. Josep Garcia (KTM) 1:02:04.83; 2. Andrea Verona (GASGAS) 1:02:13.83; 3. Steve Holcombe (Beta) 1:02:29.05; 4. Jamie McCanney (Husqvarna) 1:02:53.49; 5. Samuele Bernardini (Honda) 1:03:22.52; 6. Nathan Watson (Honda) 1:03:28.31; 7. Hamish MacDonald (Sherco) 1:03:34.37; 8. Zach Pichon (Sherco) 1:03:37.99; 9. Brad Freeman (Beta) 1:03:59.71; 10. Daniel Milner (TM Racing) 1:04:02.95…
>CLICK HERE for the full results<<