Dirty Dozen with Tom Ellwood
For a year when events have been on the slim side, British Enduro athlete Tom Ellwood sure has a good number of trophies under his belt, becoming the 2020 Armed Forces Champion, Fast Eddy Hawkstone Original Sprint Enduro Champion and the Witley Motoduro winner, so we thought it was time he downed tools and became the latest rider to take part in our Dirty Dozen feature…
Action Images courtesy of Paul Gray
Dirt Hub: Do you have a Pre-Race Playlist you listen too, and if so name a couple of tracks that are on it?
Tom: Got to be the 7deucedeuce. He's got some decent songs about moto to get you fired up!
DH: When was the last time you cried?
Tom: Haha a lot! Whether it be a sad film or even like a vet program and a dog dies or something. Not scared to have a little weep.
DH: What is your favourite inspirational quote?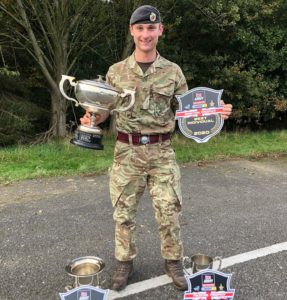 Tom: Hard work beats talent when talent doesn't work hard.
DH: Do you have any weird suspicions or pre-race rituals?
Tom: Hmm not really, to be honest, I've trained myself out of them as they weren't always in my control.
DH: What drives you most to get up in the morning and go training?
Tom: I love what I do. But also, someone has to let the dog out!
DH: If you didn't race what sport would you play or take part in?
Tom: This is tough as I love to do so many things. I think I'd say golf though. Got into it recently and it's so addictive, although I totally suck at it haha.

DH: What is your biggest Phobia?
Tom: Spiders! Definitely spiders!!
DH: Who is your biggest sporting idol and why?
Tom: I'll be honest I don't really have one. I love following a lot of great athletes but just admire anyone really who works hard for what they want and can push through set back after set back and come back and win.
DH: Where do you see yourself in five years time?
Tom: Surrounded by family and friends living life to the absolute full and enjoying whatever it is I may be doing!
Just kidding, of course, I'll be feet up on a big yacht somewhere hot and sunny sipping a G&T haha.
DH: What is your all-time favourite movie?
Tom: Forest Gump. Although Jenn will tell you it's pretty women.
DH: Who has had the biggest impact on your career?
Tom: There's been a lot of people but I'd say, my dad. Without him, none of this would have started. He's supported me from a kid to now and still helping me out.
DH: What is your philosophy on life?
Tom: Don't count the days, make the days count!
For more Dirty Dozen interview's head here >> https://www.dirthub.co.uk/dirty-dozen/