Dirty Dozen with Charlie Frost
Extreme Enduro Athlete and new Marsh MX Gas Gas signing Charlie Frost is the latest rider to power through our Dirty Dozen questions…
Feature Image courtesy of CH Images
Dirt Hub: Do you have a Pre-Race Playlist you listen too, and if so name a couple of tracks that are on it?
Charlie:  I do yes, I have my own personal playlist on Spotify called Pre-Race Jam. My top tracks I play are Summer91 (Looking Back) by Noizu, Afterglow by Wilkinson and 450 by BadBoyChillerCrew (which is a banger).
DH: When was the last time you cried?
Charlie: The last time I cried, I think has to be when I dislocated my knee and tore the ligaments around it back in 2017. Not gonna lie, once the gas and air kicked in, the tears soon disappeared!
DH: What is your favourite inspirational quote?
Charlie: My favourite inspirational quote is 'You only fail if you quit'.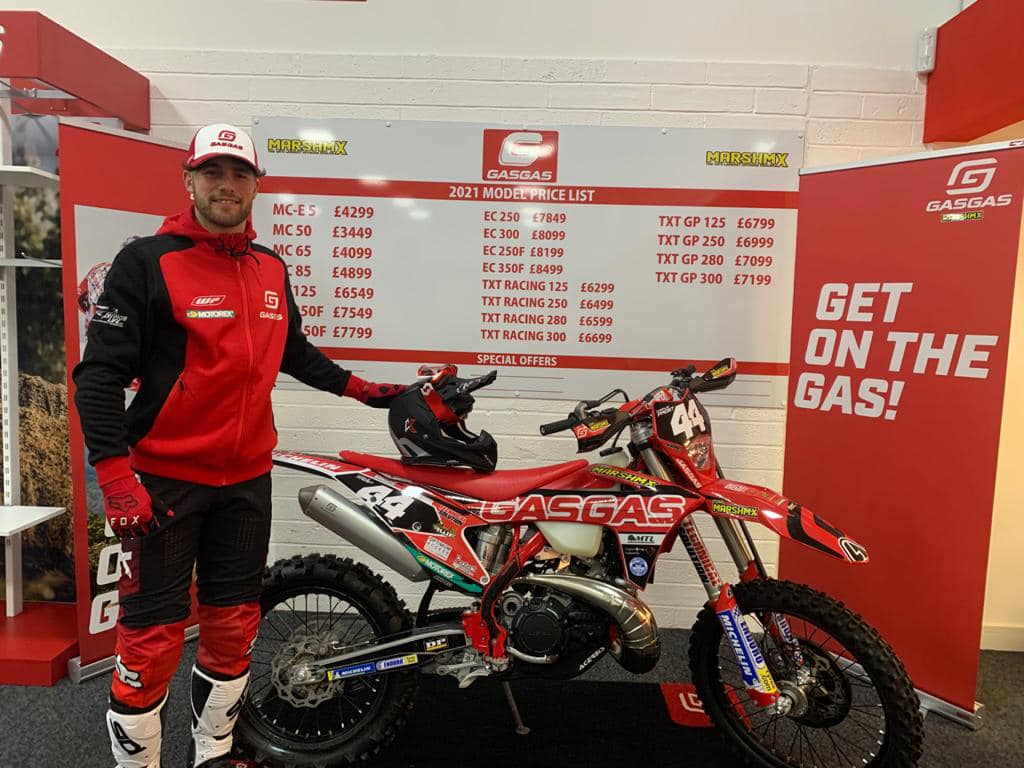 DH: Do you have any weird suspicions or pre-race rituals?
Charlie: I wouldn't say it's a weird suspicion but I always put my right knee brace on before the left, same with my boots. Not really sure why, but it's something I've always done haha.
DH: What drives you most to get up in the morning and go training?
Charlie: Well in all fairness, I train after work, so I'd say my work gets me up in the morning haha, then I train after work. Weekends are tricky but then again I am riding on Saturdays and Sundays so I guess that counts.
DH: If you didn't race what sport would you play or take part it?
Charlie: I honestly don't really know, I think if I didn't have such a passion for the sport, I would have stuck with basketball as I was on the school team in year 10 and 11. But like I said, I don't think I'd ever do anything else other than ride my bike. Plus I'm no good at anything else anyway so I don't really know haha.
DH: What is your biggest Phobia?
Charlie: My biggest phobia is the dark. I know at 24 years old that sounds pretty gay, but I still hate the thought of going into a dark wood haha. Hated it ever since I watched Michael Jackson's 'Thriller' back when I was 7 years old.
DH: Who is your biggest sporting idol and why?
Charlie: My biggest sporting idol, well I have 2, and they are David Knight and Steve Holcombe. Knighter because he was the rider I looked up to when I was growing up riding. Watching his DVD's and videos, he was just so good at what he did, and everybody knew him. He has achieved so much through his career and I saw myself wanting to do that also. And Steve Holcombe being my other idol because he got to where he is today, World Champion, through determination and focus. I can remember racing an Xmoor Youth enduro wayyy back when I was probably 12/13 and he was in the Big Wheel 85 class on a KTM. And I can just remember him dominating the race from start to finish. And to see that he was once a young boy like all of us were, with a passion and focus, he got himself to being World Champ which he most definitely deserves.
DH: Where do you see yourself in five years time?
Charlie: I would like to see myself somewhere amongst the top boys of Hard Enduro in 5 years time. I feel like I'm just at that awkward step from being a top British Extreme rider, but trying to make a name for myself amongst the World rankings. I'd like to think with the right help and support, I could make something of myself and show that I do have what it takes, just not the money haha.
DH: What is your all-time favourite movie?
Charlie: My all-time favourite movie has most definitely got to be Step Brothers. I've probably seen it around 15-20 times now, but it just never gets old.
DH: Who has had the biggest impact on your career?
Charlie: The biggest impact on my racing career has without a doubt got to be my Dad, Timmy. It's funny because most people call him 'Charlie's Dad' because he's known to always be there with me at the races. My Dad got me into the sport at the age of 6, starting off riding a TY80 at the local youth trials. From then on he, along with my Mum, always gave me the best they could, and the opportunity to ride my bike. Even to this day, my Dad still has just as much passion for the sport as I do, and he enjoys watching me do well. I feel like I'm giving back to him when I win races or do well at big events, because without him, or my Mum, I would most definitely not be the person, or rider I am today.
DH: What is your philosophy on life?
Charlie: My philosophy in life, is to live for today and take every opportunity given to you, because you never know what tomorrow holds. I'm a great believer in being 'in the right place at the right time' and 'it's not what you know it's who you know'. I feel that every individual person has their own story to tell, and their own future, so you must do what you want, not what other people tell you to. I get asked quite often, "Haven't you thought about a house, children yet etc…" and my answer to that is- I want to live my life, travel the world riding my bike, seeing new places, different countries, doing what I love, and have no regrets when I'm older.
For more Dirty Dozen interviews >>CLICK HERE<<