Dirty Dozen with Alfie Walker
Super talented 15-year-old Alfie Walker elevated himself from the youth ranks to be a serious contender in the Adult Quad Racing ranks by the end of the season. Not to be overshadowed by his big brother Harry, he finished an astonishing 4th in the Q1 class of the Weston Beach Race and 9th overall, and we expect 2020 to be a huge season for the youngster.
Feature image courtesy of Dave Rich
We fired over our Dirty Dozen questions to him so here is what he had to say…
Dirt Hub: Do you have a Pre-Race Playlist you listen too, and if so name a couple of tracks that are on it?
Alfie: Everyday by Logic, Sorry by Joel Corry, Icon by Jaden Smith, 4AM in Coventry – JAY1
DH: When was the last time you cried?
Alfie: October
DH: What is your favourite inspirational quote?
Alfie: "On a given day, a given circumstance, you think you have a limit. And you then go for this limit and you touch this limit, and you think, 'Okay, this is the limit.' As soon as you touch this limit, something happens and you suddenly can go a little bit further. With your mind power, your determination, your instinct, and the experience as well, you can fly very high." – Ayrton Senna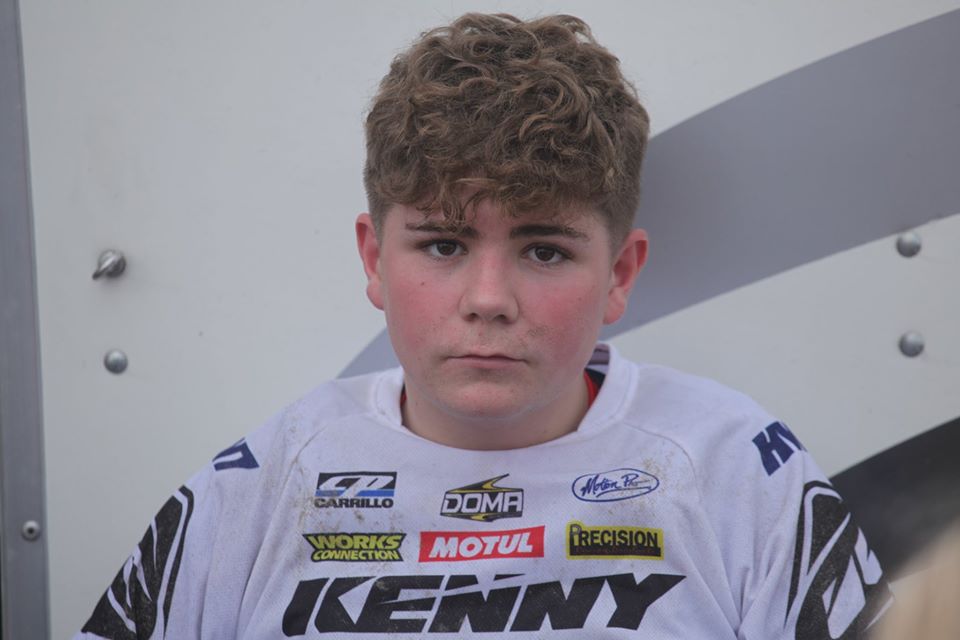 DH: Do you have any weird suspicions or pre-race rituals?
Alfie: A ritual could be as the 15-second board goes up I like to tap my front number board, I don't really have a weird suspicion apart from telling myself I am going to win the race.
DH: What drives you most to get up in the morning and go training?
Alfie: The determination to have success and win.
DH: If you didn't race what sport would you play?
Alfie: Rugby or Go-karting 
DH: What is your biggest Phobia?
Alfie: Snakes
DH: Who is your biggest sporting idol and why?
Alfie: Niki Lauda
DH: Where do you see yourself in five years time?
Alfie: British Champion
DH: What is your all-time favourite movie?
Alfie: Fast and Furious
DH: Who has had the biggest impact on your career?
Alfie: The person who has had the biggest impact on my racing career is my oldest brother George. He's a Personal Trainer (GWPT) who specialises in the fitness of MX riders, my physical strength and fitness has improved massively and it shows throughout each race, still having energy toward the end of the races even when I stepped up to a 450. We put a lot of work in outside of racing which has really helped with my winning mindset too!
DH: What is your philosophy on life?
Alfie: My philosophy of life is to love and care for others, race, Train to succeed, win have fun, live day by day, never take anything for granted and to be as happy as possible.