Bethall bangs in XC win at Shay Gate! Dragon Quad Racing XC Championship Finale – Race Report and Results
The final Round of the DQR Club championship took place on Sunday at Shay Gate Farm in Colne, Lancs.
Report by Ashley Holt – Images courtesy of Lisa-Ann Williams Holt
Sunday morning arrived with grey skies and light rain, but it didn't dampen the enthusiasm of the Youth Riders as they lined up for 1.5 hrs of racing. Oliver Pinder and Jake Best battled it out again in the 250cc Hybrid Class with Ethan taking top spot and Oliver 2nd.
In The 250cc class Charlie Wheatley led away with the others in hot pursuit, Cai Evans was sitting in 2nd with James Maybury in 3rd until around the 1hr mark when it all changed, Charlie had a chain snap and James Crashed, both managed to get back out albeit a lap down, so Cai Evans took the Win with Louie Holt in 2nd and Morgan Junge 3rd.
[uam_ad id="37550″]
In the 125cc class Alex Edmed-Kellaway was again on top form and took another win with Ronnie Burnett 2nd and Jake Robson 3rd.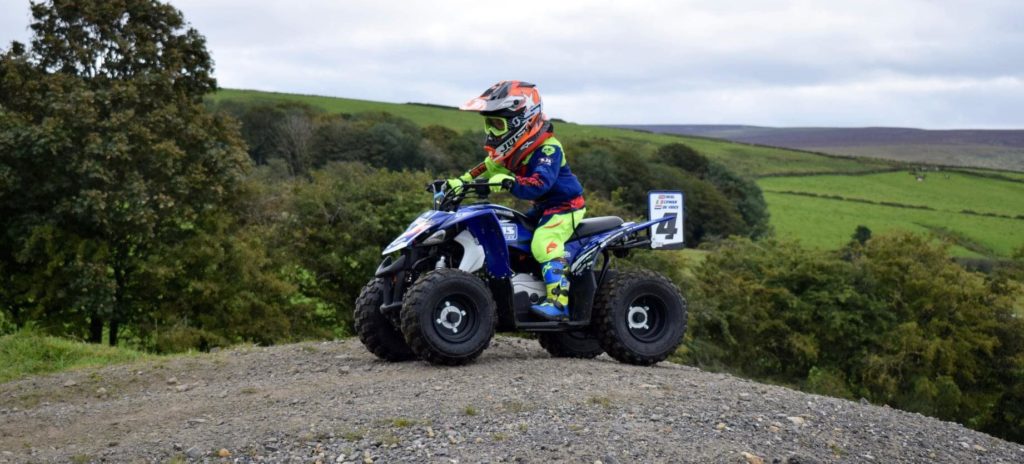 Next up were the Minis a class for 8-13 years which caters for 50cc riders, 90cc riders and 100cc open riders over a shorter 30-minute course, and there were lots of eager youngsters ready to Race!
The 100cc class saw some great racing with Stephen Collins taking the win from Luca Balsano, Luke Waddington took the 90cc class win from Izzy Lloyd and Tyler Wilcock won the 50cc class.
The afternoons Adult racing got underway just after midday and the weather had improved with blue skies overhead for the 2.5 hr race.
A first visit to DQR from Ireland this year for Kevin Meenagh saw him lead away from the flag from Alex Bethell in 2nd and Ayrton Knowles on hist DQR debut in 3rd. Alex pushed him hard in the opening laps and the lead swapped and changed a number of times before Alex eventually held on for the win with Kevin 2nd and Ayrton 3rd.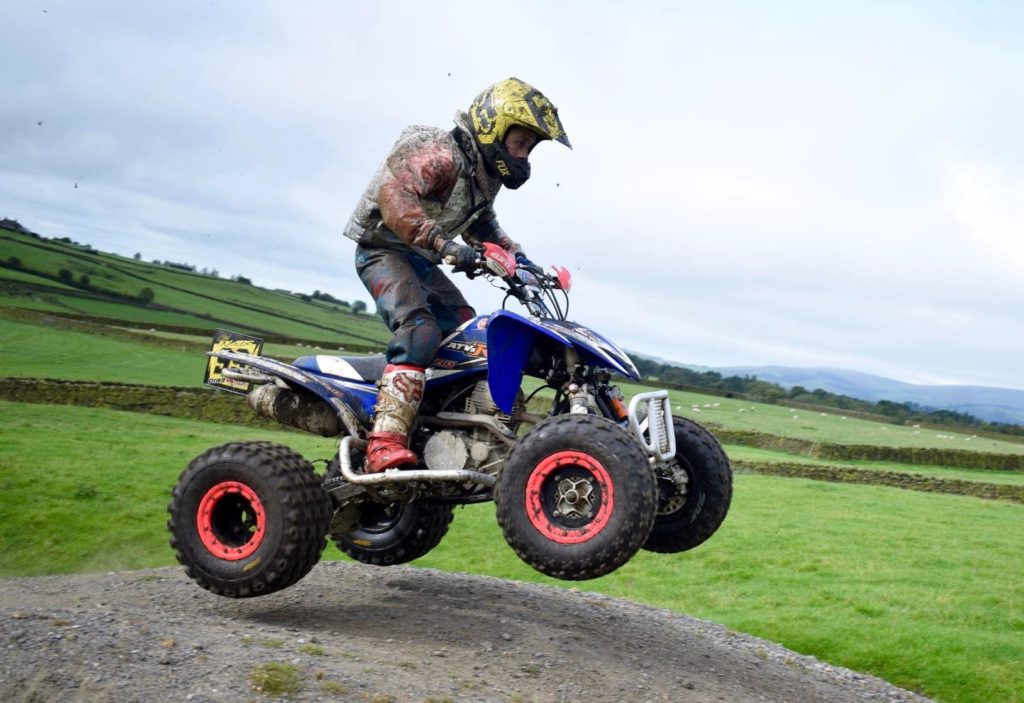 In the expert class it was Will Dunlop back on the top step and Michael Williams in 2nd and William Mayze in 3rd on his DQR debut.
Moose Pittaway and Dale Roberts battled it out all race for the honours in the clubman class with Moose eventually getting the better of Dale by only 0.75 of a second at the line with Tom Stevens in 3rd.
Jake Best made it back to back wins in the sportsman class from Vassna Willcock in 2nd and Lee Carpenter 3rd.
In the 4×4 lights class Harry Stevens had his first DSNF of the season on the last lap and it was a debut win for Gareth Badger all the way from N. Ireland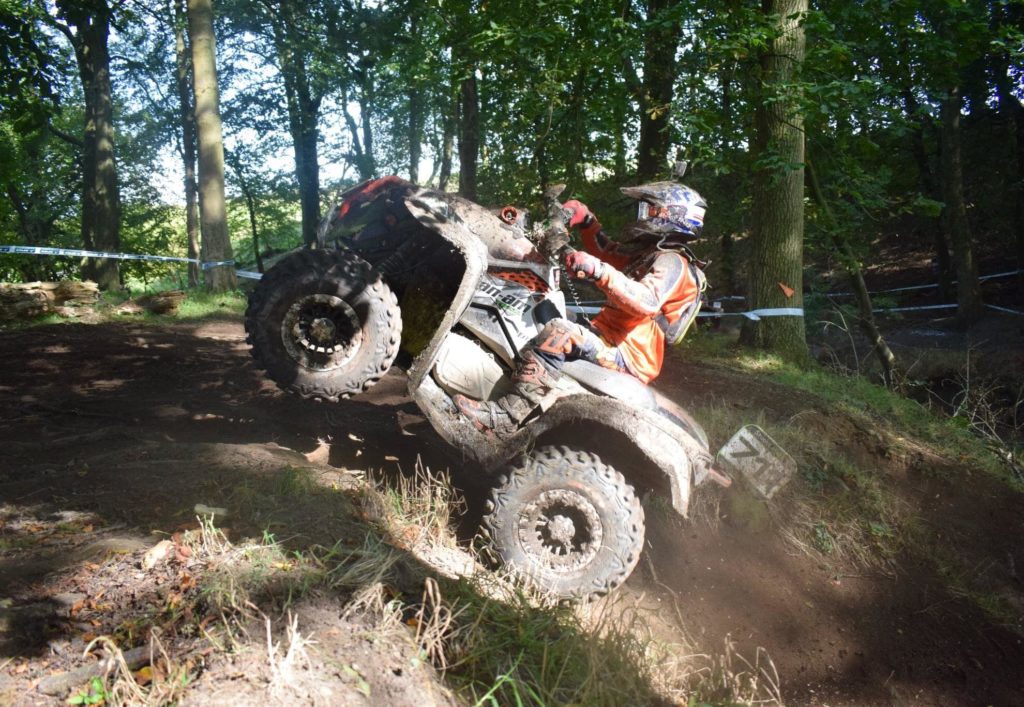 The 4×4 clubman class was as competitive as ever and Laura Linton rode an impressive race to win from Joe Bacon in 2nd and Derek Burns 3rd.
In the 4×4 expert class the battle was on between Jason Wildman and Simon David from the off, it was Jason who eventually took the win, his first finish at DQR this year and Simon 2nd with Kevin Watson an Impressive 3rd.
Well done to all the winners today and each rider who took part, and to all the champions in their respective classes. A big thanks to all our members and supporters this year, to all the riders who have taken part and to our sponsors ATVS Only and GML ATV.
And finally, a big thankyou to the DQR Team as without you these fantastic events would not be possible! We now look forward to 2021 and hopefully a full season of British XC Championship racing, keep checking our Socials for the latest updates throughout the off season!
Results
Mini quad race
Mini quad 100
Pos Competitor Total Time Diff Laps Best Lap Best Lap No. Best Speed
1 14 Stephen Collins 32:22.029 13 2:21.823 10 0 km/h
2 6 Luca Balsano 30:24.259 1 lap 12 2:16.797 10 0 km/h
3 8 Jack Collins 32:11.471 2 laps 11 2:47.585 2 0 km/h
DNF 44 Joseph Hayes 2:41.290 1 0.000 – 0 km/h
Mini quad 90
Pos Competitor Total Time Diff Laps Best Lap Best Lap No. Best Speed
1 88 Luke Waddington 32:24.639 12 2:27.922 12 0 km/h
2 110 Isabelle Lloyd 30:22.909 1 lap 11 2:34.380 10 0 km/h
Mini quad 50
Pos Competitor Total Time Diff Laps Best Lap Best Lap No. Best Speed
1 4 Tyler Willcock 30:57.949 7 3:49.208 6 0 km/h
Youth Race
Youth 250
Pos Competitor Total Time Diff Laps Best Lap Best Lap No. Best Speed
1 99 Cai Evans 1:30:38.601 8 11:09.330 5 0 km/h
2 30 Louie Holt 1:40:21.215 9:42.614 8 11:35.732 5 0 km/h
3 77 Morgan Junge 1:41:48.554 11:09.953 8 11:45.862 5 0 km/h
4 15 Chloe Maybury 1:34:08.338 1 lap 7 13:18.005 5 0 km/h
5 333 Charlie Wheatley 1:36:37.549 1 lap 7 10:50.998 2 0 km/h
6 16 James Maybury 1:30:32.503 2 laps 6 11:18.936 5 0 km/h
Youth 250 Hybrid
Pos Competitor Total Time Diff Laps Best Lap Best Lap No. Best Speed
1 19 Ethan Best 1:34:10.435 8 11:12.010 3 0 km/h
2 646 Oliver Pinder 1:39:56.084 5:45.649 8 11:52.635 2 0 km/h
Youth 125
Pos Competitor Total Time Diff Laps Best Lap Best Lap No. Best Speed
1 55 Alix Edmed-kellaway 1:44:04.598 7 14:02.585 3 0 km/h
2 20 Ronnie Burnett 1:32:31.456 1 lap 6 14:49.734 2 0 km/h
3 199 Jake Robson 1:37:47.170 1 lap 6 14:53.943 5 0 km/h
4 1 Owen Stephens 1:37:00.133 2 laps 5 16:46.167 2 0 km/h
DNF 14 Jamie Burnett 0.000 – 0.000 – 0 km/h
Adult Race
Adult Expert +
Pos Competitor Total Time Diff Laps Best Lap Best Lap No. Best Speed
1 1 Alex Bethell 2:33:45.646 15 9:33.635 2 0 km/h
2 42 Kevin Meenagh 2:34:39.185 53.539 15 9:35.156 2 0 km/h
3 126 Aryton Knowles 2:33:57.734 1 lap 14 10:06.183 2 0 km/h
4 77 Paul Mcconway 2:31:35.719 2 laps 13 10:28.045 2 0 km/h
4×4 Heavy
Pos Competitor Total Time Diff Laps Best Lap Best Lap No. Best Speed
1 113 Jason Wildman 2:38:42.727 15 10:00.893 2 0 km/h
2 50 Simon David 2:33:43.452 1 lap 14 9:59.282 2 0 km/h
3 265 Kevin Watson 2:35:45.148 1 lap 14 10:47.288 4 0 km/h
4 181 Graham Guy 2:35:08.306 2 laps 13 10:55.485 2 0 km/h
5 711 Stuart Marley 2:31:52.841 3 laps 12 10:52.342 2 0 km/h
6 443 Nick Key 2:41:13.667 3 laps 12 11:07.116 2 0 km/h
7 55 Harry Hinkley 2:34:32.318 5 laps 10 11:22.692 2 0 km/h
8 328 Tony Nash 2:34:36.831 6 laps 9 15:44.766 2 0 km/h
DNF 432 Oli Keen 58:56.135 5 11:17.373 2 0 km/h
4×4 Clubman
Pos Competitor Total Time Diff Laps Best Lap Best Lap No. Best Speed
1 424 Laura Linton 2:30:45.421 13 11:15.027 2 0 km/h
2 99 Joe Bacon 2:37:47.128 7:01.707 13 11:34.776 6 0 km/h
3 611 Derek Burns 2:37:57.031 7:11.610 13 11:16.003 2 0 km/h
4 401 Robert Little 2:29:49.472 2 laps 11 12:11.802 7 0 km/h
5 515 Jon Turnbull 2:31:19.380 3 laps 10 13:12.061 2 0 km/h
6 415 Stefan Cook 2:30:37.494 4 laps 9 12:20.767 4 0 km/h
7 337 Emma Carpenter 2:44:10.949 8 laps 5 18:34.302 3 0 km/h
DNF 50 Mark French 24:53.053 1 0.000 – 0 km/h
Adult Expert
Pos Competitor Total Time Diff Laps Best Lap Best Lap No. Best Speed
1 93 William Dunlop 2:32:00.718 13 11:00.972 6 0 km/h
2 291 Michael Williams 2:35:21.998 3:21.280 13 10:57.717 2 0 km/h
3 22 William Mayze 2:37:48.893 2 laps 11 11:38.170 8 0 km/h
4 89 Asa Kiley 2:31:56.794 6 laps 7 14:55.058 7 0 km/h
Adult Sportsman
Pos Competitor Total Time Diff Laps Best Lap Best Lap No. Best Speed
1 10 Jake Best 2:36:19.978 12 11:55.411 4 0 km/h
2 228 Vassna Willcock 2:36:33.434 1 lap 11 12:24.934 4 0 km/h
3 231 Lee Carpenter 2:33:52.652 2 laps 10 14:26.300 7 0 km/h
4 72 Liam John Griffiths 2:43:59.166 3 laps 9 14:00.054 6 0 km/h
DNF 8 Borja Castro 55:22.386 4 12:34.422 4 0 km/h
DNF 12 Kevin Wilcock 1:18:15.267 4 16:22.340 2 0 km/h
Adult Clubman
Pos Competitor Total Time Diff Laps Best Lap Best Lap No. Best Speed
1 39 Michael Pittaway 2:38:09.493 12 12:30.753 5 0 km/h
2 172 Dale Roberts 2:38:10.252 0.759 12 12:25.963 8 0 km/h
3 701 Tom Stevens 2:31:21.674 1 lap 11 11:12.900 2 0 km/h
4 193 Ryan Johnson 2:40:49.095 1 lap 11 12:36.244 2 0 km/h
5 46 Dean Johnson 2:44:13.968 7 laps 5 15:42.901 5 0 km/h
DNF 88 Daniel Evans 35:20.079 2 21:03.024 2 0 km/h
4×4 Lights
Pos Competitor Total Time Diff Laps Best Lap Best Lap No. Best Speed
1 129 Gareth Badger 2:32:37.544 11 12:58.859 2 0 km/h
DNF 104 Harry Stevens 2:17:16.831 10 10:57.279 4 0 km/h
[uam_ad id="37537″]