Bailey scorches to 2023 TBEC Enduro Championship title at Deepdale Finale – Race Report, Results and Interview
The grand finale of the ACU-sanctioned 2023 TBEC Enduro Championship took place at Deepdale, Bedfordshire on Sunday. At a completely new location (a last minute switch from the scheduled Whaddon venue), the TBEC team worked hard to turn this former sand and gravel quarry into a viable enduro course – and what a circuit it turned out to be! Torrential rain lashed down during the week and threatened proceedings with flooding, and in places the underlying clay made it difficult for the water to drain away freely. Thankfully the rain abated late on Saturday night. Race day dawned on Sunday the 5th, bathed in bright sunshine, although standing water remained in spots around the whole course. Muddy bog holes, steep, slippery twisty ups and downs, together with nadgery woodland sections combined to provide a challenging and formidable 4 mile-plus lap for the competitors, a lap that the more intrepid would have to endure for the full 3 hours.
Words – Roger Allen – Images – Geoff Murphy – Results – TBEC
While November 5th is perhaps historically remembered for the Guy Fawkes gunpowder plot, it was reigning champion Toby Bailey who was setting off the fireworks at Deepdale on Sunday. 'The Cheltenham Flyer' made it his 8th win of the season from nine enduros, the only blot on his copybook coming at Abbotsley 2, where he scored a 3rd place overall due to a flat rear tyre and running out of fuel in each of the 2 hour sessions.
With the 10.30am start looming, the vastly experienced Elite veteran Paul Field #25 led Row Zero off, closely followed by the #8 GasGas of top contender Dan Smith. The two circulated together closely, followed on by the rest of their mostly-Elite departure group. Points leader Toby Bailey #1 elected to set off on Row 1, one minute behind the lead group.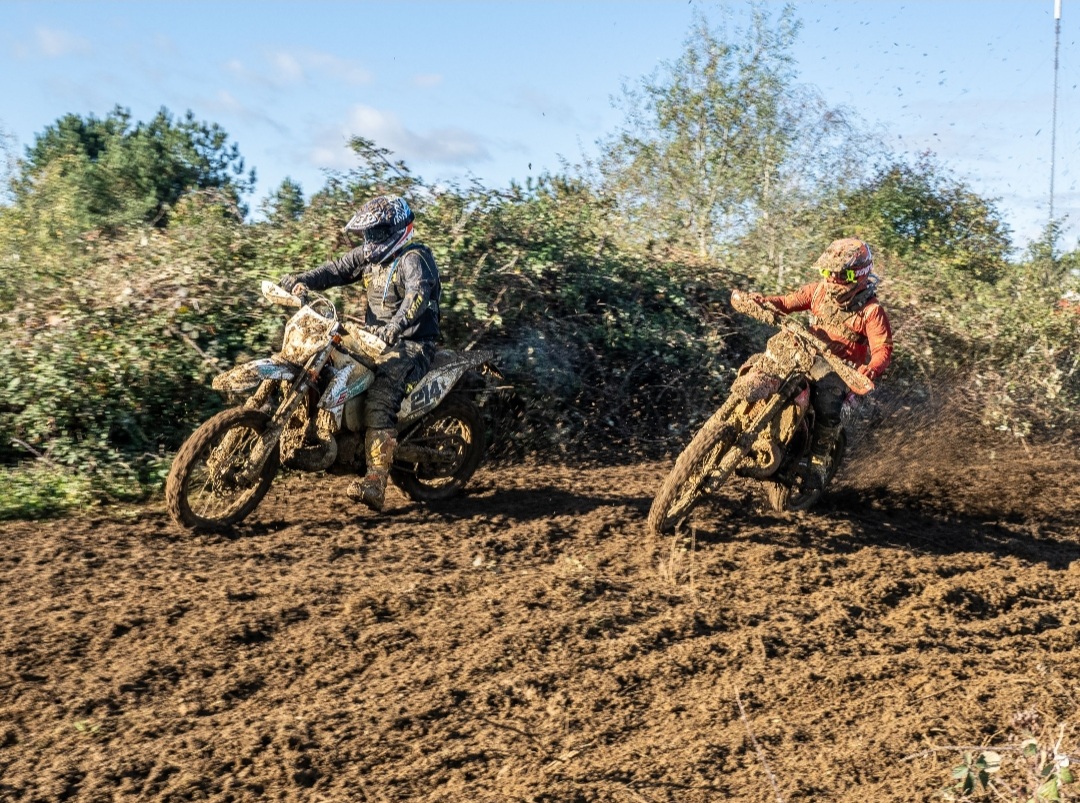 Many of the top runners recorded their fastest lap time on the opening circuit at Deepdale. This was because after lap one the track quickly degraded into a quagmire after the sodden soil had been carved up by the 120 bikes. Bailey scorched around in a blistering 11:37, the only rider to achieve a sub -12 minute lap, with Dan Smith chalking up an impressive opening lap time of 12:09. He was still shadowing Paul Field as they clocked in at the end of lap one, closely followed by Luke Evans, all three blissfully unaware that Bailey had already more than halved their 1 minute start advantage!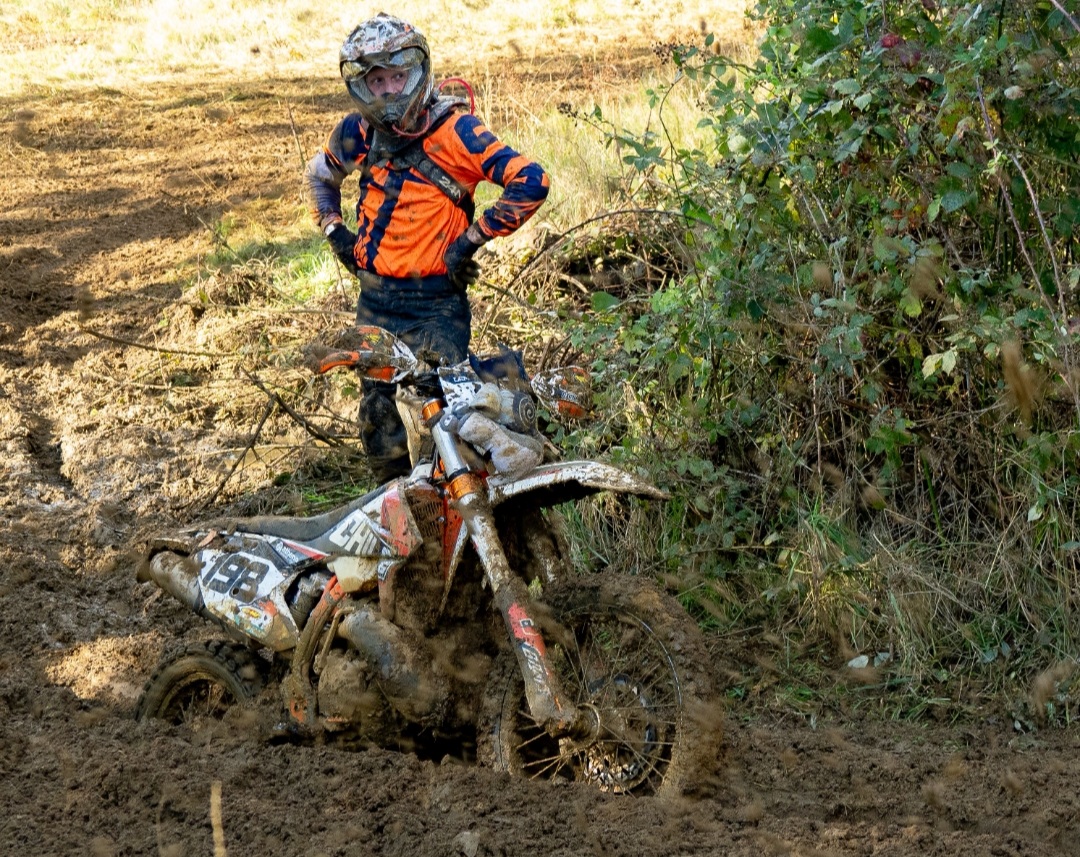 Behind the first three or four groups, the remaining runners found themselves dealing with a course that was getting more challenging by the minute. Despite the sun shining all day, axle-deep muddy ruts had formed in certain spots making some sections very difficult to traverse, with the consequential and very frequent 'get-offs' for many of the contingent. Among those injured was Elite rider James Foxley who had broken two shoulder bones. Pit stops were frenetic and it seemed that not one of the riders escaped them.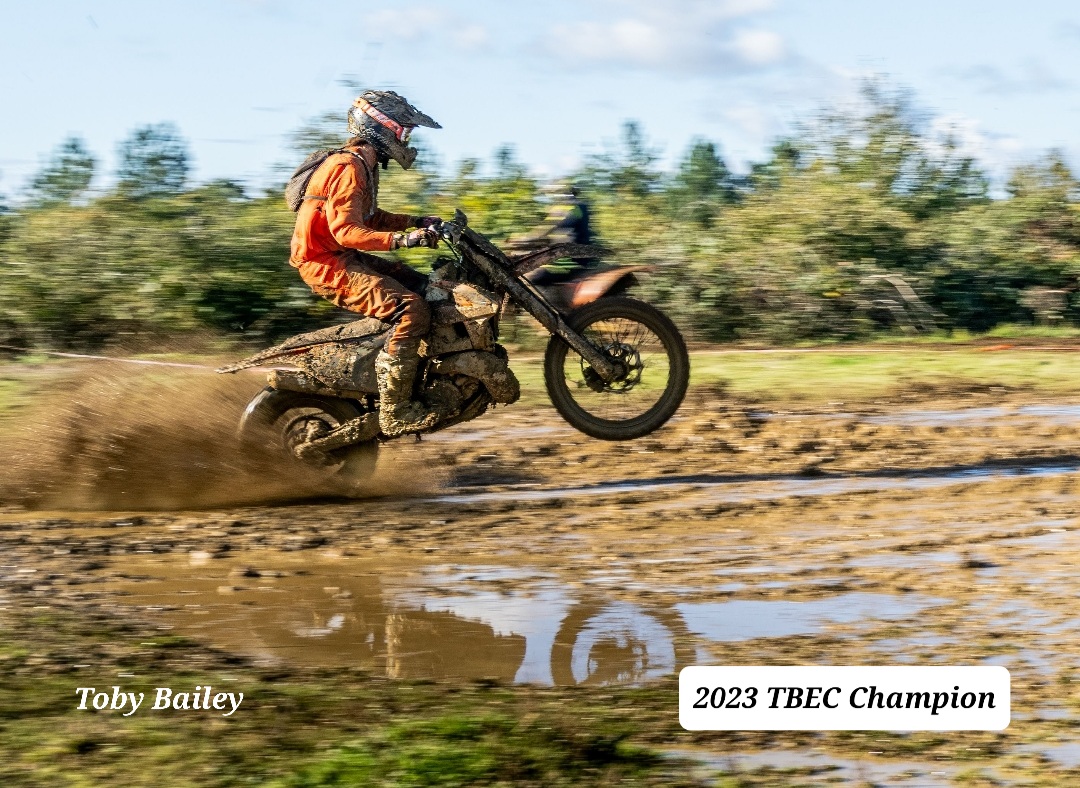 At the end of the three hour stint, Elite rider and reigning Champion Bailey #1, had opened up a lead of nearly 3 minutes on second place man, #199 Luke Evans. These two were the only riders to complete 14 laps of the by-now tortuous circuit. Behind them in the Elite class, Dan Smith came home with third, Ryan Crisp #170 fourth, Paul Owen #26 fifth and Paul Field sixth, each of these latter four completing 13 laps.
In the E1 class #761 Andrew Haddon took the honours on his Kawasaki, finishing just over two minutes ahead of second placed Aaron Keeble #49.
The E2 class was a close run thing between #19 Ryan Brown and #456 Darryl Friday, both KTM mounted. They completed 12 laps along with #262 Gary Curtis, #555 Luke Cain and Chris Hempstead on his GasGas #233 who finished 3rd, 4th and 5th.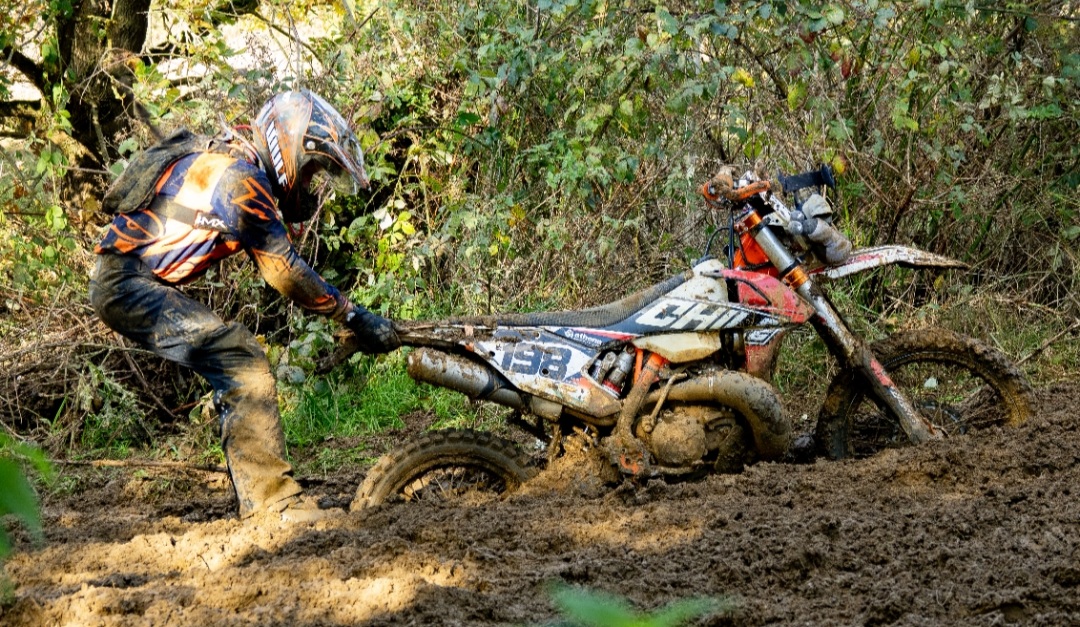 Matt Willis #20 took control of the E3 class, finishing over five minutes ahead of the Beta of second placed Jamie Barnes #115. Carl Munnery #247 and John Paul Bowering #94 both recorded 12 laps as did the lead duo.
Tommy Batts #22 again stamped his authority on the Legends class, finishing a full 8 minutes ahead of second-in-class Graham Coker #246. Both riders completed 10 laps as did third and fourth place Les Liney #331 and #23 Ian Matthews.
The Vets class was taken convincingly by Warren Burbage #474 who completed a creditable 12 laps on his Beta from Gaz West #414 who recorded one lap less. Third placed Simon Shinkins #463 also completed 11 laps.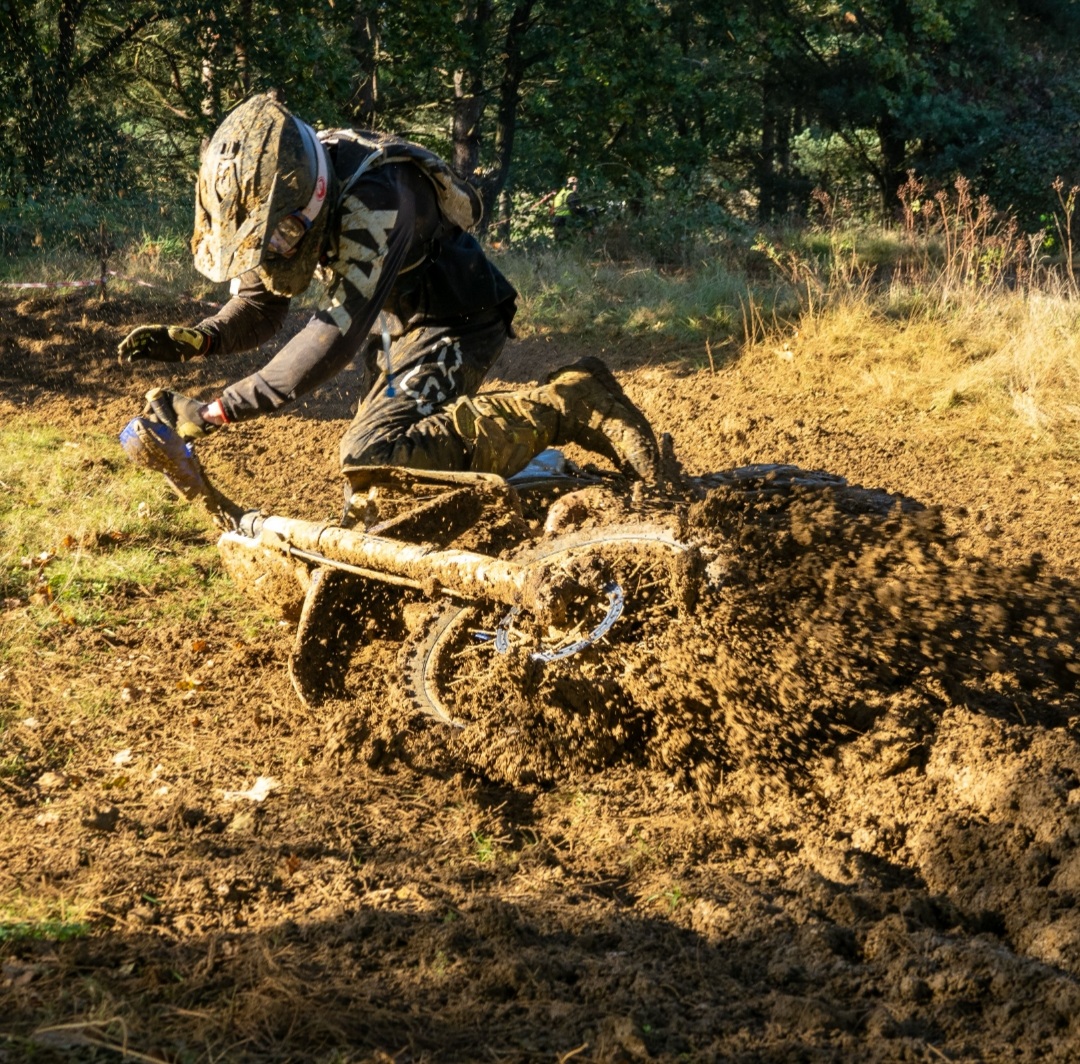 The Under 21 category produced some hot competition between class winner Finlay Woods #308 on his Husqvarna and Josh Watson #80. Woods completed 13 laps of the muddy track, just one more than Watson, and though he was penalised 13 points, it was enough to take the class victory.
The SV group was won by Peter Bush #214 on his KTM, who, with 11 laps under his belt, had completed 2 laps more than second placed Jon Foxley #10. Veteran Foxley had actually won the TBEC Championship back in 2000 and 2001.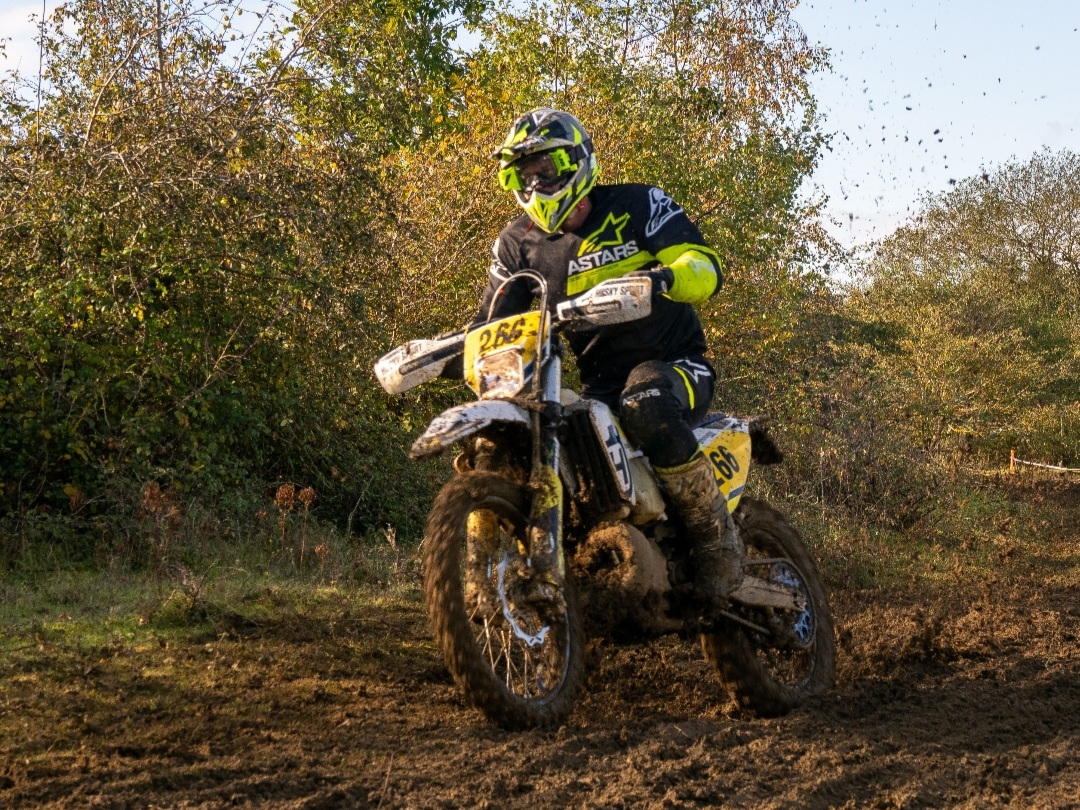 Simon Densham #32 came out tops in the Trail bike class, completing 10 laps on his KTM ahead of plucky Emily Davey #64 on her Beta. Third in class was Richard Martin #336, also on a Beta.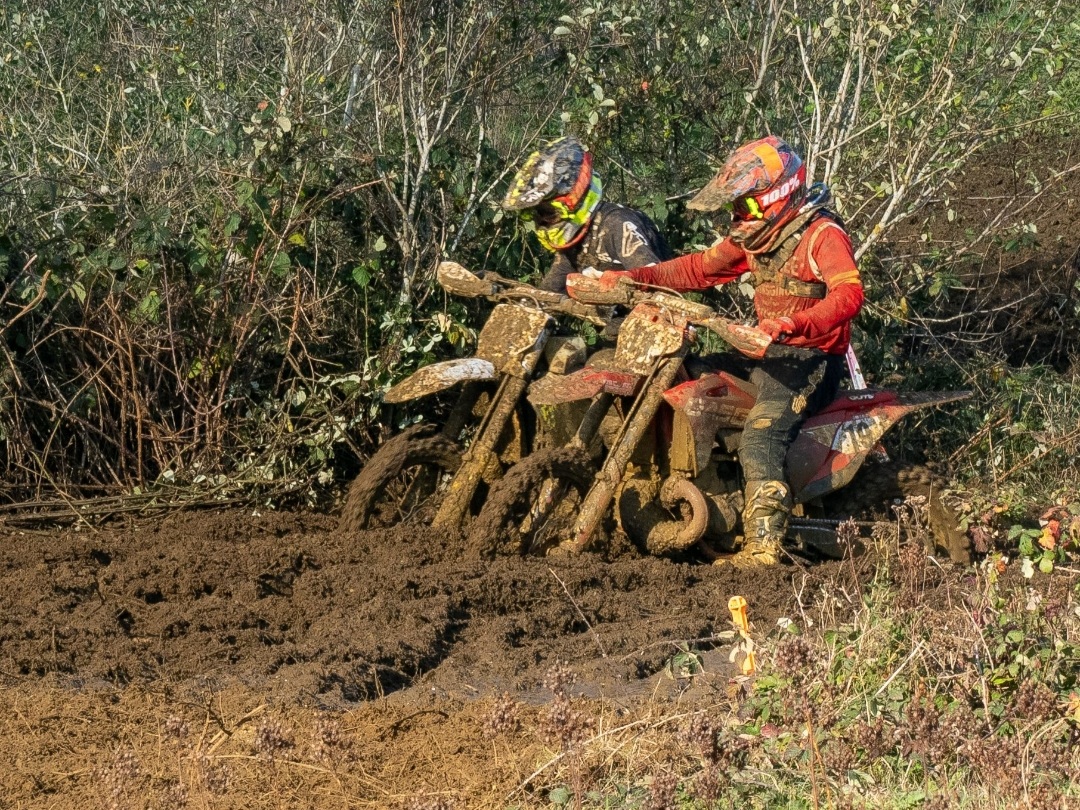 Back in the pits, I had chance to congratulate the 2023 TBEC Champion, Toby Bailey, on his fine performance and have a few words with him.
RA: Well done Tobias, that was some performance you put up today. Did everything go well for you or did you have any problems along the way?
TB: Cheers mate. It went pretty well considering. Only problems I had with the bike was when the radiator shroud started clogging up. I did a few extra pit stops and Dad cleared most of the muck away. I also changed goggles as vision was a bit of a problem.
RA: Did you manage to stay on for the whole 3 hours?
TB: Haha, I had a few crashes like nearly everyone, once when a rider crossed my path just as I was passing him! I didn't hurt myself though so just got back on and continued. Crashing is all part of the game!
RA What did you think of the course? Was it what you expected?
TB: Honestly, I thought the course was mega! I really enjoyed it, and I know a lot of other riders did too! It was a proper enduro and the weather and elements made it a good challenging course. It reminded me a bit of Weston.
RA: Yes, the other riders I've spoken to say the same thing. You mentioned Weston. Did you ride there this year?
TB: Yeah, I entered at the last minute on the Wednesday before and was fortunate to get in.
RA How did you get on?
TB: Not too bad. Because of my late entry I started way back on Row P in 643rd place. I managed to work my way up to 34th at the end of the 3 hours, finishing in front of grand prix legend Neville Bradshaw. I think my 300 was at least 10mph slower along the straight than the 450s. A good 15 seconds lost there but the good news is that I'll start from Row A next year!
RA: Wow, that's amazing Toby. Well done. Was your Dad the mechanic at Weston?
TB: Yeah, he was but my mate Dan Wheeler also came along to help. It turned out to be a family affair as my Mum showed up with her home made cakes, bless her!
RA: Now you've won the TBEC Championship for the second year running, what are your plans for next year?
TB: Difficult to say right now as I need to sit down with Dad and discuss the options with him. Over the winter I'll be training hard for next year as I've always done, regardless of what we decide to do. I'm certainly joining the TBEC club again though.
RA: Will you be on a new machine?
TB: Haha, not unless someone supplies me with one! My old two stroke KTM XC300 will be seven years old then but it's been a good bike. It's got a carburettor instead of modern fuel injection but the old boy is still up to the task.
RA: I see you have some business names on your plastics. Are they your sponsors?
TB: Yeah, they provide really valuable help throughout the season with their specialist products. Matt Gardiner MX provides clothing and protective gear, Mayday Seals and Bearings are great for giving me new seals and bearings for the bike. Wright Racing provides essential bits and pieces plus new Plews tyres for every meeting. Tillit Suspension sorts out my forks and rear shock – really a great company. Goggleshop Riders for my goggles and TBC Engineering carry out first class engine and fabrication work. I've also got a new sponsor called Joov sports products. I feel so lucky to have their help.
RA: You're still quite young at the moment. Do you have any bigger ambitions?
TB: Yeah, I have my dreams but I'd rather keep them to myself right now if you don't mind. Sorry to be vague.
RA: That's OK, it just remains for me to congratulate you on retaining your Championship. Thanks Toby.
TB: Cheer mate, all the best!
So that was it. Another amazing TBEC Championship year is done and dusted. It's been a great year for enduros, and the TBEC team have done a fantastic job yet again of organising and running nine great enduro events. I hope next season you'll tune in to all the action here on Dirthub. Until then, bye for now…
See ya, RA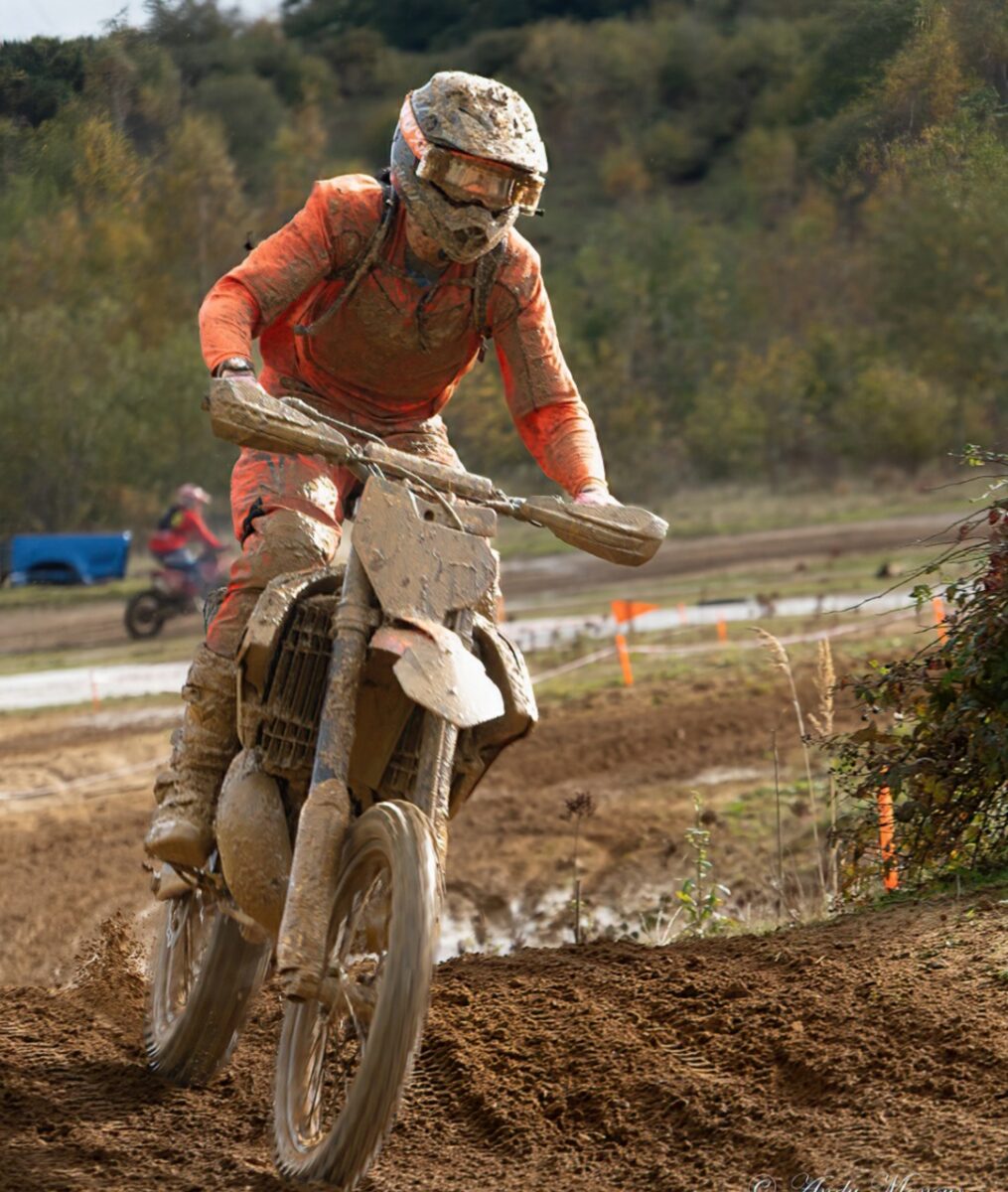 Results
deepdale-overall-v4