Awesome Archie! Formula Grasstrack Championship Round 2 – Race Report & Results
Archie Whitelam Stormed to a 6 Ride maximum at the Formula Grasstrack Association's 1st meeting of 2021.
Report by Ross Wharton – Images courtesy of Linda Mulvey
In perfect racing conditions, the Auto Cadet Rider from Nottingham dominated the class and continued his great form for this season. Bilbrook's Charlie Fletcher rode to a consistent 2nd place whilst John Cox Junior took 3rd in his first ever meeting despite a nasty tumble in his 2nd ride. Lily Childe showed improvement as the day progressed to take 4th place.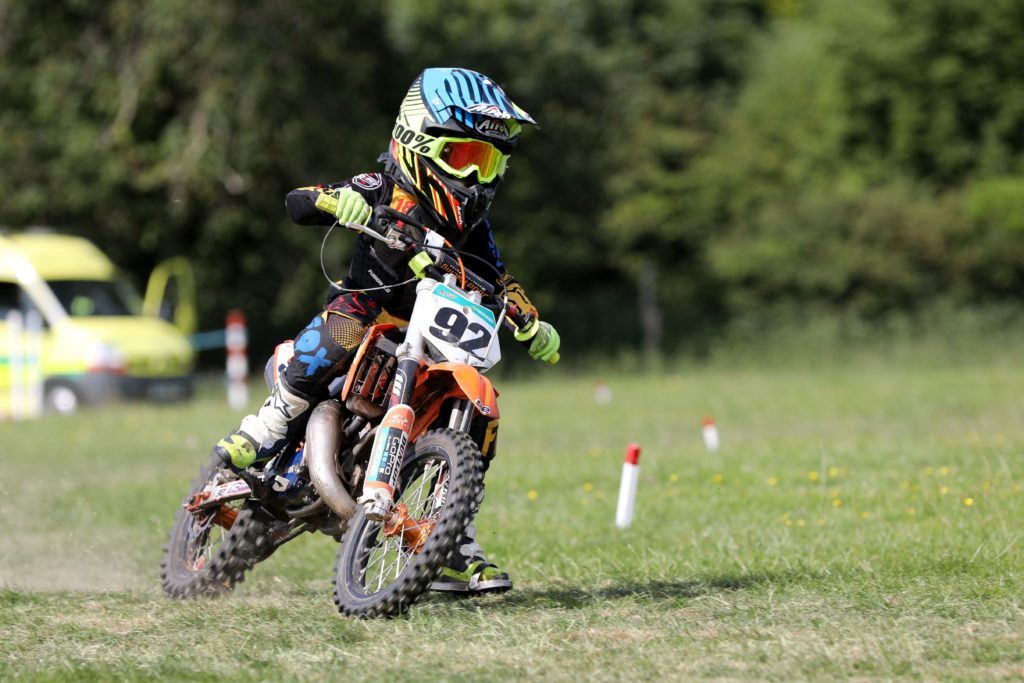 Crewe's Ollie Binns was the comfortable winner of the cub class, Binns rival for several years, Harry Fletcher was plagued with mechanical gremlins and didn't manage a race. 2nd place went to Winsford's smooth riding Naythan Kukla, who improved as the racing unfolded and will be one to look out for as the season goes on.
Gino Casale joined Archie Whitelam as the only maximum men across the 4 classes. Casale's fast starting combined with his smooth riding style was enough to secure a perfect 7 ride maximum. William Childe rode consistently to take 2nd place, winning 4 of his rides whilst Brierley Hill's Joe Crewe took 3rd place with a win and a string of 2nd places. Ethan Childe was comfortable in 4th place and Debutant Dylan Wassall showed a good account of himself to finish 5th, despite a couple of non-finishes, the Great Barr rider managed a race win in his 3rd ride.
350cc Ace Wayne Broadhurst only dropped a single point in his return to FGA action. The Shrewsbury veteran was only beaten by hard charging Phil Thomas, who finished 2nd. Broadhurst was involve in the race of the afternoon when he was out gated by current champion Martin Adams. The two Shropshire protagonists rode side by side for three laps, Broadhurst edging Adams out on the final lap. Adams was to rue a 5th place finish in race one that would leave him down in 5th place at the end of the day. Crewe's David Binns showed he was still a contender for the title with a triplet of wins and 2nd places to take 3rd place, finishing one point adrift of Phil Thomas. Steve Mace's return from retirement proved to be a good decision as the Shrewsbury man secured 4th place ahead of Adams. Minsterley's Andrew Rowson consistently scored to take 6th.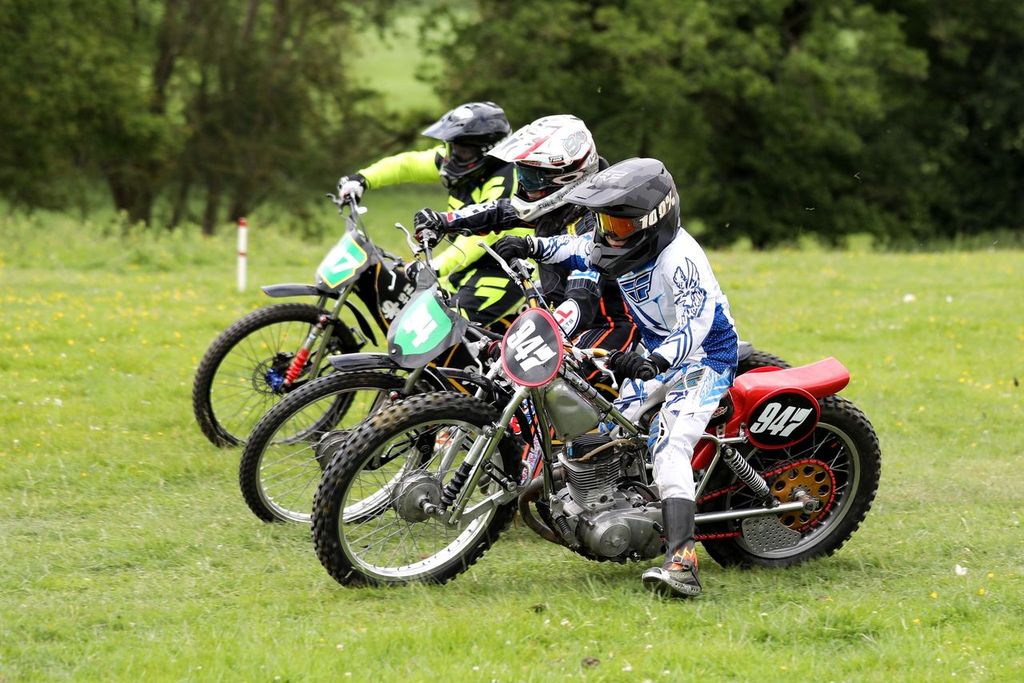 Andrew Binns was tied on points with the returning Tommy Astbury for 7th and 8th places. The A final would be the decider for them. In the final, it was Thomas who made a lightning start to head the field into turn one, chased hard by Dave Binns and Martin Adams, Broadhurst was left towards the back after a bad start, but he passed Adams on the 2nd bend to chase after the front two, passing David Binns to take 2nd place behind Thomas. The 7th place on the day was handed to Astbury who beat Andrew Binns into 6th place in the final.
Astbury would take Rider of the Day. Several year's away from the sport and making his Senior debut, 7th place was a fantastic achievement.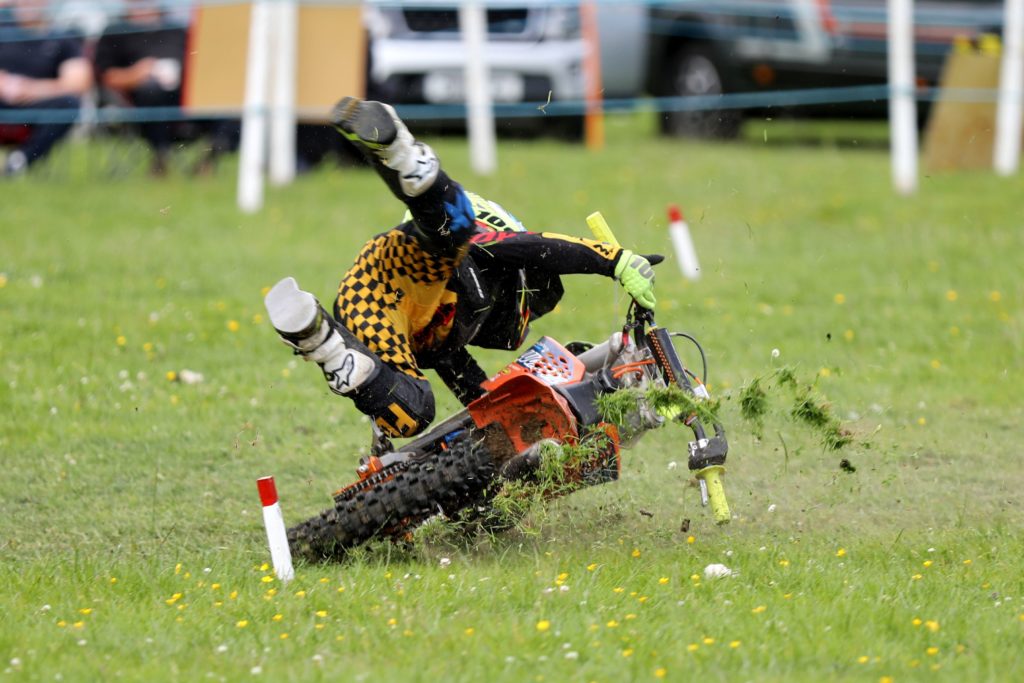 Worth mentioning is the two former junior front runners Jake Breeze and Sam Hall, both making their Senior debuts, tying on points for 9th and 10th, with Breeze winning the B final, he took 9th overall. Hall was involved in an awkward looking tumble in leg 2 when Nick Bull fell in front of him, Hall collided with the stricken Bull to bring the two machines together. Both men walked away to race again. Wallasey's Mike Flynn came to the tapes to race in leg 1 despite having 2 years added to his age by the secretary of the meeting! The 89-year-old continues his impressive running of motorcycle competition.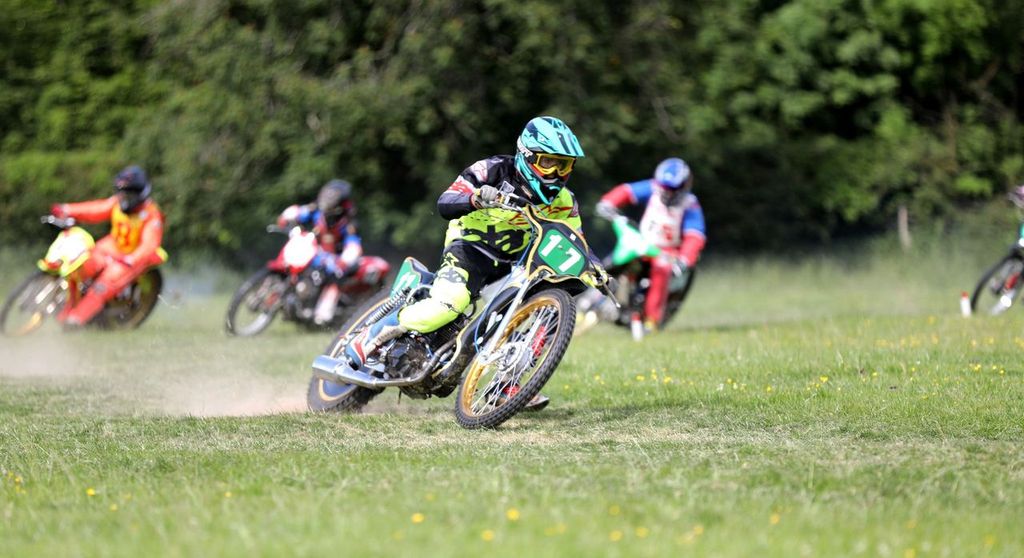 Round 3 takes place on Saturday 24th July at Hampton Hall near Malpas. This will also be the Jonathan Rodgers Memorial Meeting. More information can be obtained via Facebook or email office@formulagrasstrack.com.
Results
Autos – 1st A. Whitelam 40pts, 2nd C. Fletcher 35, 3rd J. Cox 30, 4th L. Childe 25.
Cubs – 1st O.Binns 48, 2nd N. Kukla 46.
Juniors – 1st G. Casale 48, 2nd W. Childe 45, 3rd J. Crewe 43, 4th E. Childe 40, 5th D. Wassall 27.
Seniors (top 10) – 1st W. Broadhurst 47, 2nd P. Thomas 46, 3rd D. Binns 45, 4th S. Mace 43, 5th M. Adams 39, 6th A. Rowson 36, 7th T. Astbury 33, 8th A. Binns 33, 9th J. Breeze 31, 10th S. Hall 31.