Wilkinson and Bax taste qualifying victory in France! 2023 World Sidecarcross Championship French GP Qualifying – Report, Results and Highlights
There was almost a holiday air for the opening day of the French GP, which is round four of the 2023 FIM World Sidecarcross Championship.
Report by Barry Nutley – Images courtesy of WSC
A surprisingly high number of non-starters left the field with a maximum grid, but only just. The injured British crews were one factor, Daniel Willemsen was without a passenger and other injuries accounted for the rest.
The track was in great shape and a huge crowd was already in early on Saturday. They were soaking up the sun and the electric atmosphere. This was going to be a superb weekend.
Timed Practice (pre-qualifying)
The track was in perfect condition although it was tight on some of the turns with few overtaking chances in those areas. The weather was ideal and the enthusiasm high for that fast lap.
Group "A" – Etienne Bax/Ondrej Cermak brought their speed from Heerde here to France, going quickest in the early stages.
Marvin Vanluchene and NicolasMusset chased him down, with Davy Sanders/Luc Rostingt overhauling them to go second fastest deep into the session. Two KTM's were next up in the hands of Tim Prummer/Jarno Steegmans and the young Swiss sensation Remo Kaser/Cornelio Dorig.
Tim Leferink had a mechanical problem, so recorded slowest time for his grid place in qualifying. Bax emerged top of the pile, with Sanders a full second in arrears ahead of Vanluchene
Group "B" – It was important to bang in a fast lap early, and Koen Hermans/Ben Van Den Bogaart did just that. The Prunier brothers were fast on home soil having already tasted the track in the French Championship, as Brett Wilkinson/Joe Millard fought neck and neck with the Lielbardis twins.
Jason Van Daele/Kostas Beleckas staked a claim at half distance going third behind Killian/Evan Prunier. Meanwhile, Justin Keuben/Dion Rietman appeared to be nursing a new engine, retiring when seventh fastest.
Hermans/Van Den Bogaart stayed top, with a lap surpassing Bax's time in Group "A". Wilkinson/Millard found a lot more, moving second fastest until Prunier nudged him out.
Qualifying race Group "A" – Etienne Bax and Ondrej Cermak got a flyer and headed the field on lap one from Marvin Vanluchene/Nicolas Musset. Bax was on a mission and had stretched a lead of three seconds after two laps.
Sanders/Rostingt were fast in third, battling through the dust which had quickly kicked up. Then came van Werven/de Veene from the Leferinks and a cracking start for Joshua and Noah Weinmann.
Prummer/Steegmans came next, with Bax pulling further ahead at the front.
Into the closing stages and Bax was in control from Vanluchene, with Sanders having a brilliant ride in third, fighting to keep van Werven at bay.
Tim and Sem Leferink held fifth with the Weinmann boys coming under pressure from Tim Prummer/Jarno Steegmans. They slipped back but next time around were back in sixth place. This was a great ride by the young Germans heading their in-form compatriot Prummer home.
Bax/Cermak's victory was mightily impressive, underlining the fact they were back with a vengeance enjoying a seventeen second winning margin.
Result

Qualifying race group "B" – Once more the gate dropped, and the charge was on for the first tight corner. Jason van Daele/Kostas Beleckas grabbed the lead with Brett Wilkinson/Joe Millard sliding past the Prunier boys on lap one. Hermans/Van den Bogaart sat fourth and began to eat into the leading trio.
Lap two and Wilkinson was in front and pulling away from Hermans, as Justin Keuben/Dion Rietman went third after fighting through. Marco Heinzer/Reudi Betschart also scrapped with Keuben on the way through as they made up ground, with the bellowing Mega of the Lielbardis boys hard behind.
Still Wilkinson/Millard kept the pressure on, pulling out twelve seconds from Hermans with nine laps gone. This track seemed to suit the left-handed sidecars of which there were only three. This was a fine performance for the British crew who needed a good ride here in round five to regain their strong Championship position. This result would give them the gate slot they needed for the races tomorrow.
Heinzer nailed Keuben in the closing stages with the Prunier boys taking fifth from Van Daele. Final lap, and Wilkinson/Millard were home and dry with a thirteen second advantage over Koen Hermans.
Result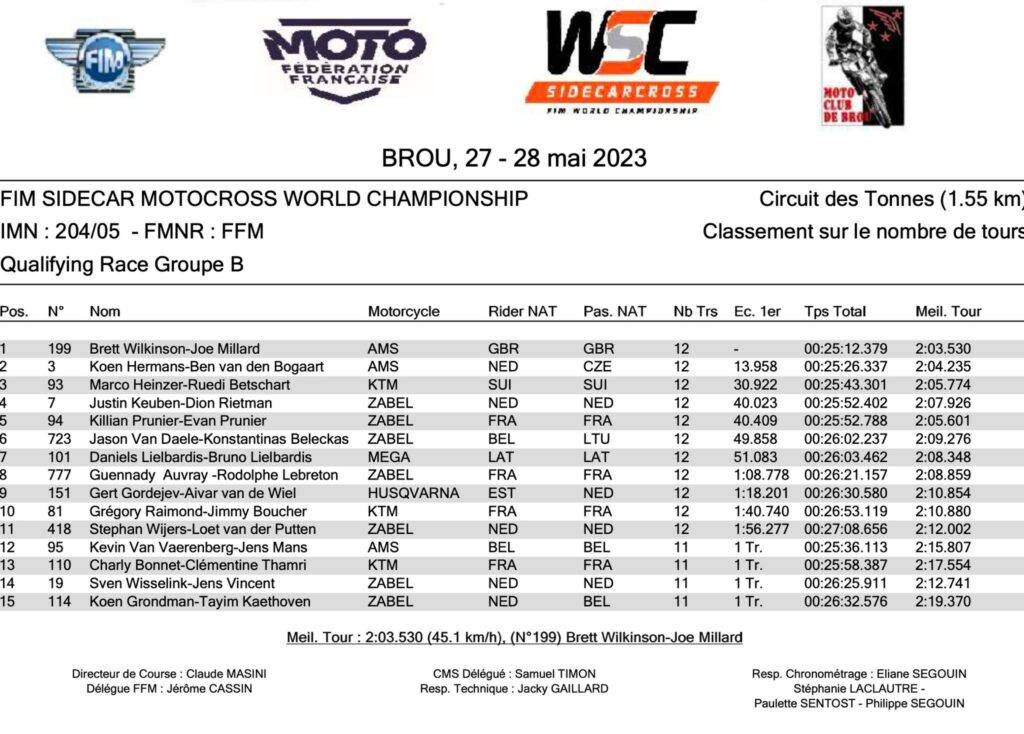 Last Chance – was not needed, as all thirty fit crews made it through to tomorrow's two races.
Tomorrow is going to be a huge day in front of a massive crowd, so stay with us to keep up with the action and all the news as it happens here on www.fimsidecarcross.com