Tombs and Gardiner take Victory at Wattisfield – ACU Eastern Centre Motocross championship Round 2 – Race Report & Results
Diss MCC staged round two of the Eastern Centre Motocross Championships, sponsored by Instanda and Stebbings Car Superstore, at their Wattisfield Hall circuit on Sunday.
Report from Charlie Ralph – Images courtesy of Andy Waters
Heavy rain on the previous day, had made the hardpack circuit perfect for racing, and following timed practise, the fastest forty qualified for the Premier class, leaving three full groups of riders in the support classes.
The first twenty-minute-long Premier group race saw Lewis Tombs, (Banks Honda), snatching the lead from Norfolk's Declan Whittle, Lings Husqvarna), to claim another 25 points win, to add to his maximum 75 point haul at Wakes Colne at round one. Whittle held off former champion, Luke Parker, (Pope Kawasaki) for a few laps, but after ten minutes, Parker made his move to snatch second place. Reece Martin on his MX2 Husqvarna, rode well for fourth place, from Max Broadbelt. Will Farrow got the better of Rob Nicoll to round off the top six. A heavy fall at the start, saw Ben Cole scything through the pack from dead last to claim 8th position. Leading junior was Ryan Gardiner, who battled with sixteen-year-old Callum Murfitt throughout, to take 10th place.
Parker led the second leg at the start, but Tombs soon moved to the front of the pack, leaving Parker to fend off his fellow Norfolk rivals, Whiittle and Cole. The trio battled hard, with Parker claiming another second-place finish, ahead of Whittle and Cole. Impressive teenager, Will Farrow, competing in his first year as an expert, took 5th place, ahead of Nicoll, Brad Woodroffe and Sam Arbon. Callum Murfitt had an excellent ride to top the juniors with a 10th place.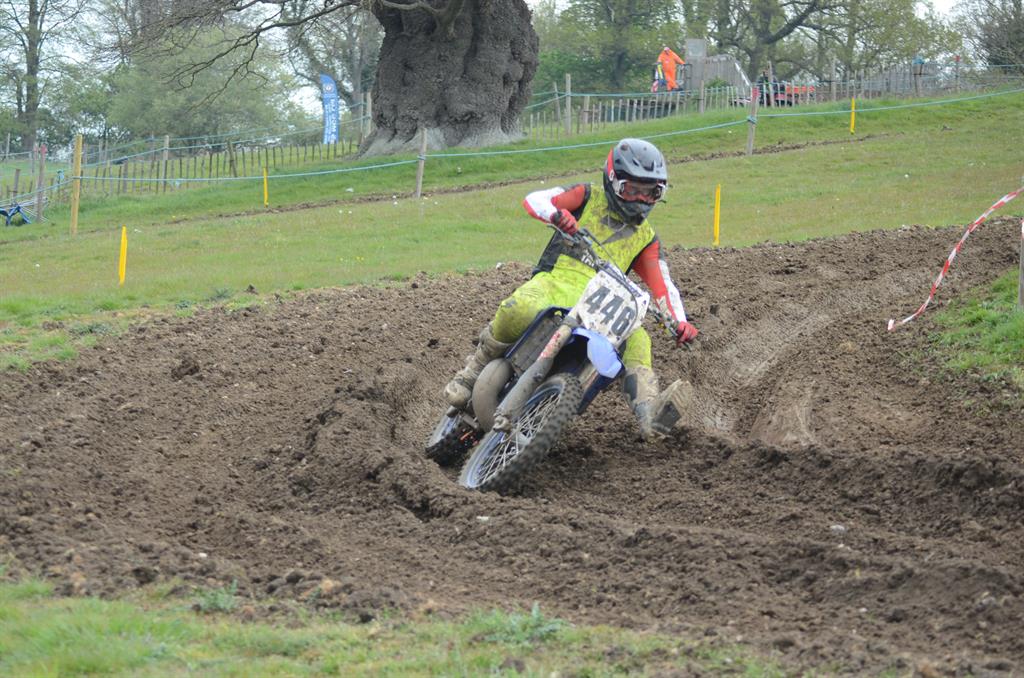 The third leg saw Tombs leading into the tight first corner, chased by Parker and Reece Martin. but a couple of spills by the former National grade rider, saw Parker taking over at the front. Tombs gave chase, but after a third spill, had to settle for second place, behind a jubilant Parker. Martin rode well for third, holding off Cole and Whittle. South African Woodroffe was 6th, just ahead of a great battle between Farrow, Arbon, Nicoll and George Ellis. First junior was Gardiner in 12th, but it could have been so different as young Murfitt was forced into the fencing on the first corner, spoiling his overall chances.
Braintree rider, Aaron Smith, took the overall win in the supporting A group of races. A win in race one, followed by a third and second place, was enough to finish ahead of young Finley Jarvis.
Jarvis rode consistently well, with two seconds and a third place. Jack Whitlam secured third overall, and despite two leg wins, Robert Baldry had to settle for 4th on the day.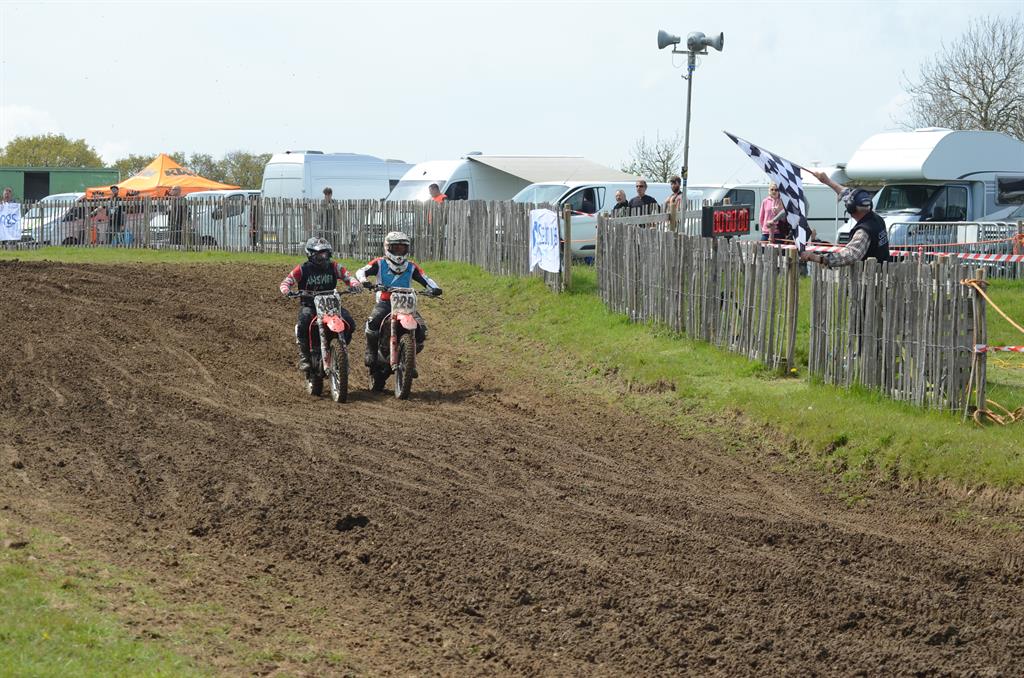 In the group B supports, Dan Palmer took the overall win with three second place finishes. Local rider, Andy Cattermole had two race wins, and a 5th place to take 2nd place in the overall standings.
Robert Lock took his Kawasaki to three race wins in group C, and despite a trip in the pond, Carl Hood secured second overall. Former speedway rider, Shaun Tacey had a second and third place finish, but a problem at the start of race three saw him having to settle for third overall on the day.
Round three of the series is on May 30th at the Blaxhall circuit, hosted by the Woodbridge club.
Results
Premier Class Expert 
| | | | | | |
| --- | --- | --- | --- | --- | --- |
| Pos | Competitor | Points | R1 | R2 | R3 |
| 1 | Lewis Tombs | 72 | 25 | 25 | 22 |
| 2 | Luke Parker | 69 | 22 | 22 | 25 |
| 3 | Declan Whittle | 56 | 20 | 20 | 16 |
| 4 | Reece Martin | 50 | 18 | 12 | 20 |
| 5 | Benjamin Cole | 49 | 13 | 18 | 18 |
| 6 | Wiliam Farrow | 45 | 15 | 16 | 14 |
| 7 | Robert Nicoll | 41 | 14 | 15 | 12 |
| 8 | Samuel Arbon | 36 | 10 | 13 | 13 |
| 9 | George Ellis | 34 | 12 | 11 | 11 |
| 10 | Brad Woodroffe | 29 | – | 14 | 15 |
| 11 | Harry Clark | 26 | 8 | 8 | 10 |
| 12 | Jack Youngs | 25 | 9 | 7 | 9 |
| 13 | Benjamin Alexander | 25 | 11 | 9 | 5 |
| 14 | Connor Baldry | 22 | 5 | 10 | 7 |
| 15 | Tomas Hardcastle | 19 | 6 | 5 | 8 |
| 16 | Philip Burton | 19 | 7 | 6 | 6 |
| 17 | Max Broadbelt | 16 | 16 | – | – |
| 18 | Bill Moynes | 4 | 4 | – | – |
Premier Class Junior
| | | | | | |
| --- | --- | --- | --- | --- | --- |
| Pos | Competitor | Points | R1 | R2 | R3 |
| 1 | Ryan Gardiner | 72 | 25 | 22 | 25 |
| 2 | Callum Murfitt | 62 | 22 | 25 | 15 |
| 3 | Tommy Clark | 57 | 20 | 15 | 22 |
| 4 | Connor Bunkle | 56 | 16 | 20 | 20 |
| 5 | Matthew French | 54 | 18 | 18 | 18 |
| 6 | Ryan Powley | 43 | 13 | 14 | 16 |
| 7 | Archie Fisher | 43 | 14 | 16 | 13 |
| 8 | Shaun Leggett | 40 | 15 | 11 | 14 |
| 9 | Daniel Willis | 28 | 3 | 13 | 12 |
| 10 | Gareth Lane | 28 | 10 | 8 | 10 |
| 11 | Shane Brown | 28 | 8 | 12 | 8 |
| 12 | Benjamin Watling | 26 | 12 | 9 | 5 |
| 13 | Mark Goodson | 25 | 6 | 10 | 9 |
| 14 | Joshua Deadman | 22 | 5 | 6 | 11 |
| 15 | Marc Nickerson | 22 | 11 | 5 | 6 |
| 16 | Charlie Baker | 17 | 9 | 4 | 4 |
| 17 | Jake Ward | 17 | 7 | 7 | 3 |
| 18 | Luke Nolan | 11 | 2 | 2 | 7 |
| 19 | Callum Lake | 9 | 4 | 3 | 2 |
| 20 | Ben Roper | 2 | 1 | – | 1 |
| 21 | Ethan Martin | 1 | – | 1 | – |
Support A
| | | | | | |
| --- | --- | --- | --- | --- | --- |
| Pos | Competitor | Points | R1 | R2 | R3 |
| 1 | Aaron Smith | 129 | 45 | 41 | 43 |
| 2 | Finley Jarvis | 127 | 43 | 43 | 41 |
| 3 | Jack Whitlam | 117 | 41 | 39 | 37 |
| 4 | Robert Baldry | 108 | 18 | 45 | 45 |
| 5 | Lewis Holmes | 106 | 35 | 32 | 39 |
| 6 | Paul Hubbard | 104 | 34 | 35 | 35 |
| 7 | Shaun Palfrey | 104 | 37 | 34 | 33 |
| 8 | Lewis Bond | 102 | 33 | 37 | 32 |
| 9 | Marcus Smith | 91 | 31 | 29 | 31 |
| 10 | James Gadd | 83 | 29 | 28 | 26 |
| 11 | Jack Austin | 81 | 24 | 30 | 27 |
| 12 | William Jurgens | 81 | 30 | 31 | 20 |
| 13 | Karl Sturman | 80 | 27 | 19 | 34 |
| 14 | Jason Aylett | 80 | 28 | 27 | 25 |
| 15 | Thomas Mustard | 72 | 21 | 23 | 28 |
| 16 | Kieren Hibble | 70 | 32 | 21 | 17 |
| 17 | Jack Watling | 67 | 12 | 25 | 30 |
| 18 | Scott Goodson | 57 | 23 | 26 | 8 |
| 19 | Stephen Atkins | 55 | 20 | 13 | 22 |
| 20 | Daniel Wright | 55 | 14 | 22 | 19 |
| 21 | Bradley Allen | 52 | 19 | 33 | – |
| 22 | Henry Cox | 51 | 15 | 12 | 24 |
| 23 | Daniel Lawlor | 49 | 17 | 20 | 12 |
| 24 | Dan Lee | 46 | 6 | 11 | 29 |
| 25 | Josh Smith | 45 | 8 | 14 | 23 |
| 26 | Ben Secker | 45 | 11 | 18 | 16 |
| 27 | Georgia Potter | 44 | 16 | 7 | 21 |
| 28 | Josh Sturman | 43 | 9 | 16 | 18 |
| 29 | Joshua Warren | 42 | 22 | 10 | 10 |
| 30 | Robert Aldridge | 42 | 39 | 3 | – |
| 31 | Ty Atkins | 41 | 26 | 6 | 9 |
| 32 | Daniel Cummings | 39 | 7 | 17 | 15 |
| 33 | Olly Quinsee | 39 | 13 | 15 | 11 |
| 34 | Gareth Cushion | 34 | 10 | 24 | – |
| 35 | Zak Roberts | 29 | 25 | 4 | – |
| 36 | Aaron Holden | 28 | 5 | 9 | 14 |
| 37 | Tavis Coulson | 25 | 4 | 8 | 13 |
| 38 | Dean Suckling | 5 | – | 5 | – |
Support B
| | | | | | |
| --- | --- | --- | --- | --- | --- |
| Pos | Competitor | Points | R1 | R2 | R3 |
| 1 | Dan Palmer | 129 | 43 | 43 | 43 |
| 2 | Andrew Cattermole | 127 | 37 | 45 | 45 |
| 3 | Ethan Cone | 115 | 41 | 39 | 35 |
| 4 | Johnny Ellis | 113 | 35 | 37 | 41 |
| 5 | Chris Elvin | 101 | 31 | 33 | 37 |
| 6 | Jacob Carter | 100 | 26 | 35 | 39 |
| 7 | Dexter Lambe | 99 | 39 | 30 | 30 |
| 8 | Charlie Starsmoore | 94 | 32 | 34 | 28 |
| 9 | George Stark | 86 | 21 | 32 | 33 |
| 10 | Sam Cushion | 86 | 45 | 41 | – |
| 11 | Max Monk | 84 | 27 | 25 | 32 |
| 12 | Lewis Abel | 82 | 34 | 27 | 21 |
| 13 | Ryan Goode | 78 | 30 | 19 | 29 |
| 14 | Craig Page-Baker | 76 | 23 | 29 | 24 |
| 15 | Ryan Preston | 76 | 33 | 31 | 12 |
| 16 | Luke Jordan Pharoah | 75 | 29 | 15 | 31 |
| 17 | Andrew Rooke | 69 | 22 | 20 | 27 |
| 18 | Jesse Eaves | 66 | 25 | 7 | 34 |
| 19 | Lewis Saunders | 61 | 24 | 17 | 20 |
| 20 | Andrew Smith | 56 | 28 | 28 | – |
| 21 | Jake Lane | 53 | 15 | 21 | 17 |
| 22 | Aaron Saunders | 52 | 20 | 18 | 14 |
| 23 | Shaun Woodrow | 51 | 18 | 8 | 25 |
| 24 | Reece Horne | 49 | – | 23 | 26 |
| 25 | Samuel Cook | 49 | 12 | 14 | 23 |
| 26 | Jack Noon | 44 | 16 | 13 | 15 |
| 27 | Ollie Denyer | 43 | 17 | 26 | – |
| 28 | Wayne Fulcher | 43 | 19 | 24 | – |
| 29 | Russell Snowling | 34 | 6 | 6 | 22 |
| 30 | Adam Groom | 34 | 9 | 9 | 16 |
| 31 | Dylan Wilby | 30 | – | 11 | 19 |
| 32 | Michael Kester | 30 | – | 12 | 18 |
| 33 | Tom Garnham | 30 | 14 | 16 | – |
| 34 | Ian Fisher | 23 | 5 | 5 | 13 |
| 35 | Jack Matthews | 22 | – | 22 | – |
| 36 | Robbie Blaxell | 20 | 10 | 10 | – |
| 37 | Robert Green | 13 | 13 | – | – |
| 38 | Jason Turner | 11 | 11 | – | – |
| 39 | Shaun Mutch | 8 | 8 | – | – |
| 40 | David Ward | 7 | 7 | – | – |
Support C
| | | | | | |
| --- | --- | --- | --- | --- | --- |
| Pos | Competitor | Points | R1 | R2 | R3 |
| 1 | Robert Lock | 135 | 45 | 45 | 45 |
| 2 | Carl Hood | 115 | 39 | 37 | 39 |
| 3 | Shaun Tacey | 115 | 43 | 41 | 31 |
| 4 | Russell Brown | 109 | 32 | 34 | 43 |
| 5 | John Rogers | 107 | 37 | 35 | 35 |
| 6 | John Smith | 101 | 33 | 31 | 37 |
| 7 | Tony Rooke | 98 | 34 | 32 | 32 |
| 8 | William Pooley | 97 | 26 | 30 | 41 |
| 9 | Anna Groves | 94 | 28 | 33 | 33 |
| 10 | Trevor Neave | 87 | 31 | 27 | 29 |
| 11 | Jack Hunton | 85 | 30 | 21 | 34 |
| 12 | Evan Brown | 84 | 25 | 29 | 30 |
| 13 | Robert Mortlock | 84 | 41 | 43 | – |
| 14 | Jason Eaves | 83 | 29 | 26 | 28 |
| 15 | Darren Stone | 74 | 35 | 39 | – |
| 16 | Stephen Hood | 73 | 27 | 20 | 26 |
| 17 | Kai Ryder | 71 | 23 | 23 | 25 |
| 18 | Adam Baker | 68 | 24 | 24 | 20 |
| 19 | Matthew Herring | 61 | 19 | 19 | 23 |
| 20 | Andrew Carter | 58 | 21 | 22 | 15 |
| 21 | Ashley Doggett | 57 | 22 | 13 | 22 |
| 22 | Travis Dorrington | 53 | 18 | 16 | 19 |
| 23 | Aaron Tilley | 52 | – | 25 | 27 |
| 24 | Nick Hunton | 50 | 11 | 15 | 24 |
| 25 | Michael Blaxell | 50 | 15 | 17 | 18 |
| 26 | Liam Ryland-Pye | 50 | 16 | 18 | 16 |
| 27 | Geraint Hubbard | 49 | 20 | 12 | 17 |
| 28 | Colin Booker | 47 | 12 | 14 | 21 |
| 29 | Paul Neave | 38 | 14 | 11 | 13 |
| 30 | Mark Jackson | 31 | 17 | – | 14 |
| 31 | Ben Saltmarsh | 28 | – | 28 | – |
| 32 | Aiden Payne | 23 | 13 | 10 | – |
| 33 | Mark Secker | 22 | 10 | – | 12 |