Richards runs riot! 2020 UK Girls Nationals – Race Report and Results
The 2020 UK Girls Nationals was held at the fantastic natural Alvington circuit in Gloucestershire and was in perfect condition for a weekend full of race action.
Images courtesy of Terry Batchelor
Lilly Senior was an absolute star in the Auto class winning all five motos in stunning style to take the title. Isabel Druce was second in every moto for the number two spot on the podium and Ava Peedle rode well with third throughout.
There was another maximum in the Junior 65's and it was Leah Rees-Evans who rode fantastically all weekend long to go through the card and winning the Championship. Lexi Waite had a great two days to finish in second with Molly Neale rounding out the podium in third.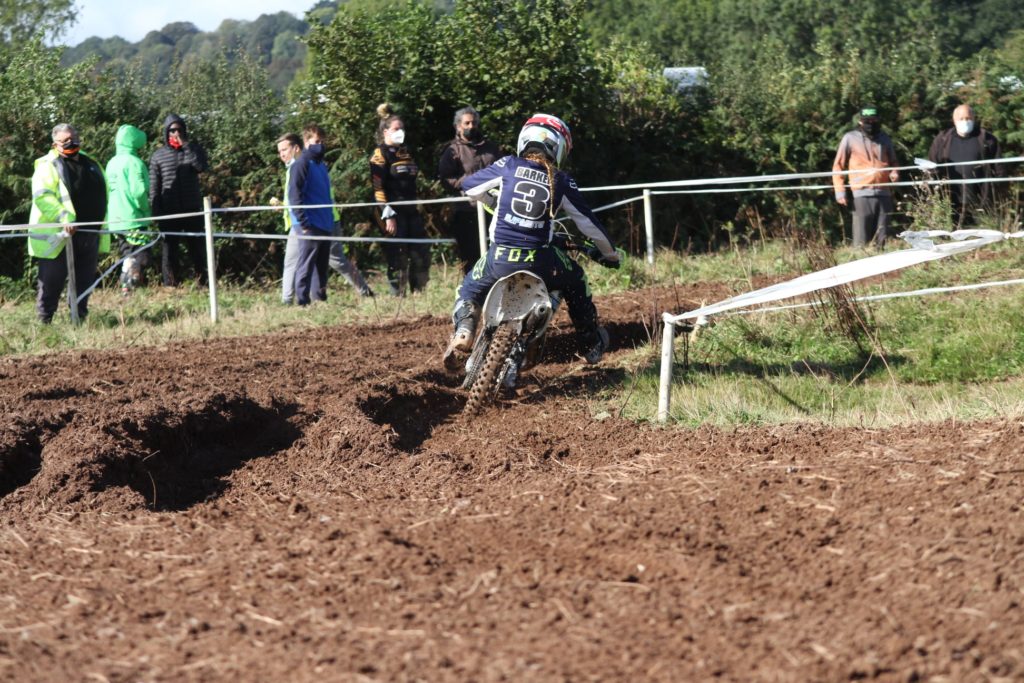 Lucy Barker joined the full card party and like Lilley and Leah before her would blitz the field to take a full complement of race victories and the overall. In second with some great riding was Libby Chatburn, while Millie Sweeny was third.
There was a battle royal in the Big Wheel 85's between Christina Palmer and Rheanna Morgan Rogers. Rheanna would win three motos to Christina's two but a low scoring fourth moto meant that it was Palmer who would take the title with Morgan-Rogers in second and Amber McGregor third.
Grace Richards rode a stormer in the Youth Senior category winning each and every moto and nailing the title ahead of a battling Ria Truman and Jaysi Austin.
Kathyrn Booth was a class act in the Adult MX1 class and looked unstoppable on her way to a full house and the top spot on the podium. Georgia Potter would pass the chequers in second in each moto for the second step on the box with Louise Powell in third.
In a packed MX2 group the fight at the front end of the group was intense as three racers would win a race but with two moto victories to her name the title would go the way of Chelsea Gowland just two points ahead of the final moto winner Nadiya Jones and Moto one victor Marni Saunders. Courtesy of winning the last race Jones would end the weekend in second with Saunders third.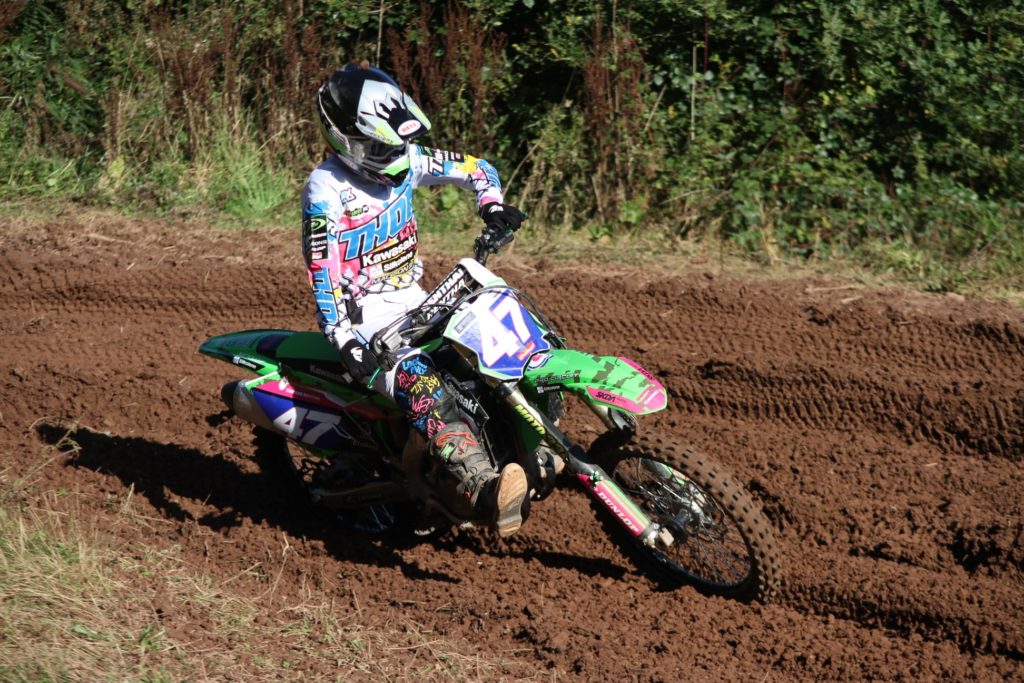 Results
Auto's
Pos Competitor Total Points r 1 r 2 r 3 r 4 r 5
1 448 LILLY SENIOR 225 45 45 45 45 45
2 99 ISABEL DRUCE 215 43 43 43 43 43
3 472 AVA PEEDLE 205 41 41 41 41 41
4 152 SUMMER HOLT 193 39 39 37 39 39
5 27 Daisy Polden 176 33 35 39 35 34
6 3 IVY WARREN 175 34 37 33 34 37
7 50 LAYLA HARRIS 174 37 34 35 33 35
8 39x Lily Foams 172 35 33 34 37 33
Junior 65's
Pos Competitor Total Points r 1 r 2 r 3 r 4 r 5
1 9 LEAH REES-EVANS 225 45 45 45 45 45
2 1 LEXI WAITE 207 43 43 37 43 41
3 22 MOLLY NEALE 201 35 41 41 41 43
4 44 Poppy Banning 197 41 37 43 37 39
5 741 Grace Adshead 191 37 39 39 39 37
6 294 WILLOW PRICE 178 39 35 35 34 35
7 212 Seersha Jones 164 31 33 33 33 34
8 117 EVIE WILKIE 164 34 34 32 31 33
9 939 CEINWEN POWELL 161 33 32 29 35 32
10 39 Ellie Foames 159 32 31 34 32 30
11 231 ANGELICA BENNETT 151 29 30 31 30 31
12 181 OLIVIA SALT 89 30 29 30 – –
Small Wheel 85's
Pos Competitor Total Points r 1 r 2 r 3 r 4 r 5
1 3 Lucy Barker 225 45 45 45 45 45
2 31 LIBBY CHATBURN 211 39 43 43 43 43
3 222 MILLIE SWEENEY 193 43 41 39 33 37
4 777 Brooke Loftus 187 41 33 41 31 41
5 41 CHECOBY RAINEY 186 34 35 37 41 39
6 44 MORGAN ETHERIDGE 177 32 39 33 39 34
7 40 JESSIE-LEE JESSOPP 170 37 34 35 37 27
8 486 MIA JACOBS 164 33 32 32 32 35
9 165 ELLIE DAVIDSON 163 35 31 31 34 32
10 314 MILEY HODGSON 149 30 27 30 29 33
11 100 Sophie Jones 146 29 28 29 30 30
12 105 Lowri Rees 142 28 29 28 28 29
13 74 CHLOE PRICE 137 – 37 34 35 31
14 64 Maisie Goodwin 82 – – 27 27 28
15 52 LOTTIE TAYLOR 61 31 30 – – –
16 -??- – 9018589 – 27 27 – – – –
17 9 Roxy ELLIS 26 – – – 26 –
Big Wheel 85's
Pos Competitor Total Points r 1 r 2 r 3 r 4 r 5
1 131 Cristina Paluer 219 43 45 43 45 43
2 22 Rheanna Morgan Rogers 213 45 43 45 35 45
3 50 AMBER MCGREGOR 199 39 41 41 43 35
4 500 EBONY BROWN 197 41 39 39 41 37
5 112 HOLLIE ROBERTS 188 37 37 34 39 41
6 111 BEANIE REECE 180 35 35 37 34 39
7 223 ELLIE ALLSOPP 174 34 34 35 37 34
8 222 KATIE STOCK 157 33 30 30 31 33
9 56 AUTUMN JENKINSON 157 32 33 31 29 32
10 47 POPPY MOREHOUSE 156 31 32 32 33 28
11 88 TAILOR SEARLE 147 30 28 29 30 30
12 98 HOLLY WILLIAMS 143 27 29 28 28 31
13 259 Fahren Fraser 135 25 27 27 27 29
14 39 ERIN HOWES 133 28 26 26 26 27
15 19 KELSEY POWELL 126 26 24 25 25 26
16 850 MOA HAMMARBOM 125 29 31 33 32 –
17 16 JASMINE YILMAZ 25 – 25 – – –
Youth
Pos Competitor Total Points r 1 r 2 r 3 r 4 r 5
1 145 Grace Richards 225 45 45 45 45 45
2 20 RIA TRUMAN 215 43 43 43 43 43
3 9 JAYSI AUSTIN 201 39 41 41 41 39
4 100 Hannah Jones 199 41 39 39 39 41
5 22 IZZY NEALE 185 37 37 37 37 37
6 44 CADANCE JOHN'S 171 32 35 35 34 35
7 165 Abbie Walker 166 35 32 34 35 30
8 102 Paige Gould 165 34 34 33 30 34
9 727 GEORGIA BOTTRIELL 161 31 33 32 32 33
10 25 Katie Harris 157 33 31 31 31 31
11 100x Molly Culf 154 30 30 29 33 32
12 859 JASMINE SIKORSKI-PULLEN 146 29 29 30 29 29
13 123 Fern Ingham 140 28 28 28 28 28
14 511 Hollie Bennett 135 27 27 27 27 27
MX1
Pos Competitor Total Points r 1 r 2 r 3 r 4 r 5
1 138 KATHRYN BOOTH 225 45 45 45 45 45
2 284 GEORGIA POTTER 215 43 43 43 43 43
3 38 LOUISE POWELL 195 41 39 39 39 37
4 53 KELLY PHILLIPS 189 39 37 37 37 39
5 88 ZOE ZEMBRZUSKI 164 – 41 41 41 41
6 69 Megan Withers 140 – 35 35 35 35
MX2
Pos Competitor Total Points r 1 r 2 r 3 r 4 r 5
1 47 CHELSEA GOWLAND 213 45 37 45 45 41
2 461 NADIYA JONES 211 41 43 39 43 45
3 551 Marni Saunders 211 39 45 43 41 43
4 26 CATHERINE KING 203 43 41 41 39 39
5 20 Eleanor Calby 179 35 39 37 31 37
6 25 Elle English 176 37 35 34 37 33
7 7 CAITLIN NEWMAN 172 34 34 35 35 34
8 811 TAMARA-JAYNE MORGAN 163 31 32 33 32 35
9 34 GRACE BATES 163 33 33 32 34 31
10 173 Gemma Holtham 155 32 27 31 33 32
11 794 LILY MORELAND 147 29 30 30 29 29
12 27 Lucy Mactaggart 145 25 31 29 30 30
13 713 ANNA GROVES 141 30 28 27 28 28
14 22 Jasmine Harris 130 26 25 28 25 26
15 141 EMILY COOTE 129 24 26 26 26 27
16 342 Samantha Reason 120 22 24 25 24 25
17 83 TERRI WALLACE 117 23 23 24 23 24
18 81 Amy Wallis 56 27 29 – – –
19 362 STACEY HENDERSON 28 28 – – – –
20 57 JESSICA POUNDER 27 – – – 27 –