Martin and Todd go Bar to Bar! ScotMX Scottish Motocross Championship Round 3 – Report and Results
Scot MX made their way to Rhynie for round three of the 2020 SACU Scottish Motocross Championship at the weekend with the series going from strength to strength.
Images courtesy of AJW MX Photos
In the Pro MX1 races on Sunday, Martin Barr took both of the first two moto wins before Brad Todd held him off in an epic duel in the final race to take the chequers. Tony Craig rolled back the years with some great motos and finished third overall behind Barr and Todd.
Ryan Thomson got off the mark first in MX2 but Jay Hague fought back to win the next two moto's and claim the overall from Thomson and Steven Craig third.
The Youth racers had two days of action and 5 moto's each. In the Auto's Zak Hendry went 1-1-1-1-2 for the overall, while in the 65's Liam Bell rode fantastic winning every race for the number one spot.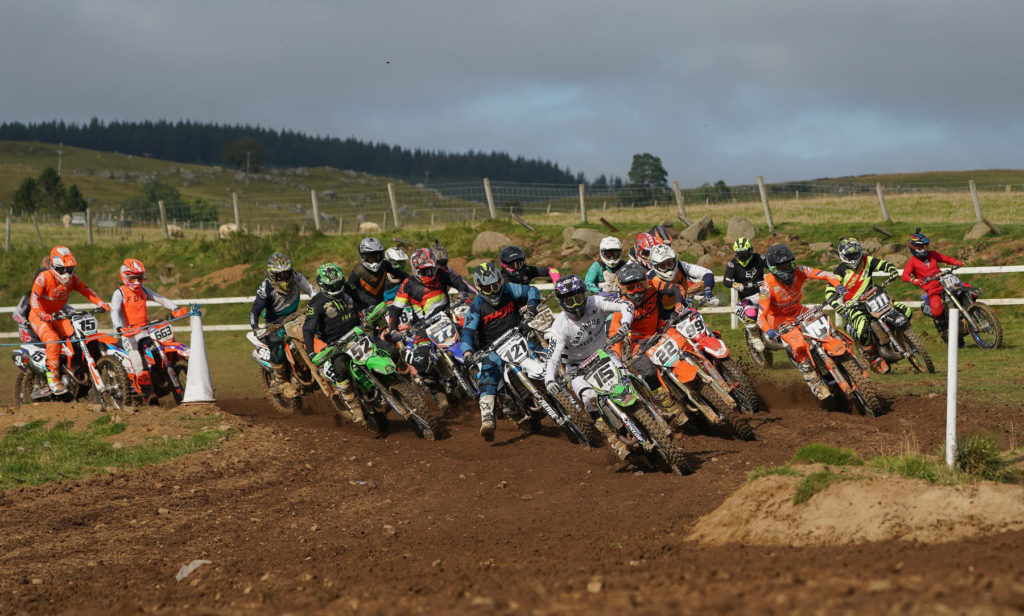 Rhys Whyment and Jack Fletcher won the Small Wheel and Big Wheel 85 classes respectively with maximum points, with Fletcher claiming the title with a round to spare.
Logan Hendry would win four motos from five in the Rookies but a moto one DNF pushed him into second position behind overall winner Reece Dawson.
In the Vets classes, victory would go the way of Barry Gray in the Over 40's and Tony Whitelaw in the Over 50's both of whom went unbeaten.
In the Adult C class Dylan Grieve notched the win and in Adult B John Marshall was the number one.
The Championship moves onto Leuchars on the 10th & 11th October for the final round. For more info and to enter go to http://www.scotmx.com/
Results
Pro MX1
Pos Competitor Total Points r 1 r 2 r 3
1 50 Martin BARR 72 25 25 22
2 714 Brad TODD 65 20 20 25
3 57 Tony CRAIG 60 22 22 16
4 3 Ben EDWARDS 54 18 16 20
5 311 Aaron MCCORROLL 49 16 18 15
6 4 Gary Gibson 48 15 15 18
7 211 Morgan ROBERTSON 40 12 14 14
8 46 Neil Chatham 39 13 13 13
9 73 Sean Williamson 36 14 10 12
10 318 Ewan KERMAC 34 11 12 11
11 71 Owen HENDRY 27 6 11 10
12 32 Danny STALKER 26 10 8 8
13 506 Grant FRASER 24 8 7 9
14 19 George STEWART 18 9 9 –
15 23 Scott MURRAY 7 7 – –
Pro MX2
Pos Competitor Total Points r 1 r 2 r 3
1 77 Jay HAGUE 72 22 25 25
2 181 Ryan THOMSON 69 25 22 22
3 99 Steven CRAIG 58 18 20 20
4 101 Seth Moir 56 20 18 18
Auto's
Pos Competitor Total Points r 1 r 2 r 3 r 4 r 5
1 73 Zak HENDRY 122 25 25 25 25 22
2 874 Lyall RUTHERFORD 113 22 22 22 22 25
3 132 Ronnie MOAR 100 20 20 20 20 20
4 127 Tucker Moffat 85 18 13 18 18 18
5 88 Ivan WILLIAMSON 79 16 16 15 16 16
6 133 Harris Curran 69 13 15 13 14 14
7 57 Seb CRAIG 66 12 14 12 13 15
8 33 Olly O'BRIEN 65 15 12 16 11 11
9 87 Caleb SHERA 61 14 18 14 15 –
10 28 Liam HANNAH 58 11 11 11 12 13
11 36 Connor CLAYTON 52 10 10 10 10 12
65's
Pos Competitor Total Points r 1 r 2 r 3 r 4 r 5
1 38 Liam BELL 125 25 25 25 25 25
2 33 Jaden ANDERSON 104 22 20 20 20 22
3 4 Malachi ALLAN 104 18 22 22 22 20
4 534 Robbie PEACE 83 20 18 12 15 18
5 305 Mason ALLEN 80 14 16 16 18 16
6 26 Tyler MEARNS 72 13 15 13 16 15
7 100 Ryan PRENTICE 71 16 13 15 13 14
8 221 Kian McGILL 65 12 14 14 12 13
9 13 Robbie SCOTT 65 15 7 18 14 11
10 67 Michael Paterson 55 11 11 10 11 12
11 88 George Dryden 53 10 12 11 10 10
12 66 Maddox Patterson 44 9 8 9 9 9
13 111 Scott McNEESH 42 8 10 8 8 8
14 222 Riley Crawford 30 6 6 6 6 6
15 52 Riley SUTHERLAND 24 5 4 5 5 5
16 600 Callum Smith 23 7 9 7 – –
17 54 Travis Matheson 23 – 5 4 7 7
18 158 James FOOTE 15 4 – 3 4 4
19 94 Lexi SHARP 14 3 3 2 3 3
Small Wheel 85's
Pos Competitor Total Points r 1 r 2 r 3 r 4 r 5
1 42 Rhys WHYMENT 125 25 25 25 25 25
2 99 James McGowan 102 18 22 22 22 18
3 122 Jamie PRENTICE 98 22 18 20 16 22
4 4 Billy HADDOW 98 20 20 18 20 20
5 30 Dylan THORNDICK 77 16 16 15 15 15
6 19 Scott McPHEE 65 – 15 16 18 16
7 11 Chloe Hamer 28 – – – 14 14
Big Wheel 85's
Pos Competitor Total Points r 1 r 2 r 3 r 4 r 5
1 310 Jack FLETCHER 125 25 25 25 25 25
2 5 Gavin SCOTT 108 22 22 22 22 20
3 70 Troy FLOCKHART 97 15 20 20 20 22
4 71 Reilly McKENZIE 84 16 18 18 16 16
5 246 Ewen McPHERSON 80 20 14 14 14 18
6 168 Nash Allen 80 18 16 16 15 15
7 199 Declan Taylor 76 14 15 15 18 14
8 26S Lewis GOW 60 12 12 13 13 10
9 96 Reagan McKENZIE 53 10 8 11 11 13
10 24 Conrad DYMOND 47 11 – 12 12 12
11 12 Charlie MacDonald 38 – 10 9 10 9
12 121 Rossi CRAWFORD 38 – 11 10 9 8
13 17 Jon Paul RAE 37 13 13 – – 11
14 22 Dylan Hamer 37 9 7 7 7 7
15 69 Roan THOMSON 33 8 9 8 8 –
Rookies
Pos Competitor Total Points r 1 r 2 r 3 r 4 r 5
1 8 Reece DAWSON 113 25 22 22 22 22
2 74 Logan HENDRY 100 – 25 25 25 25
3 81 Logan FERGUSON 96 22 20 14 20 20
4 666 Aydon SMITH 94 20 18 20 18 18
5 5 Ryan Watt 75 16 13 15 16 15
6 44 Marley NELSON 70 13 15 16 14 12
7 99 Alexander CHAUVIN 69 15 12 13 13 16
8 29 Jamie MacKAY 65 14 14 9 15 13
9 20 Ewan Aiken 53 11 10 10 12 10
10 88 Lee Cameron 52 18 16 18 – –
11 27 Caydan MEARNS 51 8 11 12 9 11
12 711 Tallon LEASK 44 9 7 8 11 9
13 25 Kian STANFORD 36 5 6 7 10 8
14 55 Brian ANDERSON 32 12 9 11 – –
15 462 Cain McELVEEN 18 10 8 – – –
16 11 Ellie CLAYTON 17 4 5 – 8 –
17 101 Tyla Muir 14 – – – – 14
18 30 Jack WINTHROP 7 7 – – – –
19 17 Connor LAVERY 6 6 – – – –
Vets over 40
Pos Competitor Total Points r 1 r 2 r 3
1 159 Barry GRAY 75 25 25 25
2 19 Alan Deans 66 22 22 22
3 88 Alasdair McGOWAN 60 20 20 20
4 719 Mark MASON 52 16 18 18
5 51 Kevin CHARLES 50 18 16 16
6 121 Richard BRYCE 44 15 14 15
7 600 Barry SMITH 41 12 15 14
8 33 Kevin Rosie 40 14 13 13
9 68 Garry PATERSON 37 13 12 12
10 34 Paul SEYMOUR 33 11 11 11
Vets over 5o
Pos Competitor Total Points r 1 r 2 r 3
1 14 Tony WHITELAW 75 25 25 25
2 10 Morton Hannah 66 22 22 22
3 69 Ian WILSON 60 20 20 20
4 505 Brian FRASER 52 18 16 18
5 337 Andrew LEASK 50 16 18 16
6 398 Stephen Pollock 45 15 15 15
7 161 Douglas GARRICK 42 14 14 14
Saturday Adult Support
Pos Competitor Total Points r 1 r 2 r 3
1 4 Gary Gibson 50 25 25 –
2 181 Ryan THOMSON 44 22 22 –
3 318 Ewan KERMACK 40 20 20 –
4 100 Seth Moir 34 16 18 –
5 23 Scott MURRAY 34 18 16 –
6 535 John MARSHALL 30 15 15 –
7 96 Rory JOHNSON 27 13 14 –
8 51 Kevin CHARLES 24 11 13 –
9 22 Jordan DOHERTY 24 12 12 –
10 311 Craig DONALDSON 21 10 11 –
11 164 Kyle ROSS 19 9 10 –
12 146 Aaron Hamer 17 8 9 –
13 175 David SMITH 14 14 – –
14 293 Iain SUTHERLAND 14 7 7 –
15 248 Barry KANE 8 – 8 –
Adult B
Pos Competitor Total Points r 1 r 2 r 3
1 535 John MARSHALL 69 25 22 22
2 31 Steven McCORMACK 65 15 25 25
3 15 Reece ROBERTSON 56 22 18 16
4 77 Steven LENNIE 54 18 16 20
5 96 Rory JOHNSTON 39 12 9 18
6 46X Ross MARSHALL 38 13 13 12
7 88 Ivan WILLIAMSON 37 8 15 14
8 117 Harry HAMILTON 37 16 11 10
9 22 Sean Henderson 35 – 20 15
10 114 Jak HENDERSON 35 14 14 7
11 201 Jordan McDONALD 32 9 12 11
12 121 Dean MCKENZIE 30 20 10 –
13 663 Sean ADAMS 25 10 7 8
14 124 James HADDOW 20 7 4 9
15 15X Craig HUTCHISON 19 – 6 13
16 52 Mark SUTHERLAND 17 6 5 6
17 225 Lee SIM 14 1 8 5
18 99 Nathan DIXON 11 11 – –
19 22x Jordan DOHERTY 9 3 3 3
20 800 Gordon CLARK 8 2 2 4
21 774 Scott CRAWFORD 5 5 – –
22 100 Greg MacDonald 4 4 – –
23 311 Craig DONALDSON 4 1 1 2
Adult C
Pos Competitor Total Points r 1 r 2 r 3
1 441 Dylan Grieve 72 25 25 22
2 462 Cain McELVEEN 57 22 15 20
3 66 David DICKSON 56 20 22 14
4 96 Ryan SMITH 54 18 18 18
5 375 John KENNY 49 14 20 15
6 747 Henry KERR 46 9 12 25
7 4 Myles NELSON 45 15 14 16
8 83 Jed Barker 34 8 13 13
9 94 Daniel McDONALD 32 10 11 11
10 44 Lewis FLEMING 28 12 9 7
11 6 Scott MAIR 26 11 3 12
12 774 Scott CRAWFORD 25 – 16 9
13 919 William ANDERSON 21 7 8 6
14 10 Ryan PAXTON 16 16 – –
15 27 Gerard DEWAR 16 2 6 8
16 17 Harry SMITH 15 3 7 5
17 70 Martyne LYELL 14 4 10 –
18 14 Liam JOHNSTON 13 13 – –
19 763 Scott FOOTE 13 1 2 10
20 421 Craig SCOTT 9 1 4 4
21 240 Calum GREENWOOD 9 5 1 3
22 225 George Moteithe 7 – 5 2
23 164 Kyle Ross 6 6 – –
24 881 George KERR 1 – 1 –
25 16 Paul BRUCE 1 – – 1
26 15 Ryan SIM 1 – – 1