Jenner thunders to Kings Lynn win! 2021 Indian Motorcycle DTRA Championship Round 1 – Report & Results
The 2021 Indian Motorcycle DTRA Championship opened on Sunday at the Adrian Flux Arena, Kings Lynn.  It was great to be back.
Report by Max Inman – Images courtesy of Paul France
Here's my overview of the weekend.
DTRA had planned to have the Pro/Inters and Hooligan class race on Saturday evening, but unfortunately, that got cancelled due to the weather. However, Sunday's racing went ahead as planned.
In the all new Twins class, Gary Birtwistle won on Royal Enfield's Twin FT, followed by Paul Young and Kye Forte close behind. Young was also racing a Twin FT.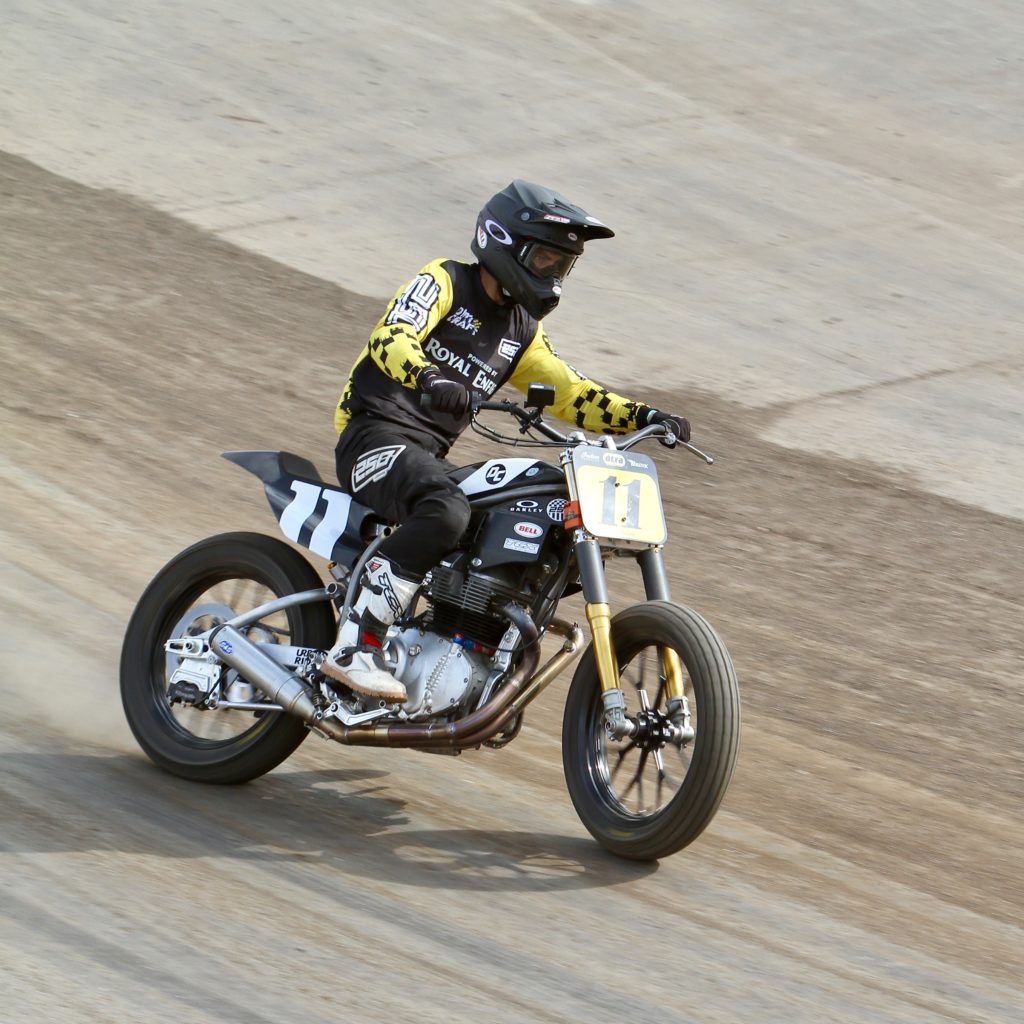 Chris Jenner finished in 1st place in the Thunderbike final, with Jake Young on the Stockwell Designs Harley-Davidson Sportster in 2nd, and George Pickering in 3rd, on the Indian Motorcycle FTR1200.
The Vintage class is split into two, one for four strokes, and a separate class for two strokes, Sean Kelly came 1st and with Mike Fisher, 2nd, and William Smith, 3rd, in the two-stroke class. And Paul Harrison beat Dave Webb, 2nd, and Carl Swateridge, 3rd, to get 1st place in the Vintage four stroke class.
[uam_ad id="37537″]
Jesse Moore, who finished 2nd, and Keith Strudwick, who came 3rd, were close behind winner, James Woodroffe in the Rookie final. This was the only ability ranked adult class of the weekend, due to Pros/Inters being rained off.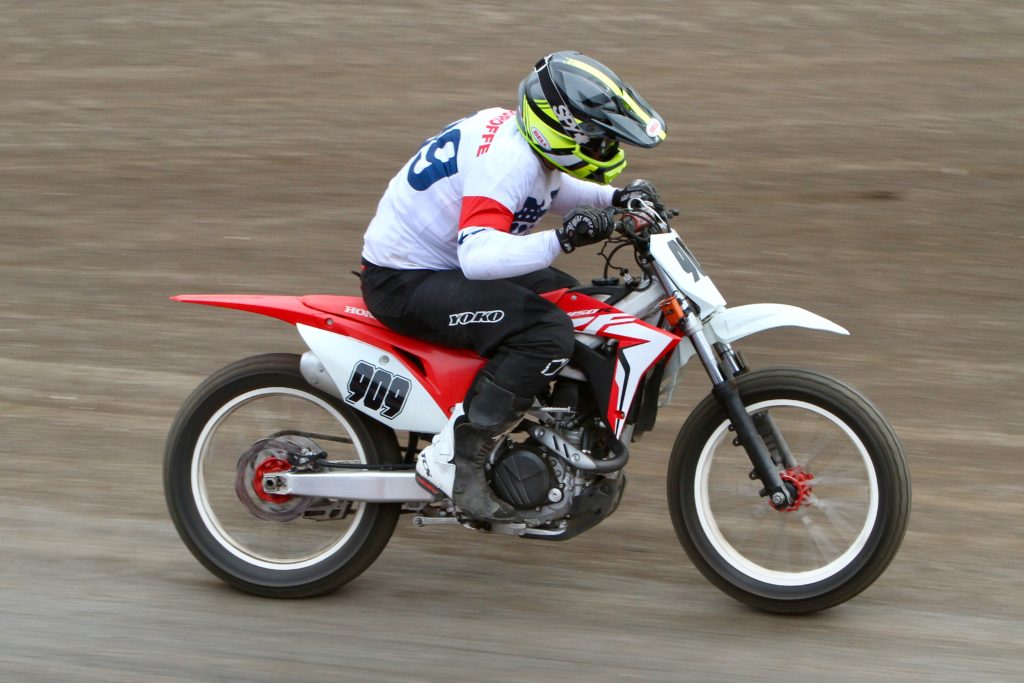 In the Modified Minibike class, Freddy Trott Jnr managed to finish 1st on his Sunday Motors, with Joe Banks close behind in 2nd, on his stock Honda CRF125f! followed by Gary Inman in 3rd on his Sunday Motors. Joe banks raced both minibike classes for more track time, stock minibikes are able to race in the modified class.
And in the Stock Minibike class, Matt Bainbridge came 1st, with Max Inman in 2nd, just in front of the world's fastest road racer, Peter Hickman.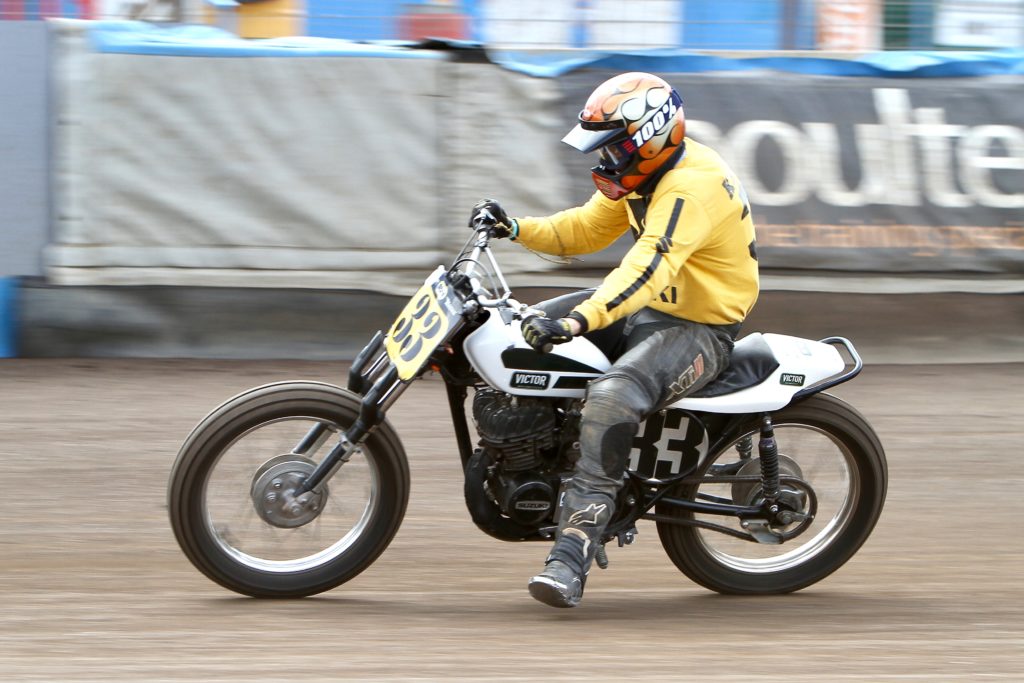 In the Youths classes, Ted Wilkinson finished 1st in Youth Seniors, with Charlie Kelly and Lizzie Banks close behind.
Paddy Moore came 1st in Youth Inters, followed by Wyatt Hopkins and Wilbur Skipp.
And finally, Oscar Osbourne-Wilks won the Youth Junior class, Beau Vernon came 2nd and Lincoln Forte was 3rd.
We had a great weekend racing and can't wait to be back for Round 2 at Greenfield Dirt Track.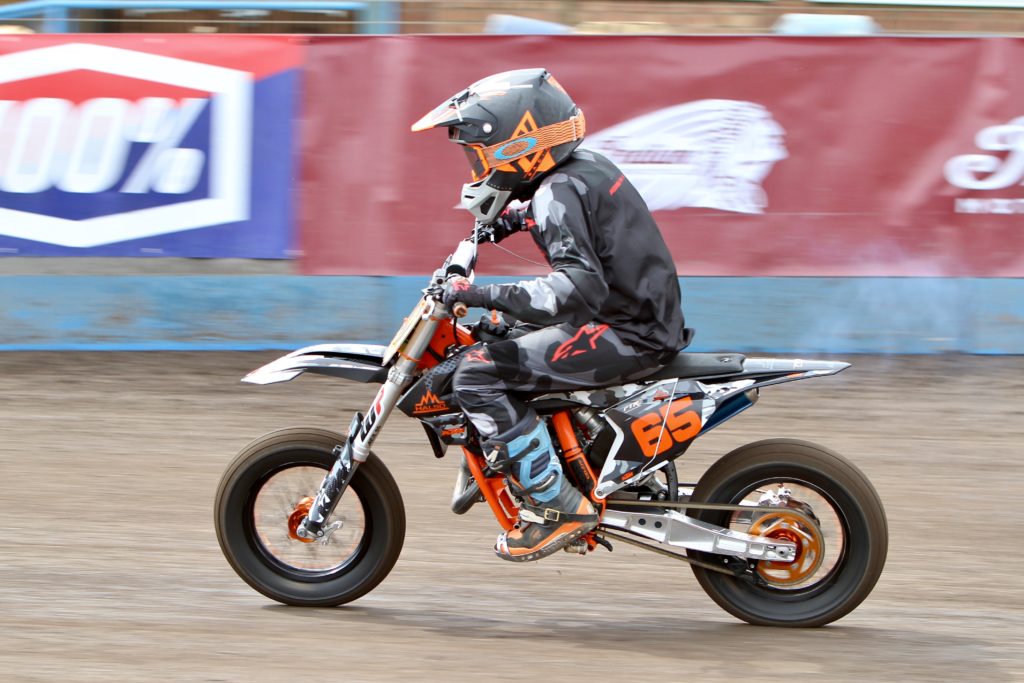 Results
The Finals
Twins
| | | | |
| --- | --- | --- | --- |
| Pos | Competitor | Diff | Laps |
| 1 | Gary Birtwistle | | 8 |
| 2 | Paul Young | 1.604 | 8 |
| 3 | kye forte | 2.503 | 8 |
Thunderbike
| | | | |
| --- | --- | --- | --- |
| Pos | Competitor | Diff | Laps |
| 1 | Chris Jenner | | 8 |
| 2 | Jake Young | 0.533 | 8 |
| 3 | George Pickering | 2.616 | 8 |
| 4 | Jon Bell | 4.367 | 8 |
| 5 | james Smith | 6.188 | 8 |
| 6 | Gary Inman | 8.081 | 8 |
| 7 | Chris Cooper | 13.418 | 8 |
| 8 | Tim Newbrook | 5 laps | 3 |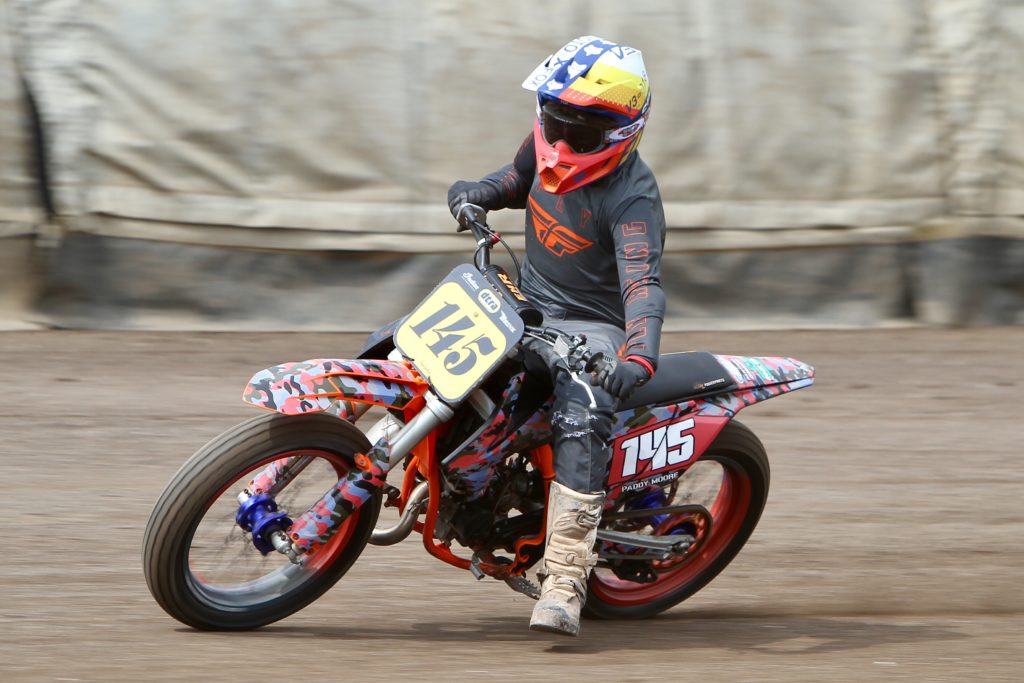 Minibike Mod
| | | | |
| --- | --- | --- | --- |
| Pos | Competitor | Diff | Laps |
| 1 | Freddy Trott Jnr | 0 | 8 |
| 2 | Joe Banks | 1.377 | 8 |
| 3 | Gary Inman | 5.302 | 8 |
| 4 | Jeremy Skipp | 5.595 | 8 |
| 5 | Freddy Trott Snr | 5.749 | 8 |
| 6 | Gary Wigston | 6.553 | 8 |
| 7 | Scott Pohlman | 7.501 | 8 |
| 8 | Obed Cooper | 8.533 | 8 |
| 9 | Jamie Kimber | 9.829 | 8 |
| 10 | Jamie Robertson | 1 lap | 7 |
| 11 | Iain Macdonald | 1 lap | 7 |
Minibike Stock
| | | | |
| --- | --- | --- | --- |
| Pos | Competitor | Diff | Laps |
| 1 | Matt Bainbridge | 0 | 7 |
| 2 | Max Inman | 2.451 | 7 |
| 3 | Peter Hickman | 2.744 | 7 |
| 4 | Leon Jones | 3.504 | 7 |
| 5 | Skye Adams | 4.027 | 7 |
| 6 | George Pickering | 4.738 | 7 |
| 7 | Tim Greig | 6.171 | 7 |
| 8 | Joe Banks | 6.482 | 7 |
| 9 | Wag Scott | 6.565 | 7 |
| 10 | Sam Neville | 9.212 | 7 |
| 11 | Gary Wigston | 10.008 | 7 |
| 12 | James Woodroffe | 14.806 | 7 |
Rookies
| | | | |
| --- | --- | --- | --- |
| Pos | Competitor | Diff | Laps |
| 1 | James Woodroffe | 0 | 8 |
| 2 | Jesse Moore | 4.366 | 8 |
| 3 | Keith Strudwick | 6.771 | 8 |
| 4 | Rick Owen | 7.701 | 8 |
| 5 | Guy Horner | 8.64 | 8 |
| 6 | Emily Moore | 9.724 | 8 |
| 7 | Chris Pugh | 10.208 | 8 |
| 8 | Peter Kimber | 10.519 | 8 |
| 9 | Mark Barton | 11.017 | 8 |
| 10 | Matt Smith | 11.371 | 8 |
| 11 | Jonathan James | 13.122 | 8 |
| 12 | Dave Lambert | 14.797 | 8 |
Vintage
| | | | |
| --- | --- | --- | --- |
| Pos | Competitor | Diff | Laps |
| 1 | Sean Kelly | 0 | 8 |
| 2 | Mike Fisher | 0.532 | 8 |
| 3 | Paul Harrison | 3.627 | 8 |
| 4 | Dave Webb | 4.69 | 8 |
| 5 | Carl Swateridge | 11.659 | 8 |
| 6 | Jason Cursley | 13.925 | 8 |
| 7 | Rick Bearcroft | 14.683 | 8 |
| 8 | William Smith | 15.607 | 8 |
| 9 | Mark Rozier | 15.84 | 8 |
| 10 | Ben Eddings | 16.43 | 8 |
| 11 | Gareth Howes | 16.488 | 8 |
| 12 | Andy John | 17.546 | 8 |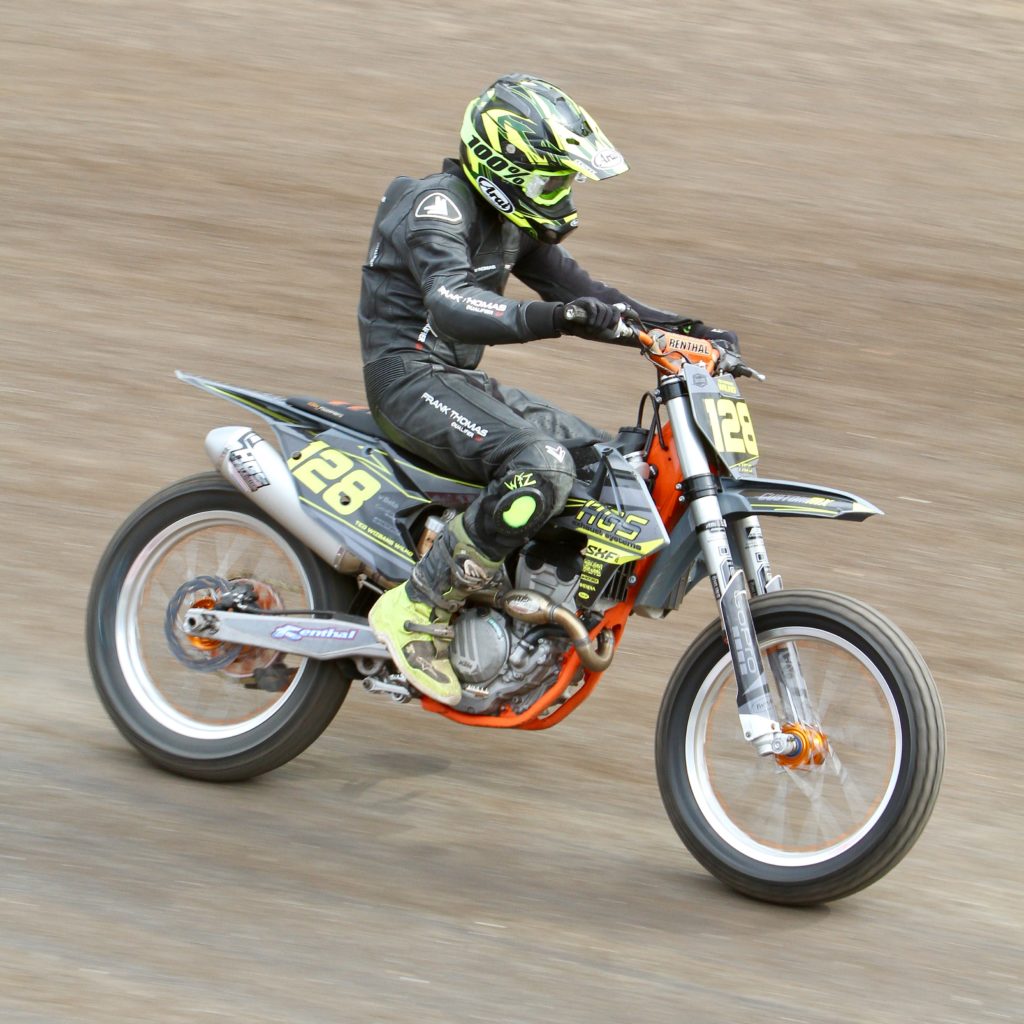 Youth Inter – Overall 
| | | | | | |
| --- | --- | --- | --- | --- | --- |
| Pos | Competitor | Points | R1 | R2 | R3 |
| 1 | Wyatt Hopkins | 42 | 12 | 15 | 15 |
| 2 | Paddy Moore | 39 | 15 | 12 | 12 |
| 3 | Wilbur Skipp | 30 | 10 | 10 | 10 |
| 4 | Maddie Banks | 27 | 9 | 9 | 9 |
Youth Senior – Overall
| | | | | | |
| --- | --- | --- | --- | --- | --- |
| Pos | Competitor | Points | R1 | R2 | R3 |
| 1 | Charlie Kelly | 40 | 15 | 10 | 15 |
| 2 | Ted Wilkinson | 39 | 12 | 15 | 12 |
| 3 | Erin Dyer | 32 | 10 | 12 | 10 |
| 4 | Lizzie Banks | 27 | 9 | 9 | 9 |
Youth Junior – Overall
| | | | | | |
| --- | --- | --- | --- | --- | --- |
| Pos | Competitor | Points | R1 | R2 | R3 |
| 1 | Oscar Osbourne Wilks | 45 | 15 | 15 | 15 |
| 2 | Beau Vernon | 34 | 10 | 12 | 12 |
| 3 | lincoln Forte | 32 | 12 | 10 | 10 |
| 4 | Toby Johnson | 26 | 9 | 9 | 8 |
| 5 | Jayden Lewis | 24 | 7 | 8 | 9 |
| 6 | colby forte | 21 | 8 | 6 | 7 |
| 7 | Marcie Skipp | 19 | 6 | 7 | 6 |
| 8 | Lola Richardson | 15 | 5 | 5 | 5 |
| 9 | Frankie Wilkinson | 12 | 4 | 4 | 4 |
[uam_ad id="37541″]