Jeff Perrett, Man in a Van and more…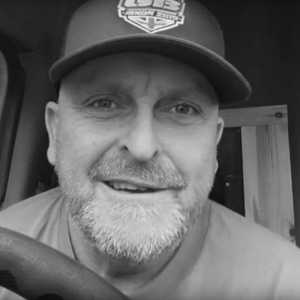 Jeff Perrett has been engrossed with the British Motocross scene since he started racing back in 1981 and his passion for it still clearly shines through. After a successful youth racing career, winning plenty of nationals and club championships, Jeff moved into adult pro-British motocross where he worked his way up to be a regular top 10 British championship contender, with his best championship finish being fifth in 1998. He also raced World 250cc GP's as a privateer from 1995 to 2000.
During his latter racing career, Jeff had his own column called 'Rear Gunner' in Dirt Bike Rider where his more relaxed, fun view on motocross shone through, he also became the lead test rider for the magazine. In 2004 he played a huge part in getting the RRT Honda team off the ground, bringing in sponsors and helping market the team. He was also an integral part of the team that brought a British championship and British GP to Gore Basin on the Isle of Wight in 2003 and 2004, it was his idea to have a lap dancing tent!
On retiring from racing he started his own race team called 'Twisted 7' with support from Kawasaki, whilst also being one of their European test and development riders for all the new KXF motorcycles. On top of that he became the assistant editor and test rider of 'Moto' Magazine and one year later became the editor.
Several years later he left as editor of Moto magazine when asked by Kawasaki UK to run their illustrious 'Team Green' program. A job he still does to this day after six successful years and as many championships. As well as managing Team Green Kawasaki UK, Jeff is also the co-host of the Arenacross UK tour and the commentator at the Michelin MX Nationals. And if that's not enough, he decided to start the 'Steel Hawk Motorcycle Club' and came up with the concept of the 'Rock it til Sundown' Summer Classic event with the help of myself (Paul Oughton) and Julie Coyne. A reignited passion for MX media now sees him as a contributor to 'Dirt Hub', in particular through his 'Man in Van' series. So, it's fair to say Jeff is well connected and knows a thing or two about motocross! He's even started riding again at the ripe old age of 47.