Interview: Tim Heasman – New team, same ambition!
Across the board the racing in the various 125cc classes in 2021 in the UK was phenomenal, attracting a combination of fresh young talent, weekend stalwarts, Experts verging on Pro's, and a number of Vet riders making comebacks in the sport.
One of those riders who filed into the ranks in 2021 and who is relishing the prospect of rejoining the hustle and bustle of 125 racing in 2022 is former BSMA Champion Tim Heasman.
Having won the 1994 BSMA Finals on a 125 and riding against the likes of Mark Hucklebridge, Mark Jones, Ryan Voase, Leon Woodford, Jody Smythe, James Painton on that capacity machine in what was a golden era of the sport in this country, Heasman knows how physically challenging it can be, but to him, age is just a number and is what drives him on with his ambition to win another National Championship in 2022.
Not only is Heasman on the comeback trail he is doing so with his own team "TM Wulfsport MX" where he will be riding alongside his son Dan and young prospect Alfie Walton.
We caught up with Tim to find how what is motivating him to get back in the saddle and throw himself straight back in the deep end…
Dirt Hub: How long has it been since you last raced?
Tim: I have a bit of a break from the sport in 2000 at the turn of the millennium after riding in the 125 British Championships for four years, then we stopped riding for a bit and then I came back in 2009 to do the two stroke championship. We were riding against the likes of Elliott Banks-Browne and Dave Willett, that kind of stuff and managed to get in the top three by around three. So we weren't doing too bad. But from then until now, I haven't ridden for 12 years.
Dirt Hub:  You rode a bit last year (2021) didn't you?
Tim: Yeah, I came back last year which was meant to be my prep year. I knew the bike was coming. So I put a lot of input in training-wise and have been training for a sort of like 9-10 months solely to get my weight down. I was really heavy. I was up to like 16 and a half stone. So it's been proper hard work at 43, trying to get my weight down for the 125 after a long period off.
But I came back pretty strong, riding against the likes of Mark Eastwood, Bobby Bruce, Kieran Clarke and that type of clientele in Centre Meetings and I started to come back and knock on the door of those guys and I was pretty shocked.
I wanted to come back strong but there are so many things in the way, age, time, I mean, I'm a family man now I have two kids. So everything's kind of like, completely been turned upside down. And now all of a sudden it's like full-on motocross again, which is good and nice. So our plan is to aim for another 125 title next year hopefully.
DH: Does it feel different riding now to back then?
Tim: I kind of feel like I've no pressure now. Coming from being a top schoolboy to going into the Adult ranks everything was massive for me, and I took too much on board and put too much pressure on myself. But now I feel no pressure. I feel good. I feel ready. Mark Eastwood was winning two stroke championships at the age of 43. I look at that and I think well, if Mark can do it, then I can do it for sure. 

DH: What made you make the decision to come back? Had it been on the radar for a little while?
Tim: I'll tell you what happened I had the interview with Mr. Ashby, and it kind of went crazy from then on. The response that I got from that was phenomenal. And I thought wow, I was one of those guys who never realized how good I was. I mean I always looked at the other riders, the Carl Nunn's, the Ryan Voases, thinking one day I want to be like them. Even when I started winning BSMA championships and dominating the 125's I still didn't realise how good I was. It's funny when you hear the reactions from the interviews and the posts and the old pictures that you put up on Facebook you look at them and you think "well, maybe I think I have something". So yeah it all stemmed from there.
It all went crazy and there was a lot of people said Tim you have got to go back and have another go. But I can't have a bike just for fun. In the 12 years that I wasn't racing, I didn't have a picture on the wall. I didn't have any kit here around me or anything. I wouldn't go to a motocross. It's kind of all or nothing to me, you know? If I'm on the bike, it's serious. So like I said, I've been putting in the hours in the gym getting down to 12 Stone now, which is pretty much good enough for the 125.
It's been a massive transition. My little boy and girl have never seen me race and, they've only seen me ride two or three times and my little boy obviously sees all the videos and stuff of me in the past and when me winning races so he kind of wants to see me race again.
DH: When and where was your first race back?
Tim: It was at Hawkstone as a wildcard in the Acerbis Nationals. That was my first ride back and was the first time I had been sat behind a gateway in 12 years. I'm sitting there on the line and everyone's clicking these holeshot devices, and there I am scratching my head thinking "what am I doing". I had really terrible gates all day and was coming from 29th -mid-pack coming through to like 6th or 7th and hovering around the top 10. It was then I thought if I can come back and ride like that at Hawkstone after 12 years… There were so many people saying Tim don't do it. Don't do it. You know what Hawkstones like… everyone was going are you crazy? Like I was physically fit and I put the legwork in beforehand but bike fitness is another matter isn't it?
So I rock up to Hawkstone and had a rude awakening but it was then that I thought if I was gating all weekend I could have ran with the top five and it was then I thought I could win another 125 title.
DH: So where will you be racing in 2022?
Tim: So we have booked in to do the Bridgestone Masters on the 125. Myself and Alfie Walton, my teammate who I have got riding for us. And we're going to be doing the 250 and 150 classes in the Acerbis Nationals because we couldn't get into the 125 class. We wanted to ride the 125 straight in both championships.
DH: So tell us about the Team you have put together?
Tim: Yeah so I have managed to put together this little team with TM and Wulfsport. We've got lots of guys that are backing us for next year. All sorts of different companies wanted input in the team. So I've put together a three-man team, so there's myself, my son Dan, and Alfie Walton. Alfie is a former top three club rider who is coming into the Nationals. I just felt like I wanted to give something back. I wanted to help someone. You know like that feeling that you get pulled out, or when you picked or someone's – like a sponsor has got their eye on you. It gives you such a buzz, doesn't it?
I wanted to help someone that was struggling either financially, with learning difficulties, behavioural difficulties or whatever. So anyway, I get a nice little letter from young Alfie and then he's only down the road from us in Dover. He's easy to work with. He goes to a special motocross school that's run by ACU affiliated coaches down in Dover. He struggles a bit with ADHD and learning difficulties, but he's a real good rider. He puts everything into his motocross, he trains daily, he is putting the legwork in so he was the perfect guy to work with us for next year, and the next couple of seasons coming.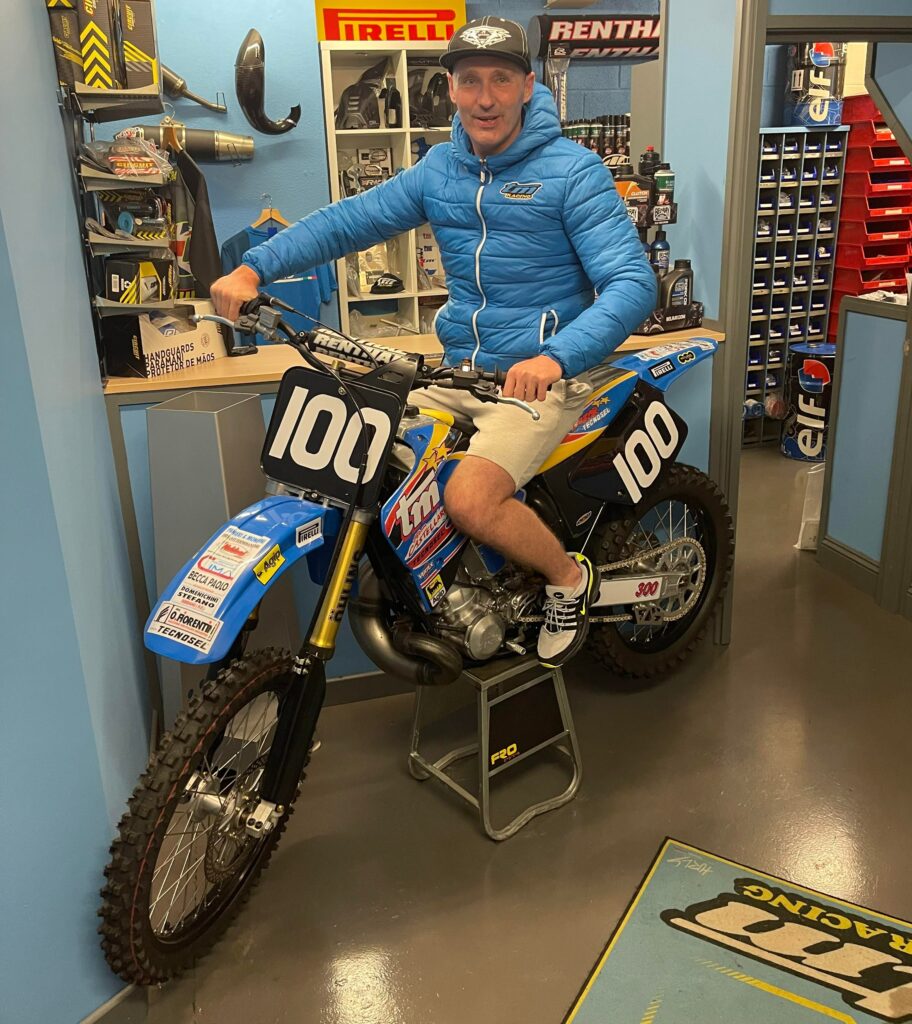 DH: It must be great to have TM on board?
Tim: It goes back a long way for me and TM.  I got offered a 2 bike deal from them when I was doing the 125 British Championship but I ended up going down the Yamaha route with Roy Emberson but I had problems with the bike blowing up. The team was so professional and everything was great kind but I suppose I have a little bit of a regret that I kind of should have gone the TM way back then.
We have got massive input from Mike Woodsworth at TM UK, they are going to do the bikes and have a put a spares package together for us, so their support has been fantastic. 
DH: Tell us about the other sponsors who are supporting you…
Tim: Team sponsors 2022 a massive thank you to all…
Tmuk
Wulfsport uk
Pirelli UK
Dirtshifter
SE sportshomes
Don joy Motocross
Muscle doctor sports nutrition
422 racing
Ds1 goggles
Extension specialists
Race mates UK Rikki preist
Motorhome race home specialists
Kent carb cleaning
Renegade race fuels
Circuit equipment
HL graphics
Coastal body repairs
Fire blade Pete Jeffrey's racing
Rapid moto distribution