Heaving Hawkstone! National Twinshock Championship Round 5 & Festival of Legends – Race Report & Results
The Toughsheet National Twinshock Championship round five took us to Hawkstone Park, with Cumbria Twinshock once again hosting another superb weekend of classic vintage racing supported by KAIS Suspension Services. The meeting was well supported, and incorporated the Memorials for Matt Murphy and Frank Mercer, two real characters who have been missed by so many.
Report by Geoff Shuttleworth – Images courtesy of Andrew Fairclough Photography
The event also included the Festival of Legends and acknowledged the 40th anniversary of Neil Hudson winning his 250 World Title.
Neil was presented a memento by the club for his achievement, with all his family in attendance. There was also a whole host of British Champions and riders who had raced against him there to wish him well including Rob Hooper, Alan Clough, Bryan Wade, Rob Andrews, Alan Clarke, Pete Mathia and Willie Burgess. Tim Britton coaxed a few stories out about Neils achievement in front of a large and enthusiastic audience, and as usual Mathia got in on the action, with Rob Andrews also giving an insight into what it takes to compete in GP's, and a special mention must go to Lyn Woollam who reminisced about her late great father and commentator Dave Smith. There were the usual parade laps which the riders and crowd loved on a much-shortened lap, but it brought back great memories seeing some of the stars having a blast around after forty years.
The racing took place over two days, and the track was superbly prepared by the Salop Club, with the Super Evos out first for bikes up to 1996. Wildcard rider Gave Stevenson, riding a special from Steve Clitheroe, took all five wins, with Corey Nemeth in second, following Gav home in each one. Frazer Hatch bagged third, with Chris Hind and Lee Martin only a couple of points adrift.

There were three different winners in the Evo 125 class, but championship leader Andy Lawton took the overall with two wins out of five on another Steve Clitheroe bike. Damon Strydom also won two of the races on the Stuart Newby Cagiva to take second, and first race winner Lewis Parkinson took third, from Scott Mathia and Sean Smith.
In the Evo Open class Barry Turnbull didn't have it all his own way, as he came up against Ryan Voase on the Sunday, who won two of his three races. Ryan was not out on the Monday, and Barry took two wins to claim overall victory, with race one winner Dylan Spencer in third. Dan Shepherd took third on his 250 Yamaha and was picked as the winner of the Matt Murphy Memorial Trophy which was presented by the Murphy family. Callum Bircher was fourth from Michael Smith in fifth.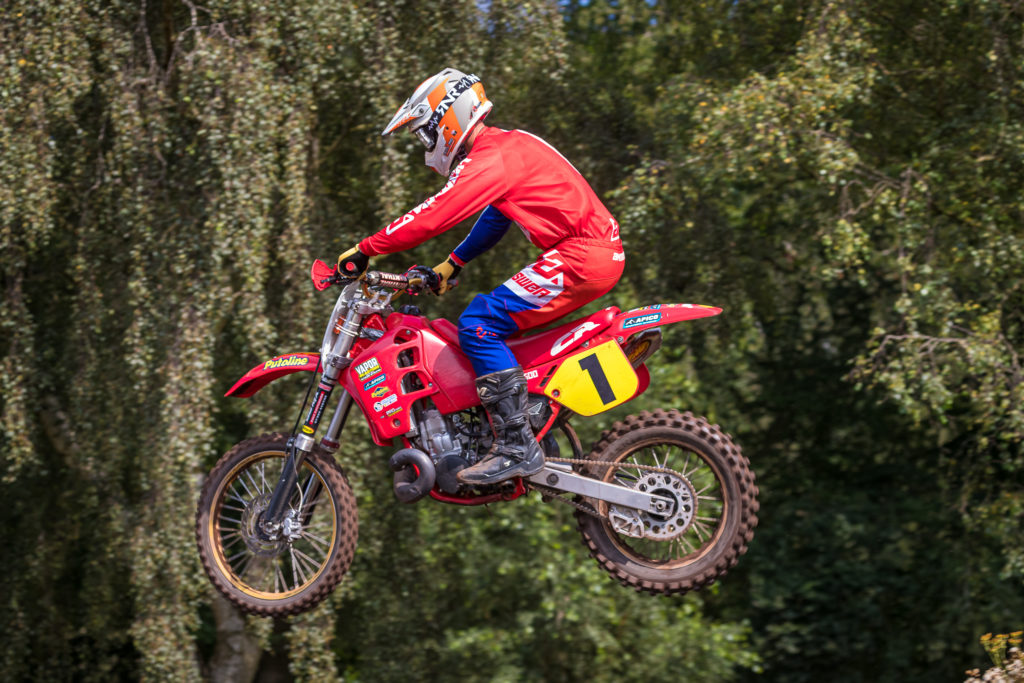 Willie Burgess just keeps on firing on all cylinders in the Over 50 Twinshock class, as he has yet to be beaten this year on the Gary Murphy Maico, and took another five wins over the weekend to extend his lead. John Littler took second from Jim Shand in third, and former speedway star Kelvin Tatum in fourth.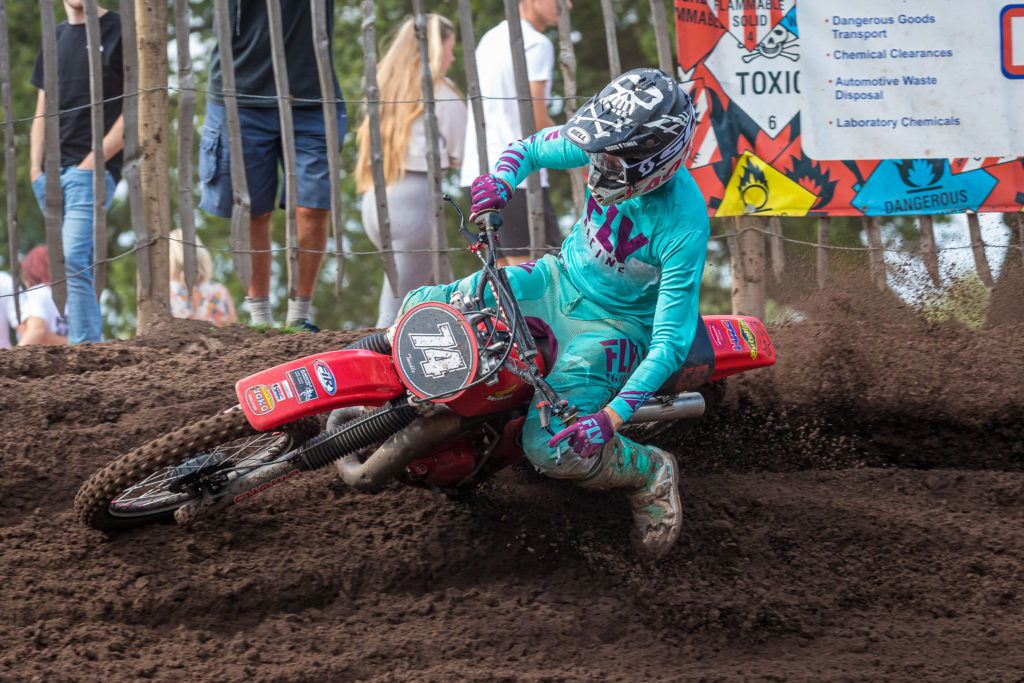 There were some really close battles in the Clubman class, but it was series leader Mark Gardner who won over the weekend, although he was only three points in front of second place man Craig Ruck. Debutant Twinshock rider and one of the series sponsors James Chambers borrowed Pete Mathias Maico, and claimed third place, just in front of Jamie Mason and Neil Eastwood.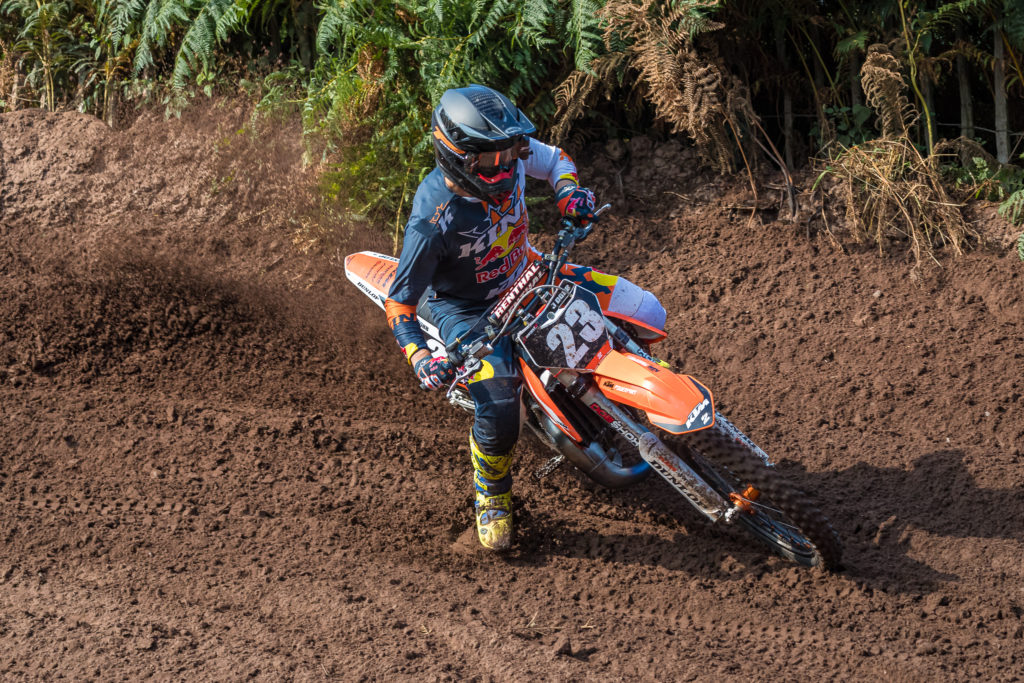 Dean Gray looks odds on to win the Inters Twinshock title as he once again won the class to extend his lead, winning the final race. Triple race winner Dene Dewing had to miss the final days action as he was at a wedding, so that meant that Steve Morgan jumped up to second over the weekend, just in front of teammate Chris Anderton. Riley Copeland who always goes well at Hawkstone took fourth.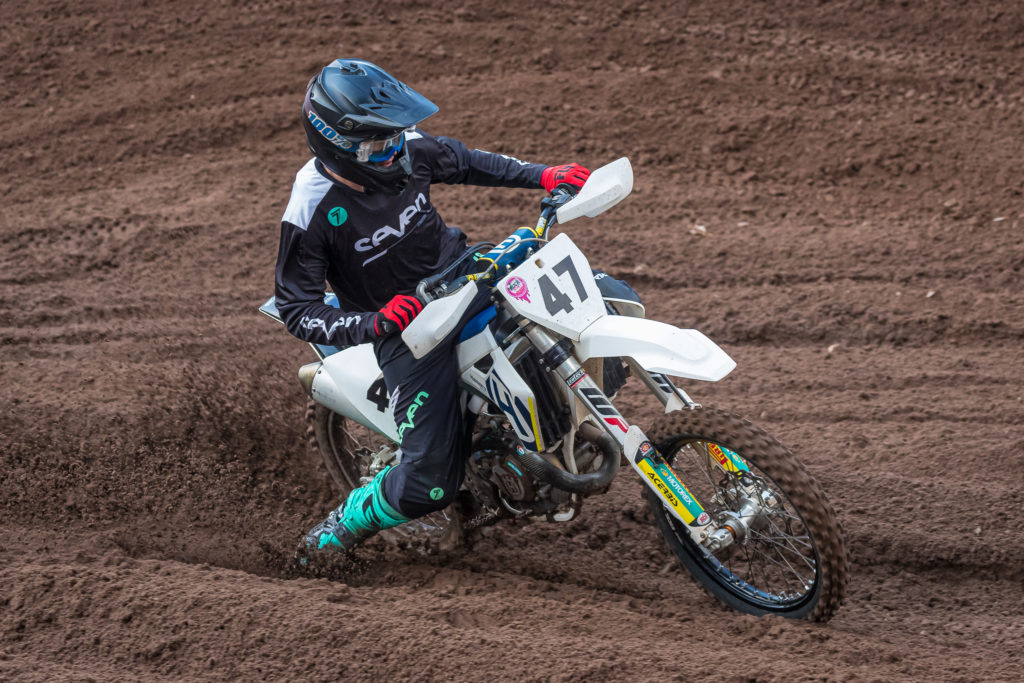 The two Vets Modern Classes had their own separate races at this round, and in the Over 40's Adam Wilkinson put the cat amongst the pigeons as he beat Danny Blakeley by just three points to stand at the top of the podium, with both winning two races apiece. Simon Bonsor had five third place finishes to take third from Andy Hinchliffe and Paul Coward.
Julian Dobb reigned supreme in the Over 50's as he won four from five to win from Nev King in second. The next three riders were only separated by three points with Rob Lewis getting third, and race one winner Anthony Houseman in fourth and series leader Steve Ward in fifth.
In the Wulfsport Experts, Brad O'Leary is another rider who is odds on to win the title as he took another giant step by winning four out of five, only being beaten by Jimmy Margetson in race one. Richard Mason was really flying on the Honda and took second from Sam Vickers on his Yamaha. Michael Smith took fourth, and fifth race leader Chris Neesam took fifth.
Matt Rudd won the 125 Twinshock class, with three fine wins over the weekend. Battered and bruised Jason Slater managed to take second and third place John Davis took two wins, but a DNF hampered his chances.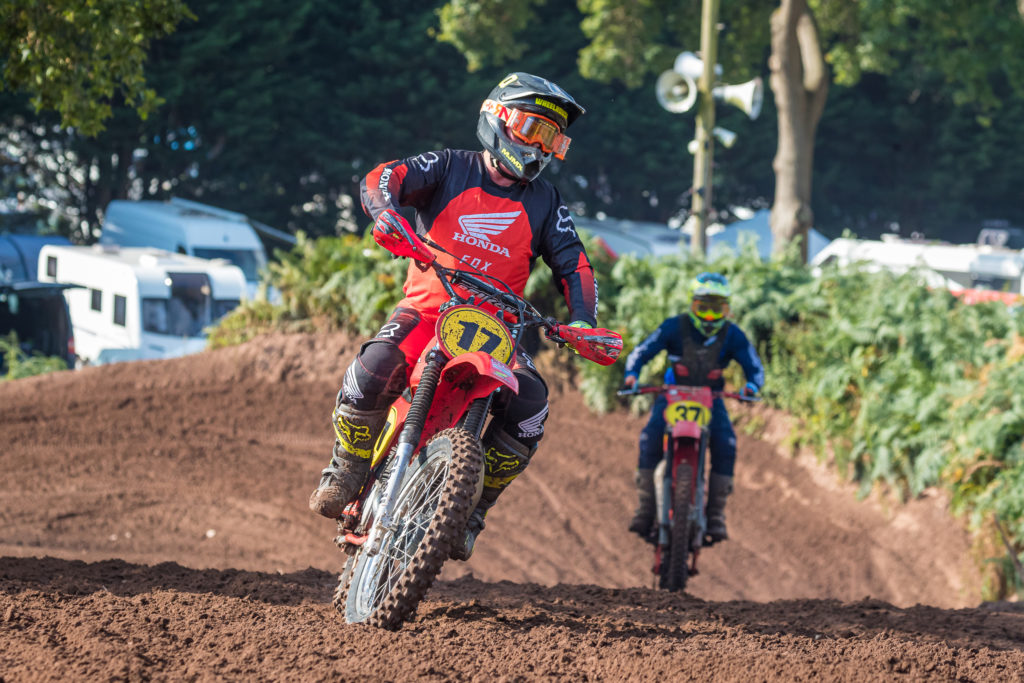 The 250 Twinshock riders gave a good account of themselves against the Experts riders, and Ryan Ireland came out on top with four wins, which would have been five but for an almighty crash in the final lap of the final race, dislocating his shoulder but managing to complete the race one handed. Ryan was awarded with the Martindales Rider of the Meeting award for his heroics. Young Oliver Dodders had his best result to date in second from Anthony Twidle.
There were also two modern classes just on the Sunday, which saw some fast times posted, and the A class was won by Josh Bentley who won two out of three from Ed Briscoe and Stephen Wade.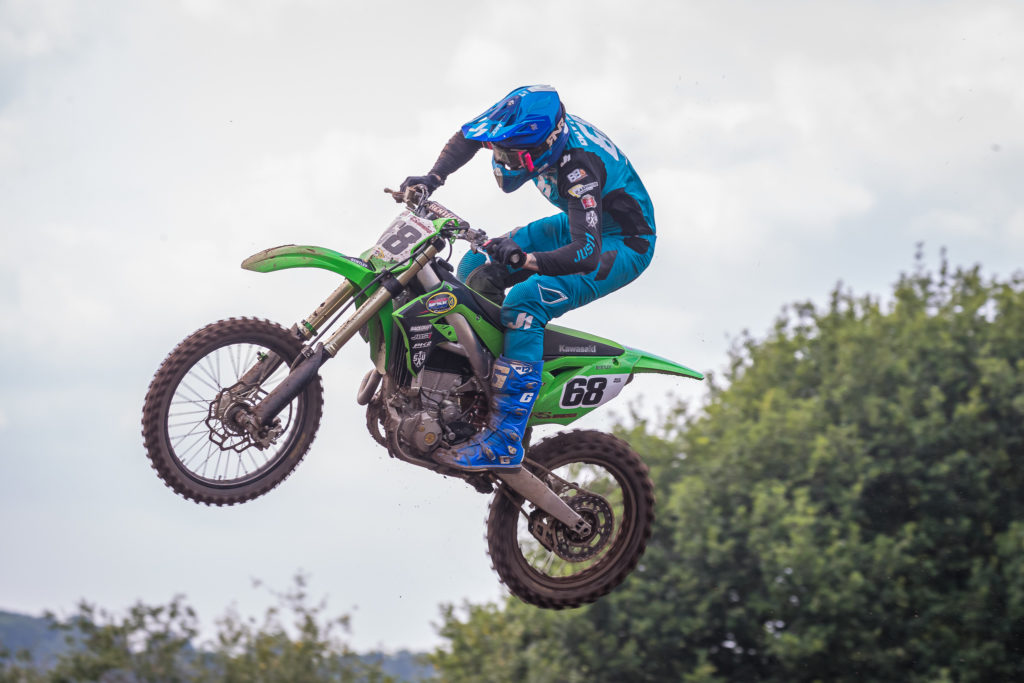 The B class was won by Benny Lewis from Adam Nevitt and Daniel Shutt.
The final round of the series takes place at Culham Moto Park, Oxon over the weekend Saturday / Sunday September 18/19.
Results
Matt Murphy Memorial – Dan Shepherd.
Frank Mercer Memorial – Pete Mathia.
Martindales Rider of the Meeting – Ryan Ireland
Twinshock Expert
| | | | | | | | |
| --- | --- | --- | --- | --- | --- | --- | --- |
| Pos | Competitor | Points | R1 | R2 | R3 | R4 | R5 |
| 1 | BRAD OLEARY | 120 | 20 | 25 | 25 | 25 | 25 |
| 2 | RICHARD MASON | 87 | 15 | 17 | 18 | 20 | 17 |
| 3 | SAM VICKERS | 82 | 16 | 16 | 17 | 17 | 16 |
| 4 | MICHAEL SMITH | 78 | 18 | 20 | 20 | – | 20 |
| 5 | CHRIS NEESAM | 71 | 17 | 18 | – | 18 | 18 |
| 6 | DAVID HOPKINS | 58 | 13 | 14 | 15 | 16 | – |
| 7 | JAMIE BIDDULPH | 45 | 14 | 15 | 16 | – | – |
| 8 | JIMMY MARGETSON | 25 | 25 | – | – | – | – |
| 9 | ASHLEY WHEELHOUSE | 13 | – | 13 | – | – | – |
Twinshock 250
| | | | | | | | |
| --- | --- | --- | --- | --- | --- | --- | --- |
| Pos | Competitor | Points | R1 | R2 | R3 | R4 | R5 |
| 1 | RYAN IRELAND | 116 | 25 | 25 | 25 | 25 | 16 |
| 2 | OLIVER DOGGERS | 99 | 18 | 18 | 18 | 20 | 25 |
| 3 | ANTHONY TWIDLE | 93 | 20 | 20 | 20 | 15 | 18 |
| 4 | MATT BENNETT | 87 | 17 | 17 | 17 | 16 | 20 |
| 5 | JAMES DREWERY | 80 | 16 | 15 | 15 | 17 | 17 |
| 6 | JACK MASON | 65 | 15 | 16 | 16 | 18 | – |
| 7 | SEAN DODDERS | – | – | – | – | – | – |
Twinshock 125
| | | | | | | | |
| --- | --- | --- | --- | --- | --- | --- | --- |
| Pos | Competitor | Points | R1 | R2 | R3 | R4 | R5 |
| 1 | MATT RUDD | 113 | 20 | 25 | 18 | 25 | 25 |
| 2 | JASON SLATER | 91 | 17 | 18 | 20 | 16 | 20 |
| 3 | JON DAVIS | 88 | 25 | – | 25 | 20 | 18 |
| 4 | MARK BURROWS | 81 | 18 | 16 | 15 | 17 | 15 |
| 5 | MELVIN HOMER | 72 | – | 20 | 17 | 18 | 17 |
| 6 | ROBIN COWGILL | 64 | – | 17 | 16 | 15 | 16 |
| 7 | CHRIS ROWLANDS | 45 | 16 | 15 | 14 | – | – |
Twinshock Inters
| | | | | | | | |
| --- | --- | --- | --- | --- | --- | --- | --- |
| Pos | Competitor | Points | R1 | R2 | R3 | R4 | R5 |
| 1 | DEAN GRAY | 103 | 20 | 20 | 20 | 18 | 25 |
| 2 | STEVE MORGAN | 85 | 13 | 18 | 18 | 20 | 16 |
| 3 | CHRIS ANDERTON | 82 | 14 | 17 | 17 | 16 | 18 |
| 4 | RILEY COPELAND | 81 | 18 | 14 | 12 | 17 | 20 |
| 5 | DEAN DEWING | 75 | 25 | 25 | 25 | – | – |
| 6 | RYLAND JONES | 73 | 17 | 16 | 15 | 25 | – |
| 7 | SHAUN MURPHY | 69 | 11 | 10 | 16 | 15 | 17 |
| 8 | LUCY TILZEY | 58 | 10 | 9 | 13 | 12 | 14 |
| 9 | SEAN BURROWS | 56 | 7 | 11 | 10 | 13 | 15 |
| 10 | MARK LAKELAND | 38 | 16 | 8 | 14 | – | – |
| 11 | ASHLEY SMITH | 37 | 12 | – | 11 | 14 | – |
| 12 | CRAIG MORRISON | 30 | 15 | 15 | – | – | – |
| 13 | ALISTER WELSBY | 22 | – | 13 | 9 | – | – |
| 14 | ANDREW CLEAVER | 21 | 9 | 12 | – | – | – |
| 15 | WAYNE TWIDLE | 8 | 8 | – | – | – | – |
Twinshocks Clubman
| | | | | | | | |
| --- | --- | --- | --- | --- | --- | --- | --- |
| Pos | Competitor | Points | R1 | R2 | R3 | R4 | R5 |
| 1 | MARK GARDNER | 91 | 25 | 3 | 20 | 25 | 18 |
| 2 | CRAIG RUCK | 88 | 18 | 20 | 16 | 18 | 16 |
| 3 | JAMES CHAMBERS | 85 | 17 | 17 | 14 | 20 | 17 |
| 4 | JAMIE MASON | 79 | 20 | 12 | 5 | 17 | 25 |
| 5 | NEIL EASTWOOD | 64 | – | 13 | 15 | 16 | 20 |
| 6 | JAMES FUGGET | 63 | – | 25 | 18 | 5 | 15 |
| 7 | DAVID WHITE | 61 | 15 | 14 | 13 | 10 | 9 |
| 8 | CHARLIE COPELAND | 59 | 12 | 8 | 10 | 15 | 14 |
| 9 | DARREN WHEELHOUSE | 59 | 10 | 15 | 12 | 11 | 11 |
| 10 | PAUL SMITH | 52 | 14 | 11 | 3 | 12 | 12 |
| 11 | SIMON YOUNG | 51 | 16 | 18 | 17 | – | – |
| 12 | TIMMY TONKER | 48 | – | 16 | 25 | 7 | – |
| 13 | STEVE DENT | 48 | 13 | 10 | 11 | 14 | – |
| 14 | RYAN BURROWS | 43 | 11 | 9 | 6 | 9 | 8 |
| 15 | ANTHONY COPELAND | 42 | 9 | 6 | 9 | 8 | 10 |
| 16 | MARCUS KEARS | 38 | 5 | – | 7 | 13 | 13 |
| 17 | MARK JONES | 27 | 6 | 4 | 4 | 6 | 7 |
| 18 | RAY EVERETT | 22 | 7 | 7 | 8 | – | – |
| 19 | DAVID HOLLAND | 9 | 4 | 5 | – | – | – |
| 20 | PAUL SMITH | 8 | 8 | – | – | – | – |
Twinshock Over 50's
| | | | | | | | |
| --- | --- | --- | --- | --- | --- | --- | --- |
| Pos | Competitor | Points | R1 | R2 | R3 | R4 | R5 |
| 1 | WILLIAM BURGESS | 125 | 25 | 25 | 25 | 25 | 25 |
| 2 | JOHN LITLLER | 93 | 20 | 20 | 18 | 18 | 17 |
| 3 | JIM SHAND | 83 | 12 | 16 | 20 | 17 | 18 |
| 4 | KELVIN TATUM | 75 | 17 | 18 | – | 20 | 20 |
| 5 | PETE WILLIAMSON | 71 | 13 | 15 | 15 | 14 | 14 |
| 6 | ROB GYLNN | 66 | – | 17 | 17 | 16 | 16 |
| 7 | RICHARD WOOD | 60 | 16 | 14 | – | 15 | 15 |
| 8 | MIKE DOWSON | 52 | – | 12 | 14 | 13 | 13 |
| 9 | DOM DURKIN | 51 | 10 | 8 | 11 | 11 | 11 |
| 10 | KEV SMITH | 46 | – | 10 | 12 | 12 | 12 |
| 11 | PATRICK IDDON | 45 | 11 | 11 | 13 | 10 | – |
| 12 | CHRIS REYNOLDS | 37 | 9 | 9 | 10 | 9 | – |
| 13 | CRAIG HOLMES | 36 | 14 | 13 | 9 | – | – |
| 14 | JOHN IDDON | 34 | 18 | – | 16 | – | – |
| 15 | DOUGALL CULLEN | 15 | 15 | – | – | – | – |
| 16 | | 8 | – | – | – | 8 | – |
Twinshock Over 60's

| | | | | | | | |
| --- | --- | --- | --- | --- | --- | --- | --- |
| Pos | Competitor | Points | R1 | R2 | R3 | R4 | R5 |
| 1 | PETE MATHIA | 125 | 25 | 25 | 25 | 25 | 25 |
| 2 | MARTIN SNAPE | 93 | 20 | 20 | 20 | 16 | 17 |
| 3 | TERRY CONNOR | 89 | 18 | 18 | 18 | 17 | 18 |
| 4 | ANDY HOLLAND | 87 | 16 | 17 | 16 | 18 | 20 |
| 5 | JOHN BENNETT | 77 | 15 | 15 | 17 | 14 | 16 |
| 6 | JIM SIMPSON | 72 | 12 | 13 | 13 | 20 | 14 |
| 7 | REG BEAUMONT | 70 | 14 | 14 | 12 | 15 | 15 |
| 8 | CHRIS RODGERS | 48 | 17 | 16 | 15 | – | – |
| 9 | COLLIN STONE | 39 | 13 | 12 | 14 | – | – |
Vets Over 40's
| | | | | | | | |
| --- | --- | --- | --- | --- | --- | --- | --- |
| Pos | Competitor | Points | R1 | R2 | R3 | R4 | R5 |
| 1 | ADAM WILKINSON | 110 | 20 | 25 | 20 | 20 | 25 |
| 2 | DANNY BLAKELEY | 107 | 25 | 20 | 17 | 25 | 20 |
| 3 | SIMON BONSOR | 90 | 18 | 18 | 18 | 18 | 18 |
| 4 | ANDY HINCHLIFFE | 76 | 16 | 17 | 14 | 13 | 16 |
| 5 | PAUL COWARD | 76 | 13 | 16 | 16 | 16 | 15 |
| 6 | JULIAN FREEBERNE | 74 | 15 | 15 | 15 | 15 | 14 |
| 7 | JAMES KAY | 68 | 14 | 14 | 13 | 14 | 13 |
| 8 | DAVID BENNETT | 54 | 11 | 12 | 11 | 12 | 8 |
| 9 | PAUL CROXON | 48 | 10 | 5 | 12 | 9 | 12 |
| 10 | CHRIS LAMBOURNE | 41 | 9 | 11 | 10 | 11 | – |
| 11 | PHIL HODGKINS | 36 | 4 | 8 | 6 | 7 | 11 |
| 12 | JAMIE MENSIE | 36 | 7 | 10 | 9 | 10 | – |
| 13 | CRAIG CHAMERLIN | 34 | – | – | – | 17 | 17 |
| 14 | DALE SILK | 31 | – | 7 | 8 | 6 | 10 |
| 15 | MARK CONNOLE | 29 | 5 | 6 | 4 | 5 | 9 |
| 16 | RYAN VOASE | 25 | – | – | 25 | – | – |
| 17 | STEVE SHARPELS | 24 | 8 | 9 | 7 | – | – |
| 18 | PAUL GROOM | 21 | – | 13 | – | 8 | – |
| 19 | JONO WHITE | 17 | 17 | – | – | – | – |
| 20 | MARK COLLINS | 16 | 3 | 4 | 5 | 4 | – |
| 21 | THURLOW BONE | 15 | 12 | – | 3 | – | – |
| 22 | NEIL MOORE | 6 | 6 | – | – | – | – |
Vets Over 50's
| | | | | | | | |
| --- | --- | --- | --- | --- | --- | --- | --- |
| Pos | Competitor | Points | R1 | R2 | R3 | R4 | R5 |
| 1 | JULIAN DOBB | 118 | 18 | 25 | 25 | 25 | 25 |
| 2 | NEV KING | 98 | 20 | 20 | 20 | 20 | 18 |
| 3 | ROB LEWIS | 89 | 16 | 17 | 18 | 18 | 20 |
| 4 | ANTHONY HOUSEMAN | 87 | 25 | 16 | 16 | 15 | 15 |
| 5 | STEVE WARD | 86 | 17 | 18 | 17 | 17 | 17 |
| 6 | ADRAIN LEWIS | 77 | 15 | 15 | 15 | 16 | 16 |
| 7 | ADRAIN JESSOP | 66 | 12 | 14 | 13 | 13 | 14 |
| 8 | TIM SABINE | 62 | 13 | 10 | 12 | 14 | 13 |
| 9 | MELVIN JAMES | 59 | 10 | 12 | 14 | 11 | 12 |
| 10 | IAN EVANS | 47 | 6 | 9 | 11 | 10 | 11 |
| 11 | STEVE THORNTON | 39 | 14 | 13 | – | 12 | – |
| 12 | LEE BINGLEY | 36 | 4 | 4 | 9 | 9 | 10 |
| 13 | PAUL WRIGHT | 26 | 2 | – | 8 | 7 | 9 |
| 14 | KEIRAN JACKSON | 25 | 7 | 8 | 10 | – | – |
| 15 | ANDREW MYERS | 24 | 1 | 3 | 4 | 8 | 8 |
| 16 | STANLEY MORPHAT | 22 | 8 | 7 | 7 | – | – |
| 17 | LEE HARTILL | 22 | 11 | 11 | – | – | – |
| 18 | IAN MCGREGOR | 21 | 9 | 6 | 6 | – | – |
| 19 | IAN POSTLETHWAITE | 10 | 5 | 5 | – | – | – |
| 20 | ROB WAINWRIGHT | 6 | – | 1 | 5 | – | – |
| 21 | DAVID IBBOTSON | 5 | 3 | 2 | – | – | – |
Evo Open
| | | | | | | | |
| --- | --- | --- | --- | --- | --- | --- | --- |
| Pos | Competitor | Points | R1 | R2 | R3 | R4 | R5 |
| 1 | BARRY TURNBULL | 107 | 20 | 20 | 17 | 25 | 25 |
| 2 | DYLAN SPENCER | 101 | 25 | 18 | 18 | 20 | 20 |
| 3 | DAN SHEP | 91 | 18 | 17 | 20 | 18 | 18 |
| 4 | CALLUM BIRCHER | 81 | 15 | 16 | 16 | 17 | 17 |
| 5 | MICHAEL SMITH | 75 | 13 | 15 | 15 | 16 | 16 |
| 6 | DANNY BLAKLEY | 71 | 14 | 14 | 13 | 15 | 15 |
| 7 | RYAN VOASE | 67 | 17 | 25 | 25 | – | – |
| 8 | STU DAWES | 61 | 9 | 12 | 12 | 14 | 14 |
| 9 | JAKE THORNTON | 57 | 11 | 11 | 11 | 13 | 11 |
| 10 | LEE JONES | 55 | 10 | 13 | 14 | 8 | 10 |
| 11 | ROSS HEPBURN | 48 | 8 | 8 | 10 | 10 | 12 |
| 12 | JOE TARVER | 34 | 7 | 9 | 9 | 9 | – |
| 13 | MICHAEL OGDEN | 26 | 16 | 10 | – | – | – |
| 14 | CRAIG CHAMBERLIN | 24 | – | – | – | 11 | 13 |
| 15 | DAVID BLACKBURN | 24 | 12 | – | – | 12 | – |
| 16 | JASON STONE | 8 | – | – | 8 | – | – |
Evo 125's
| | | | | | | | |
| --- | --- | --- | --- | --- | --- | --- | --- |
| Pos | Competitor | Points | R1 | R2 | R3 | R4 | R5 |
| 1 | ANDY LAWTON | 105 | 17 | 25 | 20 | 25 | 18 |
| 2 | DAMON STRYDOM | 104 | 20 | 18 | 25 | 16 | 25 |
| 3 | LEWIS PARKINSON | 96 | 25 | 17 | 17 | 20 | 17 |
| 4 | SCOTT MATHIA | 86 | 16 | 16 | 16 | 18 | 20 |
| 5 | SEAN SMITH | 74 | 14 | 15 | 15 | 14 | 16 |
| 6 | JACK MAY | 73 | 18 | 20 | 18 | 17 | – |
| 7 | JAKE MASON | 67 | 13 | 14 | 13 | 12 | 15 |
| 8 | JAMES HOLLIDAY | 61 | 12 | 13 | 12 | 11 | 13 |
| 9 | AARON BROWN | 29 | 15 | – | 14 | – | – |
| 10 | ALAN PEARCE | 27 | – | – | – | 13 | 14 |
| 11 | HOWARD WAINWRIGHT | 15 | – | – | – | 15 | – |
Modern A
| | | | | | |
| --- | --- | --- | --- | --- | --- |
| Pos | Competitor | Points | R1 | R2 | R3 |
| 1 | JOSH BENTLEY | 68 | 18 | 25 | 25 |
| 2 | ED BRISCOE | 60 | 20 | 20 | 20 |
| 3 | STEPHEN WADE | 52 | 17 | 17 | 18 |
| 4 | TOMMY FENWICK | 47 | 15 | 16 | 16 |
| 5 | JAMES ANGEL | 44 | 12 | 15 | 17 |
| 6 | CORY NEMETH | 43 | 25 | 18 | – |
| 7 | MAX LEWIS | 38 | 13 | 13 | 12 |
| 8 | DANIEL PARRY | 36 | 9 | 12 | 15 |
| 9 | LUKE BULMAN | 31 | 11 | 11 | 9 |
| 10 | LEE SEALEY | 28 | 14 | 14 | – |
| 11 | JAMES GOODALL | 26 | 6 | 6 | 14 |
| 12 | PETE HAMLETT | 23 | 8 | 4 | 11 |
| 13 | MARSHALL SMITH | 23 | 5 | 8 | 10 |
| 14 | LEWIS MEADOWS | 21 | 7 | 7 | 7 |
| 15 | ROB JOHNSTONE | 19 | 10 | 9 | – |
| 16 | JAMIE NEEDHAM | 17 | 2 | 2 | 13 |
| 17 | MITCHELL MEADOWS | 16 | 16 | – | – |
| 18 | LEWIS GLYNN | 14 | 1 | 5 | 8 |
| 19 | BILLY WYNN | 13 | 3 | 10 | – |
| 20 | OWEN WILKES | 7 | – | 1 | 6 |
| 21 | JOE ROSS | 7 | 4 | 3 | – |
| 22 | CHRIS HAMLETT | 5 | – | – | 5 |
| 23 | GEORGE POOL | 4 | – | – | 4 |
| 24 | BRAD HARRISON | 3 | – | – | 3 |
| 25 | JACK HYDE | 2 | – | – | 2 |
| 26 | CAMERON McGREGOR | 1 | – | – | 1 |
Modern B
| | | | | | |
| --- | --- | --- | --- | --- | --- |
| Pos | Competitor | Points | R1 | R2 | R3 |
| 1 | BENNY LEWIS | 65 | 20 | 20 | 25 |
| 2 | ADAM NEVITT | 55 | 18 | 25 | 12 |
| 3 | DANIEL SHUTT | 51 | 15 | 16 | 20 |
| 4 | DAN EDGAR | 51 | 16 | 17 | 18 |
| 5 | JACK GOTTS | 45 | 14 | 15 | 16 |
| 6 | CRAIG PERKS | 42 | 13 | 18 | 11 |
| 7 | JAMES NEWBY | 37 | 17 | 3 | 17 |
| 8 | MARK CLEGG | 35 | 10 | 12 | 13 |
| 9 | JAYKE JACKSON | 34 | 6 | 13 | 15 |
| 10 | DALE BROCKHURST | 25 | 25 | – | – |
| 11 | RYAN NEWBURY | 24 | – | 14 | 10 |
| 12 | DEAN SEWELL | 23 | 8 | 9 | 6 |
| 13 | ANDDIS LINIENTALS | 21 | 11 | 10 | – |
| 14 | DANNY GAGG | 21 | 12 | – | 9 |
| 15 | TAYLOR SMITH | 20 | – | 6 | 14 |
| 16 | MATTHEW HORNER | 19 | 4 | 7 | 8 |
| 17 | JORDAN LSEKEI | 18 | 9 | 2 | 7 |
| 18 | GRACE RICHARDS | 18 | 7 | 11 | – |
| 19 | DANIEL NEVITT | 12 | – | 8 | 4 |
| 20 | SAM FEARN | 10 | – | 5 | 5 |
| 21 | EATHAN BRIERLEY | 5 | 2 | – | 3 |
| 22 | DANIEL JONES | 5 | 3 | – | 2 |
| 23 | ROSS HEPBURN | 5 | 5 | – | – |
| 24 | VINNY WYNN | 4 | – | 4 | – |
| 25 | GAVIN CLEMETS | 2 | – | 1 | 1 |
| 26 | LLOYD CLARKE | 1 | 1 | – | – |