Etheridge & Kinge keep their cool at Cusses! Nora MX Sidecarcross Championship Round 5 – Race Report & Results
The fifth round of the Nora MX Championship was hosted by the Nora MX team at the Cusses Gorse track near Salisbury in Wiltshire. This time spectators were allowed with the COVID restrictions lifting, at it was great to feel like things are getting back to normal.
Report and Images by Tracy Thacker
After the wet weather for round four, this was the complete opposite, and was 25 deg all day, but seemed hotter with no clouds. Keeping the dust down was a big chore and there was watering between each race which kept conditions safer but took longer for each race therefore the decision was taken to only have two races for each class. The sidecar group was split into two classes, with GP riders racing without collecting any points. The sidecar races got underway with a holeshot for Stuart Brown /Josh Chamberlain, they held a safe lead throughout taking their first win of the day.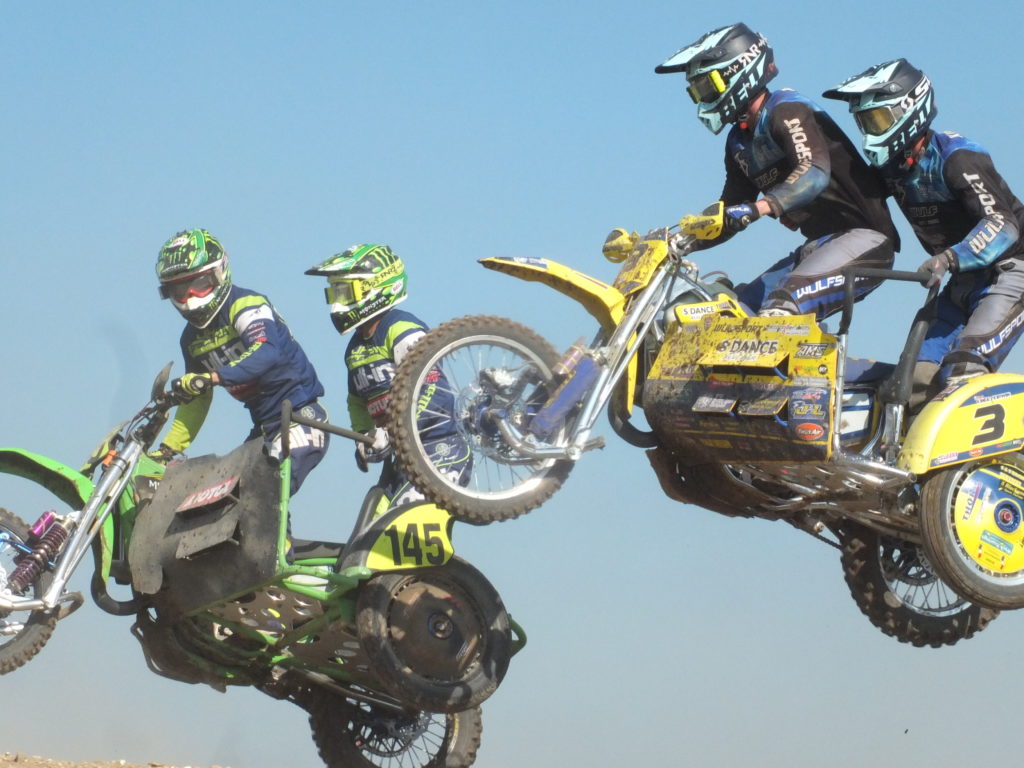 Behind Dan Foden / Nathan Cooper held second until Jake Brown / Joe Millard blasted ahead on lap two. George Kinge / Ryan Henderson started in sixth but battled through to take fourth, despite pushing hard to get into the top three. It was great to see Tony Grahame back on the track now with new passenger Zac Snell, they had a great start holding on for fifth. Jack Etheridge / Jim Kinge were just behind taking sixth.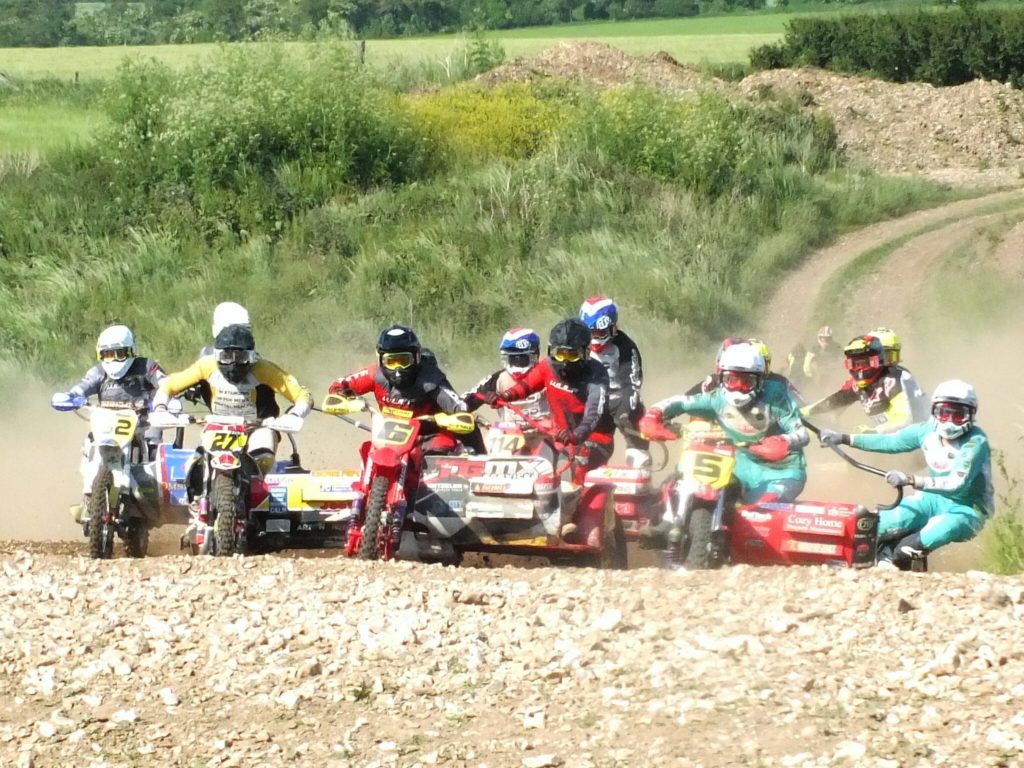 It was a long hot wait to race 2, which turned out to be the final race of the day, and what a great race it was. The drama started on bend one with several teams coming together and making a slow getaway, but it was fast a furious at the front. Dan Foden / Nathan Cooper took the holeshot but within the first lap Stuart Brown / Josh Chamberlain did what they do best and blasted into the lead, going on to take a second win. Jake Brown / Joe Millard fought hard to take second leaving Dan Foden / Nathan Cooper back in third, but still having a great race. George Kinge / Ryan Henderson tucked into a safe fourth passing Jack Etheridge / Jim Kinge at the halfway point. Behind Lee Foyle / Kevin Foyle took a great sixth, taking advantage of a good start. Just behind and battling hard for championship points were both Ross Bowers/ Dan Phelps and Tilo Maguire/ Guy Eastman. Both passengers called out "well done mate" to their drivers as they passed the flag.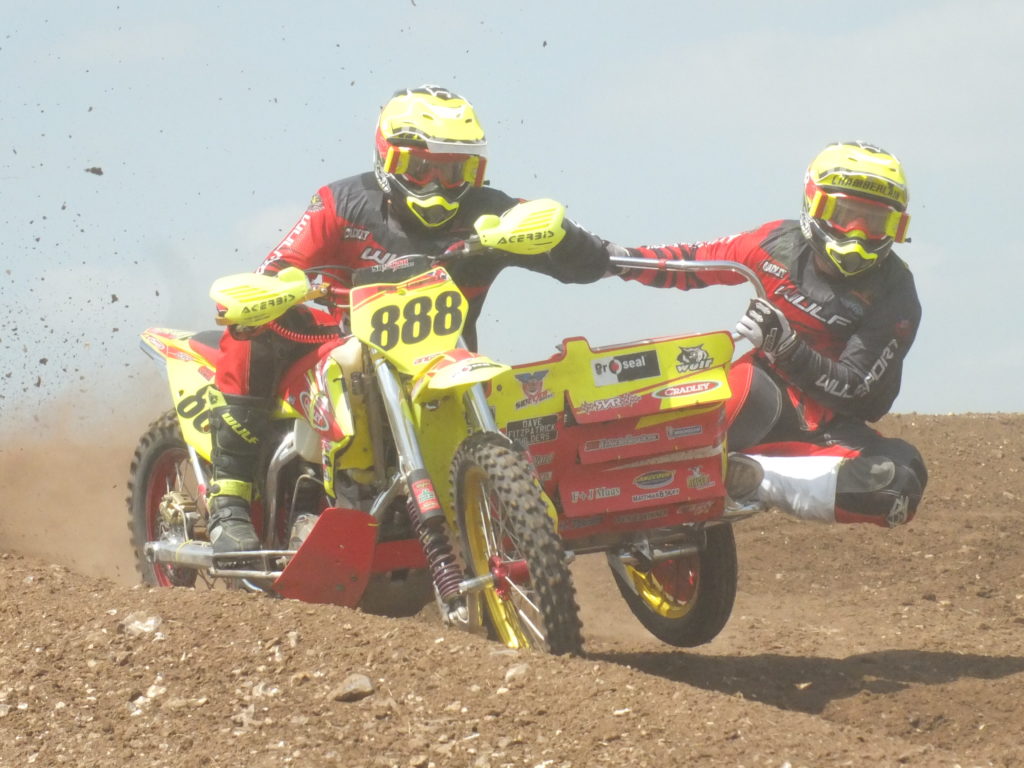 Results
Race 1
| | | | |
| --- | --- | --- | --- |
| Pos | Competitor | Diff | Laps |
| 1 | Stuart Brown / Josh Chamberlain | 0 | 8 |
| 2 | Jake Brown / Joe Millard | 20.279 | 8 |
| 3 | Dan Foden / Nathan Cooper | 39.172 | 8 |
| 4 | George Kinge / Steve Kirwin | 53.628 | 8 |
| 5 | Tony Grahame/ Liam Hodges | 55.857 | 8 |
| 6 | Jack Etheridge / Jim Kinge | 01:13.6 | 8 |
| 7 | Sam Osbaldistin/ Harley Lloyd | 01:19.6 | 8 |
| 8 | Ross Bowers/ Dan Phelps | 01:23.8 | 8 |
| 9 | Lee Foyle / Kevin Foyle | 01:26.0 | 8 |
| 10 | Matt Connor / Jake Grahame | 01:33.6 | 8 |
| 11 | Tilo Maguire/ Guy Eastman | 01:39.2 | 8 |
| 12 | Luke Peters/ Thomas Glazier | 01:43.7 | 8 |
| 13 | Luke Banks / Daniel Spencer | 01:48.2 | 8 |
| 14 | Paul Pelling / Jack Wilkinson | 01:51.4 | 8 |
| 15 | John Murch/ Tony Murch | 02:24.9 | 8 |
| 16 | Ashlie Williams / Brian Gray | 1 lap | 7 |
| 17 | Alan Graham/ Jamie Greensill | 1 lap | 7 |
| 18 | Miles Gillham/ Richard Gilham | 1 lap | 7 |
| 19 | Neil Warrington / Brian Parr | 1 lap | 7 |
| 20 | Steven Bazell/ Paul Silvester | 1 lap | 7 |
| 21 | Luke Rogers/ Owen Rogers | 3 laps | 5 |
Race 2
| | | | |
| --- | --- | --- | --- |
| Pos | Competitor | Diff | Laps |
| 1 | Stuart Brown / Josh Chamberlain | 0 | 8 |
| 2 | Jake Brown / Joe Millard | 24.932 | 8 |
| 3 | Dan Foden / Nathan Cooper | 48.706 | 8 |
| 4 | George Kinge / Steve Kirwin | 56.027 | 8 |
| 5 | Jack Etheridge / Jim Kinge | 01:19.3 | 8 |
| 6 | Lee Foyle / Kevin Foyle | 01:25.0 | 8 |
| 7 | Ross Bowers/ Dan Phelps | 01:30.8 | 8 |
| 8 | Tilo Maguire/ Guy Eastman | 01:37.5 | 8 |
| 9 | Luke Peters/ Thomas Glazier | 01:43.3 | 8 |
| 10 | Tony Grahame/ Liam Hodges | 01:47.8 | 8 |
| 11 | Sam Osbaldistin/ Harley Lloyd | 01:59.4 | 8 |
| 12 | Paul Pelling / Jack Wilkinson | 02:05.4 | 8 |
| 13 | Matt Connor / Jake Grahame | 02:13.1 | 8 |
| 14 | Luke Banks / Daniel Spencer | 02:23.0 | 8 |
| 15 | Ashlie Williams / Brian Gray | 02:33.3 | 8 |
| 16 | John Murch/ Tony Murch | 1 lap | 7 |
| 17 | Miles Gillham/ Richard Gilham | 1 lap | 7 |
| 18 | Alan Graham/ Jamie Greensill | 1 lap | 7 |
| 19 | Neil Warrington / Brian Parr | 1 lap | 7 |
| 20 | Steven Bazell/ Paul Silvester | 1 lap | 7 |
Championship overall
| | | | | |
| --- | --- | --- | --- | --- |
| Pos | Competitor | Points | R1 | R2 |
| 1 | Jack Etheridge / Jim Kinge | 77 | 37 | 40 |
| 2 | Tony Grahame/ Liam Hodges | 69 | 40 | 29 |
| 3 | Lee Foyle / Kevin Foyle | 68 | 31 | 37 |
| 4 | Ross Bowers/ Dan Phelps | 68 | 33 | 35 |
| 5 | Sam Osbaldistin/ Harley Lloyd | 63 | 35 | 28 |
| 6 | Tilo Maguire/ Guy Eastman | 61 | 28 | 33 |
| 7 | Luke Peters/ Thomas Glazier | 58 | 27 | 31 |
| 8 | Matt Connor / Jake Grahame | 55 | 29 | 26 |
| 9 | Paul Pelling / Jack Wilkinson | 52 | 25 | 27 |
| 10 | Luke Banks / Daniel Spencer | 51 | 26 | 25 |
| 11 | Ashlie Williams / Brian Gray | 47 | 23 | 24 |
| 12 | John Murch/ Tony Murch | 47 | 24 | 23 |
| 13 | Miles Gillham/ Richard Gilham | 43 | 21 | 22 |
| 14 | Alan Graham/ Jamie Greensill | 43 | 22 | 21 |
| 15 | Neil Warrington / Brian Parr | 40 | 20 | 20 |
| 16 | Steven Bazell/ Paul Silvester | 38 | 19 | 19 |
| 17 | Luke Rogers/ Owen Rogers | 18 | 18 | – |