Double podium for Team GB at 2021 Coupe De L'avenir – Rundown and Results
While the senior Team GB riders were nailing a podium position in Italy at the Motocross of Nations, the Team GB youth team were also grabbing their own slide of podium pie at the Coupe De L'avenir in Belgium which is essentially the youth version of the MXON.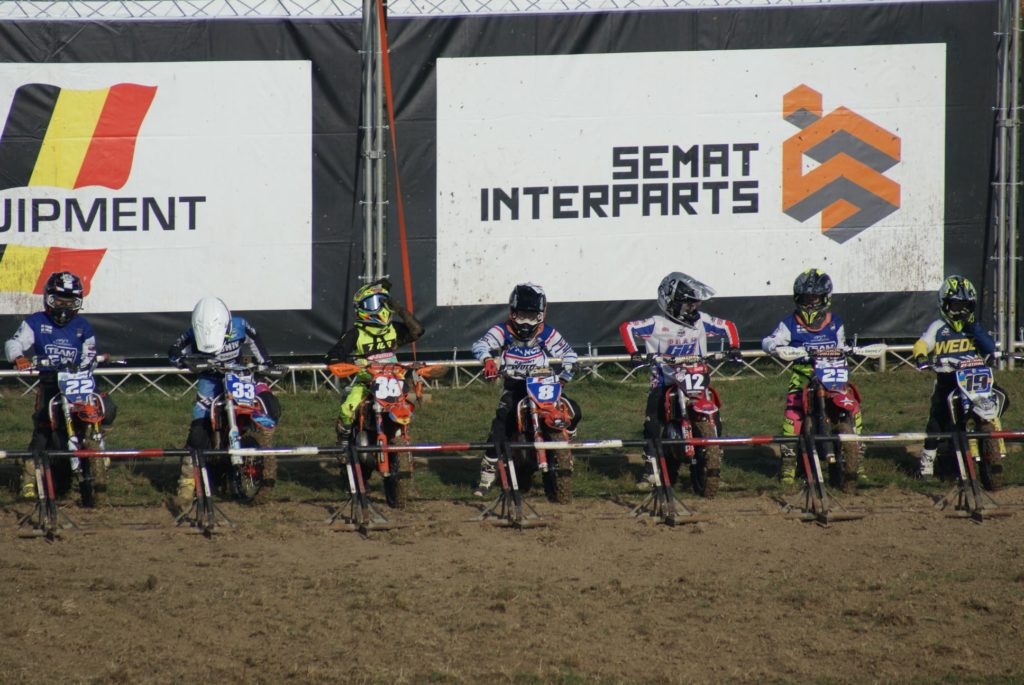 The 65 racers did a fantastic job and show things bode well for the future of our sport in the UK by finishing third over the weekend. Congrats to Robbie Daly, Alfie Geddes-Green and Olly Waters.
Although things didn't go to plan for the 85's team of Ryan Waggott, Charlie Richmond and Will Haddock, they never gave up finished 10th overall.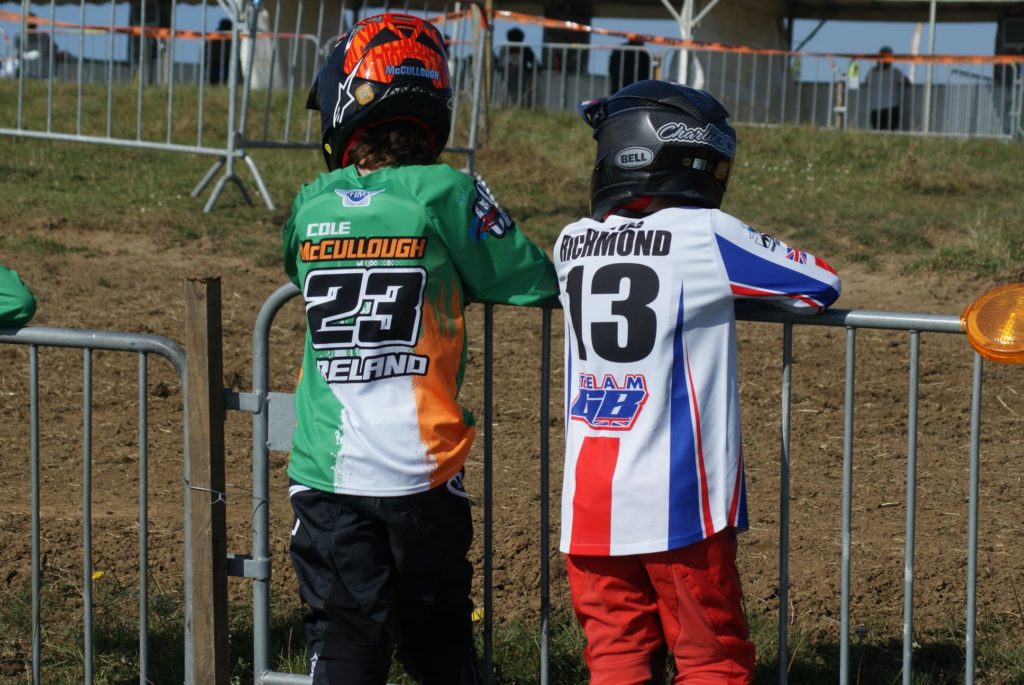 The Open class team of Tom Grimshaw, Sam Nunn and James Barker, put in a superb performance and secure a might fine second overall, just two points behind the winners.
At the end of the event Team GB finished fifth overall across the three different classes.
Team Manager Dave Garland said "2 podiums from 3……..I'd have taken that all day long!!
"3rd place for the 65s If I'm honest was the least they deserved, as they had the speed and skills to win so a podium was well deserved.
"The 85s were not a million miles off the pace of the top 10 but a bad qualification meant gating was difficult and mistakes were made whilst pushing hard but I can't fault the commitment.
"The open class well and truly deserved a podium. We made a tactical decision to put Tom on gate pick 1 which made Sam and James's job a lot harder but all 3 left everything on the track and I couldn't have been happier with them.
"We are already making plans for 2022, the 50th anniversary of the event where we will be looking to podium all classes."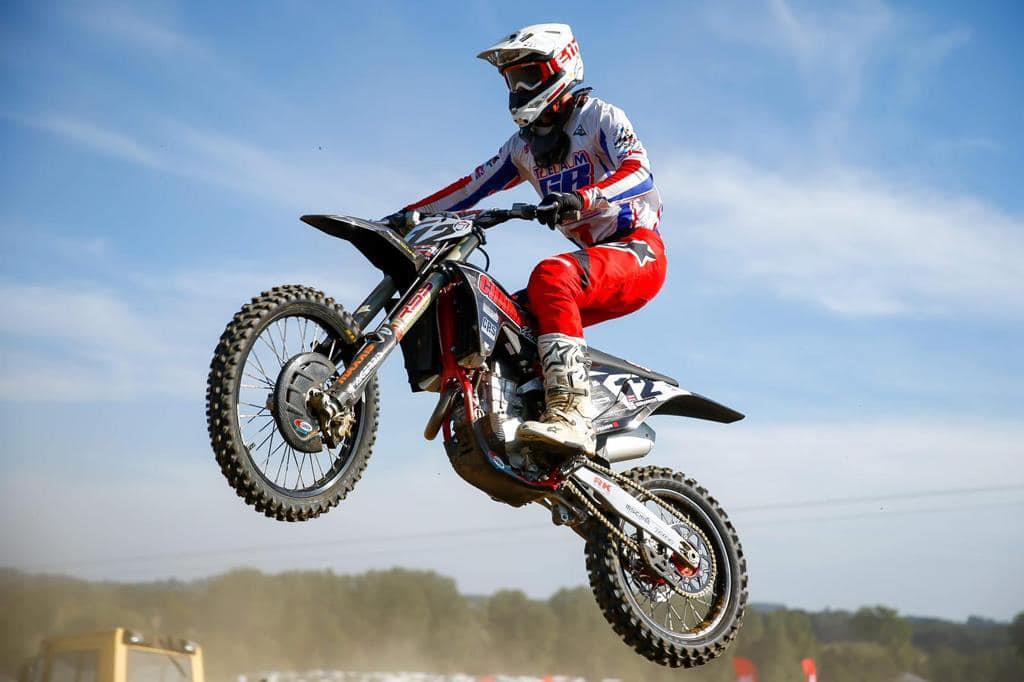 Results
Open – Individual
| | | | | | |
| --- | --- | --- | --- | --- | --- |
| Pos | Competitor | Points | R1 | R2 | R3 |
| 1 | Tom GUYON | 3 | 1 | 1 | 1 |
| 2 | Tom GRIMSHAW | 8 | 2 | 4 | 2 |
| 3 | Rasmus HAKANSON | 14 | 5 | 6 | 3 |
| 4 | Dylan MARCHAND | 20 | 6 | 9 | 5 |
| 5 | Rainers ZUKS | 21 | 4 | 5 | 12 |
| 6 | Sam NUNN | 22 | 8 | 8 | 6 |
| 7 | Pihlak EGERT | 25 | 9 | 7 | 9 |
| 8 | Emil JÖNRUP | 27 | 13 | 10 | 4 |
| 9 | Sacha COENEN | 29 | 17 | 2 | 10 |
| 10 | Laban ALM | 33 | 7 | 13 | 13 |
| 11 | Mattéo PUFFET | 36 | 18 | 11 | 7 |
| 12 | Meico VETTIK | 38 | 3 | 3 | 32 |
| 13 | Joakim BØLVIKEN | 41 | 21 | 12 | 8 |
| 14 | Joël ELSENER | 41 | 11 | 14 | 16 |
| 15 | Sampo RAINIO | 42 | 16 | 15 | 11 |
| 16 | Toni GIORGESSI | 47 | 12 | 20 | 15 |
| 17 | Lucas COENEN | 58 | 10 | 17 | 31 |
| 18 | Rudolfs AUMEISTARS | 59 | 14 | 24 | 21 |
| 19 | Joni MAKELA | 60 | 25 | 18 | 17 |
| 20 | Mathias KJØRSTAD | 61 | 22 | 21 | 18 |
| 21 | Leander THUNSHELLE | 63 | 35 | – | 28 |
| 22 | Kasimir HINDERSSON | 63 | 28 | – | 35 |
| 23 | Bogdan KRAJEWSKI | 64 | 34 | 16 | 14 |
| 24 | Uldis FREIBERGS | 65 | 19 | 27 | 19 |
| 25 | Ben KENNEDY | 66 | 15 | 31 | 20 |
| 26 | Arthur STEFFEN | 68 | 23 | 22 | 23 |
| 27 | Aidan Mc DONAGH | 69 | 20 | 19 | 30 |
| 28 | Hugo BUCHELOT | 73 | 26 | 25 | 22 |
| 29 | Andreas CARRICO | 74 | 24 | 26 | 24 |
| 30 | Pedro RINO | 77 | 29 | 23 | 25 |
| 31 | James BARKER | 85 | 31 | 28 | 26 |
| 32 | Reece ROSS | 87 | 30 | 30 | 27 |
| 33 | Tristan UIGA | 89 | 27 | 29 | 33 |
| 34 | Hugo STIENNES | 94 | 32 | 33 | 29 |
| 35 | Alex ALMEIDA | 99 | 33 | 32 | 34 |
Open Team Result
1. Sweden 48 pts
2. Great Britain 56 pts
3. France 60 pts
4. Belgium 74 pts
5. Switzerland 83 pts
6. Estonia 87 pts
7. Latvia 94 pts
8. Norway 130 pts
9. Finland 130 pts
10. Ireland 161 pts
85's Individual
| | | | | | |
| --- | --- | --- | --- | --- | --- |
| Pos | Competitor | Points | R1 | R2 | R3 |
| 1 | Janis-Martins REISULIS | 3 | 1 | 1 | 1 |
| 2 | Tomass SAICANS | 6 | 2 | 2 | 2 |
| 3 | Aaro MENNA | 10 | 3 | 3 | 4 |
| 4 | Marius NORDBØ | 18 | 8 | 5 | 5 |
| 5 | Basile PIGOIS | 21 | 4 | 11 | 6 |
| 6 | Gyan DOENSEN | 24 | 6 | 8 | 10 |
| 7 | Dean GREGOIRE | 27 | 12 | 7 | 8 |
| 8 | Ian AMPOORTER | 27 | 7 | 9 | 11 |
| 9 | Cole Mc CULLOGH | 29 | 10 | 6 | 13 |
| 10 | Aaron KOWATSCH | 34 | 27 | 4 | 3 |
| 11 | Félix CARDINEAU | 35 | 9 | 17 | 9 |
| 12 | Sandro SOLS | 44 | 24 | 13 | 7 |
| 13 | Otto GUSTAVSSON | 46 | 16 | 18 | 12 |
| 14 | Ben Lucas BREMSER | 47 | 5 | 10 | 32 |
| 15 | Simo KOSKINEN | 49 | 21 | 14 | 14 |
| 16 | Jarne BERVOETS | 49 | 14 | 20 | 15 |
| 17 | Travis LEOK | 51 | 11 | 16 | 24 |
| 18 | Charlie RICHMOND | 52 | 19 | 12 | 21 |
| 19 | Liam BRUNEAU | 53 | 13 | 21 | 19 |
| 20 | Oliver MARTINSEN | 57 | 15 | 24 | 18 |
| 21 | Jan-Marten PAJU | 61 | 29 | 15 | 17 |
| 22 | Ryan OPPLIGER | 61 | 17 | 22 | 22 |
| 23 | Christian THUE | 62 | 32 | 30 | – |
| 24 | Jasper KÕIV | 62 | 20 | 19 | 23 |
| 25 | Will HADDOCK | 63 | 33 | – | 30 |
| 26 | Freddie BARTLETT | 70 | 22 | 28 | 20 |
| 27 | Antoine GALVAN | 72 | 36 | 36 | – |
| 28 | Jonas HANART | 80 | 26 | 26 | 28 |
| 29 | Eemil PESONEN | 81 | 25 | 40 | 16 |
| 30 | Jack MEARA | 83 | 30 | 27 | 26 |
| 31 | Markuss KOKINS | 85 | 18 | 29 | 38 |
| 32 | Marvin VÖKT | 87 | 23 | 39 | 25 |
| 33 | Dario ZANOLIN | 91 | 31 | 31 | 29 |
| 34 | Ryan WAGGOTT | 93 | 28 | 38 | 27 |
| 35 | Lenny GEISSELER | 97 | 38 | 25 | 34 |
| 36 | Lewis SPRATT | 100 | 37 | 32 | 31 |
| 37 | Douwe VAN MECHGELEN | 100 | 40 | 23 | 37 |
| 38 | Gonçaio CARDOSO | 101 | 34 | 34 | 33 |
| 39 | Dinis SOUSA | 105 | 35 | 35 | 35 |
| 40 | Guilherme ROCHA | 112 | 39 | 37 | 36 |
| 41 | Nathan DENUIT | 113 | 41 | 33 | 39 |
85's Team Result
1. Latvia 27 pts
2. France 69 pts
3. Finland 75 pts
4. Germany 97 pts
5. Belgium 99 pts
6. Norway 105 pts
7. Sweden 108 pts
8. Estonia 121 pts
9. Ireland 143 pts
10. Great Britain 170 pts
65's Individual Result
| | | | | |
| --- | --- | --- | --- | --- |
| Pos | Competitor | Points | R1 | R2 |
| 1 | Léo DISS FENARD | 3 | 2 | 1 |
| 2 | Lucas LEOK | 6 | 3 | 3 |
| 3 | Sleny GOYER | 7 | 1 | 6 |
| 4 | Alfie GEDDES-GREEN | 9 | 4 | 5 |
| 5 | Robbie DALY | 13 | 6 | 7 |
| 6 | Karl TEESALU | 13 | 5 | 8 |
| 7 | Alfie HERRON | 17 | 8 | 9 |
| 8 | Olly WATERS | 17 | 7 | 10 |
| 9 | Raphaël MENNILO | 20 | 9 | 11 |
| 10 | Dante LANTZ | 22 | 10 | 12 |
| 11 | Eeka LAAKSONEN | 24 | 11 | 13 |
| 12 | Ollie HOLLAND | 27 | 12 | 15 |
| 13 | Viktor LEPPÄLÄ | 28 | 26 | 2 |
| 14 | Oliver JÖNSSON | 28 | 14 | 14 |
| 15 | Okko OLLILA | 30 | 13 | 17 |
| 16 | Enriko PEILMAN | 33 | 29 | 4 |
| 17 | Max LINDSTRÖM | 33 | 17 | 16 |
| 18 | Edijs PILECKIS | 34 | 16 | 18 |
| 19 | Clement DEWATTINES | 34 | 15 | 19 |
| 20 | Denijs BOGDANOVS | 41 | 21 | 20 |
| 21 | Torre VAN MECHGELEN | 41 | 20 | 21 |
| 22 | Kole NALLY | 41 | 18 | 23 |
| 23 | Guilherme GOMEZ | 45 | 23 | 22 |
| 24 | Miguel CARIADE | 46 | 22 | 24 |
| 25 | Joshua WEIGERT | 48 | 19 | 29 |
| 26 | Guilherme ALVEZ | 49 | 24 | 25 |
| 27 | Youness TAHERE | 53 | 25 | 28 |
| 28 | Leny RISTUCCIA | 54 | 27 | 27 |
| 29 | Diego BOGERS | 56 | 30 | 26 |
| 30 | Toms DANKERTS | 58 | 28 | 30 |
65's Team Result
1. France 19 pts
2. Estonia 23 pts
3. Great Britain 29 pts
4. Finland 56 pts
5. Ireland 62 pts
6. Sweden 66 pts
7. Belgium 94 pts
8. Latvia 103pts
9. Portugal 115 pts
10. Belgium 2 133 pts

Team Overall
1. France 148 pts
2. Sweden 222 pts
3. Latvia 224 pts
4. Estonia 231 pts
5. Great Britain 255 pts
6. Finland 261 pts
7. Belgium 267 pts
8. Ireland 366 pts
9. Belgium 2 524 pts
10. Portugal 540 pts