Big win for Birtwistle! Indian Motorcycle Flat Track Nationals Round 2 – Race Report
The fantastic purpose-built facility in Lincolnshire, Greenfield Dirt Track, played host to Round Two of the Indian Motorcycle Flat Track Nationals.
Images courtesy of Gary Margerum – Braking Point Images
Fast close racing has become the standard at DTRA events, particularly in the Pro and Hooligan classes and Round Two did not disappoint.
The Pro Class gave us some spectacular racing as usual with Gary Birtwistle executing a big overtake up the inside on lap one for the lead. Second place was hotly contended throughout the laps which lead to Angus Goff being gradually reeled in by Toby Hales for second place. The final positions being Gary Birtwistle in first place, Toby Hales in Second and Angus Goff taking third place.
The Hooligan racing was spectacular as usual with hard racing throughout the heats. It was George Pickering who got the holeshot in the final but due to a fallen rider, the race had to be restarted. Jake Young led the restarted final from the beginning followed closely by Jack Bell and George Pickering. With a final corner mistake from Jack Bell, George Pickering overtook to take second place. The final positions across the line were Jake Young in first place, George Pickering in second and Jack Bell in Third.
Saturday saw the DTRA host the first-ever electric flat track race outside the USA. Racing was close at the front of the pack. Rider Alan Birtwistle dominated the heats and final on his to take the win followed by Jo Banks in second and Colin McCabe third. It was great to get the support of English Electric and Zero Motorcycles who made this class possible and we are looking forward to Round 2 later in the year at the MCN Festival.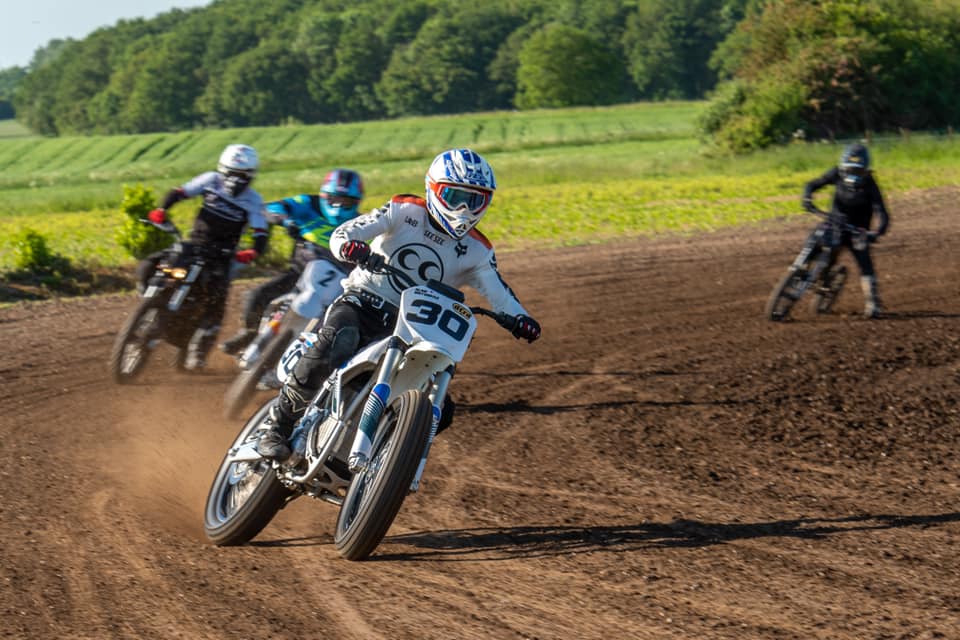 The inter class saw the largest entry on the day with over thirty riders battling it out for the top step on the podium. It was Freddie Trott Junior who put in consistent performances all night, and managed to take the win from George Sturgess followed by new comer to the DTRA Chris Northover.
The DTRA would like to give special thanks to all our team that make these events possible. From the guys at Greenfield Dirt Track who hosted at such a well-prepared facility to the marshals, officials and timekeepers. We all play a role in making these extraordinary events run smoothly. We have had an extraordinary amount of 'thank you messages' from this round, which we appreciate greatly. The DTRA are glad to be back racing again after such a long break. To come back with such a successful event is fantastic.
The action continues on July 17th and 18th for rounds three and four at the half-mile track in Amman Valley.