Back to Back at Brookthorpe! Nora-MX Quad & Sidecarcross Championship Rounds 2 & 3 – Race Report & Results
The Second and third round of the Nora MX Championship was hosted by the Nora MX team at the Brookthorpe track in Gloucestershire, across a two day event. Although rain was forecast the weather was sunny and dry for the first two sets of races but set three was a different story with the rain arriving in the late afternoon and continuing into day 2.
Report by Tracy Thacker – Action Images courtesy of Tracy Thacker and John Cook
Again, it was a COVID secure event with no spectators, just riders, mechanics and officials with their family bubbles.
There were six quad and one sidecar class, although each of those were further split into sub-classes within each of the races. Three races for each class in round 2 and two races for each class in round 3, so five races each across the two-day event.
The sidecar group was split into two classes, with GP riders racing without collecting any points.
Current British Champions Stuart Brown / Josh Chamberlain took the holeshot in race one, holding on for a good win. Dan Foden / Nathan Cooper initially held second, but were passed by Brett Wilkinson / Maxime Cuche, George Kinge / Steve Kirwin took third with Dan Foden / Nathan Cooper holding fourth. Jake Brown / Joe Millard had problems at the start but still fought hard to catch their rivals, but it was race two where they really showed what they could do taking the holes shot and blasting ahead for the majority for the race, Stuart Brown / Josh Chamberlain shadowed them throughout, blasting into the lead in the final few laps.
But the final race of the day was the wild card, the skies opened and the rain poured making the course slippery and any racing was difficult. It was Brett Wilkinson with swiss passenger Maxime Cuche who took the holeshot and held the lead throughout, this time Stuart Brown / Josh Chamberlain were amongst the pack and overtaking was difficult in the conditions, but they picked their way through to take a great second and enough for an overall win.
On Day two the Stuart Brown / Josh Chamberlain did not race, which left four GP teams, each of the two races saw a holes shots for Jake Brown / Joe Millard, with Brett Wilkinson / Maxime Cuche chasing throughout but settling for second Dan Foden / Nathan Cooper took third with George Kinge / Steve Kirwin fourth in each race.
The main Sidecar class was dominated by Sam Osbaldiston / Harley Lloyd who took another three good wins. In the first race Matt Connor / Jake Grahame, took second ahead of Paul Pelling / Jack Wilkinson, with Tilo Maguire and stand in passenger Chris Pannell fourth. In race two, Jack Etheridge / Nicky Adair put their race one problems behind them and took second with Tilo Maguire/ Chris Pannell third just ahead of Paul Pelling / Jack Wilkinson. The final race was the battle in the rain, the start was slow and slippery and the race was steady and cautious. Sam Osbaldistin/ Harley Lloyd battled past Paul Pelling / Jack Wilkinson to take the win with Tilo Maguire/ Chris Pannell just behind taking third overall, Jack Etheridge / Nicky Adair were fourth.
On Day two Sam Osbaldiston / Harley Lloyd took two good wins and now hold maximum championship points. Jack Etheridge with a passenger change to Jake Grahame kept the leaders in sight throughout taking second in both races. Third was a battle between Paul Pelling / Jack Wilkinson and Tilo Maguire/ Chris Pannell who fought throughout and took a third place each.
In the quad class there were the usual Six groups Pro / Pro Am, Clubman Elite / Masters A, Clubman / Masters B, Intermediates and Ladies, 250cc Open and Air Cooled, 100cc Geared, and 50cc Auto, 100cc Auto
The Pro races were fast and furious with plenty of action. In race one Mark McLernon took the holeshot but was hunted down by Harry Walker, but disaster struck when Harry's bike started to smoke, with one lap remaining he continued but dropped back to seventh. Jamie Morgan had a great race fighting through to second ahead of Dafydd Davies and Simon Hammersley. In race 2 Mark McLernon lead from the start ahead of Oli Sansom with Harry Walker third, but he battled forward to take a good win, Mark McLernon held second from Dafydd Davies.
The final race of the day saw a large rain cloud soak the track and made the racing difficult. Mark McLernon took the holeshot and stayed ahead to take the win, Harry Walker battled up to second but could not close on the leader, Simon Hammersley and Dean Dillon were close behind. In the Pro-Am class Robbie Wood, Alfie Walker, and Ayrton Knowles battled together taking a win each.
On Day two the weather made racing at speed more difficult, but the standard was high with two fast and exciting races. Oli Sansom hole shotted both races, looking great in the muddy conditions, in race one the competition from behind was strong with Mark McLernon taking the lead from lap 2 with Harry Walker taking second ahead of Jamie Morgan, Oli Sansom held fourth. But in race two Oli was more determined, and he held the lead throughout to take a great win, ahead of Dean Dillon with Harry Walker very close in third.
Clubman Elite raced with the Masters A group. They were dominated by Luke Berlyn who took three great wins. In race one Sonney Ward fought through to second just ahead of Danny Smith. Scott Berlyn took second in race 2 with Sonney Ward closed behind in third. In the final race of day 1 Luke Berlyn lead from the start with rain making things difficult from behind with the Masters A riders amongst the leaders, Danny Smith was the second Clubman Elite to finish with Sonney Ward again in third. Masters A rider Johnathan Mcknight had a fantastic day to take the overall win in his class.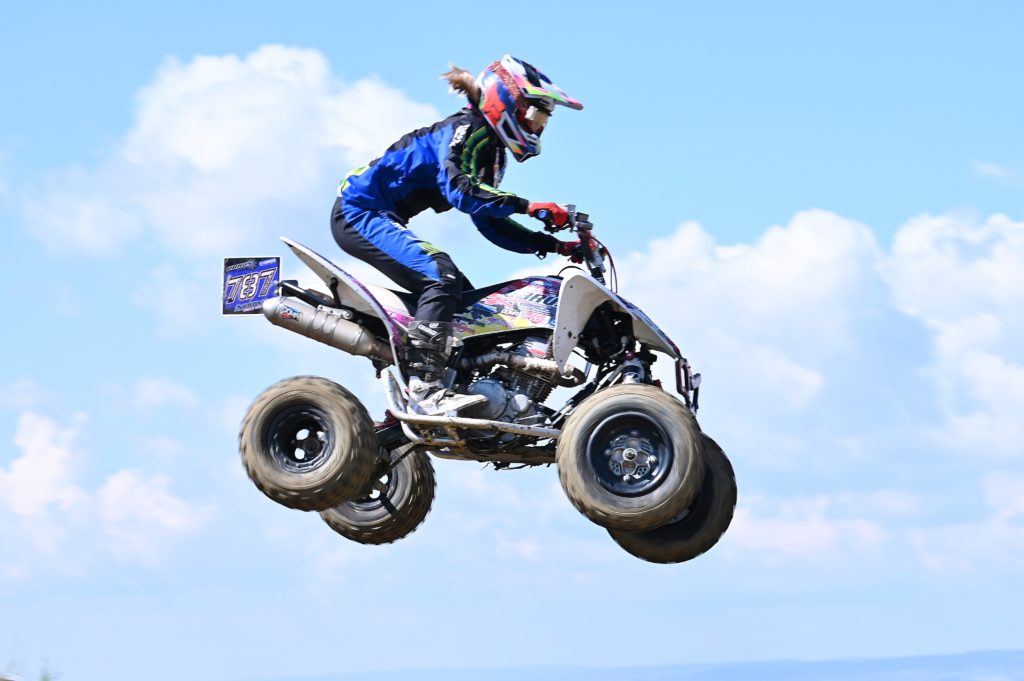 The Clubman Elite also found conditions tough on the second day with the muddy track making passing very difficult, but that didn't stop them. It was Michael Hodges who usually races GP sidecars that took the holeshot, he stayed close but the competition for the lead was fast with Sonney Ward and Daniel Scott Evans dicing for the lead, with Sonney taking the win in the final few laps, Michael Hodges held on for third. In race two Luke Berlyn took the lead at the halfway point and held on for another great win, Scott Berlyn was second just ahead of Sonney Ward.
The Clubman class raced with the Masters B. This class was dominated by Lewis Painter taking wins in all five races across the weekend. Matthew Kirk did the same in the Masters B Class.
The next round of the championship takes place at West Meon on the 16th May.
Results
Round 2 – Saturday
Sidecars
| | | | | | |
| --- | --- | --- | --- | --- | --- |
| Pos | Competitor | Points | R1 | R2 | R3 |
| 1 | Sam Osbaldistin/ Harley Lloyd | 120 | 40 | 40 | 40 |
| 2 | Paul Pelling / Jack Wilkinson | 105 | 35 | 33 | 37 |
| 3 | Tilo Maguire/ Toby Hutchins | 103 | 33 | 35 | 35 |
| 4 | Matt Connor / Jake Grahame | 96 | 37 | 28 | 31 |
| 5 | Rob Oldfield / Faye Barnes | 87 | 29 | 29 | 29 |
| 6 | Ross Bowers/ Dan Phelps | 86 | 27 | 31 | 28 |
| 7 | Jack Etheridge / Zac Snell | 84 | 14 | 37 | 33 |
| 8 | Lee Foyle / Kevin Foyle | 81 | 28 | 27 | 26 |
| 9 | Luke Banks / Daniel Spencer | 78 | 25 | 26 | 27 |
| 10 | Rob Foden / Ryan Henderson | 73 | 26 | 25 | 22 |
| 11 | Kev Feltham / Jack Newbury | 72 | 24 | 23 | 25 |
| 12 | John Murch/ Tony Murch | 68 | 23 | 24 | 21 |
| 13 | Mark Stokes/ Luke Townsend | 66 | 21 | 21 | 24 |
| 14 | Ashlie Williams / Brian Gray | 64 | 22 | 22 | 20 |
| 15 | Daniel Lawry/ Christopher Huntley | 62 | 20 | 19 | 23 |
| 16 | Neil Warrington / Brian Parr | 56 | 19 | 18 | 19 |
| 17 | Alan Graham/ Jamie Greensill | 51 | 17 | 16 | 18 |
| 18 | Luke Rogers/ Owen Rogers | 51 | 15 | 20 | 16 |
| 19 | James Ferryman / Michael Curnow | 50 | 16 | 17 | 17 |
| 20 | Vaida Racevivius/ Nekijas Kondrotas | 48 | 18 | 15 | 15 |
| 21 | Luke Peters/ Thomas Glazier | 45 | 31 | 14 | – |
| 22 | Brian Turner / Ricky Macgogh | 26 | 13 | 13 | – |
Quads
Pro
| | | | | | |
| --- | --- | --- | --- | --- | --- |
| Pos | Competitor | Points | R1 | R2 | R3 |
| 1 | Mark McLernon | 117 | 40 | 37 | 40 |
| 2 | Harry Walker | 105 | 28 | 40 | 37 |
| 3 | Simon Hammersley | 99 | 33 | 31 | 35 |
| 4 | Dafydd Davies | 99 | 35 | 35 | 29 |
| 5 | Jamie Morgan | 96 | 37 | 33 | 26 |
| 6 | Oli Sansom | 89 | 29 | 29 | 31 |
| 7 | Dean Dillon (U21) | 85 | 27 | 25 | 33 |
| 8 | Carl Bunce | 85 | 31 | 26 | 28 |
| 9 | Lestyn Rolands(U21) | 77 | 26 | 28 | 23 |
| 10 | George Day | 71 | 17 | 27 | 27 |
| 11 | Jack Naylor | 71 | 23 | 23 | 25 |
| 12 | David Hammersley | 68 | 22 | 22 | 24 |
| 13 | Tom Day (U21) | 66 | 25 | 24 | 17 |
| 14 | Alex Bethell | 62 | 21 | 19 | 22 |
| 15 | Harry Miller | 58 | 20 | 17 | 21 |
| 16 | Paul Winrow | 57 | 18 | 21 | 18 |
| 17 | Zak Orchard (U21) | 56 | 16 | 20 | 20 |
| 18 | Joshua Waring | 56 | 19 | 18 | 19 |
| 19 | James Bevan | 40 | 24 | 16 | – |
Pro-AM
| | | | | | |
| --- | --- | --- | --- | --- | --- |
| Pos | Competitor | Points | R1 | R2 | R3 |
| 1 | Robbie Wood | 112 | 40 | 35 | 37 |
| 2 | Alfie Walker | 108 | 37 | 40 | 31 |
| 3 | Chad Beevers | 103 | 31 | 37 | 35 |
| 4 | Kevin Meenagh | 101 | 35 | 33 | 33 |
| 5 | Ayrton Knowles (U21) | 97 | 29 | 28 | 40 |
| 6 | Thomas Chell | 83 | 25 | 29 | 29 |
| 7 | Lewis Rowles | 80 | 27 | 26 | 27 |
| 8 | Ryan Loughran | 80 | 28 | 27 | 25 |
| 9 | Marcus Sprason (U21) | 77 | 24 | 25 | 28 |
| 10 | Aaron Haslett | 64 | 33 | 31 | – |
| 11 | Axel Bone (U21) | 52 | 26 | – | 26 |
| 12 | Glyndwr Thomas | 47 | 23 | 24 | – |
| 13 | George Oliver | 45 | 22 | 23 | – |
Clubman Elite
| | | | | | |
| --- | --- | --- | --- | --- | --- |
| Pos | Competitor | Points | R1 | R2 | R3 |
| 1 | Luke Berlyn | 120 | 40 | 40 | 40 |
| 2 | Sonney Ward | 107 | 37 | 35 | 35 |
| 3 | Danny Smith | 105 | 35 | 33 | 37 |
| 4 | Scott Berlyn | 92 | 26 | 37 | 29 |
| 5 | Daniel Scott Evans | 76 | 23 | 27 | 26 |
| 6 | Thomas Yates | 76 | 27 | 26 | 23 |
| 7 | Jamie Bone | 76 | 31 | 31 | 14 |
| 8 | Catrin Davies (L) | 74 | 25 | 24 | 25 |
| 9 | Harry Grant | 71 | 19 | 25 | 27 |
| 10 | Dylan Mckenna | 68 | 8 | 29 | 31 |
| 11 | Ryan Walters | 68 | 29 | 28 | 11 |
| 12 | Michael Hodges | 64 | 10 | 21 | 33 |
| 13 | Tiago Caldeira | 64 | 20 | 16 | 28 |
| 14 | Iestyn Rees (U21) | 64 | 28 | 12 | 24 |
| 15 | Oliver Martin | 62 | 33 | 9 | 20 |
| 16 | Daniel Andrew Jones | 59 | 17 | 20 | 22 |
| 17 | Joe Pryke | 58 | 18 | 22 | 18 |
| 18 | Josh Talent | 55 | 21 | 19 | 15 |
| 19 | Jacob Atkinson | 53 | 15 | 17 | 21 |
| 20 | Justin Parry | 51 | 16 | 18 | 17 |
| 21 | Mitch Couzens | 39 | 14 | 13 | 12 |
| 22 | Dan Chamberlain | 35 | 9 | 7 | 19 |
| 23 | Laurence Stopps | 34 | 11 | 23 | – |
| 24 | Aaron Herbert | 33 | 22 | 11 | – |
| 25 | Zak Beevers (U21) | 32 | 24 | 8 | – |
| 26 | Bradley Watson | 27 | 12 | 15 | – |
| 27 | Jack Evans | 27 | 13 | 14 | – |
| 28 | Connor Taylor | 26 | – | 10 | 16 |
| 29 | Craig Fisher | 13 | – | – | 13 |
Masters A
| | | | | | |
| --- | --- | --- | --- | --- | --- |
| Pos | Competitor | Points | R1 | R2 | R3 |
| 1 | Johnathan Mcknight | 117 | 37 | 40 | 40 |
| 2 | Greg Fisher | 103 | 33 | 37 | 33 |
| 3 | Darren Hurt | 101 | 31 | 35 | 35 |
| 4 | Darren Bridge | 89 | 28 | 33 | 28 |
| 5 | Keith Harden | 86 | 35 | 26 | 25 |
| 6 | Ben Morgan | 82 | 24 | 29 | 29 |
| 7 | Geoff Otway | 79 | 26 | 27 | 26 |
| 8 | Edward Davies | 77 | 40 | – | 37 |
| 9 | Gary Jones | 77 | 25 | 28 | 24 |
| 10 | John Hall | 71 | 23 | 25 | 23 |
| 11 | Chris Keitch | 60 | 29 | – | 31 |
| 12 | Clint Eagle | 58 | – | 31 | 27 |
| 13 | Ray Walker | 27 | 27 | – | – |
Clubman
| | | | | | |
| --- | --- | --- | --- | --- | --- |
| Pos | Competitor | Points | R1 | R2 | R3 |
| 1 | Lewis Painter | 120 | 40 | 40 | 40 |
| 2 | Dan Shellard | 109 | 37 | 37 | 35 |
| 3 | Michael Williams | 96 | 33 | 35 | 28 |
| 4 | Will Mead | 95 | 31 | 31 | 33 |
| 5 | Luke Brown | 89 | 35 | 29 | 25 |
| 6 | Harry Koller | 82 | 22 | 33 | 27 |
| 7 | Bleddyn Jones | 77 | 28 | 26 | 23 |
| 8 | Connor Paxton | 76 | 20 | 27 | 29 |
| 9 | Sam Bevan | 75 | 25 | 24 | 26 |
| 10 | Mckenzie Evans | 73 | 29 | 23 | 21 |
| 11 | Kieran Taylor | 69 | 21 | 17 | 31 |
| 12 | Gary Griffin | 69 | 23 | 22 | 24 |
| 13 | Adam Lomas | 64 | 27 | 19 | 18 |
| 14 | Liam Griffith | 53 | 18 | 16 | 19 |
| 15 | Cameron Wildman | 52 | – | 15 | 37 |
| 16 | Harry Walker | 51 | 26 | 25 | – |
| 17 | Glyndwr Thomas | 48 | – | 28 | 20 |
| 18 | Richard Paynter | 45 | 24 | 21 | – |
| 19 | Jack Shone | 40 | – | 18 | 22 |
| 20 | Ewan Packham (A) | 39 | 19 | 20 | – |
| 21 | Tom Bainbridge | 17 | 17 | – | – |
Masters B
| | | | | | |
| --- | --- | --- | --- | --- | --- |
| Pos | Competitor | Points | R1 | R2 | R3 |
| 1 | Matthew Kirk | 120 | 40 | 40 | 40 |
| 2 | Steven Smart | 111 | 37 | 37 | 37 |
| 3 | Trevor Humphris | 101 | 35 | 35 | 31 |
| 4 | David Hull | 97 | 33 | 29 | 35 |
| 5 | Mark Moseley (V) | 90 | 28 | 33 | 29 |
| 6 | Stumpy Lawrence (V) | 88 | 29 | 31 | 28 |
| 7 | Christopher Gyles (V) | 80 | 25 | 22 | 33 |
| 8 | Chris Watson (V) | 78 | 27 | 27 | 24 |
| 9 | Jason Hall | 77 | 24 | 26 | 27 |
| 10 | Mathew Perry | 74 | 26 | 25 | 23 |
| 11 | Rick Jones (V) | 73 | 23 | 24 | 26 |
| 12 | Danny Gilligan | 67 | 21 | 21 | 25 |
| 13 | Nik Blythe(V) | 67 | 22 | 23 | 22 |
| 14 | Phillip Hammersley (V) | 59 | 31 | 28 | – |
Intermediates
| | | | | | |
| --- | --- | --- | --- | --- | --- |
| Pos | Competitor | Points | R1 | R2 | R3 |
| 1 | Nicole Lowry (L) | 112 | 35 | 40 | 37 |
| 2 | Shelley Smart (L) | 110 | 40 | 37 | 33 |
| 3 | Myles Mott | 99 | 37 | 22 | 40 |
| 4 | Max Turner | 95 | 33 | 27 | 35 |
| 5 | Gavin Roach | 91 | 29 | 33 | 29 |
| 6 | Joshua Groom | 88 | 28 | 29 | 31 |
| 7 | Alfie North | 83 | 31 | 25 | 27 |
| 8 | Stephen Claro | 82 | 26 | 28 | 28 |
| 9 | Kieren Johnson | 82 | 25 | 31 | 26 |
| 10 | Shanice Mott (L) | 78 | 27 | 26 | 25 |
| 11 | James Lees | 69 | 22 | 24 | 23 |
| 12 | Tom Welch | 66 | 21 | 21 | 24 |
| 13 | Chloe Keitch (L) | 64 | 19 | 23 | 22 |
| 14 | Karl Pilcher | 55 | 16 | 20 | 19 |
| 15 | Thomas Harris | 51 | 15 | 16 | 20 |
| 16 | Martyn Doyle | 50 | 24 | 8 | 18 |
| 17 | Michael Watmore | 47 | 14 | 19 | 14 |
| 18 | Susan Coalter (L) | 44 | 12 | 17 | 15 |
| 19 | Benjamin Woodhead | 41 | 5 | 15 | 21 |
| 20 | Grace Keitch (L) | 40 | 11 | 18 | 11 |
| 21 | James Scott | 36 | 18 | 5 | 13 |
| 22 | Kyle Moore | 35 | – | 35 | – |
| 23 | Jason Dickins | 32 | 13 | 3 | 16 |
| 24 | Maddie Martin (L) | 30 | – | 13 | 17 |
| 25 | Vassna Willcock (L) | 30 | 23 | 7 | – |
| 26 | Ewan Packman | 29 | 17 | – | 12 |
| 27 | Russ Wells | 26 | 7 | 11 | 8 |
| 28 | Richard Murphy | 26 | 8 | 12 | 6 |
| 29 | Simon Pilsworth | 22 | 3 | 9 | 10 |
| 30 | Chris Glasson | 20 | 20 | – | – |
| 31 | Sally Donald (L) | 19 | 10 | – | 9 |
| 32 | Ashley Willis | 19 | 9 | 10 | – |
| 33 | Carly Sewell | 18 | 4 | 14 | – |
| 34 | Keaton Danter | 12 | 6 | 6 | – |
| 35 | Carly Sewell (L) | 7 | – | – | 7 |
| 36 | Samual Jenkins | 4 | – | 4 | – |
Ladies
| | | | | | |
| --- | --- | --- | --- | --- | --- |
| Pos | Competitor | Points | R1 | R2 | R3 |
| 1 | Nicole Lowry (L) | 117 | 37 | 40 | 40 |
| 2 | Shelley Smart (L) | 114 | 40 | 37 | 37 |
| 3 | Shanice Mott (L) | 105 | 35 | 35 | 35 |
| 4 | Chloe Keitch (L) | 97 | 31 | 33 | 33 |
| 5 | Susan Coalter (L) | 87 | 29 | 29 | 29 |
| 6 | Grace Keitch (L) | 87 | 28 | 31 | 28 |
| 7 | Vassna Willcock (L) | 60 | 33 | 27 | – |
| 8 | Maddie Martin (L) | 59 | – | 28 | 31 |
| 9 | Sally Donald (L) | 54 | 27 | – | 27 |
| 10 | Carly Sewell (L) | 26 | – | – | 26 |
Youth 250
| | | | | | |
| --- | --- | --- | --- | --- | --- |
| Pos | Competitor | Points | R1 | R2 | R3 |
| 1 | Josh McKnight | 117 | 40 | 40 | 37 |
| 2 | Aled Davies | 107 | 37 | 35 | 35 |
| 3 | Andrew Black (G) | 101 | 24 | 37 | 40 |
| 4 | Lewis Humphris | 96 | 35 | 33 | 28 |
| 5 | Ross Dillon (A) | 91 | 33 | 31 | 27 |
| 6 | Riley Honor | 90 | 31 | 28 | 31 |
| 7 | Arthur McDonald (A) | 88 | 29 | 26 | 33 |
| 8 | Charlie Wheatley (O) | 85 | 27 | 29 | 29 |
| 9 | Sam Sellers | 75 | 25 | 27 | 23 |
| 10 | Louie Holt (A) | 71 | 22 | 25 | 24 |
| 11 | Amelia Mead(A) | 63 | 19 | 19 | 25 |
| 12 | Ellie Stott (A) | 63 | 20 | 21 | 22 |
| 13 | Frank Marston (A) | 62 | 14 | 22 | 26 |
| 14 | Charlie Eaton (A) | 58 | 18 | 20 | 20 |
| 15 | Brooke Bunce (A) | 57 | 21 | 15 | 21 |
| 16 | Logan Paxton | 52 | 15 | 18 | 19 |
| 17 | Rylee Marshall | 52 | 28 | 24 | – |
| 18 | Jay Sam (A) | 51 | 16 | 17 | 18 |
| 19 | Shane Havard Evans (A) | 50 | 17 | 16 | 17 |
| 20 | Connor Yates (A) | 46 | 23 | 23 | – |
| 21 | Kieran Marriott | 42 | 26 | – | 16 |
Kids 50cc
| | | | | | |
| --- | --- | --- | --- | --- | --- |
| Pos | Competitor | Points | R1 | R2 | R3 |
| 1 | Oliver Dawson | 120 | 40 | 40 | 40 |
| 2 | Shay McKenna (50) | 111 | 37 | 37 | 37 |
| 3 | Bentley Don Garrett | 105 | 35 | 35 | 35 |
| 4 | Poppy Davies | 97 | 31 | 33 | 33 |
| 5 | Georgia Entritry | 95 | 33 | 31 | 31 |
Kids 100cc Auto
| | | | | | |
| --- | --- | --- | --- | --- | --- |
| Pos | Competitor | Points | R1 | R2 | R3 |
| 1 | Harriet Mewse (A) | 120 | 40 | 40 | 40 |
| 2 | Beatrix Drinkwater (A) | 107 | 37 | 37 | 33 |
| 3 | Josh Smart | 105 | 35 | 35 | 35 |
| 4 | Seth Terrell | 101 | 31 | 33 | 37 |
| 5 | Dexter Griffin | 86 | 29 | 26 | 31 |
| 6 | Sion Jones (A) | 85 | 28 | 28 | 29 |
| 7 | Beau Terrell | 85 | 26 | 31 | 28 |
| 8 | Keian Willis | 77 | 25 | 25 | 27 |
| 9 | Ella Robe (A) | 62 | 33 | 29 | – |
| 10 | Morgan Humphreys (A) | 54 | 27 | 27 | – |
Kids 100cc Geared
| | | | | | |
| --- | --- | --- | --- | --- | --- |
| Pos | Competitor | Points | R1 | R2 | R3 |
| 1 | Reggie Binskin (G) | 120 | 40 | 40 | 40 |
| 2 | Olly McDonald (G) | 111 | 37 | 37 | 37 |
| 3 | Liam McGowan | 103 | 33 | 35 | 35 |
| 4 | Seth Balaam (G) | 95 | 35 | 33 | 27 |
| 5 | Luca Shaw (G) | 93 | 29 | 31 | 33 |
| 6 | Amelia Talent (G) | 89 | 31 | 27 | 31 |
| 7 | Ethan Legg | 85 | 27 | 29 | 29 |
| 8 | Malachy McKenna (G) | 84 | 28 | 28 | 28 |
| 9 | Rose Walker (G) | 26 | 26 | – | – |
Sunday – Round 3
Sidecars
| | | | | |
| --- | --- | --- | --- | --- |
| Pos | Competitor | Points | R1 | R2 |
| 1 | Sam Osbaldistin/ Harley Lloyd | 80 | 40 | 40 |
| 2 | Jack Etheridge / Jake Graham | 74 | 37 | 37 |
| 3 | Tilo Maguire/ Toby Hutchins | 68 | 33 | 35 |
| 4 | Paul Pelling / Jack Wilkinson | 68 | 35 | 33 |
| 5 | Lee Foyle / Kevin Foyle | 59 | 28 | 31 |
| 6 | Rob Oldfield / Faye Barnes | 59 | 31 | 28 |
| 7 | Luke Banks / Daniel Spencer | 58 | 29 | 29 |
| 8 | John Murch/ Tony Murch | 53 | 26 | 27 |
| 9 | Ashlie Williams / Brian Gray | 52 | 27 | 25 |
| 10 | Kev Feltham / Jack Newbury | 51 | 25 | 26 |
| 11 | Luke Rogers/ Owen Rogers | 48 | 24 | 24 |
| 12 | Lance Marshal/ Vinnie Marshal | 44 | 21 | 23 |
| 13 | Neil Warrington / Brian Parr | 23 | 23 | – |
| 14 | Ross Bowers/ Dan Phelps | 22 | 22 | – |
Quads
Pro
| | | | | |
| --- | --- | --- | --- | --- |
| Pos | Competitor | Points | R1 | R2 |
| 1 | Oli Sansom | 73 | 33 | 40 |
| 2 | Mark McLernon | 73 | 40 | 33 |
| 3 | Harry Walker | 72 | 37 | 35 |
| 4 | Dean Dillon (U21) | 68 | 31 | 37 |
| 5 | Jamie Morgan | 66 | 35 | 31 |
| 6 | Dafydd Davies | 57 | 28 | 29 |
| 7 | Jack Naylor | 56 | 29 | 27 |
| 8 | Zak Orchard (U21) | 53 | 25 | 28 |
| 9 | Carl Bunce | 53 | 27 | 26 |
| 10 | Lestyn Rolands(U21) | 51 | 26 | 25 |
| 11 | Paul Winrow | 24 | 24 | – |
| 12 | Harry Miller | 23 | 23 | – |
Pro-Am
| | | | | |
| --- | --- | --- | --- | --- |
| Pos | Competitor | Points | R1 | R2 |
| 1 | Alfie Walker (U21) | 74 | 37 | 37 |
| 2 | Chad Beevers | 73 | 33 | 40 |
| 3 | Kevin Meenagh | 70 | 35 | 35 |
| 4 | Thomas Chell | 62 | 29 | 33 |
| 5 | Marcus Sprason (U21) | 58 | 27 | 31 |
| 6 | George Oliver | 55 | 26 | 29 |
| 7 | Robbie Wood | 40 | 40 | – |
| 8 | Ayrton Knowles (U21) | 31 | 31 | – |
| 9 | Ryan Loughran | 28 | 28 | – |
Clubman Elite
| | | | | |
| --- | --- | --- | --- | --- |
| Pos | Competitor | Points | R1 | R2 |
| 1 | Sonney Ward | 75 | 40 | 35 |
| 2 | Luke Berlyn | 71 | 31 | 40 |
| 3 | Michael Hodges | 62 | 35 | 27 |
| 4 | Daniel Scott Evans | 62 | 37 | 25 |
| 5 | Scott Berlyn | 61 | 24 | 37 |
| 6 | Danny Smith | 61 | 33 | 28 |
| 7 | Ryan Hickman | 59 | 28 | 31 |
| 8 | Iestyn Rees (U21) | 55 | 26 | 29 |
| 9 | Tiago Caldeira | 51 | 27 | 24 |
| 10 | Dylan Mckenna | 50 | 17 | 33 |
| 11 | Catrin Davies (L) | 47 | 21 | 26 |
| 12 | Dan Chamberlain | 47 | 29 | 18 |
| 13 | Joe Pryke | 46 | 23 | 23 |
| 14 | Harry Grant | 46 | 25 | 21 |
| 15 | Daniel Andrew Jones | 41 | 22 | 19 |
| 16 | Jacob Atkinson | 40 | 18 | 22 |
| 17 | Bradley Watson | 39 | 19 | 20 |
| 18 | Josh Talent | 33 | 16 | 17 |
| 19 | Ryan Walters | 20 | 20 | – |
Masters A
| | | | | |
| --- | --- | --- | --- | --- |
| Pos | Competitor | Points | R1 | R2 |
| 1 | Edward Davies | 77 | 40 | 37 |
| 2 | Chris Keitch | 70 | 37 | 33 |
| 3 | Greg Fisher | 64 | 29 | 35 |
| 4 | Darren Bridge | 62 | 31 | 31 |
| 5 | Geoff Otway | 55 | 26 | 29 |
| 6 | Keith Harden | 55 | 27 | 28 |
| 7 | John Hall | 55 | 28 | 27 |
| 8 | Johnathan Mcknight | 40 | – | 40 |
| 9 | Darren Hurt | 35 | 35 | – |
| 10 | Ben Morgan | 33 | 33 | – |
Clubman
| | | | | |
| --- | --- | --- | --- | --- |
| Pos | Competitor | Points | R1 | R2 |
| 1 | Lewis Painter | 80 | 40 | 40 |
| 2 | Will Mead | 74 | 37 | 37 |
| 3 | Dan Shellard | 70 | 35 | 35 |
| 4 | Harry Koller | 62 | 31 | 31 |
| 5 | Connor Paxton | 60 | 33 | 27 |
| 6 | Cameron Wildman | 59 | 26 | 33 |
| 7 | Luke Brown | 58 | 29 | 29 |
| 8 | Nicholas Oram | 53 | 28 | 25 |
| 9 | Gary Griffin | 50 | 24 | 26 |
| 10 | Liam Griffith | 49 | 27 | 22 |
| 11 | Adam Lomas | 48 | 25 | 23 |
| 12 | Michael Williams | 28 | – | 28 |
| 13 | Jack Shone | 24 | – | 24 |
Masters B
| | | | | |
| --- | --- | --- | --- | --- |
| Pos | Competitor | Points | R1 | R2 |
| 1 | Matthew Kirk | 80 | 40 | 40 |
| 2 | David Hull | 66 | 29 | 37 |
| 3 | Trevor Humphris | 66 | 35 | 31 |
| 4 | Christopher Gyles (V) | 63 | 28 | 35 |
| 5 | Stumpy Lawrence (V) | 60 | 31 | 29 |
| 6 | Mark Moseley (V) | 59 | 33 | 26 |
| 7 | Rick Jones (V) | 57 | 24 | 33 |
| 8 | Danny Gilligan | 54 | 26 | 28 |
| 9 | Jason Hall | 54 | 27 | 27 |
| 10 | Nik Blythe(V) | 48 | 23 | 25 |
| 11 | Steven Smart | 37 | 37 | – |
| 12 | Chris Watson (V) | 25 | 25 | – |
Intermediates
| | | | | |
| --- | --- | --- | --- | --- |
| Pos | Competitor | Points | R1 | R2 |
| 1 | Myles Mott | 73 | 40 | 33 |
| 2 | Max Turner | 72 | 37 | 35 |
| 3 | Kyle Ore | 70 | 33 | 37 |
| 4 | Shelley Smart (L) | 69 | 29 | 40 |
| 5 | Nicole Lowry (L) | 66 | 35 | 31 |
| 6 | Alfie North | 60 | 31 | 29 |
| 7 | Stephen Claro | 56 | 28 | 28 |
| 8 | Tom Welch | 51 | 25 | 26 |
| 9 | Shanice Mott (L) | 51 | 26 | 25 |
| 10 | James Lees | 46 | 24 | 22 |
| 11 | Martyn Doyle | 44 | 17 | 27 |
| 12 | Chloe Keitch (L) | 44 | 21 | 23 |
| 13 | Benjamin Woodhead | 43 | 19 | 24 |
| 14 | Kieren Johnson | 42 | 27 | 15 |
| 15 | James Scott | 39 | 20 | 19 |
| 16 | Michael Watmore | 37 | 16 | 21 |
| 17 | Jason Dickins | 37 | 23 | 14 |
| 18 | Samual Jenkins | 35 | 22 | 13 |
| 19 | Karl Pilcher | 34 | 14 | 20 |
| 20 | Maddie Martin (L) | 32 | 15 | 17 |
| 21 | Susan Coalter (L) | 30 | 12 | 18 |
| 22 | Thomas Harris | 28 | 18 | 10 |
| 23 | Grace Keitch (L) | 27 | 11 | 16 |
| 24 | Richard Murphy | 22 | 10 | 12 |
| 25 | Carly Sewell (L) | 20 | 9 | 11 |
| 26 | Russ Wells | 17 | 8 | 9 |
| 27 | Sally Donald (L) | 15 | 7 | 8 |
| 28 | Simon Pilsworth | 13 | 13 | – |
Ladies
| | | | | |
| --- | --- | --- | --- | --- |
| Pos | Competitor | Points | R1 | R2 |
| 1 | Shelley Smart (L) | 77 | 37 | 40 |
| 2 | Nicole Lowry (L) | 77 | 40 | 37 |
| 3 | Shanice Mott (L) | 70 | 35 | 35 |
| 4 | Chloe Keitch (L) | 66 | 33 | 33 |
| 5 | Susan Coalter (L) | 60 | 29 | 31 |
| 6 | Maddie Martin (L) | 60 | 31 | 29 |
| 7 | Grace Keitch (L) | 56 | 28 | 28 |
| 8 | Carly Sewell (L) | 54 | 27 | 27 |
| 9 | Sally Donald (L) | 52 | 26 | 26 |
Youth 250
| | | | | |
| --- | --- | --- | --- | --- |
| Pos | Competitor | Points | R1 | R2 |
| 1 | Andrew Black (G) | 77 | 40 | 37 |
| 2 | Aled Davies | 75 | 35 | 40 |
| 3 | Josh McKnight | 72 | 37 | 35 |
| 4 | Ross Dillon (A) | 66 | 33 | 33 |
| 5 | Lewis Humphris | 60 | 29 | 31 |
| 6 | Charlie Wheatley (O) | 59 | 31 | 28 |
| 7 | Riley Honor | 56 | 27 | 29 |
| 8 | Arthur McDonald (A) | 52 | 25 | 27 |
| 9 | Rylee Marshall | 51 | 26 | 25 |
| 10 | Louie Holt (A) | 50 | 24 | 26 |
| 11 | Connor Yates (A) | 46 | 22 | 24 |
| 12 | Frank Marston (A) | 44 | 21 | 23 |
| 13 | Alfie Pennington | 40 | 18 | 22 |
| 14 | Amelia Mead(A) | 40 | 19 | 21 |
| 15 | Charlie Eaton (A) | 37 | 17 | 20 |
| 16 | Brooke Bunce (A) | 36 | 20 | 16 |
| 17 | Jay Sam (A) | 35 | 16 | 19 |
| 18 | Ellie Stott (A) | 33 | 15 | 18 |
| 19 | Shane Havard Evans (A) | 31 | 14 | 17 |
| 20 | Logan Paxton | 28 | 13 | 15 |
| 21 | Kieran Marriott | 28 | 28 | – |
| 22 | Sam Sellers | 23 | 23 | – |
Kids 50cc
| | | | | |
| --- | --- | --- | --- | --- |
| Pos | Competitor | Points | R1 | R2 |
| 1 | Oliver Dawson | 80 | 40 | 40 |
| 2 | Bentley Don Garrett | 72 | 35 | 37 |
| 3 | Shay McKenna (50) | 37 | 37 | – |
| 4 | Georgia Enticknap | 33 | 33 | – |
Kids 100cc Auto
| | | | | |
| --- | --- | --- | --- | --- |
| Pos | Competitor | Points | R1 | R2 |
| 1 | Harriet Mewse (A) | 80 | 40 | 40 |
| 2 | Beatrix Drinkwater (A) | 70 | 37 | 33 |
| 3 | Dexter Griffin | 68 | 33 | 35 |
| 4 | Josh Smart | 66 | 29 | 37 |
| 5 | Seth Terrell | 64 | 35 | 29 |
| 6 | Beau Terrell | 62 | 31 | 31 |
Kids 100 Geared
| | | | | |
| --- | --- | --- | --- | --- |
| Pos | Competitor | Points | R1 | R2 |
| 1 | Reggie Binskin (G) | 80 | 40 | 40 |
| 2 | Liam McGowan | 72 | 35 | 37 |
| 3 | Amelia Talent (G) | 68 | 33 | 35 |
| 4 | Olly McDonald (G) | 68 | 37 | 31 |
| 5 | Seth Balaam (G) | 62 | 29 | 33 |
| 6 | Luca Shaw (G) | 59 | 31 | 28 |
| 7 | Malachy McKenna (G) | 57 | 28 | 29 |
| 8 | Ethan Legg | 54 | 27 | 27 |