And Then it Rained! Dorset Enduro/RORE Winter Warmer Enduro series Round 3 – Race Report and Results
With the county of Dorset experiencing the wettest winter in living memory there was a question whether the third round of the Dorset Enduro/RORE Winter Warmer Enduro series at Moreton Forest would ever go ahead.
Report by Graham Rowe – Images courtesy of Nicholas Guppy
Three weeks ago, the answer would have been no, as parts of the Forest were submerged, however, the weather gods gave the forest a brief dry spell to recover and all was set fair for a classic forest event. The organisers, however, decided to cap the number of riders at 120 which left many riders disappointed at not getting a ride.
A very strong entry arrived to find the forest in perfect riding conditions with mild dry weather, a challenging five-mile course awaited them. Starting the riders in groups of four seemed to get everyone away without incident and there were no reported hold ups on the first few laps. As the new course evolved and lines developed the pace was relentless at the front with Ricky Wiggins on his Wincanton Print Ktm setting an amazing tempo. After an hour of racing he had a small lead over Dylan Baynton with the rest of the Championship riders a couple of minutes further behind. After two hours of racing Wiggins had built a comfortable five-minute lead over Dylan and could ease off the pace, but he didn't, Wiggins keep a strong pace for the full three hours almost lapping the entire Championship field, winning by an impressive 13 minutes. Dylan looked set to hold onto a deserved second until he hit trouble with thirty minutes to go which allowed a determined Josh Player to pass him for second. Dylan finished fourth in a Rowlands sandwich, with Bradley Rowland taking third and brother Brett in fifth.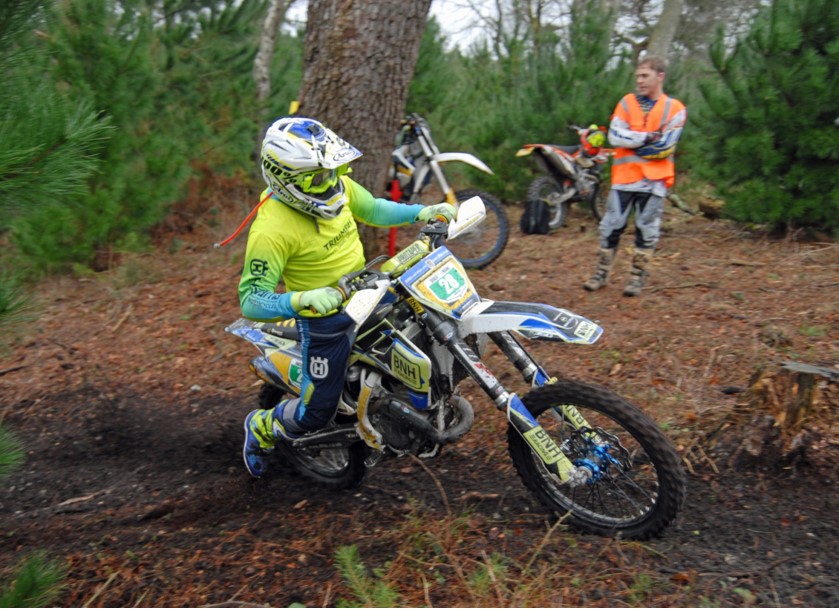 Championship winner Wiggins probably didn't notice but about midway through the event it decided to rain. Some would describe it as Biblical, a boat would have been useful, it absolutely chucked it down. Flowing forest tracks became slippery, rutted nightmares, choose the wrong line and you risked expending valuable energy dragging your bike out of a bottomless rut. The marshals did an amazing job, keeping the original course flowing for the entire race.
In complete contrast to Wiggins, Expert winner Daniel Richards only led for one lap, his last one! By the mid race mark Morgan Deakin had built a small lead and was pushing hard with Dean Kiff not far behind. But when the conditions changed Daniel Richards maintained his pace whilst those around him tired. Paul Taylor just managed to squeeze past Morgan Deakin to claim second on the very last lap.
The Veteran Expert class saw another Gary McCoy master class, making Gary work for his win was his usual sparring partner Jack Twentyman. But lurking just behind were Dan Groom and Dave Coles, Jack pushed hard in the first two hours shadowing Gary, but when the weather changed Jack lost touch and in one lap Dave Coles and Dan Groom splashed past him. In the closing stages Gary pulled away from these two to take a commanding lead. Dave Coles finished a strong second despite having issues with his timing transponder with Dan Groom the final Veteran to complete 11 laps.

Clubman A saw Harry Neal dominate again, he won the class by a lap and will fare well when he moves up into Expert class. William Bliss held on to finish second, behind him Daniel Grove and Harry Davey were having a cracking little battle. With thirty minutes to go they scanned together at exactly the same time, a lap later they scanned with only seconds between them, on the final lap Daniel managed to just stay ahead to grab third place by twenty seconds!
Clubman B saw age win over beauty with James O'Mara taking the class win by 15 seconds from Michael El-Ayouby. Stephen Davey looked set for third place but just lost a bit of energy towards the end which allowed Mat Osbourne through to take third.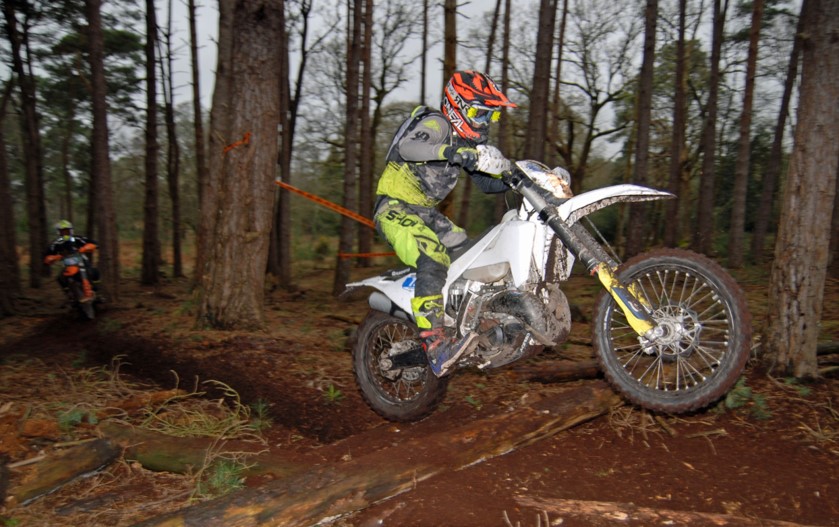 Clubman Veterans saw the largest entry and the largest class of those who failed to finish? Again, up until the two-hour mark there was some very close racing with three riders battling for second and third place, Tim Newman had to work hard to keep Si Thomas and Shane Babey behind. Whilst they were looking over their shoulders for each other up front Steve Mulliner had grabbed the class lead on the first lap and didn't look back once. Steve rode a controlled race and led all the way to the finish on a fine 10 laps. Tim Newman also manged 10 laps to take second place with Si Thomas surviving to take third place.
Sportsman saw Jon Door win by a huge margin, Nathan Baxter managed to hold on for second whilst Matthew Dibble crawled over for third place. A special mention must go out for Connor Dunning who pushed his bike the last mile to claim a deserved finish.

Sportsmen veterans class has seen the return of some riders to the sport and the introduction of several new riders. Greg Tosdevin demonstrated what a strong rider he is with a convincing class win. Trying to stay with him were Justin Short in second place and Sean Massey in third who both rode very sensibly in the demanding conditions.
Running winter events is not easy, riding them is always a challenge, but when mother nature unleashes a torrential rainstorm mid race it says something about those that participate in this sport. A great event with some fine racing.
Results
Position NAME CLASS LAPS
1 RICKY WIGGINS 01 Champio 13
2 JOSH PLAYER 01 Champio 12
3 BRADLEY ROWLAND 01 Champio 12
4 DYLAN BAYNTON 01 Champio 11
5 BRETT ROWLAND 01 Champio 11
6 TYSON MAYTOM-JONES 01 Champio 11
7 JACK NIXEY 01 Champio 11
8 ALAN MORRISON 01 Champio 10
9 ROSS MORRISON 01 Champio 10
10 BEN OSBOURNE 01 Champio 8
1 DANIEL RICHARDS 02 Expert 11
2 CHRIS HONEYWILL 02 Expert 11
3 PAUL TAYLOR 02 Expert 11
4 MORGAN DEAKIN 02 Expert 11
5 OWEN RICHARDS 02 Expert 11
6 DEAN KIFF 02 Expert 11
7 JACK HOOPER 02 Expert 11
8 THOMAS PAULLEY 02 Expert 11
9 TONY COOK 02 Expert 11
10 RICHARD GOOD 02 Expert 10
11 JACK DELVE 02 Expert 10
12 DARYL BILES 02 Expert 10
13 SEBASTIAN DEXTER1 02 Expert 10
14 BRADLEY PERRETT 02 Expert 10
15 GEORGE WOLFE 02 Expert 10
16 SIMON TOMLINSON 02 Expert 10
17 FINLAY DAVEY 02 Expert 10
ALAN STRINGER 02 Expert 4
NILES REID 02 Expert 4
1 GARY MCCOY 03 O40 Exp 11
2 DAVE COLES 03 O40 Exp 11
3 DAN GROOM 03 O40 Exp 11
4 JACK TWENTYMAN 03 O40 Exp 10
5 SHANE TROTTER 03 O40 Exp 10
6 JULIAN EARLE 03 O40 Exp 9
7 DANNY HALL 03 O40 Exp 9
8 GRAHAM REID 03 O40 Exp 9
9 ANDREW SMITH 03 O40 Exp 8
STEWART JARVIS 03 O40 Exp 5
TONI BURROWS 03 O40 Exp 2
1 HARRY NEAL 04 Club A 11
2 WILLIAM BLISS 04 Club A 10
3 DANIEL GROVE 04 Club A 10
4 HARRY DAVEY 04 Club A 10
5 ADAM MORGAN 04 Club A 10
6 MARTIN HALLETT 04 Club A 10
7 ALEX WESTLAKE 04 Club A 10
8 RHYS TROTTER 04 Club A 9
9 NICK GIFFORD 04 Club A 9
10 JACK BURROUGH 04 Club A 9
11 TRAVIS JOHNSON 04 Club A 9
12 ALEX MCGRATH 04 Club A 9
STEFF JARVIS 04 Club A 5
LUKE CAIN 04 Club A 4
KEIR TETT 04 Club A 3
JAKE PALMER 04 Club A 2
1 JAMES O'MARA 05 Club B 9
2 MICHAEL EL-AYOUBY 05 Club B 9
3 MATTHEW OSBOURNE 05 Club B 9
4 STEPHEN DAVEY 05 Club B 9
5 STEPHEN HOLLAND 05 Club B 9
6 PETER COLMER 05 Club B 9
7 SHAUN ASH 05 Club B 8
8 SOPHIE THOMAS 05 Club B 8
9 MARK BUCKELL 05 Club B 8
10 PHILLIP DIBBLE 05 Club B 8
11 LEE LAWTON 05 Club B 8
12 KIERAN OSBORNE 05 Club B 7
13 TERRY MARSH 05 Club B 7
14 SEAN REYNOLDS 05 Club B 7
15 KIERAN WOOD 05 Club B 4
WILLIAM BURROUGH 05 Club B 3
1 STEPHEN MULLINER 06 O40 Clu 10
2 TIMOTHY NEWMAN 06 O40 Clu 10
3 SIMON THOMAS 06 O40 Clu 9
4 SHANE BABEY 06 O40 Clu 9
5 JUSTIN RIXON 06 O40 Clu 9
6 PETE NIXEY 06 O40 Clu 9
7 GRAHAM EKE 06 O40 Clu 9
8 DAVID BRIGNALL 06 O40 Clu 9
9 MARK DAVIS 06 O40 Clu 9
10 ROY O'MARA 06 O40 Clu 8
11 JEFF WHITE 06 O40 Clu 8
12 LANCE MACKLIN 06 O40 Clu 8
13 RUSSELL JOHNS 06 O40 Clu 6
DARREN CARTER 06 O40 Clu 5
DAVID SAWTELL 06 O40 Clu 5
MIKE RODGERS 06 O40 Clu 4
MARTIN PERRETT 06 O40 Clu 4
PHILLIP RICHARDS 06 O40 Clu 4
STUART BOWERS 06 O40 Clu 4
BRIAN HAWKER 06 O40 Clu 3
CHRISTOPHER O'GRADY 06 O40 Clu 3
WAYNE TIPTON 06 O40 Clu 3
NICHOLAS POTTOW 06 O40 Clu 2
ROBIN SMITH 06 O40 Clu 1
THOMAS CONNOR 06 O40 Clu 1
1 JON DOOR 07 Sportsm 9
2 NATHAN BAXTER 07 Sportsm 7
3 MATTHEW DIBBLE 07 Sportsm 7
4 JOHN HILL 07 Sportsm 7
5 JOSEPH RYDER 07 Sportsm 6
6 JOS BRITTON 07 Sportsm 6
7 CONNOR DUNNING 07 Sportsm 6
8 DANNY ROSE 07 Sportsm 5
9 LUKE CHEESMAN 07 Sportsm 5
10 SIMON COLVIN 07 Sportsm 5
CHARLIE CONNOR 07 Sportsm 4
LEON MOREY 07 Sportsm 4
CHRIS DUNFORD 07 Sportsm 4
1 COLIN WILKINS 08 O40 Spo 8
2 GREG TOSDEVIN 08 O40 Spo 8
3 JUSTIN SHORT 08 O40 Spo 8
4 SEAN MASSEY 08 O40 Spo 7
5 MATTHEW MACKINNON 08 O40 Spo 6
6 KEV RICHARDS 08 O40 Spo 6
7 PETER NASH 08 O40 Spo 6
8 RICHARD WRIGHT 08 O40 Spo 6
9 MARC LYNE 08 O40 Spo 4
BEN HOLT 07 Sportsm 4
TIMOTHY TUBB 08 O40 Spo 3