A touch of Frost! Sudbury MCC Dave Roper Memorial Enduro – Report & Results
A beautiful September day dawned over Tye Farm, Great Cornard as the twisty track across a large expanse of undulating stubble promised a testing course for the entries. Everyone's main concern was visibility, in the wake of dust left by other riders on corners with deep berms.
Report and Images by Paula Day Photography
This Annual memorial event for Sudbury Motorcycle Clubs late chairman Dave Roper to provide funds for upcoming youth riders is run with a series of Motocross style races with heats creating 4 fast class finals at the end of the day's event. As each race was just over 20 minutes it meant the pace was ferocious and provided spectators with some very entertaining racing.
The presentation by Dave Roper's wife Mrs Bev Roper with some of her grandchildren proved a touching close to the event as she presented her son Jamie with 2nd place in the A final despite 2 earlier wins and a hard-fought battle with Travis Frost for first place.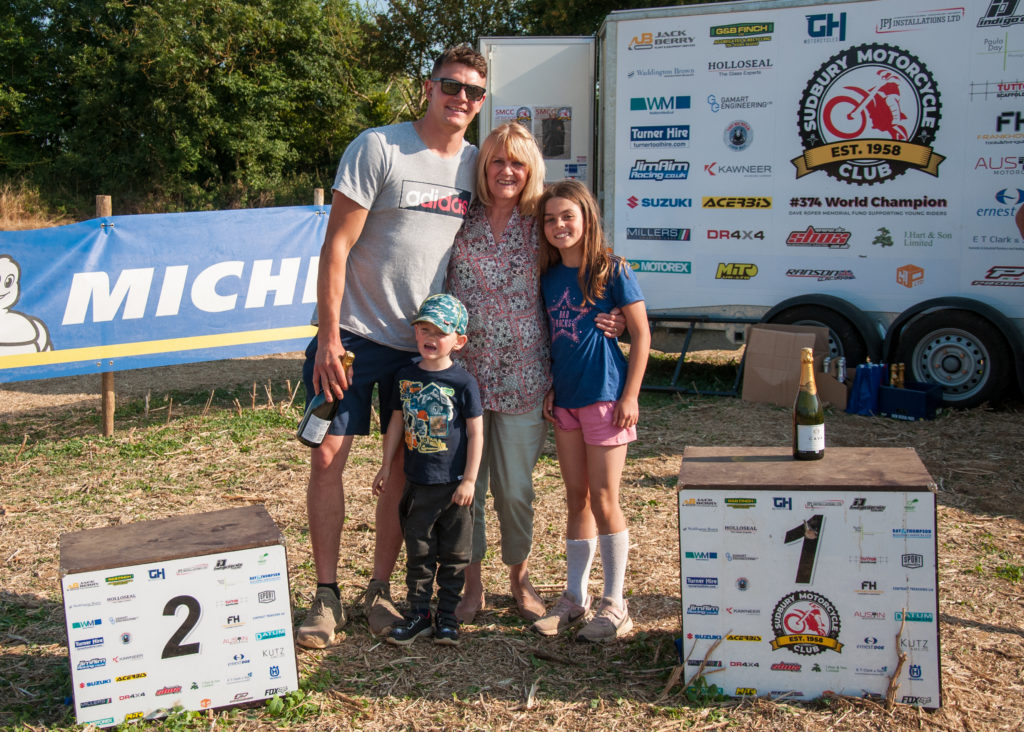 Multi-Race Event culminating in 3 Adult finals
Race 9 A final
1st Travis Frost
2nd Jamie Roper
3rd Jack Sheppard
4th Jack Berry
5th Joe Phillips
6th Joe Henthorn
Race 10 B final
1st Robbie Pearmain
2nd Cameron Parrish
3rd Matthew Smith
4th Paul Belton
5th Thomas Davies
6th Evan Herbert
Race 11 Evo & Twin Shock 
1st Daniel Dyer
2nd Aaron Graves
3rd Terry Allen
4th Andy Mason
5th Matt Mcculloch
6th Jonathan Wood