Full factory at Fatcat! 2021 Michelin MX Nationals Round 1 – Race Report & Results
The Michelin MX Nationals went full factory at the opening round of their 2021 championship at Fatcat Motoparc last weekend.
Images courtesy of Elliot Spencer – MX Nationals
The sun was out, spectators were allowed and the live streaming was free, but from a rider's perspective, the track was brutal and took its toll over the four motos for each and every class.
Reigning champion Tommy Searle was an early victim succumbing to an illness that saw him bow out of the event after Saturdays first moto after he gained pole in qualifying and Dylan Walsh would suffer an injured leg as a result of a broken leg following a crash in the first Fastest 40 moto on Sunday.
In a change in format for the series, Saturday saw the Pro classes split into their respective MX1 and MX2 classes, joining the Expert groups.
In Pro MX1 Cab Screens Crescent Yamaha rider Harri Kullas was in unbelievable form firing in with four silky smooth wins. Behind Kullas, Scotmans Shaun Simpson continues to battle his way into form finishing second in each moto. Todd Kellett made his return to the MX Nationals profitable with a trip to the podium in third edging out Liam Knight in fourth.
Conrad Mewse was as expected a class act in MX2 having to do it the hard way and fight through the pack, but on each occasion, he would take the class win, also going close in the final Fastest 40 moto to being the first-ever MX2 rider to win the joint race after a great battle with Kullas.  Nestled in behind Mewse was a whole gaggle of riders who on occasions through the weekend showed the speed to make the podium but with a consistent set of motos it was John Adamson who claimed the number two spot with James Carpenter in third after a fantastic second place in the final race.
In the Expert MX1 group Scottish racer Ben Edwards rattled off three moto wins before reigning champ Shaun Southgate battled back to take the chequers in their final moto which secured him second overall behind Edwards in a super tough class.  Jordan Mccaw had a superb weekend to finish third keeping the fast-starting Josh Taylor who enjoyed mixing it with the Pro's in fourth.
Bobby Bruce on his ASA United Gas Gas 125 was a sensation in the Expert MX2 going through the card as well as being the first MX2 rider to win the combined Expert race. Tom Murphy made it an ASA United 1-2 by railing is 250f to second while, new Spiral Graphics owner Jake Preston on his Verde Substance KTM was third.
Sean Wainwright feasted on three race victories to bring home the Amateur MX1 win over Moto two winner Scott Hail, who racked up some decent Planet Moto Holidays first lap points with some great starts. John Kirk was just a point shy of Hail and finished third with Callum Gordon in fourth after crashing big in the last race.
In Amateur MX2 Shaun Springer maxed out with four from four returning after a while away from the MX Nationals. David Finnamore was consistent all weekend long and nailed second with another returnee Dan Brough in third. Brough who returned to action in last year's series after some time out is showing signs that he will be a surefire contender for the title.
It all boiled down to the last moto in the Clubman MX1 between Alex Christopher and Irishman Ivan Kerr. Going into the final moto Kerr had two wins from Christophers one, but Christopher rocketed from the gate and sailed clear, taking the final moto chequers and the overall from Kerr, with Matt Pocock in third and ASA United Gas Gas boss Lee Tolan in fourth.
Another of the Wainwright clan, Ben methodically picked his way through the pack in each moto to land the Clubman MX2 victory ahead of Max Fletcher in second.  There was an emotional first race win for Daniel Shutt who hasn't been racing that long and the points helped him to claim the third and final podium spot. Well done Daniel.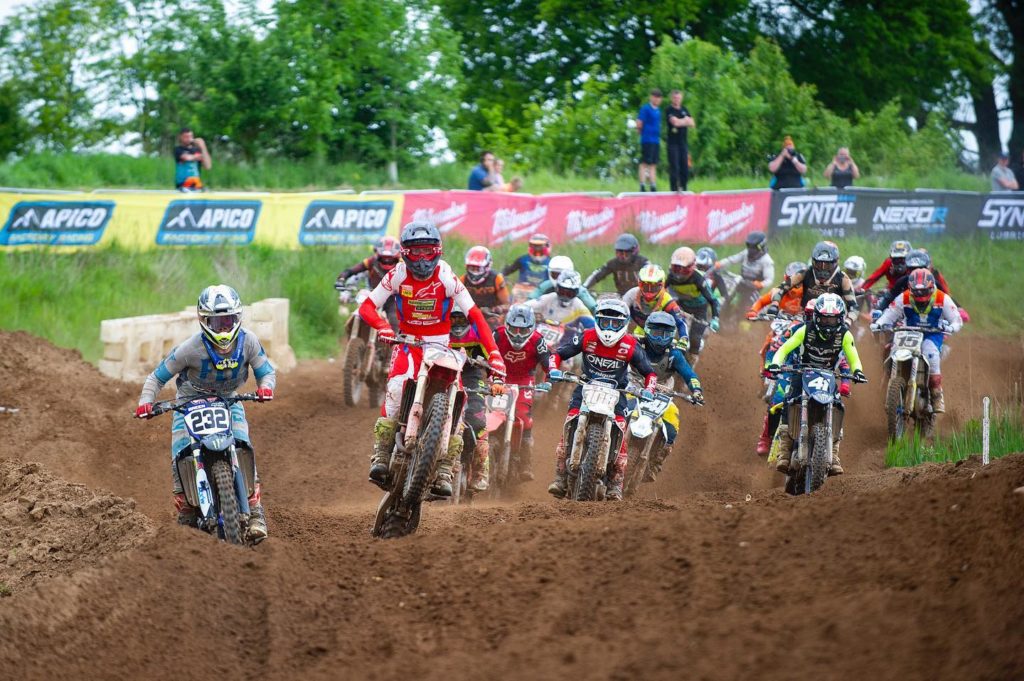 In the Youth 125, Bailey Johnson was solid notching up three moto wins to take the overall, with Ollie Colmer continuing his strong season in second and Jayden Haigh third. Newly elevated Big Wheel 85 champ Charlie Heyman had a big crash on day one and was struggling, but he came back fighting on day two winning the third race and showing he will be one to watch for the title.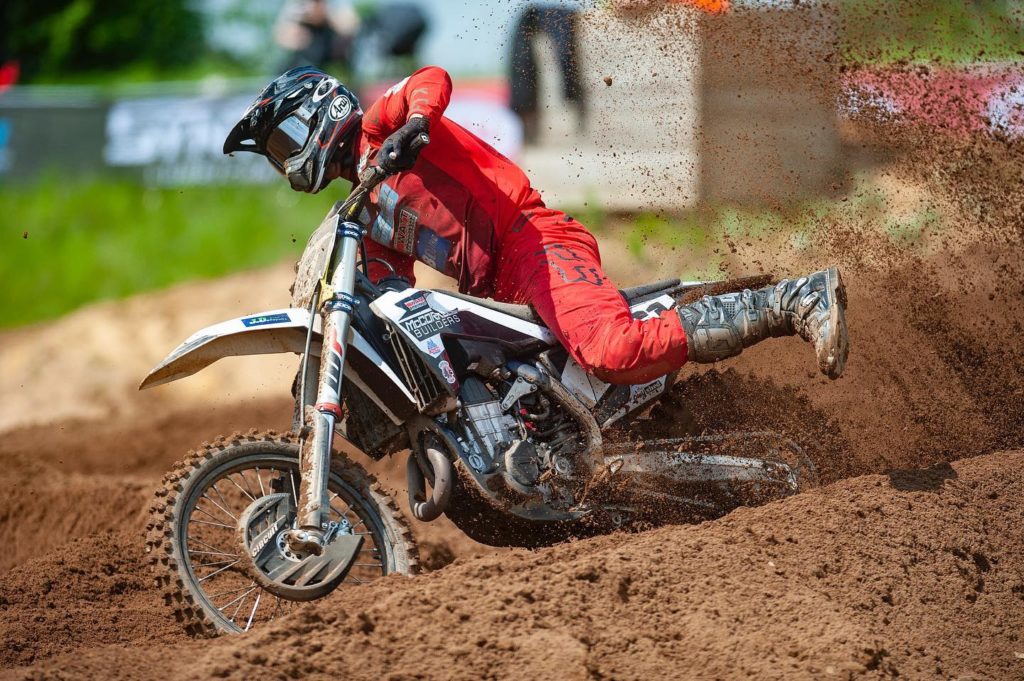 Alfie Jones paced it well in the Youth 250's. The young man mountain is fit and strong and didn't panic when he got behind and made the final third of each moto his own to pull clear of the field going 1-1-1-1. Jude Morris was lightning-fast from the start and led a good number of laps to finish second overall. Tyler Wescott on a new ride for Planet Moto Gas Gas was solid and consistent like last year and was always there and took third.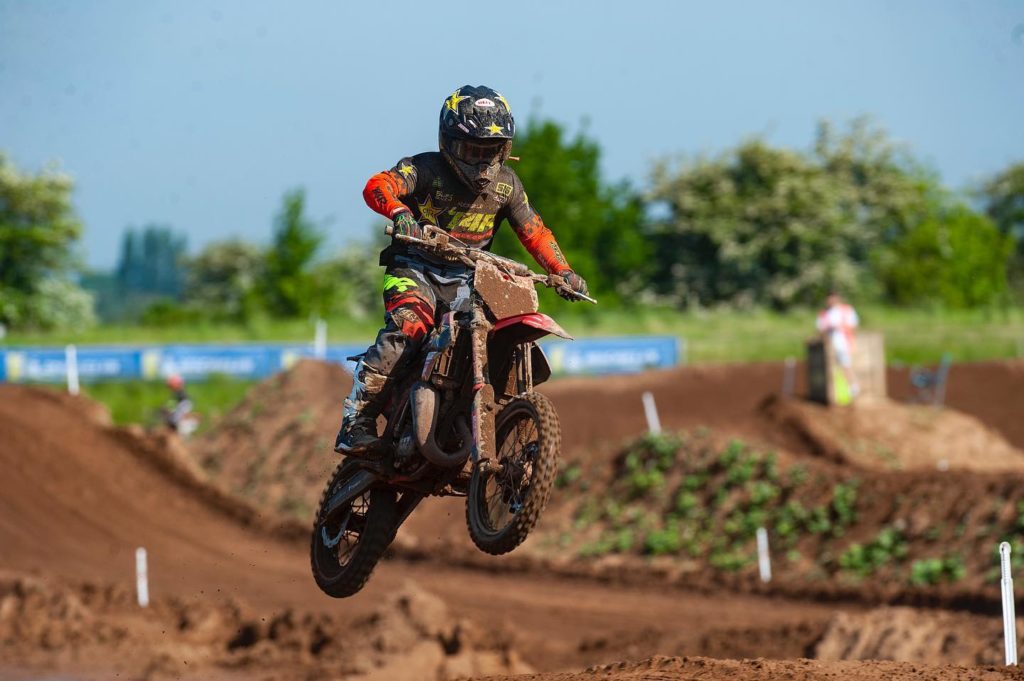 Tyla Hooley was mega quick and smooth in the Big Wheel 85's and after racking up the opening three moto's wins it didn't look like anyone could stop him but disaster would strike at the start of the final moto when he crashed out hard. He tried to muscle it out but was in too much pain with what we understand was a broken shoulder. Billy Askew and Ben Mustoe would both ride great, and would take advantage of Hooley's downfall finishing first and second respectively with Hooley holding onto third.
In the Small Wheel 85's Cole McCullough annihilated the field, pulling a couple of holeshot over the Big Wheels and giving them something to think about. Reece Jones was a clear second-placed overall with Brandon Buckley third.
The series now moves onto the famous Hawkstone Park in Shropshire on the 19th & 20th June with spectator tickets now on sale via https://www.mxnationals.co.uk/buy-tickets/
Pro MX1
| | | | | | | |
| --- | --- | --- | --- | --- | --- | --- |
| Pos | Competitor | Points | R1 | R2 | R3 | R4 |
| 1 | Harri Kullas | 100 | 25 | 25 | 25 | 25 |
| 2 | Shaun Simpson | 88 | 22 | 22 | 22 | 22 |
| 3 | Todd Kellett | 71 | 15 | 16 | 20 | 20 |
| 4 | Liam Knight | 67 | 16 | 15 | 18 | 18 |
| 5 | Brad Todd | 60 | 14 | 18 | 12 | 16 |
| 6 | Stuart Edmonds | 58 | 13 | 14 | 16 | 15 |
| 7 | Dan Thornhill | 53 | 12 | 13 | 14 | 14 |
| 8 | Gary Gibson | 42 | 9 | 10 | 10 | 13 |
| 9 | Gavin Stevenson | 42 | 7 | 12 | 13 | 10 |
| 10 | Jason Meara | 41 | 11 | 8 | 11 | 11 |
| 11 | Dylan Walsh | 40 | 20 | 20 | – | – |
| 12 | Tony Craig | 37 | 6 | 7 | 15 | 9 |
| 13 | Glenn McCormick | 33 | 10 | 11 | – | 12 |
| 14 | Jake Millward | 27 | 18 | 9 | – | – |
| 15 | Tommy Searle | 8 | 8 | – | – | – |
Pro MX2
| | | | | | | |
| --- | --- | --- | --- | --- | --- | --- |
| Pos | Competitor | Points | R1 | R2 | R3 | R4 |
| 1 | Conrad Mewse | 100 | 25 | 25 | 25 | 25 |
| 2 | John Adamson | 75 | 22 | 18 | 15 | 20 |
| 3 | James Carpenter | 70 | 16 | 14 | 18 | 22 |
| 4 | Carlton Husband | 66 | 15 | 13 | 20 | 18 |
| 5 | Steven Clarke | 63 | 18 | 20 | 13 | 12 |
| 6 | Ashton Dickinson | 61 | 20 | 22 | 9 | 10 |
| 7 | Callum Mitchel | 57 | 13 | 15 | 16 | 13 |
| 8 | Jamie Law | 49 | 10 | 11 | 12 | 16 |
| 9 | Tom Grimshaw | 47 | 9 | 9 | 14 | 15 |
| 10 | Nathan Dixon | 46 | 11 | 10 | 11 | 14 |
| 11 | Brad Anderson | 39 | 12 | 12 | 6 | 9 |
| 12 | Kyle McNicol | 36 | 7 | 8 | 10 | 11 |
| 13 | Lewis Hall | 33 | 14 | 16 | 3 | – |
| 14 | Sam Nunn | 28 | 6 | 7 | 7 | 8 |
| 15 | Florian Miot | 22 | – | – | 22 | – |
| 16 | Jake Sheridan | 21 | 3 | 6 | 5 | 7 |
| 17 | Jamie Wainwright | 17 | 5 | 4 | 8 | – |
| 18 | Robert Yates | 10 | – | – | 4 | 6 |
| 19 | Matt Burrows | 9 | 4 | 5 | – | – |
| 20 | Jay Hague | 8 | 8 | – | – | – |
Expert MX1
| | | | | | | |
| --- | --- | --- | --- | --- | --- | --- |
| Pos | Competitor | Points | R1 | R2 | R3 | R4 |
| 1 | Ben Edwards | 97 | 25 | 25 | 25 | 22 |
| 2 | Shaun Southgate | 89 | 20 | 22 | 22 | 25 |
| 3 | Jordan Mccaw | 80 | 22 | 18 | 20 | 20 |
| 4 | Josh Taylor | 66 | 18 | 16 | 16 | 16 |
| 5 | Richard Bird | 62 | 14 | 12 | 18 | 18 |
| 6 | John Robson | 61 | 16 | 20 | 12 | 13 |
| 7 | Charlie Putnam | 53 | 11 | 14 | 13 | 15 |
| 8 | Joe Clayton | 50 | 7 | 15 | 14 | 14 |
| 9 | Steve Bixby | 49 | 13 | 13 | 11 | 12 |
| 10 | Ben Hayward | 41 | 12 | 9 | 9 | 11 |
| 11 | Aaron Patstone | 41 | 15 | 11 | 15 | – |
| 12 | Bradley Maddever | 32 | 9 | 5 | 8 | 10 |
| 13 | Jamie Dixon | 32 | 8 | 8 | 7 | 9 |
| 14 | Junior Thomas | 30 | 10 | 10 | 10 | – |
| 15 | Stephen Mullally | 19 | 6 | 7 | 6 | – |
| 16 | Ross Kersey | 17 | 5 | 4 | – | 8 |
| 17 | Aiden Wigger | 10 | 4 | 6 | – | – |
Expert MX2
| | | | | | | |
| --- | --- | --- | --- | --- | --- | --- |
| Pos | Competitor | Points | R1 | R2 | R3 | R4 |
| 1 | Bobby Bruce | 100 | 25 | 25 | 25 | 25 |
| 2 | Tom Murphy | 80 | 22 | 22 | 14 | 22 |
| 3 | Jake Preston | 74 | 20 | 12 | 22 | 20 |
| 4 | Ryan Mahwhinney | 71 | 16 | 20 | 20 | 15 |
| 5 | Cullen Scott | 66 | 18 | 14 | 18 | 16 |
| 6 | Ben Kennedy | 64 | 13 | 18 | 15 | 18 |
| 7 | Jack Lindsay | 58 | 14 | 15 | 16 | 13 |
| 8 | Jack Moore | 55 | 15 | 16 | 12 | 12 |
| 9 | Ollie Beamish | 49 | 11 | 13 | 11 | 14 |
| 10 | Gareth Padgett | 47 | 12 | 11 | 13 | 11 |
| 11 | Kieran Yorke | 37 | 10 | 9 | 9 | 9 |
| 12 | Ben Clayton | 30 | – | 10 | 10 | 10 |
| 13 | Tomas Hardcastle | 16 | – | 8 | 8 | – |
Amateur MX1
| | | | | | | |
| --- | --- | --- | --- | --- | --- | --- |
| Pos | Competitor | Points | R1 | R2 | R3 | R4 |
| 1 | Sean Wainwright | 91 | 25 | 16 | 25 | 25 |
| 2 | Scott Hail | 87 | 22 | 25 | 20 | 20 |
| 3 | John Kirk | 86 | 20 | 22 | 22 | 22 |
| 4 | Callum Gordon | 63 | 18 | 20 | 18 | 7 |
| 5 | Stephen Kelly | 62 | 10 | 18 | 16 | 18 |
| 6 | Brad Thornhill | 61 | 16 | 14 | 15 | 16 |
| 7 | Joshua McCorkell | 54 | 14 | 12 | 14 | 14 |
| 8 | Chris Neesam | 44 | 12 | 8 | 9 | 15 |
| 9 | Tallon Aspden | 42 | 9 | 11 | 10 | 12 |
| 10 | Paul Atkinson | 40 | 6 | 10 | 11 | 13 |
| 11 | David Rushton | 40 | 15 | 13 | 12 | – |
| 12 | Justin Robinson | 38 | – | 15 | 13 | 10 |
| 13 | Pete Bulley | 36 | 13 | 7 | 5 | 11 |
| 14 | Charlie Roper | 32 | 7 | 9 | 8 | 8 |
| 15 | Joe Roberts | 30 | 8 | 6 | 7 | 9 |
| 16 | Carl Hayward | 28 | 11 | 5 | 6 | 6 |
Amateur MX2
| | | | | | | |
| --- | --- | --- | --- | --- | --- | --- |
| Pos | Competitor | Points | R1 | R2 | R3 | R4 |
| 1 | Shaun Springer | 100 | 25 | 25 | 25 | 25 |
| 2 | David Finnamore | 82 | 22 | 20 | 20 | 20 |
| 3 | Dan Brough | 76 | 18 | 18 | 22 | 18 |
| 4 | Alex Buchanan | 68 | 20 | 22 | 4 | 22 |
| 5 | Aaron Gardiner | 60 | 13 | 16 | 16 | 15 |
| 6 | Lewis King-London | 57 | 15 | 14 | 15 | 13 |
| 7 | Harry Foster | 54 | 16 | 10 | 14 | 14 |
| 8 | Lewis Taylor | 49 | – | 15 | 18 | 16 |
| 9 | Adam Hayward | 48 | 14 | 12 | 13 | 9 |
| 10 | Mitch Young | 42 | 8 | 13 | 9 | 12 |
| 11 | Connor Baldry | 42 | 10 | 9 | 12 | 11 |
| 12 | Toby Lightbown | 41 | 11 | 11 | 11 | 8 |
| 13 | Jak Henderson | 35 | 7 | 8 | 10 | 10 |
| 14 | Elliot Cook | 32 | 12 | 5 | 8 | 7 |
| 15 | Harry Fletcher | 26 | 9 | 6 | 5 | 6 |
| 16 | Callum Watson | 24 | 5 | 7 | 7 | 5 |
| 17 | Charlie Parker | 20 | 6 | 4 | 6 | 4 |
| 18 | Mike Booth | 7 | 4 | 3 | – | – |
Clubman MX1
| | | | | | | |
| --- | --- | --- | --- | --- | --- | --- |
| Pos | Competitor | Points | R1 | R2 | R3 | R4 |
| 1 | Alex Christopher | 94 | 25 | 22 | 22 | 25 |
| 2 | Ivan Kerr | 94 | 22 | 25 | 25 | 22 |
| 3 | Matthew Pocock | 78 | 20 | 20 | 18 | 20 |
| 4 | Lee Tolan | 66 | 15 | 13 | 20 | 18 |
| 5 | Jordan Andrews | 60 | 18 | 11 | 15 | 16 |
| 6 | Sam Cornwell | 55 | 16 | 18 | 6 | 15 |
| 7 | Rory Wootton | 54 | 13 | 12 | 16 | 13 |
| 8 | Ashley Senior | 54 | 14 | 15 | 13 | 12 |
| 9 | Dean Rodgers | 44 | 12 | 16 | 2 | 14 |
| 10 | Kyle Bennett | 40 | 7 | 8 | 14 | 11 |
| 11 | Alistar Stark | 35 | 10 | 14 | 11 | – |
| 12 | Steven Liston | 33 | 5 | 9 | 10 | 9 |
| 13 | Jack Colley | 31 | 9 | – | 12 | 10 |
| 14 | Tom Brown | 23 | 6 | 7 | 7 | 3 |
| 15 | Colby Walker | 22 | 3 | 2 | 9 | 8 |
| 16 | Carl Mcilroy | 20 | 4 | 5 | 4 | 7 |
| 17 | Charlie Green | 19 | 11 | – | 8 | – |
| 18 | Ryan Jones | 14 | – | 6 | 3 | 5 |
| 19 | Lee Sims | 12 | 1 | 4 | 1 | 6 |
| 20 | Jordan Ambler | 10 | – | 10 | – | – |
| 21 | Lewis Wigger | 9 | – | – | 5 | 4 |
| 22 | Harry McDonald | 8 | 8 | – | – | – |
| 23 | Scotty Williamson | 7 | 2 | 3 | – | 2 |
| 24 | Alfie Rimell | 2 | – | 1 | – | 1 |
Clubman MX2
| | | | | | | |
| --- | --- | --- | --- | --- | --- | --- |
| Pos | Competitor | Points | R1 | R2 | R3 | R4 |
| 1 | Ben Wainwright | 93 | 25 | 18 | 25 | 25 |
| 2 | Max Fletcher | 81 | 22 | 22 | 15 | 22 |
| 3 | Daniel Shutt | 79 | 18 | 25 | 16 | 20 |
| 4 | Mitch Collins | 69 | 16 | 13 | 22 | 18 |
| 5 | Guy Prince | 65 | 14 | 20 | 18 | 13 |
| 6 | Keatan Stewart | 64 | 13 | 15 | 20 | 16 |
| 7 | Elliott Pugh | 64 | 20 | 16 | 13 | 15 |
| 8 | Michael McAlister | 52 | 12 | 14 | 12 | 14 |
| 9 | Ricky Roberts | 49 | 15 | 8 | 14 | 12 |
| 10 | Matthew Fuller | 42 | 9 | 12 | 10 | 11 |
| 11 | Jamie Mottram | 42 | 11 | 11 | 11 | 9 |
| 12 | Charlie West | 37 | 10 | 9 | 8 | 10 |
| 13 | Jake Taylor | 26 | 7 | 10 | 9 | – |
| 14 | James Benson | 25 | 8 | 6 | 5 | 6 |
| 15 | Jude Gaylard – Hall | 20 | – | 7 | 6 | 7 |
| 16 | Mike Booth | 15 | – | – | 7 | 8 |
Youth 250
| | | | | | | |
| --- | --- | --- | --- | --- | --- | --- |
| Pos | Competitor | Points | R1 | R2 | R3 | R4 |
| 1 | Alfie Jones | 100 | 25 | 25 | 25 | 25 |
| 2 | Jude Morris | 82 | 22 | 22 | 20 | 18 |
| 3 | Tyler Westcott | 76 | 20 | 18 | 18 | 20 |
| 4 | Ben Clark | 66 | 18 | 16 | 16 | 16 |
| 5 | Sam Atkinson | 64 | – | 20 | 22 | 22 |
| 6 | Harvey Cashmore | 56 | 15 | 12 | 15 | 14 |
| 7 | Lewis Glynn | 55 | 16 | 15 | 13 | 11 |
| 8 | Luca Pegg | 53 | 10 | 14 | 14 | 15 |
| 9 | Leon William | 51 | 14 | 13 | 12 | 12 |
| 10 | Corey Collins | 46 | 12 | 11 | 10 | 13 |
| 11 | Josh Bassett | 41 | 11 | 10 | 11 | 9 |
| 12 | Jake Barker | 40 | 13 | 8 | 9 | 10 |
| 13 | Jamie Luffman | 31 | 8 | 7 | 8 | 8 |
| 14 | Connor Warren | 18 | 9 | 9 | – | – |
Youth 125
| | | | | | | |
| --- | --- | --- | --- | --- | --- | --- |
| Pos | Competitor | Points | R1 | R2 | R3 | R4 |
| 1 | Bailey Johnson | 97 | 25 | 25 | 22 | 25 |
| 2 | Ollie Colmer | 71 | 22 | 20 | 7 | 22 |
| 3 | Jayden Haigh | 64 | 18 | 16 | 12 | 18 |
| 4 | Leon Ongley | 63 | 15 | 18 | 15 | 15 |
| 5 | Charlie Heyman | 60 | 4 | 11 | 25 | 20 |
| 6 | James Barker | 60 | 16 | 22 | 14 | 8 |
| 7 | Jude Turton | 57 | 14 | 14 | 13 | 16 |
| 8 | Raife Broadley | 56 | 13 | 13 | 16 | 14 |
| 9 | Joe Brookes | 55 | 20 | 15 | 20 | – |
| 10 | Liam Bennett | 39 | 11 | 7 | 9 | 12 |
| 11 | Hudson Roper | 37 | 10 | 12 | 2 | 13 |
| 12 | Arai Elcock | 35 | 9 | 9 | 11 | 6 |
| 13 | Charlie Griffiths | 33 | 12 | 6 | 4 | 11 |
| 14 | Reece Ross | 30 | 7 | 3 | 10 | 10 |
| 15 | Ashden Barlow | 27 | 8 | 10 | – | 9 |
| 16 | Charlie Palmer | 23 | 5 | 8 | 3 | 7 |
| 17 | Charlie Reynolds | 21 | 6 | 4 | 8 | 3 |
| 18 | George Hopkins | 18 | – | – | 18 | – |
| 19 | Kieran Boughen | 15 | 2 | 5 | 6 | 2 |
| 20 | Jake Smith | 14 | 3 | 1 | 5 | 5 |
| 21 | Josh Jones | 7 | – | 2 | 1 | 4 |
| 22 | Ben Putnam | 2 | 1 | – | – | 1 |
Big Wheel 85's
| | | | | | | |
| --- | --- | --- | --- | --- | --- | --- |
| Pos | Competitor | Points | R1 | R2 | R3 | R4 |
| 1 | Billy Askew | 87 | 20 | 20 | 22 | 25 |
| 2 | Ben Mustoe | 84 | 22 | 22 | 18 | 22 |
| 3 | Tyla Hooley | 75 | 25 | 25 | 25 | – |
| 4 | Josh Vail | 68 | 18 | 16 | 14 | 20 |
| 5 | Ryan Waggott | 61 | 13 | 14 | 16 | 18 |
| 6 | Harrison Greenough | 54 | 15 | 8 | 15 | 16 |
| 7 | Ashton Boughen | 54 | 16 | 18 | 20 | – |
| 8 | Max Harris | 48 | 14 | 10 | 9 | 15 |
| 9 | Kyron Carron | 45 | 7 | 13 | 12 | 13 |
| 10 | Brett Kelly | 44 | 12 | 7 | 11 | 14 |
| 11 | Ollie Budd | 37 | 9 | 15 | 1 | 12 |
| 12 | Charlie Richmond | 35 | – | 12 | 13 | 10 |
| 13 | Oliver Rigby | 34 | 10 | 9 | 7 | 8 |
| 14 | Will Haddock | 32 | 8 | 11 | 2 | 11 |
| 15 | Jake Davies | 29 | 11 | 4 | 8 | 6 |
| 16 | William Murphey | 22 | 6 | 6 | 5 | 5 |
| 17 | Jack Meara | 21 | 4 | – | 10 | 7 |
| 18 | Carl Harris | 16 | – | 1 | 6 | 9 |
| 19 | Tyler Jones | 15 | 2 | 5 | 4 | 4 |
| 20 | Issac Ash | 12 | 3 | 3 | 3 | 3 |
| 21 | Brandon Hedyat | 5 | 5 | – | – | – |
| 22 | Louis Vincent | 2 | – | 2 | – | – |
| 23 | Travis Laughton | 1 | 1 | – | – | – |
Small Wheel 85's
| | | | | | | |
| --- | --- | --- | --- | --- | --- | --- |
| Pos | Competitor | Points | R1 | R2 | R3 | R4 |
| 1 | Cole McCullough | 100 | 25 | 25 | 25 | 25 |
| 2 | Reece Jones | 86 | 22 | 20 | 22 | 22 |
| 3 | Brandon Buckley | 71 | 18 | 18 | 15 | 20 |
| 4 | Freddie Gardiner | 70 | 20 | 22 | 14 | 14 |
| 5 | Chester Hyde | 66 | 16 | 16 | 18 | 16 |
| 6 | Harlow Green | 65 | 15 | 15 | 20 | 15 |
| 7 | Drew Stock | 57 | 14 | 14 | 11 | 18 |
| 8 | Hayden Statt | 52 | 13 | 10 | 16 | 13 |
| 9 | Alfie Osborn | 49 | 12 | 13 | 13 | 11 |
| 10 | Zane Stephens | 39 | 8 | 9 | 12 | 10 |
| 11 | Lewis Spratt | 38 | 10 | 11 | 5 | 12 |
| 12 | Cailen Jai Griffiths | 38 | 11 | 8 | 10 | 9 |
| 13 | Zane Sibley-Deakin | 36 | 7 | 12 | 9 | 8 |
| 14 | Maison Jones | 29 | 9 | 5 | 8 | 7 |
| 15 | Louis Challenger | 22 | 5 | 7 | 4 | 6 |
| 16 | Tyler Townsend | 21 | 4 | 6 | 6 | 5 |
| 17 | Ronan Mallett | 17 | 6 | 4 | 7 | – |