Team Honda HRC Rules Paris Supercross in both classes!
Jett Lawrence crowned "King of Paris" with dominant 450 overall win
In 450 race debut, Hunter Lawrence takes a solid second overall
Jo Shimoda named "Prince of Paris" with 250 overall win in factory Honda debut
Words & Images: Team Honda HRC

In what amounted to something of a progress report as the riders and teams prepare for the 2024 AMA Supercross opener in seven weeks, Team Honda HRC racers Jett Lawrence, Hunter Lawrence and Jo Shimoda acquitted themselves well at the Paris Supercross—the premier race of the off-season, now in its 40th year.
Carrying the momentum from an incredibly successful 2023 season, Jett Lawrence was unbeaten in the first night's three motos, and he added another victory on day 2, never finishing worse than second. It was plenty good enough to earn him the "King of Paris" crown in his 450 debut on a true supercross track, and it augurs well for the coming season. Making his race debut on the CRF450RWE, Hunter Lawrence enjoyed some close racing with his brother, and he notched a win of his own and only finished off the podium on one occasion, taking an impressive second overall.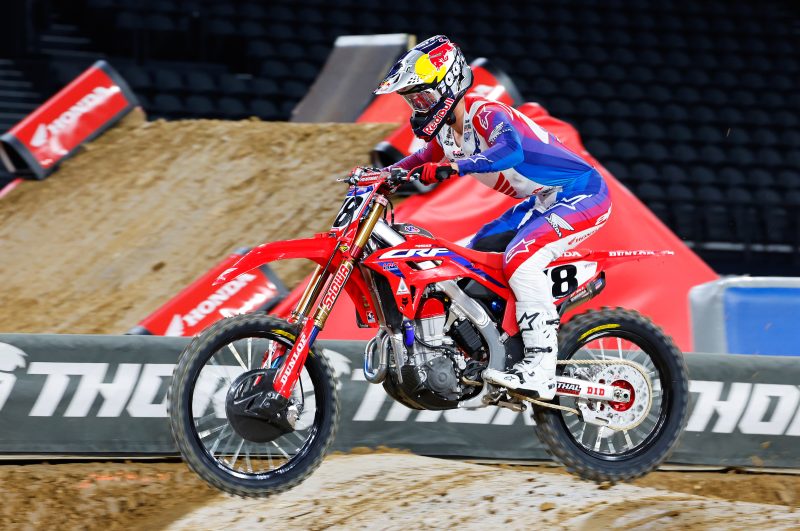 Meanwhile, CRF250R-mounted Jo Shimoda—making his racing return to Honda after three years away—took top honours in the 250 class, collecting four wins over the course of the weekend and never finishing off the podium.
Thank you to Swap Moto Live for the rider quotes.
450 Overall Results
1st – Jett Lawrence (Hon) 1-1-1-2-2-1
2nd – Hunter Lawrence (Hon) 2-2-6-1-3-3
3rd – Cooper Webb (Yam) 5-3-3-4-4-2
4th – Ken Roczen (Suz) 3-6-2-3-1-6
5th – Cedric Soubeyras (Hon) 4-4-5-6-6-4
250 Overall Results
1st – Jo Shimoda (Hon) 1-1-3-1-3-1
2nd – Tom Vialle (KTM) 8-2-1-4-2-2
3rd – Anthony Bourdon (Kaw) 4-4-4-3-1-3
4th – Jace Owen (Yam) 2-3-2-2-8-6
5th – Cullin Park (Hon) 3-5-5-5-7-4
Jett Lawrence:
"It was awesome! Obviously, I'm still learning on the big bike in supercross, and it's nice to have my brother with me learning now too. The first night was great—the vibes were awesome. The second day I was dealing with being tired and a bit of jetlag, so that was pretty difficult; I wasn't on my game as much as Saturday, but still so fun. The fans here are so energetic—at least they had energy, because for sure I didn't! It was my first time in Paris, so it was nice to get in some shopping and be a tourist a bit. I'm definitely excited to come back next year."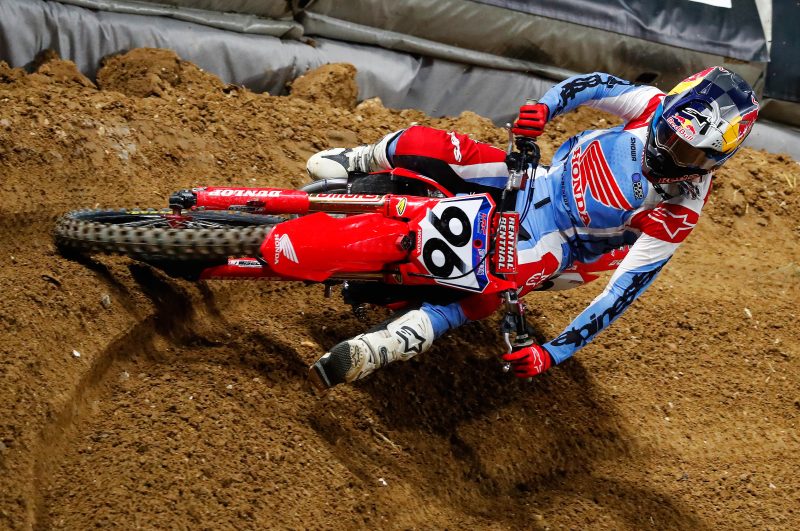 Hunter Lawrence:
"The first time coming to Paris is really special. I had a lot of family here and stuff, so it was really cool. It was a busy, busy, long, tiring three days, really. I'm happy it's done, happy we're walking away healthy. We've got a lot more information on the bike; it definitely doesn't feel like a 250, with how fast things happen and come at you, especially out of berms, right into something—there's so much inertia. We'll keep improving towards the start of the season, and then hopefully keep ramping it up throughout the year."
Jo Shimoda:
"Overall, we took the win, so I'm stoked. Obviously, I did find some stuff that I need to work on, but I'm super-stoked on how everything is going—smooth, steady progress. I honestly just enjoyed these two days. I was confident with my pace; I feel like my riding was good, and my starts were good too. But with having just five-minute races, once things didn't go well in the first two laps, it's hard to regroup and pass all those guys. But winning four out of six motos, I think I had good focus. I'm really happy with my effort."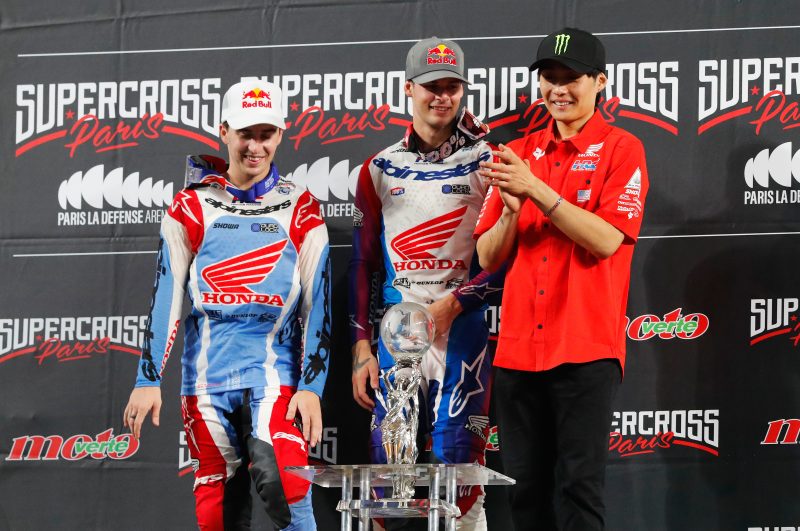 Lars Lindstrom, Team Manager:
"This year just keeps getting better, even when I thought it couldn't! We've entered a new generation as a team, and there's no way our team atmosphere could get any better. I was so proud of our guys this weekend, and they delivered even more than I expected. I was really impressed with Hunter being at such a high level already, with basically only two or three weeks of riding the 450. Jo also doesn't have a lot of time on the bike, but has adapted super-quick and was dominant. As for Jett, what can you say that hasn't been said already? He proved that with or without whoops, he'll be an incredible force to reckon with. I want to say a big thank you to the Paris SX promoters, and also to Honda France for all the support and help—they're always fantastic to us! And a big thank you to Giacomo Gariboldi and the HRC MXGP team for all their support at MXoN and this race."